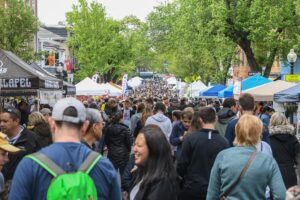 Communiversity was not always Communiversity. It started as a kernel of an idea, a thought experiment delivered in conjunction with the Arts Council's Annual Report in Town Topics, 1968. Therein it was presented a hypothetical event celebrating the "Merry Month of May". Three years later, on May 1, 1971, the Arts Council of Princeton hosted what they called the "Art People Party", attracting an estimated crowd of 3,500 attendees sauntering along Palmer Square and strolling to the Green in front of Nassau Hall for ice-cream cones and a concert.
This town-wide event continued annually throughout Princeton's Central Business District, as well as on campus and in front of the Arts Council's own building along Robeson Place. In 1985, Art People Party merged with the University to form Communiversity in a "Town, Gown Get Together" and the rest is history. Throughout the years, Communiversity drew an average annual crowd of 40,000 visitors to enjoy hundreds of vendors and merchants, countless food and beverage options, and music on stage, set amongst Princeton's charming spring backdrop. Yes, there was traffic, but there was also an electric energy in the air that said, "spring is here". The tradition of Communiversity, as we came to know and love it, continued until March 2020 when the plans for the 50th anniversary of Communiversity came to a sudden and disappointing halt.
The COVID-19 pandemic and a new Executive Director at the helm afforded the Arts Council the time for contemplation, reflection, and evaluation. What is Communiversity and does it further our mission of Building Community Through the Arts? What had Communiversity become with its tens of thousands of visitors whom, by most oratorial accounts, were mostly non-residents and non-art related. The goal of becoming the largest arts festival in the state lost its raison d'etre along the way. Where did the Art People go?
Here's what we knew to be true: the past few years have taught us that we are not limited to what has always been done. We were encouraged by the new endeavors on which the Arts Council embarked during COVID – more and more murals, Sew Many Masks, Princeton Paper Cranes – the projects and programs that kept us all engaged in what seemed to be a never-ending spiral of anxiety and isolation. Their success inspired us to truly reflect on the opportunity we had to reimagine springtime in Princeton with something entirely new and entirely Princeton.
Enter the Princeton University Office of Community and Regional Affairs. We met with Kristin Appelget and Melissa Mercuro, who encouraged the Arts Council to do what it does best – come up with a creative solution to a centralized problem, literally. The question: how can we continue, in a safe way, to engage town and gown with art and performance serving as the lightning rod?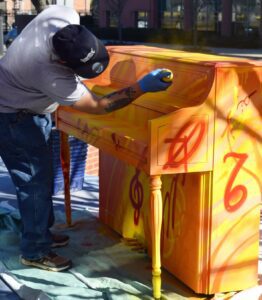 The result of that thinking is April ARTS (callback to that Merry Month of May from 1968!), a month-long celebration of arts held as the town bursts forth from its winter slumber into Spring. With the support from Princeton University as co-presenter, we are thrilled to host April ARTS as an opportunity to once again embrace the creativity of the talented local community that we've so missed since 2019. Decentralized events — including the town's inaugural Porchfest, a concert model successfully held for years across the country and in NJ towns including Asbury Park and Lambertville — afford Princeton the joy of celebrating that talent in a format that provides more safety and flexibility than Communiversity.
April ARTS will officially kick off on Friday, April 1 with the launch of the Princeton Piano Project. Local artists have been hard at work transforming upright pianos to be placed around Princeton for neighbors and visitors to play, listen, and enjoy as part of a public art installation. You'll be able to find them at the Arts Council, Palmer Square, the Dinky Station, and more to be revealed as we near its launch. The public is invited to join us at our Happy Hour Kick-Off event at the Arts Council on Friday, April 1 at 5:30pm, complete with remarks from Mayor and Council, piano performance, and prosecco toast to properly usher in this month of arts activation.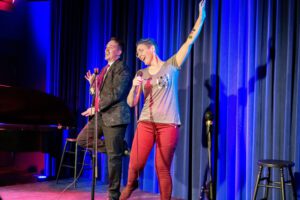 The festivities continue throughout the month with an array of arts programming hosted by the Arts Council and our fellow local arts and culture organizations. Scheduled events include the fan-favorite Cabernet Cabaret 10th Anniversary Extravaganza, the opening reception for Princeton artist Joe Kossow's "Still Lives from a (Mostly) Stilled Life" in the ACP's Taplin Gallery, Story and Verse: Storytelling and Poetic Open Mic, and community celebrations in honor of Paul Robeson's 124th birthday. Additional engagement includes exhibitions, artist talks, and performances with local institutions including Princeton University Art Museum's Art on Hulfish, McCarter Theatre, Princeton Public Library, and more. A full schedule of events will be available on our website in April.
April ARTS will culminate on Saturday, April 23 with the inaugural Princeton Porchfest from 12 to 6 pm. Porchfest is a free, family-friendly event featuring musicians of all kinds playing free shows on porches throughout the neighborhood. We invite our community to stroll from porch to porch as they enjoy live, local talent on a walkable and bikeable route that shows off Princeton's spring charm and hospitality. The fun is no longer limited to a few blocks of downtown but will be woven within the fabric of our neighborhoods. It feels intimate, because it is: our neighbors have offered us their homes to allow us to simply bask in the joy of homegrown talent and provide the return to fun that this town deserves after the challenging years we've faced.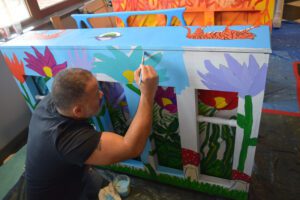 Importantly, the Town-Gown connection that made Communiversity so special remains strong. In addition to their support in making April ARTS possible, the University will host two pianos, a "porch" location on their property at 185 Nassau Street, engage their students in promotion and planning of the event, and – most excitedly – join us as performers on stage.
Communiversity will always hold an important and special place in the hearts of all Princetonians and, of course, in the legacy of the Arts Council of Princeton. If the theme of 2020 and 2021 was "survive", we're ensuring that 2022's will be for this town to "thrive" – culturally, artistically, and with the spirit that we have so much to celebrate. We are so pleased that you'll be along for the ride.
For up-to-date information, I urge you to follow the Arts Council on Instagram and Facebook where we post exciting updates and peeks behind the process. You can watch as the Piano Project comes to life, porch schedules are announced, and art-making opportunities arise that you will absolutely not want to miss.

Adam Welch is the Executive Director for the Arts Council of Princeton and an artist, critic, and educator. Adam's art is about making and decoration. His writing examines the artists and activities of contemporary art. As an educator, Adam encourages students to inquire and create, examine worldviews and to awaken their understanding of self and the world and the relationship of the two. Adam has participated in thirty-seven solo or group exhibitions in the United States over the past ten years, including at the Arts Council of Princeton, MoMA PS1 and White Columns in NYC, and AIR Gallery in Brooklyn, with solo exhibitions at the Hunterdon Art Museum, Kean University, Princeton Day School, and Northwestern College, and several curated, group, and invitational exhibitions throughout the United States. Before joining the team of the Arts Council of Princeton, Adam had worked at Greenwich House Pottery since 2003. In 2007, he was appointed Assistant Director and in 2010 appointed Director. In 2010, Adam was appointed lecturer at Princeton University where he continues to teach. Adam holds an MFA from Virginia Commonwealth and a BFA with a minor in Art Education from Northern Arizona University in Flagstaff, Arizona. He lives in Hightstown, New Jersey with his wife, Rachel, a fashion designer, and their two daughters.