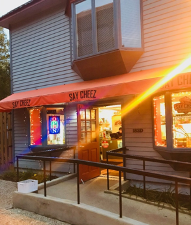 When the lockdown happened in March this year, Omar Delgado had a hard decision to make: whether to keep his Say Cheez Café open or close it. Practically all of the Princeton downtown businesses were facing the same existential question. Omar says that the first thing he did was to breathe and not to dwell on the negative or panic. He talked to his neighbors and his crew. Everyone was scared about what would happen. He could not offer certainty to his crew but they decided that together they will stay open and adapt to the changing conditions.
Omar says, "usually, the problem is not that of knowledge but of attitude." Others refer to this as grit, which is a mix of perseverance and passion, and is an essential trait of successful entrepreneurs.
Omar had seen adversity before; his family had to flee his native Venezuela overnight five years ago in the middle of turmoil that was rapidly getting worse. Luckily, he had made a good decision ten years ago to buy a home in Princeton. They were looking for a vacation home and fell in love with Princeton. It was close to friends in New York and Philadelphia. And the college town felt like home because of his career in teaching economics and finance and serving on boards of universities in Venezuela.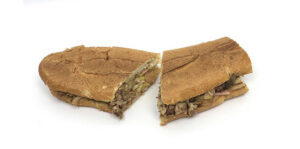 Once they got here, Omar wanted to do something that would provide jobs for his family. Three and half years ago he attended workshops offered by the SBDC that helped him understand about how labor, business incorporation and commerce practices work in the US. He and his family decided to buy a small sandwich shop in downtown Princeton and offer customers over 40 sandwiches around a theme of the iconic American grilled cheese sandwich, that reminds people of happy memories of childhood and grandma. They also expanded the offerings to include Cuban sandwiches; their Cuban bread comes from New York every day. This attention to the details that make a great sandwich is why their customers are saying, "The Cuban sandwich is a must try."
Over the last few months, the pandemic presented Omar with a series of challenges. He and his team had to adapt to stay vibrant and relevant. Omar knew that he needed to take all the help he could get. The worst thing he could do it to dwell on the negative or try to go it alone. He stayed in communication with the local business community and participated in the Princeton Mayor's weekly Municipal-Business Conference calls. He is grateful to Princeton Councilwoman Michelle Pirone Lambros, and Mayor Liz Lempert, for being available 24×7 and for keeping the local business leaders informed about the changing rules due to the pandemic, enabling a dialogue in the community to share strategies for navigating those changes and bringing organizations like SCORE Princeton and NJBIA to explain about pandemic assistance programs and business mentoring.
Facing severe limitations in his resources due to the pandemic, Omar considered his priorities; he wanted to be sure that he was able to keep paying the rent and the salaries of his employees. And he wanted his business to be there for the essential workers who depended on his business even more so now that they had extremely limited choices. This attitude of service and accountability translates into trust that is the foundation of delighting both customers and employees. Omar was able to continue to support his employees and his business with a PPP loan. Michelle Pirone Lambros introduced him to Tigers for Nassau. Sunny Sandhu and his team of Princeton University Computer Science students helped Omar improve his online ordering services and updated his website to make it more friendly as the orders shifted significantly to online. They also added touchless menus to make the in-store ordering experience safer.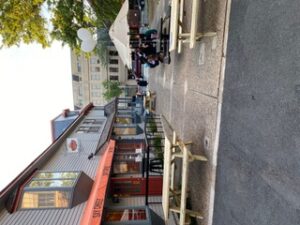 Michelle Pirone Lambros also introduced Omar to SCORE Princeton mentors, Amulya Garga and Ray Lee, who helped Omar with questions about SBA pandemic assistance programs, Princeton Resiliency Fund grant and future expansion planning. As he learned how to keep his business going, he also got help from his mentors about expanding and aligning his vision for his business with the revitalization plans that the university and the community were shaping. He applied for the Princeton Small Business Resiliency Fund grant and though the grant could be for $5000, he was frugal in his plans and applied for less; he always wants to be a good steward of the gifts that he receives. He received the good news recently that his proposal was selected for funding. In addition, he continued to work on ways to offer his customers more enjoyable lunchtime and dinnertime experiences. People can sit outside and enjoy a live band playing jazz and he is bringing in art to decorate the outside of the café. He has worked with the university to put benches outside and make the area more attractive for more people to come together in a socially distant fashion.
When the pandemic hit, instead of laying off employees or reducing their hours, Omar kept all of them working and took the time to invest in them by training them. He showed them how to serve the customers with a smile, to be patient and to always try to improve the response time so that the food is served delicious and hot.
That's why his customers are saying, "The associates were very nice and took the time to walk us through fan favorites!" and "One of my favorite spots in Princeton."
Say Cheez Café is becoming a rendezvous place for Princeton professionals who want to connect safely outside with their colleagues nearby for a quick meeting over a healthy, delicious and affordable lunch. It is also becoming popular with school and college students who want to share a grilled cheese sandwich with their friends after school, enjoy the outdoors and the music. Omar's attitude of learning from adversity caps his other success habits that have served him well and have helped him shepherd his business toward growth as Princeton progresses on its recovery.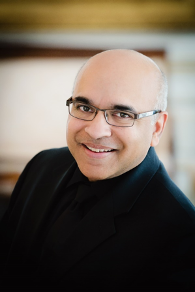 Amulya K. Garga, President of KAPI Group, helps companies with business transformation, operational excellence, turn arounds and culture of innovation and inclusion. He delivered game-changing innovations with predictive analytics, smart sensors and immersive tools for defense and commercial industries. He is the Chairman of SCORE Princeton and led the chapter to achieve the SCORE National award: Outstanding Client Education in 2020.
SCORE, a nonprofit organization, has helped over 11 million small businesses and entrepreneurs grow and achieve their goals through education and mentorship through its 300+ chapter nationwide. SCORE Princeton offers free, confidential business mentoring to about 500 local small businesses and present about 80 workshops (and webinars) every year.