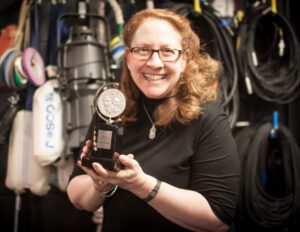 My career journey has been exactly what the Yale School of Drama of the 1980's trained me for. Production Stage Managers do not select the works presented at a theater, but we can choose the companies we want to work with, that have missions we believe in. I found that artistic home at McCarter Theatre in Princeton from 1990-2020 over the course of 190 productions and workshops. Along with being a part of high-quality work, I took great pride in the scores of emerging stage managers and theater makers I mentored in their time with McCarter.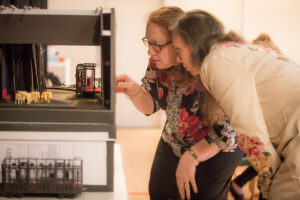 With the onset of the COVID-19 pandemic and the resulting suspension of production activity at theaters around the country, March 12th, 2020 was the day in-person theater shut down for me. Hope carried me through the first weeks of the pandemic. I assumed the next month we would be able to return to the rehearsal hall and stages of McCarter Theatre, until it sunk in that we would not finish out the season. During April I was fortunate to be able to use my theater-making collaboration skills to bring together the McCarter's virtual celebration honoring artistic director and resident playwright emeriti Emily Mann's 30th Anniversary of leadership. In the early days of Zoom, it was one of the first major virtual benefits, and in terms of content, viewership and fundraising, it was a triumph. The project, culminating on May 2nd, was exhilarating for those of us fortunate to work on it from the inside.
Then on May 3rd I woke up feeling incredibly empty and lost. How could I contribute and be relevant in my field? Having watched my industry across the country dissipate during the past 7 weeks, we had been fortunate as the theater was committed to keeping us on contract for many more weeks than our peers at other theaters. As the month of May unfolded, over 100 full and part time employees of the theater I loved for 29 years were being let go. During this time, I was getting active virtually with stage managers across the country, engaging in the social justice causes in my industry, guest lecturing for university programs, and mentoring students one-on-one. June was a difficult month for the industry as the realization set in just how long this theatrical pause would be.
My plan was to sit back and wait for in-person theater to return, enjoying this found time with my husband and 16-year-old son. Friends and family were urging me to reinvent myself. At the time, I was not seeing how. I had committed myself to a career that I had built for over four decades, which all disappeared in a moment.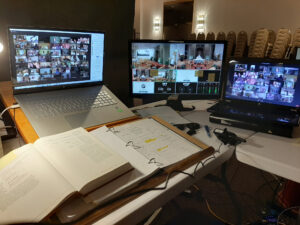 My enormous pivot began in the summer as I totally immersed myself in a three-month project for The Jewish Center of Princeton, virtually directing and line producing six events for the high holidays. As a member, The Jewish Center totally entrusted me with this responsibility, and honestly the technology that I was pushing to the limits was new to me. On one hand. I was making it up as I went along, and on the other, I was leveraging my theatrical management skills into a new medium. I combined forces with peers and Princeton residents, television stage manager and videographer Seth Mellman, theatrical stage manager Alison Cote, and IT manager Perry Jones to navigate our way through the logistics and artistically elevate the Zoom platform. My path into the entire process was through a theatrical lens. Undertaking 85 individual socially distant on-location recording sessions with congregants and hours of B-Roll, we created six events that combined a live on-site three-camera shoot, visual montages set to music, pre-recorded segments, a memorial tribute, and dozens of live pre-rehearsed participants joining by Zoom. It was an immensely creative and fulfilling project which has emerged as one of the highlights of my career.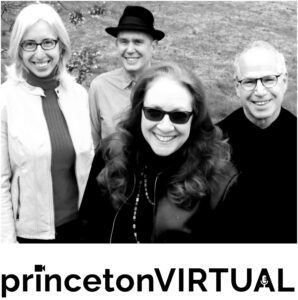 Then one social media post changed everything. Having shared The Jewish Center project on Facebook, Theatre J in Washington DC reached out to me about virtually producing their November benefit. From that experience Seth, Alison, Perry and I realized we needed to form a company, so we became partners and founded princetonVIRTUAL.com. We each have our niche, Seth in video & photography direction and video & music editing, Alison with line producing, production coordination and show calling, Perry handles the IT operations and I with creative direction, line producing and show calling. What I find inspiring is all our projects to date are with organizations whose missions we believe in, and all these projects have fallen into our laps through our personal connections. Collaborating with and meeting the needs of organizations such as People & Stories / Gente y Cuentos, Passage Theatre Company, The Suppers Program, Stellar Energy Foundation, Housing Initiatives of Princeton and American Repertory Ballet Company we found we can make an impact and bring communities together. Outside of our local community, we have produced events with NewArts/12.14 Foundation in CT and nationally with the Stage Managers' Association.  Currently we are working with the Edlavitch DCJCC, Laurel Education Group and the Middlesex County Chamber of Commerce. Independently, I was fortunate to reunite with Emily Mann, doing our 36th and 37th productions together this past fall, a Tennessee Williams classic off-Broadway for La Femme Theatre Productions and Emily's new play in development for Broadway. These were creative processes that brought artists together in a virtual theater and developed the works for production post-pandemic.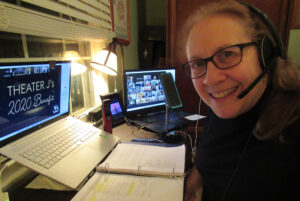 My career path has been fulfilling, impactful and exciting, but I have never felt I have been brave in my journey, and that has always been a personal regret. Until this past year. Never would I have imagined that my journey would include being a founder and partner in a company, with the added reward that I can make a meaningful contribution to my communities. I look forward to the end of this "intermission" when I can return to in-person theater and balance my pandemic pivot with future artistic opportunities. I will have to reinvent myself again, because the theater world I return to will be a vastly different one.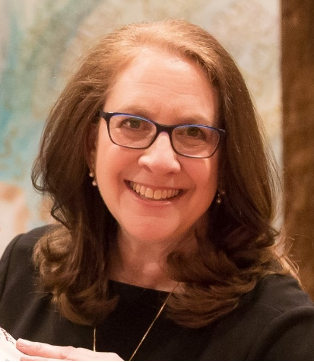 Cheryl Mintz co-founder and partner of princetonVIRTUAL.com, has been the Resident Production Stage Manager for McCarter Theatre from 1990-2020. Highlights of Cheryl's career include 13 collaborations with Maestro Gian Carlo Menotti and the Spoleto Festival USA & Italy, five seasons/40+ productions with New York City Opera at Lincoln Center, and six Broadway productions. She has served for 17 years as an Executive Board Member of the Stage Managers' Association. Cheryl received a 2020 Award of Excellence and a 2011 Applause Award from the New Jersey Theatre Alliance.