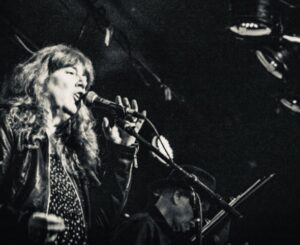 In August of 2011, we moved our family from Montreal, Quebec to Princeton, New Jersey so that my husband could take up a new position with his company here in the US. After a lifetime in medicine and academia, the plan was that I would take a career break to stay home and support the family through the transition. It was not my first major move – both my husband's family and mine were still back in Ireland – and I had left every girlfriend I had on the other side of the Canadian border. After a couple of days, my husband realized that I might have trouble adjusting to my new normal, so he suggested that I take this opportunity to revisit my lifelong love of singing. Within a week, I was enrolled in an evening class at Princeton Public Schools called "Singing Is Fun" led by the lovely Alta Malberg – and I was saved!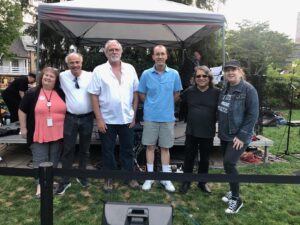 After the classes finished, I discovered Café Improv in Princeton led by the wonderful John Irving (RIP) and Tom Florek at the Arts Council of Princeton. After John promised me a short slot to try performing one song, I worked with Alta as my voice coach until that February 2012 night when I nervously took the stage to sing an old Irish folk song, with massive support from John and the crew. In June 2012, I walked into the Arts Council again to an Open Mic being held by the Einstein Alley Musicians Collaborative (EAMC). That night, I was brave enough to make it through two songs and the EAMC created by Steven Georges became a huge part of the scaffolding that helped me to develop a full music career and I am proud to share the leadership of the collaborative today with Garry Pearsall (So It Goes), Robert Freeman (The Beagles), Paul Bejgrowicz (Crown Electric) and Drew Turock. My realized dream of singing, songwriting, recording and producing shows came to life in my hometown of Princeton and I will continue giving back to the music scene here for as long as I possibly can.
In March of 2020, we had just begun our "Shenanigans" March tour in Hopewell with a wonderfully successful show when our other dates in Princeton and at 1867 Sanctuary in Ewing were abruptly cancelled. Shortly afterwards, we had multiple shows with my other band "The Shanakees" cancelled in Ocean Grove, New Hope and Princeton as the live music scene ground to an abrupt but definite halt. It soon became apparent that the collaboration between EAMC and the Arts Council of Princeton "Busking in Princeton" series which we had spent months working on, was not going to see the light of day in Summer 2020 as we had planned. As the devastation of the live music scene continued worldwide, some of us tried livestreams but it was simply not the same, as music for the public really does involve socializing with our communities and friends. For some of us, the isolation combined with the lack of live music was very difficult to handle.
At the same time that the word "Zoom" entered our everyday language, the music community was being advised to "embrace the pivot" – which looked quite different from one artist to another. Some artists switched to acoustic livestream shows but since both my cover and original song shows involve rowdy bands and a crazy in person rehearsal schedule, I had to be much more creative in finding my pivot before I could embrace it! But I found out quickly that stifled creativity is like a raging river, it will seep or burst through any barriers – especially for someone like me who was late to the party. The upside of the forced isolation was the protected time and quietness to finish writing the EP that had ground to a halt following the unexpected death of my mother in Ireland in 2019. The whole character of "Know You're Enough" has been heavily influenced by the devastation we have lived through and the unexpected upsides that we are still realizing. Many of my artist friends who are currently releasing new music also feel this way – the layers are gradually peeling back and revealing some really wonderful and unexpected outcomes.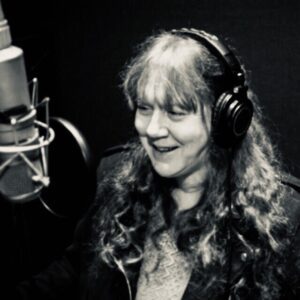 From an artist standpoint, I can only speak directly of my own writing but there are two songs on my new EP – one original "Hey Darlin'" and one cover – that came about directly from my intense admiration and respect for the loving and supportive way my husband Paul O'Shea has brought both our family and his company through some hair-raising challenges in the last year. In fact, the whole EP is dedicated to him. But like all of my songs, the themes are not just around love but also deal with loss and legacy. One of the songs about loss is dedicated to everyone who tragically lost a friend or a family member during this pandemic – especially those who sadly could not be with their person at the time of their passing. One of the most massive losses to the music community from this pandemic was the untimely passing of the beloved songwriter John Prine and the last song we wrote for the EP was a tribute to him and his music called "Prinetime". The song that was the most difficult to write has become my favorite on the EP – cowritten with Cari Cole NY, Jess Best LA, and my long-time producer and cowriter on most of my other songs, Marc Swersky. "Stay Here Now" was written from the depths of grief following the loss of my beautiful mother and its message has become so poignant for all who have endured terrible losses in the last year. It simply says that when you are drowning in grief, stop thrashing around, lay back and float – because you are exactly where you are supposed to be when your world has come crashing down around your ears. I am blessed that the pandemic allowed me to persuade my fabulous daughter Lauren O'Shea to join me in the recording studio – her beautiful, soothing voice on this song will be the pandemic gift that keeps on giving for me and I cannot wait to share this song with the world on all platforms on June 25, 2021 – the song that began the healing of my grief.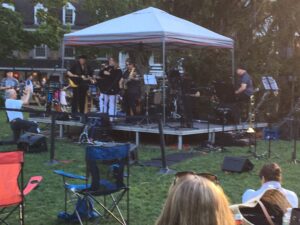 In a more general sense, we appear to be seeing a slow return of the live music scene in the last couple of weeks, at least when it comes to outdoor shows. At the time of writing, I am getting ready to see many music friends for the first time in over a year at the "Beagles Do Beatles" show featuring Rob Freeman and an ensemble cast of superb vocalists and musicians, in downtown Princeton. As we contemplate this resurgence of live music and how it might be different from before, we ask ourselves the question: what does music mean to you, to me, to the people of Princeton? There is no "one size fits all" and different kinds of music are used in different ways for different needs, across the spectrum from grieving, to healing, to connection, to entertainment. Like different types of food, we can appreciate every kind available from the familiarity of fast food to the innovation of farm to table, depending on our mood or the occasion. Our tastes in music may be as diverse as our taste in food, from regular to special events – the difference is that music feeds the soul.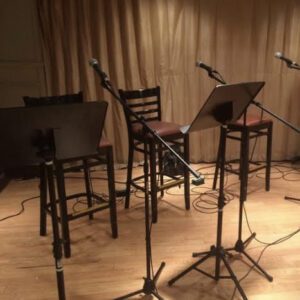 The essential elements to be considered in any discussion of music for the public are: the audience, the musicians and the venue. In putting together a show, the musicians will first consider the audience and their expectations. If it is a generic event, then the focus is usually on entertainment. In this case, familiarity with the music may be important and this is where tribute bands or bands performing well known cover songs will bring the house down. On the other hand, for a specific event like a wedding, a party or a curated show such as our recent "Songs of Protest, Songs of Peace" in collaboration with the Princeton Public Library Ken Burns series, the set list is carefully constructed to meet the client or the community partner's needs. This is also the case with music curation by geography/culture as in our annual "Shenanigans" series of shows in March to celebrate the songs of Ireland or the upcoming Juneteenth celebration at the Arts Council of Princeton. Then, there is the "Bluebird, Nashville" type of show where the room is filled with music lovers who want to hear the newest in original songs and music that reflects the times we live in. This is where the singer/songwriter – plus or minus a band – will shine. These musicians create an intimate event filled with stories and original songs that resonate with those who come to support this purest art and craft of new music creation.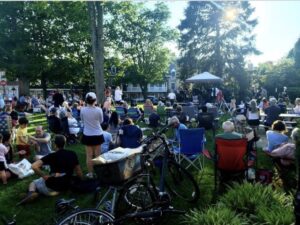 In terms of the gathering of community, there is no better common denominator than music. Whether it is being provided for entertainment, healing or connection, music is the universal language that we all understand and that has the power to bring us all together. In downtown Princeton, the major communities or venues supporting the music scene in Princeton include the Princeton Public Library, Palmer Square, Princeton, the Arts Council of Princeton, McCarter Theater and the Courtyard at Princeton Shopping Center. A number of these venues graciously provided some insights about their approach to the resurgence of music for the public in Princeton in terms of their preferences for type of music, set length, indoor/outdoor.
In regular times, the library hosts indoor shows in the community room and outdoor shows on Hinds Plaza or other spaces nearby. Cover songs and popular music tend to do better at a public library, but they also like to showcase new music. At this time, it is unsure when the library will be able to return to using the community room for indoor music events. Janie Hermann Public Programming Librarian in Princeton explains further: "The library serves all ages and all members of our community. We strive to be inclusive in all ways, including in our selection of performers and types of music performed. We have done large shows on Hinds Plaza and at the Community Park Amphitheatre. This year we are collaborating on some shows on the green at Palmer Square (Beagles Do Beatles June 10th) and at the Princeton Shopping in their courtyard (Billy Joel Tribute July 9th)."
As well as their collaboration with Princeton Public Library on the "Beagles Do Beatles" show on June 10th, the folks at Palmer Square have put together a comprehensive schedule of music events, taking place on the grassy area of beautiful Palmer Square, commonly known locally as The Green. These include Local's Night on Thursday nights as well as the "Palmer Square Series" held every Saturday from 12 to 2pm. Palmer Square is also collaborating with the team at McCarter Theater for their "McCarter Series" on Sundays from 4 to 6pm, all of which may continue throughout the summer. According to Jamie Volkert, Director of Marketing, "At Palmer Square, the concert is typically a two-hour set and programming includes both original music and cover songs, but we find at our venue that the cover music tends to attract a broader crowd".
The "Summer Nights Concert Series" in the Courtyard held outdoors at Princeton Shopping Center is geared to a mix of engagement events to appeal to a variety of audience members. This year's series includes concerts, movies and DJ dance parties. A source at Princeton Shopping Center explained that for the concerts, they prefer a combination of original and cover bands because they love to support original work but they also appreciate the familiarity of cover songs.
It was 6 years ago this week that I launched the "Coffee House" Open Mic for EAMC at Princeton Elks Lodge with Garry Pearsall & Stuart Malakoff – what a great run we had! Then we moved the "Coffee House" to Hopewell United Methodist Church with Paul Bejgrowicz where our featured artists were the very best of our local songwriters. Now that we are beginning to emerge from this devastating period for live music, my goal is to create a bona fide "Bluebird, Nashville" songwriter experience for true patrons of the arts, those who love and support the creation of original songs and for our local songwriters from New Jersey, New York and Pennsylvania, right here in my hometown of Princeton. The artists are already lining up and I believe that we will find our true patrons – so stay tuned – the journey of a thousand miles begins with a single step… or a single note!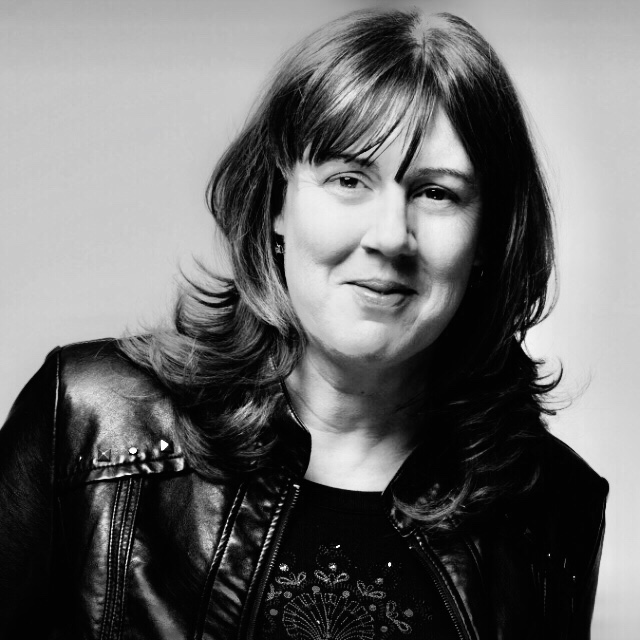 Helen O'Shea is an Irish born singer, songwriter, recording artist based in Princeton, NJ where she leads the Celtic band "Shenanigans" – Songs Of Ireland, Old & New – as well as "Helen O'Shea & The Shanakees" performing her original songs in the style of "AmeriCeltiCana" – Americana with a Celtic twist! 
H
er first EP "Mama Told You…" and her subsequent CD "Turning Tides…" featuring her original songs about life, love, loss and legacy were produced by two-time Grammy winner Marc Swersky at Shorefire Recording Studios in Long Branch, NJ. 
Helen's latest EP "Know You're Enough" recorded at Shorefire & Sound On Sound Studios in Montclair, NJ will be released on July 16th 2021, featuring her most recent singles "Someone Is Waiting" & "Only One" as well as her original tribute to John Prine, one of her favorite songwriters, "Prinetime".
 Helen O'Shea & The Shanakees will kick off their "Know You're Enough" summer tour on Sunday July 18
th
 1.00 to 3.00pm at The Saint, Asbury Park, NJ. 
In the meantime, you can listen to Helen's songs 
here