Hi, my name is Luc. This is the story of how my wife Jasna, our kids, Kasper and Nikola, and I came to live in Princeton, NJ, USA.
My family and I lived and worked in The Netherlands. We had a house in Rotterdam, one of the bigger Dutch cities. We always loved being in a city, with all the things cities offer so close by. Our kids, 7 and 10-years old at that time, went to a school not too far from our house. I was working as an Engineer at a packaging company and Jasna worked for J&J in Leiden. We were just living our regular lives. Of course, living in a big city also brings some big city problems. We did not live in the best part of town and were looking to move to the suburbs. Also, the kids' school was not as nice as it was when they started school. Big classes and less support for our kids, so we felt it was time to move on.
Jasna came home one day in 2016 with some big news. She was offered the opportunity to work in the USA on an assignment for 2 to 3 years. We loved the USA , our favorite vacation destination for a long time. We had toured the east and west coast and a lot of national parks by car or by RV with the kids. In the 90's I worked at the Dutch Airforce. For about a year I also worked in Virginia and Texas, so I already knew the country well. When Jasna was offered that opportunity, I did not have to think long about it. The kids had a lot of questions about leaving their friends and family and leaving their school, but we were all very excited.
Jasna would work in Titusville NJ, an area which she knew well from previous business trips. She used to stay at the Nassau Inn in Princeton, so was familiar with the town. We were assigned a location officer who would help us find a house and school etc. She told us that Princeton was the town to live in, especially for the kids because of the great schools in this area.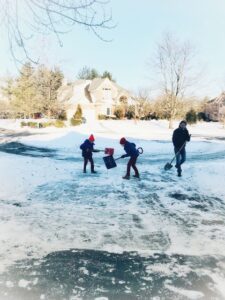 We came in April 2017 for orientation, to find a house and school. The rental housing market was already crazy at that time, so not much was available. Jasna visited a few houses before the kids cand I came, but was not impressed by any of them. I checked from The Netherlands on the internet for houses and we both liked one, which we called the Ikea house, because of all the Ikea furniture in the pictures. It was on a nice court and looked perfect for the kids to play outside.
When we visited the house, we immediately liked it. By Dutch standards, it was very big! Our house in NL could fit in it 4 times! Also, it had a big garden, so we decided to go for it. Because of the school zoning system, this area was designated to the Johnson Park school (JP). We made an appointment for a visit. The principal of the school, the fabulous Dr. Ginsberg, showed us around. He really took his time and showed us everything with great passion. We felt immediately at home and welcomed there. The kids loved it too, which made the decision easier for them. So, I quit my job and rented our house to my nephew, because we wanted a place in NL for when we came back.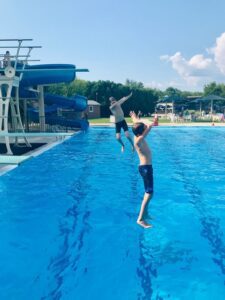 Jasna was already working in the US and the kids and I started living here July 2nd, 2017. The summer that year was great, and we registered at the Community Pool immediately. We spent a lot of time there and also explored NYC, DC and Philly with the kids. Additionally, the kids went to the ESL summer program at JP, because they did not speak English. I have to say that they picked it up very quickly, so they were ready for their first school year here.
Jasna was very busy with her job, and I opted to stay home to take care of the kids. I did a lot of online studying and got my official Drone Pilot license, so I could earn some money with that. When COVID struck, I became a fulltime stay-at-home Dad and helped out the kids with their online schooling and homework.
When we lived in Rotterdam, one thing we loved was the diversity in people. Jasna is originally from Belgrade, Serbia, and felt really at home in Rotterdam. Also, the Dutch school our kids attended was very diverse, with a lot of nationalities in class. That was the main reason for us to choose this school. JP was also very diverse, and our kids blended right in. In NL the school classes were growing bigger and bigger, and also a lot of extra lessons, like music and art, were discontinued because of financial reasons. We were so glad that they get those classes and more in this school system. And the extra support is so great here! Both Kasper and Nikola go to Princeton Middle school this year and their support is great, too. We also love the fact that all kids follow the same path here – Elementary, Middle and High school. In Holland, after elementary, they have to do a test which decides for a big part what school is next. It's too soon, in our opinion, as kids are still developing at that young age. When COVID struck, the schools, after some startup problems, handled it very well. Much better than in our home country.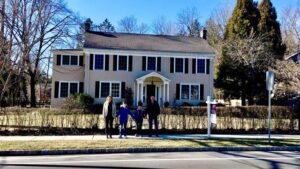 At the end of 2019, Jasna's assignment ended, so it was time to go back. But….nobody really wanted that! We all made great friends here and love the town. But all good things end, so we were busy preparing to go back. Jasna also wanted to stay, and looked for an opportunity within J&J, which was not easy at all. But in the very end, just before we had to go back, she found a new job which meant we could stay! Our rental would end in a few months, so we had to look for a new place. Rent or Buy? That is the question. We decided to buy. The problem (again) was the market. Nothing nice was available in our price range. I looked at all available houses, but most of them needed so much work before we could move in. Time was running short, and luckily we found a great house on Mt. Lucas Road, walking/biking distance from schools and city center. At that time COVID struck, and the housing market went even crazier.
Because of the pandemic, we did not travel at all, but really enjoyed our new place.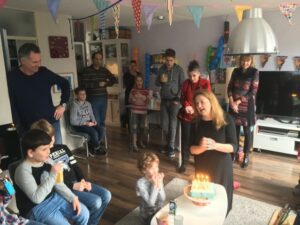 The only thing we really miss from The Netherlands is our friends and family, and some food. We lived in a big city all our lives, so we could not imagine ourselves living in a small village, but Princeton changed that all. We love this place and its people. So many different nationalities! We have a lot of friends here, from the US and all over the world. Restaurants here are the best and NYC is close if we need that city vibe. But we're always happy when we are back in Princeton, our new home!!!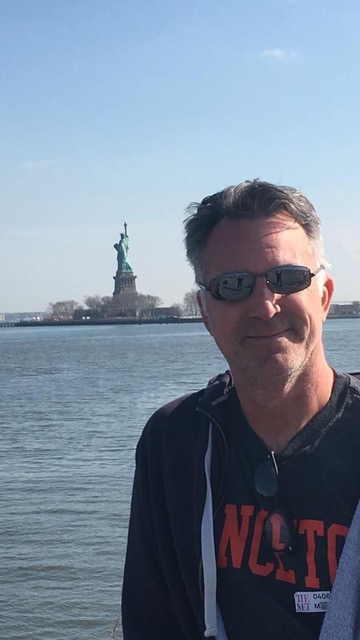 Born and raised in Rotterdam, The Netherlands, Lucas Tholens spent more then 10 years in the Royal Netherlands Airforce as a Helicopter Crewchief, he found a new challenge as a Mechanical Engineer at a Japanese Photo company, and after that as a Planning Engineer at an American Packaging Company. In 2017 his wife who works for J&J got a position in the US, so he and his family moved to Princeton NJ, where he is a Stay-at-home Dad and part-time Drone Pilot.