"I have my fingers crossed, all of my fingers and toes. And my husband, too, everyone is crossing their fingers," shares Begoña Mendiguren, as she waits to find out if her daughter will get a Princeton Public Schools Pre-kindergarten spot for the 2020-2021 school year. Mendiguren shares a sentiment commonly heard around town lately, as parents await an April 17th lottery for enrollment into Princeton's free and newly expanded public offerings in early childhood education. But how will this option affect the greater community? Several private preschools have already seen the cost of shrinking enrollment numbers due to the changing needs of parents. In June, another traditional nursery school will close, the third to do so in the past five years.
University League Nursery School (ULNS), founded by a group of Princeton University families in 1949, announced last fall it's done at the end of this school year. ULNS had taken over the home of The Jewish Center Preschool (The Joan Levin School of Early Childhood Education) when it shut its doors in 2016. And further down Nassau Street, in the Nassau Presbyterian Church, Dietrich Johnson is no longer. That cooperative nursery school shuttered in 2015.
While the traditional morning nursery school landscape within Princeton proper is shrinking, public offerings are expanding. Princeton Public Schools, which has been operating a 30-student public-funded, full-day general education Pre-kindergarten program since 2004, opened a dual-language PreK and a classroom for 3-year olds this past fall. A limited number of spots used to be available, at a cost, to community members that didn't qualify with a financial or special need. Now all spots are free and the program is set to expand further with an additional 3-year old classroom for the 2020-2021 school year, aiming to offer preschool to 75 Princeton children.
The catch is, not every child that wants to, can get into Princeton Public School's program. All general population families wishing to enroll their child have an opportunity to do so until April 2nd, but they're not all guaranteed a spot. First, they must be a Princeton resident. Then, there is still priority registration. By law, space is guaranteed for students eligible for special services as well as those who are economically disadvantaged (qualifying for the Federal Meals Benefit Program).  Veronica Ulrich, Grant Writer and Coordinator of Special Projects for PPS helped the district secure the additional state aid in 2019 that made the expansion possible. "Our growth is dictated by the needs of the community and we will continue to do our best in response to that need," says Urlich. If you don't meet one of those qualifications, you could be entered into a lottery to fill the remaining spots. "Availability is determined after current students are placed in the next level and we have completed thorough outreach to the economically disadvantaged families in our community." For the 2019-2020 school year, 50% of the spots were given to students qualifying for the Federal Meals Benefit Program, and the school is currently full with a waitlist of approximately 10 students.
In Princeton, all of the existing preschools do offer some level of scholarship in an attempt to help those with financial need, but one was created specifically with those families in mind. Since 1929, the philosophy at Princeton Nursery School (PNS) has been "to help families improve their lives and help by providing peace of mind of a preschool education," says PNS Executive Director Rosanda Wong. To enroll your child at PNS you must be working parents, parents going to college, or a combination. Included in its tuition, which is often at least partly paid for by state subsidies and scholarships (only two current families pay full monthly tuition) PNS offers 12-month schooling, including before and after care, meals and supports for the whole family. Means beyond those a public school can offer. While it has a natural concern the public program could pull from its population of potential families, it is not planning to change to compete. "Some families who are Princeton residents who would qualify for PPS have remained at PNS because a free program is free only to a certain extent," says Wong. "If you need before and after care or coverage on days the public school district is closed, you have to pay for it." Notably, only 50% of Princeton Nursery School families reside in Princeton, so half its population isn't even eligible for the PPS program.
The rise in dual-working families helped shutter Dietrich Johnson and The Jewish Center (TJC) Preschool. Susan Kanter was Vice President of Education at TJC when it made the decision to close. She told Princeton Perspectives, "the availability of early drop-off, late pick-up, and a full program that ran 52-weeks a year were some of the factors that led TJC to end the program."
ULNS, had attempted to keep up with those needs. Though it's continued to offer a morning-only program, a full-day option was added in the 1990s. The nursery school had approximately 112 children for years, including when it moved from its Princeton University location to its Jewish Center home. It now has 66. That number is still higher than most but doesn't afford them the opportunity to stay true to their core mission and compete with the expanded PPS program. So they, too, made the decision to close.  We "would have had to pare down to such a smaller school which would affect the tradition of high-quality nursery education. We were seeing the picture down the road." said school Director Cindy Schenthal.
Free preschool, a haven for families with financial insecurity, is also a helpful option for those who have a tight budget or would like to use that money elsewhere. Lindsay Weiss saw people choose it in the fall when the PPS program expanded and ULNS announced its plans to close. "One family was signed up to go to ULNS but switched to public and has been very happy," says Weiss. Her middle child is graduating from ULNS, and she has a younger one who is ready to begin. She's opting to put her youngest in another private school but adds, that's not everyone's plan. "I think a lot of people are going to be leaving private to get free preschool."
It's that concern that may be creating a new enrollment trend. With the desire to attract ULNS families to their nursery programs, and in an effort to deter the possibility of current families leaving for the free public option, some enrollment obligations shifted this year. One Nassau Nursery School parent witnessed her school working to lock families in this past December, earlier than the usual commitment time of February.   Cherry Hill Nursery School was another. Enrollment there normally begins in January or February. "We're seeing a pull from PPS," said school director Shreya Dasgupta. "Even some folks that toured the school were candid in that they'd rather wait to commit until they heard from the free preschool." But, there is risk involved by waiting, as you may end up without a spot. The phone started ringing at Cherry Hill when ULNS announced it was closing and this year 2 of their 4 classrooms were already full by late January. "Since there's so much interest, the deadline for contracts was moved sooner," added Dasgupta, noting their smaller size is a factor, too. Cherry Hill has just one class for each age, from 2 to 5-years old.
Most of the preschools in Princeton proper have their niche. Nassau Nursery and Cherry Hill are cooperatives and for parents that don't want a full day. Some are affiliated with other institutions, like University NOW, a daycare catering to mostly Princeton University families. Administrative Director Anja Zimmermann at Crossroads Nursery School, on the campus of The Institute for Advanced Studies, says though nearly 70% of its preschool age population tends to come from the greater community, they can't adapt their enrollment schedule to compete. "We can't do early enrollment," states Zimmermann. "We have to wait until Institute members get their letters of admittance, to know which families we'll have." Crossroads plans to keep a waitlist until it opens admissions to the community in mid-March and will then see if the ULNS closure and PPS expansion affect it. However, Zimmermann says "at this point, it's same as usual in hearing from members of the community."
Making small changes and staying in their lane seem to be trends for attempted sustainability. Independent schools like Princeton Montessori, which offers early childhood education that continues into grade school, is doing just that. At Montessori, they're counting on the fact that their 150-year old methodology will keep parents from leaving for the free public option. "We have a completely different product," says Michelle Morrison, Head of School. "Our teachers become experts on child development over 3 years, not three days, and we're meeting a progressive vision of what education should be that public schools are trying to catch up on." She cautions parents to pick the school that's best for their child. "I understand that for many dual-working families, free sounds good, but they have to look deeper and take a look at what the experience really feels like for their child."
Despite other options, with an 18-month old at home, Begoña Mendiguren hopes her PreK daughter can attend Johnson Park with her two older children. She and many others anxiously await what the options dictate after 2pm on April 17th, when Princeton Public Schools holds its lottery for any remaining preschool spots. For those that don't get in or choose private, there are still great preschool options in Princeton proper, and many more beyond its borders.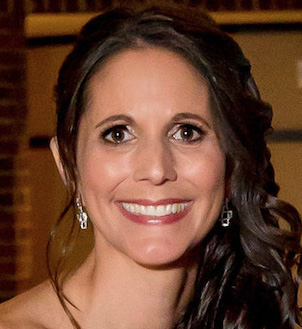 Lisa Jacknow spent years working in national and local news in and around New York City before moving to Princeton. Working as both a TV producer and news reporter, Lisa came to this area to focus on the local news of Mercer County at WZBN-TV. In recent years, she got immersed in the Princeton community by serving leadership roles at local schools in addition to volunteering for other local non-profits. In her free time, Lisa loves to spend time with her family, play tennis, sing and play the piano. A graduate of the S. I. Newhouse School of Public Communications at Syracuse University, Lisa was raised just north of Boston, Massachusetts but has lived in the tri-state area since college. She is excited to be Editor and head writer for Princeton Perspectives!