It is too soon to tell what effect the COVID-19 pandemic will have on climate change. However, this devastating situation has taught a valuable lesson by showing what is possible when we collectively take action. Just as we are banding together to flatten the curve of the virus' trajectory, we can also work to bend the curve of climate change's worst outcomes. Here in Princeton, we are a small piece of these solutions, but, as we are seeing today, a commitment for each of us is necessary for addressing global challenges.
As an element of the Princeton Climate Action Plan, Sustainable Princeton created an inventory of Princeton's greenhouse gas (GHG) emissions since 2010. Greenhouse gases are gases in the atmosphere that have an influence on the earth's energy balance. These gases exist naturally but have increased significantly from human-made sources over the last century and are negatively impacting the planetary balance, and thereby our climate.
Our inventory of Princeton's greenhouse gas emissions shows that roughly 66% result from the energy consumed to heat, cool and electrify our buildings. Of the remaining emissions, 30% result from transportation, 2% from waste and 1% from water and wastewater. This inventory is very helpful to set goals and priorities for reducing emissions from activities that happen within our town, however, we must note that it doesn't capture the upstream emissions that occur elsewhere from the goods and services we consume. These "consumption" emissions are harder to track and set goals against yet they are just as important to consider.
So what does all this mean to each of us personally? First, it means that addressing waste alone isn't the answer. While activities such as reuse and recycling are positive, they are just one piece of a larger emissions-reduction puzzle. If we really want to address climate change, we need to reduce our consumption of energy in our buildings and vehicles. Second, we must source the energy we do need from renewable sources.
To reduce the energy needed to run our buildings, we must make our home and businesses more efficient. The good news is that saving energy translates to saving money on our utility bills. A first step in making your home more efficient is conducting a home energy audit. During an audit, a technician will survey your home's insulation, heating, ventilation and cooling (HVAC) systems, and will determine measures you can take to improve your home's energy efficiency, as well as your own comfort and safety. There are many companies that offer home energy audits. Here in Princeton, we have partnered with Ciel Power to provide residents with a discounted $50 audit. If you own a business there is substantial state funding available to assist with energy efficiency improvements. We'll be glad to tell you more.
Once your home, or business, is as efficient as possible, the next step is to source more of your energy from renewable sources. For those that live in Princeton, we have great news for you. Just before the pandemic started, the municipality initiated a process to provide Princeton residents with an electricity supply that has more renewable content than offered by PSE&G, the default energy provider for all Princeton residences. PSE&G currently obtains 22.5% of its electricity from renewable sources. Via a program called Princeton Community Renewable Energy (PCRE), starting on June 1, 2020 residents will be provided with an electricity supply that is cheaper and has more renewable content than the power supplied by PSE&G. All homes will receive a savings of 1-2% on their utility bills and renewable energy content will be increased to 50% for all residents, a renewable volume more than double that provided through the current supply. For a small cost increase, translating to approximately $4 per month, residents will have the option to increase to 100% renewable energy. For those that like to dig into the details, this energy offering is even better than most third-party programs because the renewable energy secured in this program is "Class I", meaning it is sourced within our regional transmission territory and therefore supports the development of solar, wind or other renewable sources in our region.
Princeton residents were mailed information about this program in early April and the Municipality will hold an online community meeting on April 22nd. Those that want to participate with the standard 50% renewable program don't need to do anything. Program enrollment, and savings, are automatic. Residents wanting to increase their supply to 100% renewable or wanting to opt-out can easily do so. The mailing and municipal website provide information on these options. This new program is truly a win-win for Princeton, saving everyone money and reducing our impact on the planet.
After the energy consumed by our buildings, transportation-related emissions are the next major source of our GHG footprint. It is difficult to know the lasting effects that the COVID-19 will have on society, but in the short-term, the pandemic has resulted in a shift away from a car-centric lifestyle. Cars are being left at home as families are heading outdoors to walk their dog, grab groceries or to enjoy a bike ride. These behavior changes are beneficial to both the health of the planet and humankind.
In Princeton, 20% of car travel is associated with in-town trips. Maybe now we can reconsider the possibility of making these trips by bike or on foot. New electrical bike and scooter options are also providing exciting, and zippy, alternatives to motor vehicles. Just last summer, New Jersey passed legislation defining the guidelines to allow for electric bicycle and scooter use.
When travel needs require a vehicle, there are a few emissions-reducing approaches to consider. First, combine trips. Try to plan ahead and consider consolidating errands or other travel needs to minimize your emissions. Along those lines, if possible, consider whether your household can reduce the number of vehicles you own. Could an increase in carpooling and a shift to more biking allow for a reduction in the number of cars you own? Imagine the cost and environmental savings. Here in Princeton, Zip Car and Enterprise car-share services and Lyft and Uber ride service options provide viable alternatives to car ownership.
If you are at the point of considering a new vehicle, go electric. Over their lifetime, it has been estimated that electric vehicles (EV) have roughly half the footprint of a traditional fossil fuel burning option. Great progress has been made on the travel range of EVs over the last few years and their price is coming down. Leasing an EV is a smart option since industry-wide improvements are being made rapidly.
At this unprecedented time of uncertainty, we need to consider the potential positive changes we can make as we evolve from this pandemic. Sustainable Princeton is working to lead this change but can't do it without you. We all need to do our part. Join us in moving towards a stronger, healthier, more resilient Princeton better prepared to collectively address climate change, a global challenge that we will be fighting for decades to come.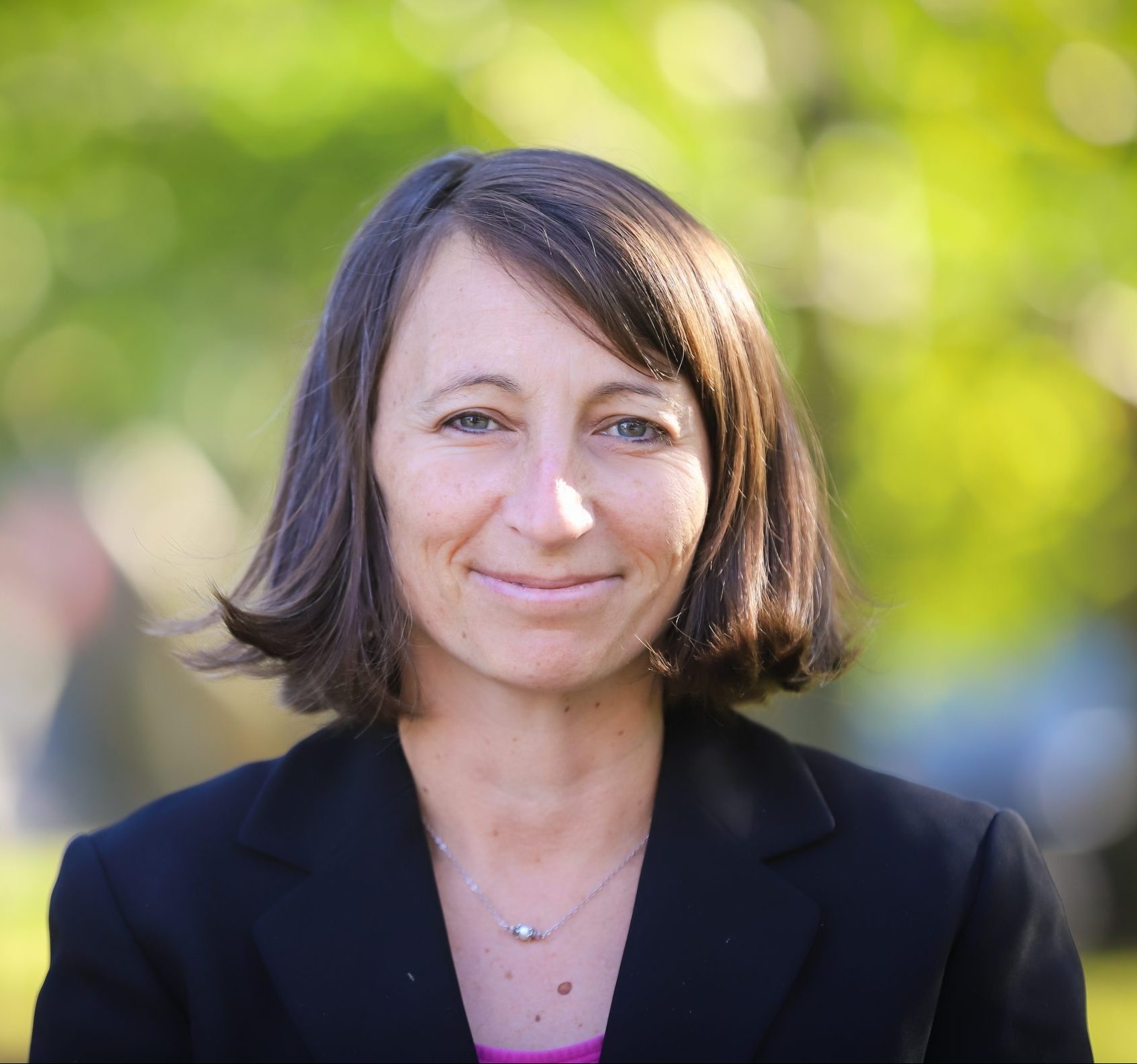 Molly Jones has served as Executive Director of Sustainable Princeton since 2017. The organization has recently led the development and implementation of the Princeton Climate Action Plan, a strategic plan to reduce greenhouse gas emissions and make Princeton more resilient to the impacts of the changing climate.