I started biking when my husband gifted me a bike for our wedding anniversary after my youngest son Abe was born. We would go on rides every once in a while when we could find a babysitter. I was a bit shaky on the bike but really enjoyed it.
RIDING TOGETHER
When our two older boys, Wyatt and Truman, could ride bikes without training wheels we started going on family rides. I would ride Abe on the back seat of my bike. I loved this time together as a family to explore, to exercise and to be in nature. We started with the Pole Farm in Lawrenceville – it was a great place to start because it had very bike-friendly trails and lots of fun things to see. But as the older boys started school, Abe was my "ride or die" partner, strapped into the back of my bike at the mercy of my curiosity and need for some fresh air and exercise. We would go all over Lawrenceville, and we were lucky there are so many great trails in the town thanks to the Lawrence-Hopewell Trail System.
In 2006 we moved to Princeton. In the process of looking, we made sure to look at homes that were a "bikeable" distance to town. We found our perfect house! Not only could we bike to town, but our children could also bike to their new elementary school, Johnson Park (JP). Slowly but surely the boys and I started biking to school. Off we'd go, Abe strapped to the back of my bike with his awesome spiked helmet, Wyatt and Truman fearlessly speeding down the Edgerstoune Road hill as we made our way to school.
Once we made it safely down the big hill, we would ride through a beautiful path alongside Stony Brook on the way to Greenway Meadows. At the end of the Stony Brook path, we would climb the small but steep hill to Greenway Meadows, where the fields would open up. We would feel the sunlight on our faces and see the trees that lined the path in whatever phase of bloom they were in. In the distance, we'd see the hills of the park covered in the tall grass surrounded by the large pines. Even on the gloomiest of grey days it was always a beautiful sight to see and where my gratitude was always at its peak. The boys and I would then cross Rosedale Road, at the crosswalk, carefully dismounting our bikes and walking/running across. The Rosedale Road crossing has always been a tricky crossing, one I will talk more about a bit later.
Once Abe and I would drop the bigger boys off at school and lock their bikes up to the racks, he and I would head up the dreaded Rosedale Road hill. This hill, for a single rider, is insane! With a preschooler on the back of the bike, it was no small feat (of which I am proud to tell my family every time we drive up the hill – even to this day, even to their rolling eyes) how I mastered the "climb!" Once up that hill, everything was easy. The ride through the beautiful old homes of Princeton's Western Section, down Route 206 and across to the University side of Nassau Street. This is where I would make my final drop off at Dietrich Johnson Nursery School. Abe would happily head into school and I was off on my day.
JOYS OF RIDING
Over the years, biking to school with my boys has been a highlight of my life. I've loved the talks on the way, seeing the competitive nature between my boys, overhearing conversations they were having with each other, watching their curiosity and wonder about nature and excitement (or lack thereof) for the school day ahead. On many days we even picked up a few extra kids for our bike rides. These rides reinforced my teachings to Wyatt, Truman, and Abe about the importance of being healthy, mentally and physically, surrounding yourself with nature and spending quality time together.
Biking, like everything else in life, has changed over the years. My older boys are now at John Witherspoon Middle School and choose to ride their bikes to school when they want to sleep past their bus pick up, meet friends after school or stop for a quick churro for breakfast at Terra Momo.
Now that it is just Abe and I riding to school together, we set a challenge for ourselves. Our challenge has been to ride our bikes back and forth to school once a week from early October until one week after Thanksgiving. We figured once the ice and snow came, our weekly bike rides would be over. This year's unusually warm weather and no snow has worked in favor of our challenge because Abe and I have been riding our bikes at least once a week, to and from school, for the past 17 weeks! No matter how cold (18 degrees) or windy or sprinkling rainy it was, we soldiered on and surpassed our personal challenge. It felt great and we are not stopping any time soon! We have even continued this challenge through the Coronavirus pandemic and remote schooling.
RIDING SAFELY
Going back now to the crossing at Rosedale and General Johnson Roads. This crossing has always been a very unsafe crossing for us (and other families). This is the only reason my kids were not able to bike to JP on their own. Rosedale Road has a 45-mph speed limit, which turns to 25-mph when the lights are flashing during school arrival and departure times. In both directions the cars are coming down a sloped road, so slowing to 25 mph is not always adhered to. Despite the crosswalk, my boys and I have been stuck many times waiting for several cars to pass before someone has the thought to stop for pedestrians (we always dismount our bikes and walk our bikes across).
I started waving to the drivers, so they get the sense that we are ready to cross. Even so, every time I step foot on that crosswalk, my eyes looking around at cars coming from three different directions, I'm yelling to my boys to cross quickly and I say a little prayer that we get across safely. We have had many close calls where drivers have been so hurried they have not stopped for us, they drive around the car in front of them that is stopped for us or speed past us before we are even fully across the lane. This has activated my mama bear anger many times! It is also what has led me to "be the change you want to see in the world."
With all of these scary too close for comfort occasions, I decided to start a petition asking for Princeton to give us a safer crossing at Rosedale Road. Over a very short period of time I was able to get over 100 signatures from neighborhood residents, parents of students at JP, teachers, the principal and bike riders all in support of a safe biking and walking crossing on Rosedale Road. This petition then led me to the Princeton Bicycle Advisory Committee (PBAC) where I was able to present my case to the committee as well as the town engineer.
I was met with tons of support. The town engineer, Deanna Stockton, was so supportive of the idea that, with the help of her team in the Engineering Dept, Princeton was awarded a $1million Safe Routes to School Grant to improve the Rosedale Road and General Johnson Road crossing. The Engineering team is now working on the best, most-effective way to make this crossing safe for all who use it.
MY RIDING ACTIVISM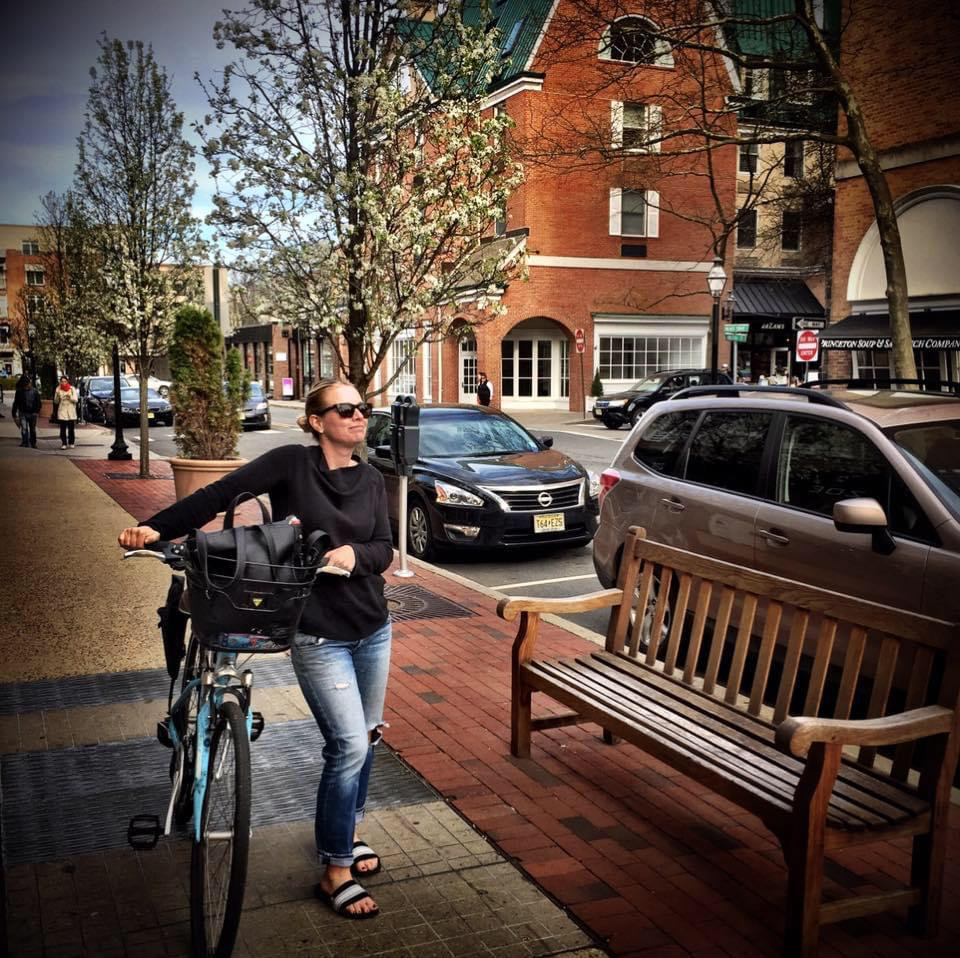 This experience led me to become a member of PBAC. The committee works on developing safe routes to schools throughout Princeton as well as educating our students in the elementary and middle schools on bike and pedestrian safety and rules. It is also working on getting more bike awareness added to the driver's education course at the high school. We have added more bike racks at the schools and around town, bike valet parking at all of the community events large and small, and are working on many other things that will help make Princeton a more bike-friendly community.
One of the more important projects the PBAC is working on with the town engineer is creating bike lanes and bike boulevards throughout the town. Two years ago, Princeton did a pilot program called the Beta Bike Lane that ran from near Witherspoon Street to Walnut Street, along Wiggins Street and Hamilton Avenue. It was a great initiative, first, because Wiggins/Hamilton is a main artery in Princeton and second because it gave bike riders a safe space to ride their bikes without having to worry about getting hit by a car, having a car door open in front of them or having to share a sidewalk with the pedestrians. There have been obstacles to overcome and studies to be finalized and analyzed on this project, but in time we are hopeful that Princeton will see the benefits of improved biking safety throughout the town for all of its residents, students and visitors.
TRAVELING SUSTAINABLY
Now that my kids are all in school full-time, I find myself with time to run errands on my bike. I feel so lucky to live in a town where this is all possible. I can ride my bike to the Princeton YMCA to exercise, head to the local coffee shop for my iced tea (in a reusable cup). I can visit the bank, the pharmacy, the grocery store, have lunch in town and never have to pay for parking. I feel that because I am riding my bike and staying close to home while doing my daily activities I can also add shopping locally to the list of benefits from biking. I have outfitted my bike with two baskets in the back and one in the front so that I can carry a few groceries across town from McCaffrey's. All of this I get to do while riding my bike past beautiful homes, smiling and saying "Good Morning" to people, feeling the sun on my face and the wind in my hair.
Running errands on the bike has made these very mundane jobs fun and fulfilling. It allows me the opportunity to ride down a street in a neighborhood I have never been in, to watch the trees blossom and leaves fall, wave to my neighbors and give an understanding nod to other cyclists. I have even convinced my husband, Sherrod, to start riding his bike for local excursions. He will now bike to Springdale Golf Course to play golf or have lunch. He enjoys a morning ride into town for coffee or just to get out into the fresh air to get his heart pumping.
If our family goes to town for dinner we always try to bike into town. This is such a great way to build a healthy appetite and get some of that "extra" energy out that my boys always seem to find when sitting at a table in a restaurant. The added bonus of stopping for a local treat of Bent Spoon or Halo Pub on our way home is always a great way to spend some quality family time. I feel like our whole family is continuing to learn the benefits of biking on our bodies and minds as well as the environment.
I did not start off my biking life with the intention of a more sustainable life, but as I have learned more about sustainability it is hard to resist hopping on a bike instead of getting into my car. Don't get me wrong, I still have three boys that I have to drive to hockey practices and games, wrestling matches and school events, but almost because of that, I choose my bike when I can. When the weather is good and I am able to run my daily errands on my bike I see the benefits in my wallet too. The gas money and parking meters add up over time and it is nice to have an alternative way of getting around that doesn't require paying for either of these items.
I also have to be very thoughtful about the groceries I decide to purchase when biking, "do we really need this", "will this fit in the back of my bike" helps to thin the impulse purchases that I would normally make while shopping with my truck. Riding my bike as part of my daily routine helps me feel that I am doing a small part to reduce my footprint.
RIDING INTO THE FUTURE
I love the energy biking gives me, an immediate smile and appreciation for my health and happiness. Many of you have likely seen the older man with the long white beard riding his bike throughout town, smiling and waving to everybody and anyone. For the longest time I wondered about him – did he know so many people that he was waving all the time? Was he a little crazy? Did he have a destination or was he just always riding his bike? I feel like I now know what his deal is – he is HAPPY! Happy to be alive, happy to be strong and healthy enough to bike, happy to be able to bike past amazing people in an amazing town and happy to be able to see the beauty of the earth uninhibited by the cover of a car or truck.
Many times I feel myself waving to people or aggressively saying "Good Morning!" because I am literally so happy to be outside riding my bike and I want to share the feeling. So, don't be surprised if you are in town and see a woman on her turquoise bike smiling and waving to anybody and everybody!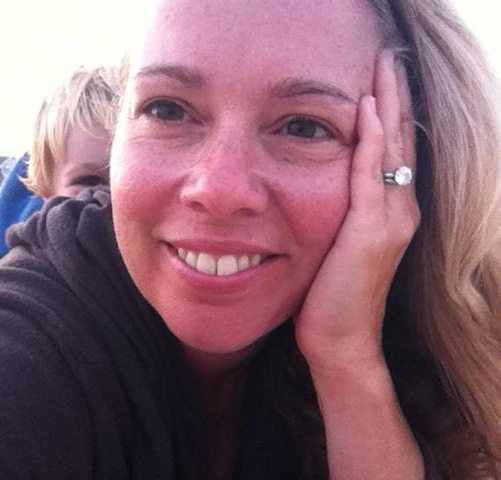 Mandy Arshan is married to Sherrod Arshan and has three boys, Wyatt, Truman, and Abe. She is currently a member of the Princeton Bike Advisory Committee, Johnson Park PTO and volunteers at the Mobile Food Pantry of Princeton. She graduated with a bachelor's degree from the Fashion Institute of Technology in New York City.