Singer-songwriter Joni Mitchell once crooned, "go round and round and round in the circle game." Throughout the COVID-19 pandemic, it's the interconnectedness of people, groups and businesses that's keeping things going round and round in Princeton.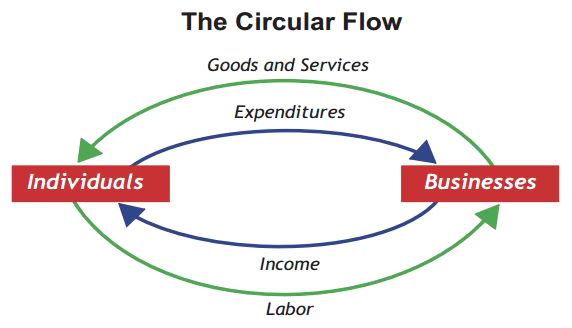 In a strong market economy, a typical circular flow model demonstrates the movement of money between the household sector and the business sector. It is fueled as money and goods are exchanged when locals enjoy a meal at neighborhood restaurants or customers shop at their favorite stores. Instead of focusing on a flourishing economy, however, today's circular flow model demonstrates individuals financially supporting businesses to cover the cost of a meal or goods for others, not for themselves. The business sector, instead of focusing on making a profit, is focusing on making ends meet and trying to keep its staff employed. And the workers are doing all they can to keep our society going by saving lives in hospitals, stocking shelves in supermarkets and providing services, food and products people need. It's a stripped-down circular model and demonstrating the best society has to offer.
Some models are simply paying it forward (purely donations and volunteerism) while others are buy-one, give-one (paying it forward and getting something for yourself as well). Some support small businesses and others communities-at-large. But all are sustaining each other, connecting together.
Penn Medicine Princeton Health doctors, nurses, respiratory therapists, medical technicians and other employees have been working tirelessly to help patients afflicted with COVID-19. Earlier this month our local citizens, the hospital and nearby restaurants came full circle to help the hospital workers, through the Healthcare Heroes Fund. Recognizing the need to sustain their staff and assist them once they leave the medical sites, Princeton Health connected with restaurants to create meals for two, to go, enabling every employee to go home with dinner at the end of their shift. Launched in mid-April, the fund sought donations with a goal of raising $150,000. Through the generosity of our community, that goal was recently surpassed. The circle goes round and round…donations come in, restaurant workers get to keep their jobs and create meals and the dinners sustain the healthcare workers (and give them a break) so they can come back to the hospital and save more lives. Since Healthcare for Heroes began handing out meals on May 2nd, more than 2,900 have been taken home.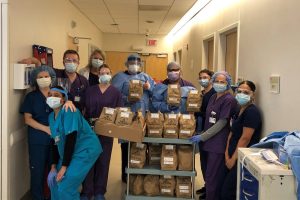 Lunch bags have also been going to frontline workers at Penn Medicine Princeton Health, Robert Wood Johnson University Hospital, the Police, Fire and Rescue in Princeton and S. Brunswick,  Princeton Care Center and to help Homefront. The food and delivery from downtown's Princeton Soup and Sandwich is supported by a GoFundMe campaign set up by owner Lisa Ruddy and her daughter, Alex. It started with their landlord, Palmer Square Management, wanting to send food to the hospital. But Ruddy sensed the community might want to continue the meals.
"We said, let's just put it out there and see. We posted it and the generosity of people was just overwhelming. Within the first week there were $10,000 in donations," shared Ruddy. To date, the campaign has raised over $15,000, though it needs more to continue.
"We would like to keep it going. People want a quick easy way they can help and for us it's keeping the lights on and keeping us going, so it's a win-win."
In addition to the more than 1500 lunches Ruddy and her staff have bagged, they're now also one of several Princeton establishments to join the Mr. Rogers' Neighbors Kindness Project, a movement launched by Blair Miller amid COVID-19.
Through donations and a "buy one for you, buy one for your neighbor" model, the circle keeps going round as shoppers at McCaffreys and 14 other Princeton establishments can purchase their groceries, restaurant meal or goods and pay for more to be donated to the Mr. Rogers' Neighbors Kindness Project. The meals and goods are collected and made available to local residents at Studio Hillier on Witherspoon Street three times a week.
Restaurants connecting to their community to help those less fortunate has also become possible through Share My Meals. The not-for-profit organization launched in January as a means to fight food insecurity in our area and prevent food waste. It brought excess food from Princeton University Eating Clubs and local companies to those in need. Just as they were getting off the ground, their partner sites closed, and they quickly shifted gears. Princeton establishments La Mezzaluna and The Meeting House approached Share My Meals looking for a way to keep some staff working, use up their perishable food inventory and help the nearby community in need.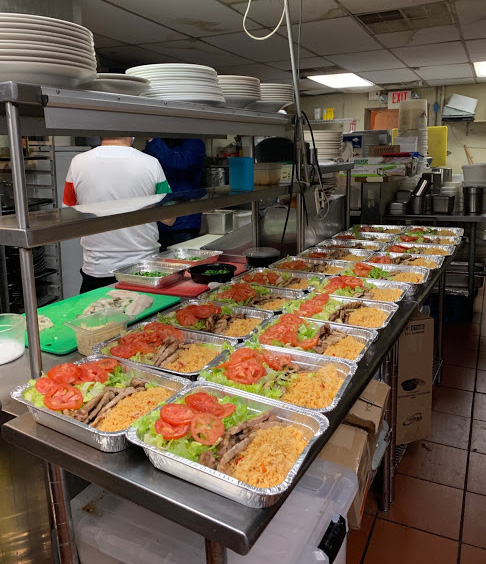 Together they started preparing and delivering trays to their food insecure neighbors. And thanks to early financial support from generous donors, Share My Meals has continued the circular flow, covering the food and basic staff costs. The organization has quickly grown to 25 volunteers who hand-deliver 75 food trays daily to the doorsteps of families. Stanislas Berteloot, a member of the Share My Meals Board of Trustees, says he and many of the volunteers never knew they had so many neighbors struggling to put food on the table.
"Share my Meals, by bringing more privileged people together with less privileged, starts to build a bridge between those communities," explains Berteloot. "It's exceptional to have the opportunity to bring about change, to help people communicate with each other."
Many who once were financially secure are now finding themselves struggling. To meet the demand for meals, Share My Meals is seeking additional funding and had to partner with another restaurant. Trattoria Procaccini is now on board, and each restaurant is preparing 100 meals a day.
The benefits of partnering with the organization came full circle because Get Forky, the restaurant group that owns Trattoria Procaccini, was able to rehire some of its serving staff to help with deliveries and phone orders and maintain most of the kitchen staff on a rotating basis.
"This program can feed my guys," states co-owner John Procaccini. "Not only are we feeding the needy but by keeping them on staff, I'm feeding my employees who I hope to retain on the other side of this thing."
The circles around Princeton are also inter-connected beyond food. jaZams book and toy store has had many customers helping it fund and support causes around town.
"It's always been part of our mission at jaZams to think about not only our business and employees but the community that provides us with support," says jaZams Co-owner Dean Smith.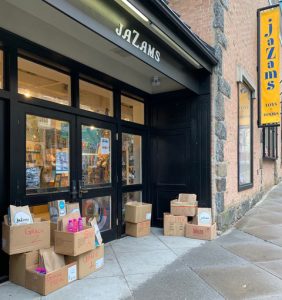 In the past two weeks, its customers have taken advantage of the buy-one-give-one opportunity to get books for their home and purchase another for the Mr. Rogers' Neighbors Kindness Project. More than 50 books have been donated so far. The store itself, thanks to kick-off funding from a donor, has also provided all children on the Free & Reduced Lunch Program at Johnson Park Elementary and some at Community Park Elementary (CP) with books hand-picked by their school librarians. More than 100 children have benefitted so far, and this week jaZams is making plans to deliver books to the remaining population at CP. It's also partnered with Labyrinth Books. Together, and with continued donations, they plan to provide a book to all qualifying students at John Witherspoon Middle School. At a time when library books are not easily accessible, their goal is to complete the other Princeton Public School elementary schools and the high school as well.
"There are people really suffering from the disease, but also suffering profoundly economically, psychologically, and socially. We're just trying to figure out ways of connecting with those people in a way that we can't without our doors open," shares Smith.
The store and its customers are additionally circling round to benefit neighbors through the "5for5" program. A spin on the "buy one for you and another for a neighbor" approach, this option at checkout allows a customer to get some relief with a 5% discount off their order which jaZams then matches with a 5% donation to the Trenton Area Soup Kitchen (TASK). As of May 5th, over $600 has been raised for TASK.
The amazing thing about this circular flow model, is that in times like these we're also seeing people entrenched in struggling communities circling around to help their own. Princeton High School graduate and Witherspoon/Jackson resident, known as K.P., is grateful for the numerous organizations working to help provide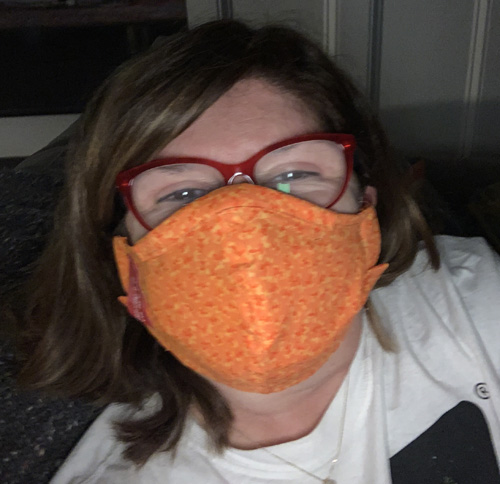 food and tend to the basic needs of many of her neighbors. She wanted to do what she could to also ensure their safety and has been sewing morning until night creating masks. She's sewn 100s so far! Her masks, as well as those created through drives like The Arts Council of Princeton's Sew Many Masks are helping. To assist in distributing them, she turns to Lilliana Morenilla, a tireless advocate as a leader with Share My Meals and the Princeton Mobile Food Pantry who works as Princeton Public Schools Community Outreach K-12. She checks in virtually every day to ensure her students have practiced trumpet, gone to their art class and completed their daily remote schooling. Then she ensures what many take for granted, that they and their families are protected from COVID-19.
"After I know they have food and schooling, I make sure they are safe. I touch base and ensure they have a mask or have gloves," shares Morenilla.
When everyone has a desire to give and help, it's easy for the circle to keep rotating. If you want to offer support, click on one of the links above or go to Princetoncovid.org for a more complete list of ways to help. It takes a lot of effort – mental, financial and physical – but in a community like Princeton, there is a natural flow that keeps us going round and round.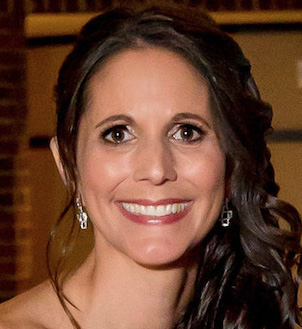 Lisa Jacknow spent years working in national and local news in and around New York City before moving to Princeton. Working as both a TV producer and news reporter, Lisa came to this area to focus on the local news of Mercer County at WZBN-TV. In recent years, she got immersed in the Princeton community by serving leadership roles at local schools in addition to volunteering for other local non-profits. In her free time, Lisa loves to spend time with her family, play tennis, sing and play the piano. A graduate of the S. I. Newhouse School of Public Communications at Syracuse University, Lisa was raised just north of Boston, Massachusetts but has lived in the tri-state area since college. She is excited to be Editor and head writer for Princeton Perspectives!