Now is the time for your last hurrah of summer! With Labor Day falling one week into September, most schools in the area are starting September 8th or later. Public schools in Princeton are planning to start even later than that, on September 14th. That leaves plenty of time to get out and explore!
While there are many great things to do in the Princeton area, after five months of the pandemic you may be grasping for new ideas. And it can be fun and rejuvenating to have a change of scenery. If your summer vacation plans were sidelined and you'd love an opportunity to feel like you got away – even if it's a stay-cation – we have ideas for you! From day trips to short get-aways, even a trip to help you through remote schooling…all suggested with the safety of COVID-19 in mind. We've kept our suggestions local and within New York and Pennsylvania, currently safe options for travel. If you prefer to stay home and entertain with some friends in your yard, we've got safe ideas for that, too!
Day Trips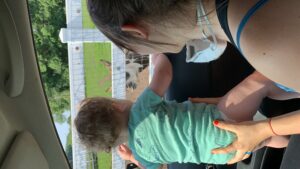 It is always nice to wake up with something to look forward to.  If you have little ones, there is a great animal farm to explore just a one-hour drive from Princeton. Brookhollow's Barnyard in Boonton, NJ has figured out how to attract visitors that want to ensure their children can enjoy the animals in complete safety.  How do they do that? With a drive-thru car tour experience!
"What an incredible, super safe and fun experience for Leo!" says Daryl Rothman, whose son just turned one. "I cannot speak more highly of this wonderful and safe experience for kids! They allow you to bring your own carrots so you can throw them to the animals from the window, and they mandate that nobody can get out of their car! Leo had so much fun waving to the animals and saying "hi" to them from our window!"
Drive-thru tickets are available for Sundays only, with one low cost per car for a one-hour experience. You can drive through as many times as possible during that hour. If you are comfortable walking around, Brookhollow's Barnyard also offers individual walk-thru tickets for each person over age 2, Tuesday-Saturday. Each time slot is limited to 45 people and face masks are not required if you safely social distance. Tickets are released at 10am each day, for the following day.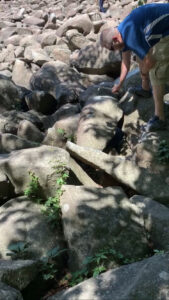 For children of all ages, another great outing located one-hour away is in Bucks County, PA.  Bring your own hammer and head to Ringing Rocks Park located in Upper Black Eddy. This 128-acre park has a giant boulder field and the rocks resonate when struck with a hammer.  Sue Evans recently made the drive from Princeton with her husband and tween daughter.
"When we were there, we saw all ages, toddlers and there were a lot of teens. The field is huge and the more adventurous climbed all the way across, hitting rocks all the way," she shared.
Evans notes that hammers really work best. They tried a wrench, and it didn't create much sound. Interestingly, only about 1/3 of the rocks are audible to the human ear, but those that are, make great music! Ringing Rocks Park is also home to Bucks County's largest waterfall.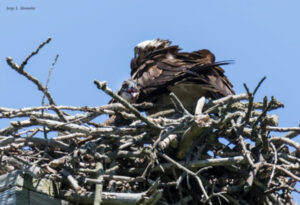 If you're willing to make a 2-hour day trip, there are a few great options crossing north into New York state. For an outdoor experience with birds and marine life, drive up to Rye, NY for a day at the Edith G. Read Natural Park and Wildlife Sanctuary located on the shore of the Long Island Sound. The grounds are open from dawn til dusk though the nature building is currently closed due to COVID. Recognized as an "Important Bird Area" by the National Audubon Society, the 179-acre sanctuary has three miles of walking trails and ¼ mile of shoreline along the sound. The publicly accessible shore has an intertidal habitat home to an array of plants and animals. Near the water, you can spot Osprey nesting on the platform. This is a great outing to take now, but also one to keep it in mind if you want to get away when the weather turns. In winter months, the lake becomes home to 5,000 ducks and you can spot owls, blue herons, loons and more.
If you've already taken in the outdoor art experience at nearby Grounds for Sculpture, which has recently reopened, there is another grand outdoor art option in the Hudson Valley, New York. There you can immerse yourself in art and environment at Storm King Art Center, a 500-acre open air modern sculpture park located about 2 hours from Princeton.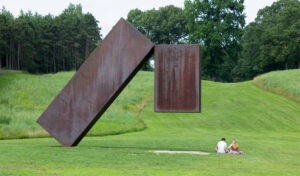 "Every visit to Storm King is different, changing seasons, weather conditions, and even the time of day offer new ways to experience art in nature," states John P. Stern, Storm King Art Center President. "The Art Center's dramatic landscape has been designed, preserved, and maintained to accommodate and enhance the collection, frame vistas, and encourage movement through the site. In collaboration with artists, we thoughtfully place artwork that is bold, ambitious, and often site-specific."
There are two new exhibitions this year from artists Kiki Smith (Kiki Smith River Light includes two large-scale flag installations–Hudson River (2020) and River Light (2019)) and Martha Tuttle (Outlooks: Martha Tuttle presents carefully sited stone stackings, or cairns, which the artist made from more than eighty hand-molded glass and marble stones placed atop larger boulders selected from Storm King's grounds).
The center just reopened in July and plans to remain open for the 2020 season until early December. Storm King is currently an outdoor-only experience with social distancing due to COVID, and no tours are operating. But you can use their audio guide by texting STORM to 56512. (No download required but message and data rates may apply). If you'd like to eat on the property, you can order 24-hours in advance and pick up food from their outdoor café.
Timed-entry ticket are available in advance, based on the number of people in your car. You must arrive on-site during the hour printed on the ticket. Currently, the website is offering spots through August 31st. The next block of tickets will be available starting at noon on Wednesday, August 19 for visits through September 14.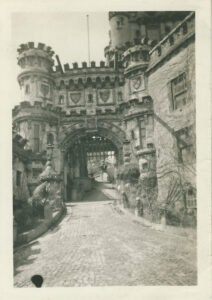 Pollepel (Bannerman) Island is a great day outing also about a two-hour drive from Princeton to the lower part of Dutchess County, NY. Bannerman Castle, the main attraction, is an historic military warehouse. Designed as a simulation of a Scottish castle with construction beginning in 1901, the father of the army navy store used it to house tons of surplus military supplies he acquired. The arsenal caught fire in 1969, leaving ruins of the castle and his former residence open and partially standing. You have the option of taking a 20-minute boat ride from Beacon, NY along the Hudson River to the 13.4-acre island. Alternatively, you can kayak, canoe or take your own small boat to the island and enjoy the castle and beautiful gardens.
"There's a ruin of an incredible castle there…you don't have that very often in America," explains Neil Caplan, Executive Director and Founder of The Bannerman Castle Trust. "All the buildings were pretty much ruined. The residence, now a Visitor's Center, had no roof, floors, nothing – just poison ivy and trees. Now it's got roofs and floors. We normally have people coming from all over the world to see it."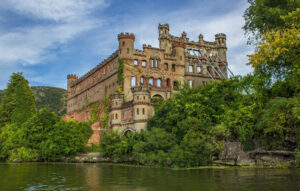 The facility has adapted with many new safety regulations for the pandemic. The boat, which normally takes 45 people at a time, is only taking 20 (with masks required). Everything is sprayed down and cleaned regularly. And the residence, allowing only 10 people in at a time, has been altered so there is nothing inside to touch (the gift shop has been moved outside). Once you arrive on the island, you'll hear a 25-minute informative talk and then have 1.5 hours to enjoy the property (masks can be removed when properly socially distant).
The season runs until October 31st and you should book a week in advance, if possible. You can also get tickets to attend two special events – a Chef's Consortium Farm Fresh Dinner on September 5th which will be served like a dinner picnic box with musicians playing, an art sale and raffle. Tickets for a concert with world-renowned classical rock violinist, Daisy Joplin, are also on sale for September 30, 31, October 1, 2, and 3. Only 40 people are allowed at each performance, which will be accompanied by a light show on the castle.
Overnight Get-Aways – for now and yearlong!
If you'd like to go away for a night or more, there is a lot to consider during the pandemic. There are currently 35 states on New Jersey's travel restriction list. That means if you travel to one, you must quarantine for 14 days upon returning – even if that time overlaps with the beginning of school. Our two suggested travel sites alleviate some concerns by offering outdoorsy vacations without requiring a quarantine.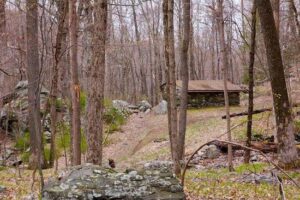 The first is across the border in New York state. Ward Pound Ridge Reservation has options for both the novice and experienced camper, offering lean-to and tent options for sleeping. Both have limited availability right now due to social distancing protocols. Located 2-hours away in Westchester County, the reservation sits on 4,315 acres of land.
Ward Pound Ridge is home to an incredible diversity of wildlife including wood turtles, raccoons, great-horned owls, cliff swallows and woodpeckers. On the grounds you can hike amongst the 41 miles of trails or go horseback riding, for an additional fee. Fly fishing is available in the park in Cross River and there is also fishing allowed in two streams that run through the park, home to 13 species of native and stocked fish. A NY State fishing license may be required.
If you prefer the outdoor experience with more organized activities and a building with beds (bunk beds!), you can travel to northern New Jersey, just below the Delaware Water Gap National Recreation Area and spend time at Fairview Lake YMCA. Their Family Camp is offered with weekly cabin rentals Sunday-Friday until Labor Day then Monday-Friday or weekends only through Thanksgiving. Protocols, such as family-assigned dining tables, water coolers and life vests, as well as extreme sanitization measures have been put in place to protect from the novel coronavirus.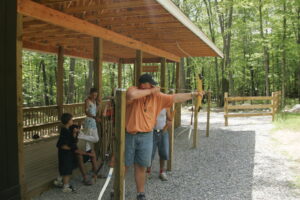 "Family camping has become a wildly popular option for lots of families," shares Fairview Lake YMCA Executive Director Marc Koch. "They come here, get their own cabin, and with such a great big outdoor setting, they feel comfortable with social distancing. It's the only time families have the opportunity to do something like this, at least in our 106-year history."
Each cabin is equipped with bunk beds, flush toilets and showers. In the warm months, there is an exchange unit that circulates the cool lake air and heat is included in the colder months. The Family Camp fee includes the cabin rental (for up to a family of 4, plus cost for each additional person), breakfast and dinner daily and all activities except horseback riding. The 110-acre lake and 660-acres of camp offers paddle boarding and other lake activities, archery, ax throwing, hikes, court games, an animal farm and more.
If you can't get away before school begins, Fairview Lake YMCA is extending its day camp into the entire school year – an interesting option if your child is schooling remotely or your school is offering an A/B weekly hybrid model. For an added fee, you can rent a cabin but also have your child take part in the day camp while you work off the camp's Wifi (available in and outside of the dining hall and main lodge). Located at the other end of the mile-long lake, the day camp will offer activities 2 or 3 days per week, and also includes help from their online learning support staff to tackle your child's remote learning assignments before day's end.
Entertaining at Home
If you are not able or do not want to travel elsewhere, you can create a fun experience with friends or family at home. It can feel awkward to remind guests to stay socially distant, so we suggest you set up the environment to naturally do so.
Barbara Majeski, a television contributor who brings audiences the best in lifestyle and entertainment as a featured regular on Today, Good Day NY and Fox & Friends, says it's easy to maintain social distancing if you mark it out.
"Stars (or any shape) in your backyard are a great way to physically show your guests where they should sit to keep everyone 6 feet apart! Using spray chalk and a stencil, make stars in your backyard, driveway or open lot that are all spaced 6 feet apart," details Majeski.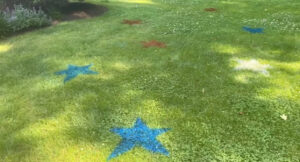 Supplies needed:
Cardboard
Marker
Scissors
Spray chalk
Tape Measure
How To: 1. Take your large piece of cardboard and draw a large star on it. 2. Cut out your star and use it as a stencil. 3. Use your tape measure to space the stars 6 feet apart. 4. Lay down the stencil, grab your spray chalk and create the perfect star on your grass!
To help keep everyone spaced apart, Majeski also recommends creating individual meal baskets.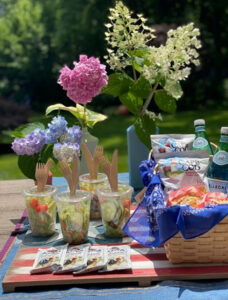 "Buffets are not en vogue this year but enjoying a meal with friends while adhering to social distance protocols is in style. Each small, dollar store basket includes individually wrapped sandwiches. I suggest going to Olives, Hoagie Haven or Princeton Soup & Sandwich, then you include individual condiments, a bag of chips, and individual salads in a cup!"
If you prefer your company wear masks when not eating, you should make that clear on the invitation. To be safe, you could buy some to have on hand. Majeski suggests local manufacturer Locked Down Designs , which has over 150 fabrics in stock and ready to ship, sized for both children and adults. You could also pick up your masks right here in Pennington.
The most important factor to consider, whether you are staying close to home, taking a day trip or getting away for a night or more is to be safe. Remember the COVID-19 protocols. Once you've got those in order, take the time to escape and create a moment, day or week to remember!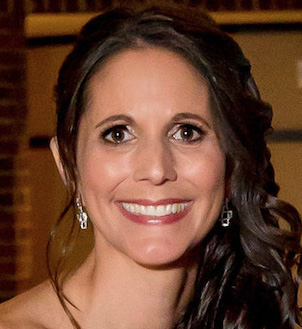 Lisa Jacknow spent years working in national and local news in and around New York City before moving to Princeton. Working as both a TV producer and news reporter, Lisa came to this area to focus on the local news of Mercer County at WZBN-TV. In recent years, she got immersed in the Princeton community by serving leadership roles at local schools in addition to volunteering for other local non-profits. In her free time, Lisa loves to spend time with her family, play tennis, sing and play the piano. A graduate of the S. I. Newhouse School of Public Communications at Syracuse University, Lisa was raised just north of Boston, Massachusetts but has lived in the tri-state area since college. She is excited to be Editor and head writer for Princeton Perspectives!