This fall it's certainly not back-to-school as usual. Instead of simply deciding what notebooks and new clothes to buy, families are tasked with choosing how their children will be educated. And the answers aren't cut and dry, there are nuances, family needs and health risks to consider. While encouraging in-school learning, New Jersey Governor Phil Murphy has required that all students (without a health concern) must wear masks in school. Yet the NJ Teachers Union and the NJ Principals and Supervisors Association are still urging the year begin remote-only. To date, every school district and private school in our area has created its own pandemic plan for learning. They include varying forms of hybrid (combining remote and in-school), some are all-remote, and others have full in-school education planned.
The difficulty for parents is these plans leave us with a complicated choice – to go ahead and follow your school's model, choose the all-remote option many are offering or opt for another school choice. None of the decisions are easy, and none of us know what may happen between now and the first day to alter them.
We've long been taught to make a pro/con list, weigh them, then decide. To help formulate your list, Princeton Perspectives sought advice from experts on the front lines of this issue – pediatricians, a psychologist and an educator that have all worked locally and raised or are currently raising children here. All information contained in this article is current as of publication (August 13th) and has the possibility of changing due to local health factors.
Meet our professionals:
Dr. Shilpa Pai is Co-Director of NJ Pediatric Residency Advocacy Collaborative and Director of Resident Education in Advocacy & Community Health as well as Associate Professor of Pediatrics at Rutgers-Robert Wood Johnson Medical School. She has 2 children and lives with her family in Princeton.
Dr. Lisa Kestler is a clinical psychologist in Princeton, NJ, where she works with children, teens, adults and families. She offers therapy and clinical assessment services through her private practice and psychoeducational evaluations at The Dyslexia Center of Princeton. She and her husband have two children and live in Lawrenceville.
Bonnie Walker has over 25 years of teaching in elementary public schools in Pennsylvania, Virginia, Connecticut, and New Jersey – most recently in Princeton where she retired in June 2019. She raised her children in Princeton schools.
Dr. Julie Halvorsen DO, FAAP, is a pediatrician at Delaware Valley Pediatric Associates in Lawrenceville, and is on staff at Penn Medicine Princeton Medical Center and Capital Health Medical Center-Hopewell. She lives in Princeton with her husband and two daughters.
"Everyone is rightfully focused on the risks of each and every possibility proposed for school in the fall. Focusing only on the risks can drive us parents crazy," says Dr. Lisa Kestler. "It may be to everyone's advantage to try to find the positives – for our kids to feel secure that they will have a good school year, and for us parents and teachers to have the confidence to make it a good school year, despite the hand we've been dealt."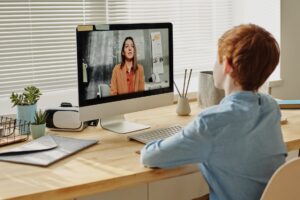 So, let's start by focusing on those positives. Remote schooling requires access to a computer and the internet. Most local private schools are already set up with a 1:1 ratio of students vs. computers, and this fall, Princeton Public Schools is providing each student their own device and ensuring internet access. Here are our panel's perspectives on the benefits of remote schooling:
KESTLER Behavioral change is effortful and it takes time to create new habits. Remote learning means that they will not have to add a slew of new rules to their daily routine around wearing masks, washing hands, interacting with classmates, and moving through the building. With remote learning we can create a sense of safety, allow students and educators to focus on learning and to engage more fully. There can be a greater sense of predictability, consistency and control.
HALVORSEN The idea of having kids in school full time does not seem realistic at this stage of the pandemic. The ability to open schools will depend on the level of community transmission.
WALKER The most important positive reason for remote learning would be for the health and safety of the students, their families, and the teaching and administrative staff.
The Wilberforce School plans to resume on-campus instruction, citing it is the "preferred mode of instruction and our best results come from interactive, face-to-face learning." The school will be offering live streaming from classes for those that can't be on campus. Despite the best efforts of many local schools that have purchased better cameras, focused on stronger lesson plans and prepared for live instruction, there are still concerns about remote learning, as our experts explain:
HALVORSEN There is already evidence of negative impacts on children because of school closures in the spring, according to the American Academy of Pediatrics. But beyond academics, children learn social and emotional skills, get meals and the opportunity to exercise and receive mental health support as well as other services that cannot be easily replicated online.
WALKER I believe it will be more difficult to identify the children who need support when you do not have real-time, in-person interactions with them, and only see them on a screen. In teaching young students, not only do teachers instruct the children in the curriculum, but they also help them develop the social skills needed to interact with their peers. This is done when students work on group projects. In addition, many parents are still working remotely, and it could be a challenge for them to help their children while trying to conduct their own business. Furthermore, there will be parents who have to work outside of the home. These students may have no one at home to help them.
KESTLER There is a loss of human connection when it is through a digital device. If they have not met their teachers or other classmates prior to the start of school, it is even harder to make that initial connection. Not only is it important for learning, there is a basic human need for physical contact and non-verbal communication. If they don't have strong social connections outside of school – either online or IRL – they can begin to feel lonely, helpless, or withdrawn. Online learning also requires strong executive functioning skills, such as planning, organization, regulating attention, emotional control, and transitioning between activities. Poorly developed executive functioning skills can be a major stumbling block to successful online learning, leading students to fall behind academically and chipping away at their self-confidence and self-esteem. Part of a remote learning plan should be to quickly identify and intervene with kids who aren't adjusting well.
PAI Beyond supporting the educational development of children and adolescents, schools play a critical role in addressing racial and social inequity. I am particularly concerned about our most vulnerable children in Princeton – and I fear that their needs will not be met if we have all-remote instruction.
With small class sizes and space to spread everyone out, Stuart Country Day School of the Sacred Heart is planning to open 5-days a week for in-school education this fall. Families can choose this model, go completely remote or coordinate a hybrid option. Balancing the needs of our children, we asked our experts their perspectives on the benefits of in-classroom schooling:
WALKER I know how important it is for teachers to make a connection with each student in his/her class. When you greet the students in the morning, you can assess their moods, how they are beginning their day. Having the students in school would allow them to have direct contact with their teachers and would allow them to work cooperatively with their peers.
PAI Not only do schools provide our children with academic instruction, but also by having in school learning, children are provided with the social and emotional skills, safety, reliable nutrition, physical/speech and mental health therapy, and opportunities for physical activity.
KESTLER Going to school involves so many little things that we didn't even have to think about before. Like waking up and having to be somewhere at a certain time, dressing and taking care of hygiene…driving to school, adjusting to the cacophony of hallways, voices, squeals, and reverberations off the cafeteria walls, talking to friends, and getting to class on time. All before the first bell. While kids may say they'd prefer to wake up 5 minutes before class and sit in their pajamas all day, they are healthier, both physically and mentally, just by having that basic morning routine.
To prevent the spread of COVID-19, Princeton Public Schools is looking towards a hybrid model and is planning daily to check temperatures and have parents report updates on the health status of their child/family. Yet, there are still concerns associated with in-school learning for this fall. Our experts weigh in:
KESTLER Health risks to student, teachers, staff, and their families.
HALVORSEN While there is community transmission occurring, mitigation measures have to be in place such as smaller cohorts, physical distancing and consistent mask wearing for teachers and students alike.
WALKER We have very limited experience to predict what is going to happen with Covid-19 this year, or in the future. Plus, we do not know the long-term effects on children or adults. I believe we should all wear masks, wash our hands, and maintain a social distance – which would be very difficult to do in a school environment. At home, and in my car, I am able to sanitize my hands and wipe down surfaces frequently. I do not know how that will be done in classrooms that are used by multiple grades.
The Hun School of Princeton is planning an every-other-day hybrid model, to allow for social distancing while providing as much in-school instruction as possible. As several schools to date have formulated a hybrid plan, we asked our professionals what the in-school plans should include to mitigate contraction of COVID-19:
HALVORSEN We know that masks are very effective and physical distancing works as well. So, for school to safely be able to re-open this fall, these measures will need to be in place to mitigate risk. Keeping the kids in smaller cohorts will also limit exposures and make contact tracing less difficult.  I think the A/B method will make it easier for schools to be able to safely provide some in-person education.
KESTLER More students, more time together = greater health risk to student, teachers, staff, and their families. Fewer students, less time = lower risk.
PAI Outdoor classrooms when possible, maintaining physical distancing with set up for desks, classwork, etc. and make sure there is adequate PPE for teachers, students and staff. The main way COVID-19 is spread is from person to person, via respiratory droplets. Therefore, infection prevention should focus on this form of spread – which means physical distancing, face coverings, and hand hygiene. However, because the virus may survive in certain surfaces for some time, it is possible to get infected after touching a virus contaminated surface and then touching the mouth, eyes, or nose. So, frequent handwashing is important.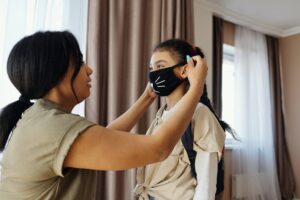 From Dr. Fauci to Mayor Lempert, leaders are urging us all to wear masks. They are mandated by the NJ Governor for public schools and private schools in our area are following guidelines as well. Princeton Day School is requiring all to wear a face covering when on campus but will allow short breaks from them while eating and social distancing outside. We asked our panel the pros and cons of wearing masks in schools:
PAI Universal face coverings have been shown to slow the spread of COVID. Masks will protect others if the wearer is infected with COVID-19 and is not aware that they are infected. Cloth masks may offer some level of protection for the wearer. Universal face coverings are not always possible in the school setting for many reasons – for example, a child who has a developmental condition.
KESTLER Mask wearing is a must, but it is not realistic to wear one in school all day. Even if we could, if COVID is aerosolized, mask wearing inside with bad ventilation may be magical thinking.
WALKER The pro would certainly be that medical professionals have recommended masks as an effective way of slowing the spread of the virus.  The cons could be that children would remove their masks, play with them, misplace them, share them. There would have to be a supply of PPE that would be made available to the students.
One of the arguments for returning to a classroom setting is for kids to regain some normalcy and socialization. At most in-school programs, like Chapin School, students will have a cohort they stay with, there will be no field trips, they will be seated at least six feet apart facing one-way and will no longer eat together in a lunchroom. What are the pros and cons of the pandemic environment with regard to normalcy and socialization?  Our experts share their perspectives:
HALVORSEN I don't think kids should expect that their "in school" days will look or feel anything like the last school year. Although the kids won't be getting to hang out at lunch or recess, I do think they will appreciate being able to socialize with their peers and teachers during class time. I know my kids are looking forward to catching up with friends they haven't seen in months, no matter how limited the interaction.
WALKER I don't know how my former classroom would look now, during the time of Covid-19.  My classroom had four tables at which the students sat – there were usually 5-6 children per table. That would not be social distancing. I don't know how the resources are going to be spent to re-outfit the classroom. In terms of recess, structured games being played outside could provide socialization, but again, social distancing would have to be implemented.
KESTLER There is an opportunity for a paradigm shift in how we do education; and holding onto "normal" doesn't fit right now. We may have to put school on hold for a year and go back to "normal" next year. With each passing day, it seems less and less likely that there will be in-class school.
It's important to help our children emotionally through this time. Princeton Academy of the Sacred Heart plans to be on campus and continue its morning runs to get kids moving outside. In addition, it hopes to leverage regular yoga and meditation to create some balance and calm, though it will all have to be reimagined with social distancing in mind. Our professionals share their thoughts on the emotional impacts of schooling during this pandemic environment:
KESTLER In the long term I think the kids are going to be alright. There are lessons to be learned from how past generations have dealt with pandemics and war. This is a profound change to our society, in so many ways, and there were many societal ills before this that could use some change.
WALKER I realize that it is important that educators and parents present a positive role model for the children. Every student should have at least one supportive, caring adult who will listen to them, someone who will help them. My hope is that this could occur whether the education takes place in a classroom setting or remotely.
HALVORSEN I definitely saw an increase in mental health visits during April and May when most of the kids and families were isolating and quarantining at home.  The teenagers in particular were struggling with symptoms of depression and anxiety.  For my patients, some of these symptoms improved once families started to expand their "pods" or "quaran-teams" to involve another family or neighbor, etc. Therefore, whatever the school year ahead may look like, I think for the kids' mental well-being, they will need to have some social interactions. Thankfully with masks, distancing and including outdoor spaces, this can be done in a safer manner.
And our experts' final thoughts to help guide you:
PAI Each parent needs to make a choice for their child – weighing the risks and benefits of in-person vs remote learning, while simultaneously taking into consideration the emotional, mental and physical health needs of their child. I think it is important that we make these decisions using scientific-based evidence and not with our own personal emotions.
KESTLER My wish-list would be an equitable way to provide small group in-person instruction, outdoors or in open-air as much as possible. Create a volunteer corps of young adults, teachers, retirees, or people looking for work, volunteer or paid, who can assist families with online learning needs and keeping kids on track with the daily school routine.
WALKER I realize that eventually our lives must get back to some sense of normalcy. In my opinion, the School District should follow the guidelines established by the CDC for the re-opening of schools.
HALVORSEN If the community is truly invested in the education of our children, we ALL have to follow COVID safety recommendations. Social distancing and consistent, correct wearing of masks by old and young alike is the only way I foresee the possibility of in-person education this fall.
Drs. Pai, Halvorsen, Kestler and Mrs. Walker's perspectives are culled from years of experience, but they haven't met you or your child. As Dr. Pai said, each decision needs to be made with your child in mind. We hope the thoughts from our experts helps you make them and feel more comfortable in doing so.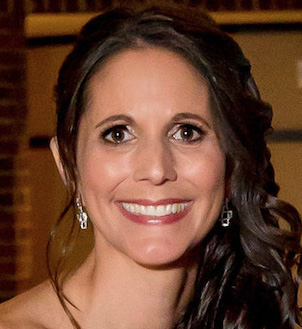 Lisa Jacknow spent years working in national and local news in and around New York City before moving to Princeton. Working as both a TV producer and news reporter, Lisa came to this area to focus on the local news of Mercer County at WZBN-TV. In recent years, she got immersed in the Princeton community by serving leadership roles at local schools in addition to volunteering for other local non-profits. In her free time, Lisa loves to spend time with her family, play tennis, sing and play the piano. A graduate of the S. I. Newhouse School of Public Communications at Syracuse University, Lisa was raised just north of Boston, Massachusetts but has lived in the tri-state area since college. She is excited to be Editor and head writer for Princeton Perspectives!