After being cooped up at home for several months, people are yearning to get outside. The warmer weather is allowing lovers of nature to get back to their happy place. For those who simply need a change of scenery and fresh air, the natural playgrounds are a wonderful resource for doing so.
"As a person who likes the outdoors, it's great seeing people get out and about. We have never seen so many people on this property in all the years I've been involved," states Clark Lennon.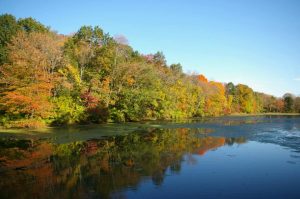 Lennon, a Trustee with Friends of Princeton Open Space (FOPOS), is referring to the current crowds at Mountain Lakes Nature Preserve in Princeton. The preserve is most recognized by its property entrance in the center of town, located across from Community Park West. Lately, that parking lot has been filled with cars as visitors explore the areas nearest the Mountain Lakes House and the two small lakes. As people begin re-entering society, some are happy to go where they know and be amongst the crowds. If you want to ensure a safe social distance from others or simply prefer more private space outside, entering parts of the woods at different points in town may offer a more solitude experience. Some have been parking at Farm View Fields on the Great Road. After parking, simply walk back down the Great Road and cross at North Road to an opening in the fence with a kiosk noting the entrance. You can also explore an area further from the main crowds by parking in a small lot on Cherry Hill Road. One favorite spot can be found from there, by traversing the northern end of the woods to Devil's Cave.
"It's basically an impressive boulder field and the cave is actually several big boulders which are sitting on top of one another and form a bit of a cave," describes Lennon.
You can still get to this point from the main parking lot by walking the red trail northeast into John Witherspoon Woods. To find it from Cherry Hill Road, follow the yellow trail around until it intersects with the red trail and continues to Devil's Cave.
While each unique in their own way, there are special spots like Devil's Cave found throughout our area. In fact, there are thousands of acres of outdoor space to explore between Princeton and its surrounding towns.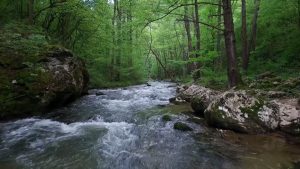 There sits approximately 350 acres of land and nine miles of trail within Mountain Lakes Preserve and FOPOS also maintains trail systems throughout John Witherspoon Woods, Community Park North, Tusculum, Woodfield Reservation and Stony Brook Trail. More than 10 miles of hiking trails are available within the 950-acre Watershed Reserve. 6,800 acres and over 40 miles of trails are stewarded by D&R Greenway Land Trust. Nearby is a 90 square-mile region of contiguous forest, that encompasses 27 different preserves and trails stewarded by the Sourland Conservancy. And though currently closed, by the Institute for Advanced Study, lay the Institute Woods. 589 acres of woods, wetlands and farmland. Spending time in these areas can be healing during these turbulent times.
"There is actually an area of study called 'ecotherapy' which explores the strong connection between time spent in nature and reduced stress, anxiety, and depression," explains Belinda Seiger, Director of the Anxiety & OCD Treatment Center of Princeton. "Is it the impact on the senses, the sights, the smells, the feel of the breeze or rustle of leaves below your feet….both mental and physical benefits have been recognized including lower blood pressure and levels of the stress hormone cortisol, which calms the body's fight-or-flight response and reduces anxiety."
SPACES TO SOCIAL DISTANCE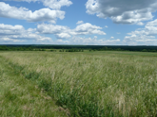 There are several wider-open spaces that can offer you this calm. Though we risk exposing some local hidden gems by writing about them, many have room enough for everyone to enjoy. For example, head to Ringoes for a beautiful view of Princeton from the Cider Mill Grassland.
"Imagine 90 acres of a grass meadow and the wind just blows through the grass and it's so relaxing to be there and reconnect," boasts Tina Notas, Director of Land Stewardship at D&R Greenway Land Trust. "It's almost spiritual."
The grassland is not mowed until later in July, to not disturb the bird nests in the field. A visit now allows you to witness bird migration, or you can go enjoy the interpretive signage about birds and relax in the fields in August, after they are mowed.
For other beautiful fields and meadows, while still allowing social distancing, St. Michael's Farm Preserve in Hopewell has big parking lots and you can enter on Princeton Ave. to encounter farm fields, host to super wide trails. You could then make your way onto wooded trails, if you desire. There's also parking on Aunt Molly Road, where you could hike a narrower forest trail, if you prefer.
Also in Hopewell sits Baldpate Mountain. Amongst the 10 miles of hiking trails, you could choose White Trail if you want a fairly wide and easy hiking option. You can also park in the lot then hike up to the summit to Strawberry Hill Mansion for a scenic view of the Delaware River and possibly even Philadelphia (on a clear day!).
"It's really nice to go early," recalls Sourland Conservancy's Stewardship Program Coordinator, Carolyn Klaube. "That's when the birds are singing, there's not a lot of people out and it's not hot yet."
You may find a few other visitors if you head to Hopewell's Cedar Ridge Preserve, but this location has meadows, a forest and multiple parking lots. You can park on the Van Dyke side and find a stream that children can play in, or park in the bigger lot on Stonybrook Road with wide, flat paths. In August, this is a great site for butterflies.
ALTERNATE TERRAIN

If rocks are more your thing, search out the Rocky Brook Trail along the Sourland Mountain Ridge just before the intersection of Routes 518 and 31 in Hopewell. It can be difficult to locate, but when you do, you will find great fun and tons of plants this time of year. Be prepared to jump rocks across a stream to explore.
That trail should not be confused with the Rockhopper Trail, which can be found in W. Amwell. This location has a bog and a beautiful woodland. Along the route you'll discover exposed stones and geology, fun for climbing. Tending to be less crowded, it's a good birding spot and home to different woodland flowers. Parking is at nearby Dry Creek Run, just across the street.
"I've seen people's boot prints, but never seen anyone on the trail when I'm there," shares Klaube. "You walk along the side of someone's yard, so it feels wrong. But it says 'trail here,' so stick to edge of property and walk back to get on the trail."
TRAILS HERE IN TOWN
Right here in Princeton is Greenway Meadows, located off Rosedale Road. It has several trail options that can send you through the wide meadow areas filled with wildflowers or on narrower trails through the woods. You can start your walk with a peaceful meditation at the labyrinth built alongside the D&R Greenway's Johnson Education Center.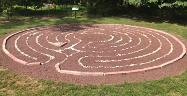 "If you come into campus and park, there's a beautiful grove of trees. Right next to it is a circular path, built using stone," explains D&R Greenway Land Trust Executive Director, Linda Mead. "You walk into the center then turn around and walk out. The idea is you're going through this process and thinking in your mind as you're going through it."
Once you've meditated, explore. At one edge of Greenway Meadows runs the Stony Brook. You can follow a single-track trail through the woods and along the brook by traveling the aptly named Stony Brook Trail. You may encounter others along your hike, but it is not crowded and you can create space to pass, if needed. Simply follow the paved sidewalk just between the soccer field and the parking lot towards the woods to find the entrance. You can enjoy skipping rocks in the water as you make your way along the sometimes-rugged terrain that weaves up towards the Hun School of Princeton.
Also connected to Greenway Meadows, across Rosedale Road, is the new Iron Mike Trail. Joining the properties of the D&R Greenway and Johnson Park Elementary School, this quiet area is well-planned with a gazebo and sitting area, formed from fallen trees.
In the western section of Princeton you can find another property that tends to be lesser known, though instead of open space it is all single-track trails. Just north of Princeton Day School, turn onto the Old Great Road to find the Woodfield Reservation (across from Tenacre Foundation). This nearly 150-acre property is ideal for walkers and hikers looking for something slightly more rigorous, as there is some elevation, as well as rocks and roots along the way. If you follow the trail maps to Tent Rock, you can enjoy the great, big boulder sitting out there in the woods.
Unfortunately, the temporary closure of the Institute for Advanced Studies due to the COVID-19 pandemic also means the Institute Woods are closed to visitors. But Rogers Refuge, which borders it, is open. Traveling on Alexander Road onto West Drive, turn off just before the new bridge to enter a birder's paradise with two marshes and two marked trails.
FOR YOUNGER CHILDREN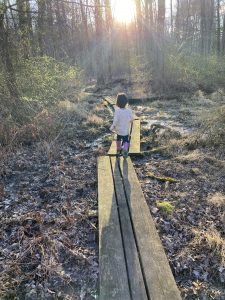 While children can explore anywhere, the D&R Greenway built a site just for them. You can find the seldom used one-way in, one-way out Children's Discovery Trail near the dead end of Province Line Road at Drake's Corner Road in Princeton.
"We developed it 10 years ago with a 10-year old girl," shares Notas, adding there are educational signs and activities to navigate through. "Signs say things like 'I can jump over this stream like a frog', 'I want to know why these trees are smaller than the ones over there.' It's a great place to find a little fun in nature and explore."
For a child that likes to run free, Thompson Preserve in Hopewell is a great option. Surrounded by a deer fence, there is a 2-acre area where children can roam at their leisure.
OTHER OUTDOOR OPTIONS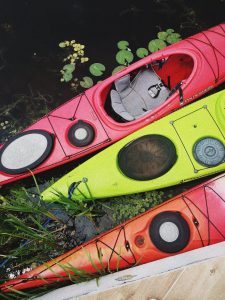 It is fun to run, hike and climb, but those lacking mobility can also experience nature. The Watershed Institute offers a ¼ mile long boardwalk that is raised and wheelchair accessible. It's a great location to get out and take in beautiful meadow views. It is currently under construction, but open.
And lest we forget, there are waterways to explore as well. Kayaking and canoeing is open in Princeton by the Alexander Road Bridge as well as in Griggstown on Canal Road. And the greatest local water feature, the Delaware River, has several tubing companies that are operating though all now require advanced reservations. If you'd like to go yourself, coordinate with others to buy your own tubes and plan to park a car at the finish point, just before the Washington Crossing Bridge. Another car needs to take you to a drop-in area. One can be found over the bridge near Lambertville's Golden Nugget Flea Market off Route 29.
However you choose to do it, get on out and explore! It can be helpful for everyone to prepare before you go. To pick a land location, you can go to NJTrails.org. The site lets you input what type of trail you want, with maps, directions and trail descriptions provided. If you know where you're headed but want to learn more in advance, check out SourlandNiche.blog which has write-ups about every trail. Simply enter your desired location in the search bar to find pictures and more. If you're out and about and want to know what's nearby, the TravelStorys App is free to download, and it will populate with sites near your location. You can download your option and utilize the GPS triggered app to provide an audio tour as you traverse.
We hope our guidance helps you find calm and create new experiences. Please stay safe and use common sense as you enjoy the many opportunities that our area offers.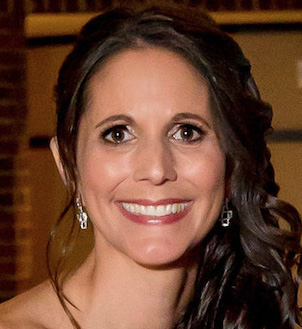 Lisa Jacknow spent years working in national and local news in and around New York City before moving to Princeton. Working as both a TV producer and news reporter, Lisa came to this area to focus on the local news of Mercer County at WZBN-TV. In recent years, she got immersed in the Princeton community by serving leadership roles at local schools in addition to volunteering for other local non-profits. In her free time, Lisa loves to spend time with her family, play tennis, sing and play the piano. A graduate of the S. I. Newhouse School of Public Communications at Syracuse University, Lisa was raised just north of Boston, Massachusetts but has lived in the tri-state area since college. She is excited to be Editor and head writer for Princeton Perspectives!