The sounds of the jackhammer cutting up nearby driveway pavement. The temptations of the newly filled inflatable pool in your neighbor's unfenced backyard. The sight of embers burning from an evening campfire.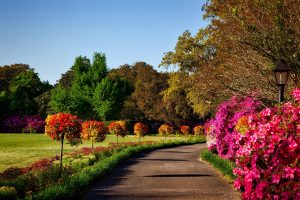 Sights and sounds you may have never noticed in the past are now all around. The hustle and bustle of pre-COVID-19 life had many out of their homes early, commuting to work or off to school. The lawnmower buzzing at your neighbors or the work crews blasting across the street were of little nuisance, as you often were not home to hear them. Now, with commutes often non-existent and schools finishing up for the year, you may be sleeping in. Or, your new home office might be in the room directly facing the noise. Either way, it could be adding to the stress you're already under. As spring turns to summer, we will all be spending more time at home than usual, and likely more time in our yards than ever before. Hopefully, everyone is a little more understanding and resilient during these times. But know, there are official parameters in place to keep you safe and sane with rules of the outdoors that control what you (and your neighbors) can hear, see and do.
Unfortunately, there is little recourse if the neighbor's actions fall within the town codes and ordinances. But it's helpful to know that if the leaf blower blows before 8am, you have a right to complain. Mondays through Saturdays from 8a.m.-10p.m., power fans, chainsaws, lawnmowers, leaf-blowers and the like are legally allowed to operate. If it is Sunday, sleep in! They are not allowed to operate before 10a.m. and must stop by 8p.m.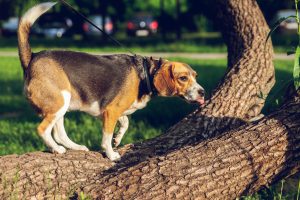 The yapping dog that passes by your home might get you riled up, but unless it is barking non-stop for over 10 minutes or on and off for a full thirty minutes, it is simply a frustration and not a violation.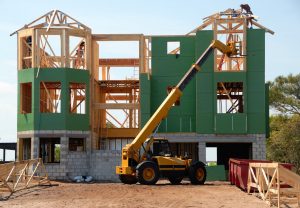 Further, if you sleep past 7a.m., the sound of your neighbor's renovation project might wake you up. Construction work can begin at 7a.m. Mondays through Fridays but must complete by 6p.m., except in an emergency. So, you can enjoy your dinner in peace. Saturdays it can't begin before 8am and on Sundays, the work is not allowed.
Keep in mind, the situation works in reverse as well. Though you may want a project done and are working within the local guidelines to do so, being respectful of the noise you are making early in the morning or late at night can go a long way to neighborly relations and a more enjoyable summer.
If minor issues arise, the police department is helping residents, as possible. If you have a concern, Princeton Health Officer Jeffrey Grosser suggests, just talk to each other.
"If possible, speak with your neighbor about the issue (while social distancing) and try to work it out. We all need to understand everyone is going through increased stress during this pandemic."
Laughing, shouting and general sounds of fun can also radiate through the neighborhood. But feel free to let loose, enjoy sports and have fun as long as you're not unreasonable or excessive. You can play some music, too, but be careful if it can be heard more than 50 feet from your home and turn it down or off by 11p.m.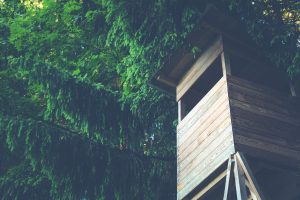 To add to that backyard excitement, trampolines, tree houses and ziplines can all legally be set up on your property but proceed with caution. Some homeowners insurance policies have exclusions for trampolines, and others may not renew if they discover you have one. Policies may also consider backyard additions like tree houses to be high risk, so it's worth evaluating your options before you build. In terms of local ordinances, just be sure the zip line is attached to a tree on your property, not your neighbor's. When placing a trampoline, tree house or adding a zipline, be careful to follow all structure setbacks of the zone it is located in.
If fun in the water is what you're looking for, go ahead and enjoy! Some town and club pools may be opening up, but if that's not in your comfort zone, cooling off with a slip-n-slide on your grass warrants no additional considerations. Intex and other inflatable above-ground pools are selling out everywhere. If you've purchased one, you may be surprised to learn your little pool may need to be fenced in.
"Construction code requires a fence [4 feet in height] with self-closing gates on all pools with a depth of 24″ or more," shares Princeton Zoning Officer, Derek Bridger.
That is slightly different than the fence required around in-ground pools, which must have a self-locking mechanism. If you do not have a pool, but simply want more privacy from your neighbors, you may need to contact the zoning department for a permit, variance or to submit a location survey before you raise the height of an existing fence or install a new one. Homes located in the former Boro require a permit for all fencing. Those in the former township adding a fence lower than 6 feet require a permit only if the fence is surrounding a pool.
To relax after a long day, summers often include smores or drinks around a fire pit or campfire. Having one on your grounds can be a great way to social distance or just spend an evening outside with your family. Commercially manufactured fire pits or chimineas are the safest option, notes Ronald DiLapo, Princeton Fire Safety Education Specialist.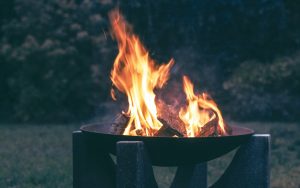 "The devices typically come with a spark arrestor screen for fire pits and chimineas have a chimney type stack that helps to prevent sparks from traveling too far from the chiminea when being used," he explains.
There are also safety guidelines to follow, which include positioning one 15-25 feet from a structure and not under tree limbs that hang down or on a wooden deck. Be careful not to use flammable or combustible fluids to build the fire and keep children at least 3 feet away from the flames. Those same rules apply if you're building a natural campfire, though it is advised you locate those at least 25 feet from any structure. Clear the area of loose grasses and leaves and try to create a base of stone or earth. With all fire set-ups, it is important to make sure a Red Flag warning has not been posted, to prevent unexpected travel of embers and flames.
"A Red Flag Warning is issued by the National Weather Service and means warm temperatures, very low humidity, and stronger winds are expected to combine to produce an increased risk of fire danger," DiLapo adds.
Most importantly, if you are utilizing any type of fire structure at home, make sure it is fully extinguished before you leave the area. You can wet it down or smother it with dirt to put out the flames. And don't try to build one in a public area, as open flames are prohibited in all municipal parks, with the exception of the grill area at Turning Basin.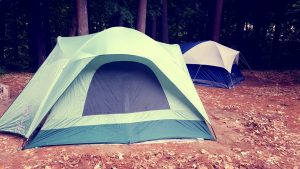 The parks in and around Princeton can, however, be great for enjoying most other activities. Municipal locations are open to the public from dawn until dusk, so take advantage in the daylight but do not bring alcoholic drinks on property or attempt a staycation by camping out. The only nearby park that has an area for camping is Washington Crossing State Park, but unfortunately that campground remains closed until at least June 30th due to the COVID-19 pandemic. If you would like to raise a tent in your own backyard, go for it. As long as you don't violate any other ordinances, there are no barriers to sleeping under the stars on your own property.
As the state and municipality shift towards more normalcy, there is hope people's stress levels will slowly start to reduce and the resumption of more regular daily activities will create less focus on neighborly issues.
No noise complaints have been made to the Princeton Health Department since isolation began. If we all work together to be aware, be respectful and be careful, we can move forward with safety and sanity in mind to have the best summer the pandemic will allow.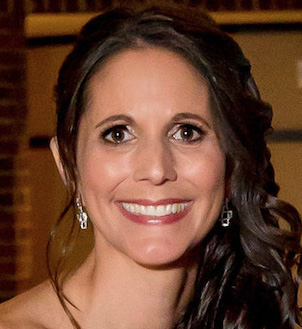 Lisa Jacknow spent years working in national and local news in and around New York City before moving to Princeton. Working as both a TV producer and news reporter, Lisa came to this area to focus on the local news of Mercer County at WZBN-TV. In recent years, she got immersed in the Princeton community by serving leadership roles at local schools in addition to volunteering for other local non-profits. In her free time, Lisa loves to spend time with her family, play tennis, sing and play the piano. A graduate of the S. I. Newhouse School of Public Communications at Syracuse University, Lisa was raised just north of Boston, Massachusetts but has lived in the tri-state area since college. She is excited to be Editor and head writer for Princeton Perspectives!