Biases in our Hometown
ISSUE #15 – May 13, 2021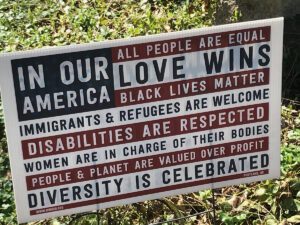 Love wins. Kindness is everything. Diversity is celebrated. Signs like these, posted all around, began sprouting when society decided to no longer tolerate bias, racism and bigotry.
It is an innate part of being human to have thoughts and judgements about others. But when those thoughts and judgements are unreasonable and personal, they become biases. And biases hurt. Can we ever come to a point when we all see and hear others without judging?
In this month's issue of Princeton Perspectives we take a look at the sensitive topic of Biases in our Hometown.  Read more…
The Pulse of Princeton:

Have you experienced bias in our area? What can be done to eliminate them?
We'd love to include YOUR perspective! If you or someone you know would like to contribute a video for next month's Pulse of Princeton, click here and provide your name and email address to be contacted.
Perspectives Revisited
In Issue #8, 2020 Elections: Everything You Need to Know to Vote Locally & Informed!, we informed you in the article Princeton Politics: Everything you Need to Know to Cast Your Vote that Question #1 on the ballot would provide for legalizing use and possession of cannabis in New Jersey by anyone age 21 and older. Approved by voters in November 2020, the legalization was signed into law by Governor Murphy in February 2021. Princeton has since formed a Cannabis Task Force, which currently has 23 members, tasked with providing input to the Mayor and Council on how the municipality should proceed with cannabis operations, education and enforcement. Meetings are to be held at 1:30pm, the 2nd Thursday of every month.
In Issue #10, How Has 2020 Shaped Princeton?, our guest writer shared the many ways non-profits were altering their programming due to COVID restrictions in the article 2020: Its Effects on Princeton Nonprofits. Though its indoor theaters are still shuttered, times now allow for in-person McCarter offerings. This week, the theater announced it will be holding its summer camps in-person, outdoors. It is also hosting live Sunday concerts in Palmer Square through the 3rd week of June. Similarly, the Historical Society of Princeton has had to reimagine its programming and has turned its much-loved annual House Tour event virtual. Over the course of the next four Saturdays, the Virtual House Tour will release a new house each week, allowing a close up look at special Princeton homes.