Change Can Be Hard. How Do We Know If It's The Right Choice?
ISSUE #37 – March 15, 2023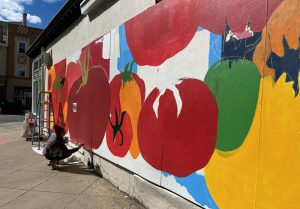 Princeton Perspectives is celebrating our 3rd birthday with this issue! From our first issue during COVID isolation in March 2020 until now, we have been growing and changing with our community. Your readership is what keeps up going, and we are so grateful.
As I watched the artist paint a new mural on Spring Street, I could see this project changing with each stroke of the paintbrush. Change can be beautiful. It can also take a lot of time, discomfort and adjustment. As Princeton grows and tries to meet the needs of all of its residents and visitors, there is bound to be change. Old streets are redone to make for better usage, old buildings are torn down to make way for hotels and new homes. Procedures change, either by necessity of cost or by desire. Sometimes people take to the changes quickly, and sometimes people make a lot of noise.
In the March issue of Princeton Perspectives, Change Can Be Hard. How Do We Know If It's The Right Choice? we take a look at some of the various changes happening in our area, and offer facts, perspectives and background to help you better understand them so that you can decide what you feel is right. Read more…
The Pulse of Princeton: What are your thoughts on recent local changes?
Perspectives Revisited
Last month, we shared information about turning maple sap into syrup in the article Naturally Maple Syrup: Sweetness That Can Be Found in Your Own Backyard from the issue Nature and Nurture: Princeton's Resources and Historical Opportunities. In the article, we explained how freezing temperatures at night with thawing temperatures during the day are what the trees need to move the sap through. You've likely noticed, winter hasn't produced those ideal weather situations much this season. Therefore, Howell has reported that many of the trees on site have stopped producing sap or are producing what's called bud sap, which isn't great for making syrup. Despite that, they have figured out a way to collect from newly tapped trees or by re-tapping some trees from earlier in the season, and so far, have been able to produce 671 eight-ounce bottles of finished syrup this year.
In November, the issue Finding the Right Balance, Around Town and in Life shared what local schools are doing to address the mental health crisis being experienced today in the article How Princeton Public Schools are Reacting to Student Mental Health vs. Workload Stress. The information shared included universal, targeted and intensive approaches to helping the students at Princeton's schools. It also included statistics from National Institute of Mental Health and Centers for Disease Control and Prevention (CDC) that indicated 1 in 5 children in the United States were experiencing a mental health condition in a given year. A few weeks ago, the CDC issued a new report that found post-COVID trauma is worse than expected. 3 in 5 teenage girls were suffering from sadness or feeling hopeless in 2021, with 1 in 5 LGBTQ+ students attempting suicide that year. If you or anyone you know is struggling, 988, the Suicide & Crisis Lifeline, is confidential, free, and available 24/7/365.