A hero is an ordinary individual who finds the strength to persevere and endure in spite of overwhelming obstacles. – Christopher Reeve
When one hears the words "You've got cancer" there are two options. You can give up or you can fight. One will never know who Reeve had in mind when he defined his hero, but it surely applies here. The fight against cancer could be ugly, traumatic, painful, long and burdensome, but finding the strength to take it on is truly heroic. According to the Centers for Disease Control and Prevention, approximately 264,000 women and 2,400 men are diagnosed with breast cancer each year. In New Jersey, the Department of Health has declared breast cancer to be the second-most commonly diagnosed form of the disease, with around 7,350 women diagnosed annually.
"For someone with breast cancer, it's a forever diagnosis. Even if there's a woman diagnosed early stage then they have no signs of disease for 5-10 years, it's not something you get over," explains Melissa White-McMahon, Director of the Breast Cancer Resource Center (BCRC) in Princeton. "You're physically changing with breast cancer surgeries in ways other cancers don't. It affects intimacy, relationships, your body dysmorphia. It traumatizes a person, and they live with it their entire life, whether an emotional or physical reminder."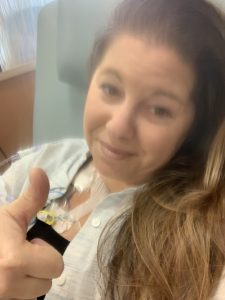 Michele Schwartz was just 37 when she found lumps in her breast in 2018. She was in the early years of starting a family with 7-month and four-year old sons, and the doctor initially tried to brush off her claims as an infection from dried up milk. But Michele knew something was really wrong, with the itching, redness and swelling she was feeling.
"I spoke up. I said I have 2 babies at home, I want scans. He said, let's not jump to any conclusions. I said no, I'm not leaving here until I have a script for scans," Schwartz recalls.
Her strong self-advocacy has saved her life, as after a mammogram, ultrasound and biopsy, Michele was informed she was positive for breast cancer.
"I was diagnosed with stage 3B. I received 16 rounds of chemotherapy – 4 every other week of AC (a combination of two chemotherapy drugs), 12 of Taxol every week. I started January 16, 2019 and ended May 26thof that year. Then, 4 weeks later, I had a double mastectomy. I did have immediate reconstruction with expanders, but a week later I ended up with an infection," Schwartz details. "I had to learn to change my thought process somehow, and said no, I'm not going to give into this, I'm going to make it my mission to parent my kids and get through this and know I'm going to get to the other side."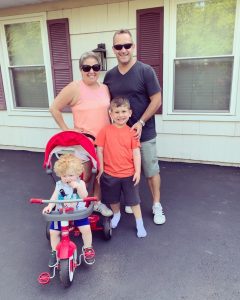 And with her heroic vision, she has. Nearly four years later, she is still working on her recovery, as the infection led to another surgery, 28 rounds of proton radiation, an oophorectomy (removal of ovaries and fallopian tubes) and further procedures of fat grafting and more to help with the skin and shape of her chest area. She's still got more work to do but has put a hold on any more surgeries for now.
With a supportive husband, family and friends, Michele was able to ensure her kids were fed and cared for and she found the strength to push on. She also found speaking out and reaching out to be irreplaceable.
"I'm a writer, I blogged throughout my entire journey, and I used that as an outlet for myself. Because I posted all the time, people could just go and read then they'd know what I needed and how to support me," Schwartz shares. She also found a lot of encouragement and strength when she connected with young moms at the BCRC (Breast Cancer Resource Center). "When you hear the words breast cancer, no one wants to hear that. But there's a difference with a 60-year-old, it's more common, their kids are grown. Whereas someone my age, I have kids, a husband, I was a teacher on maternity leave ready to go back to work. Everyone from my life is moving on and I'm going home from chemo to sleep for a few days. I needed to find people who understood and could relate. We have a young survivors' group. I was able to connect with women my age, who had kids. I always say connection is the biggest piece to be able to push through and find that hope you need."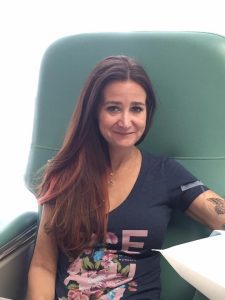 Finding hope is at the basis of being able to survive. And sometimes, when you feel that everything is working against you, it's a hard thing to find. But Barbara Arndt, is a survivor many times over. Seven years ago, four months after discovering a lump on her breast, she was told she had positive cancer cells in her breast and lymph nodes.
"I was diagnosed, triple positive, that's one of the super aggressive forms. I had to have chemotherapy first. The chemo put me in the hospital twice. I basically slept all the time," Arndt recollects. "Fortunately, I had a live-in boyfriend who helped care for my 7-year-old son at the time. I've come to realize, I've always been the person who shows up for everyone, when I had cancer and I was bedridden, I don't know if people were uncomfortable but very few people showed up for me. That was the beginning of the worst 7 years of my life."
Arndt's situation was further complicated by her previous experiences in the military. At age 18, in 1992, she enlisted and went through Military Occupational Specialty school at Camp Lejeune (a site known to have had contaminated water, which may have caused her cancer) where she was sexually assaulted and, on her next assignment, was later verbally abused by senior officers about her body. These experiences proved to worsen what was already a terrible encounter with breast cancer.
"I didn't know it at the time, but when you are a sexual assault survivor and you have cancer of a sex organ, it can complicate the post-traumatic stress disorder (PTSD) symptoms you already have. It kicks up feelings of feeling less-than when having a double mastectomy. Like there's something inherently wrong with my sex organs."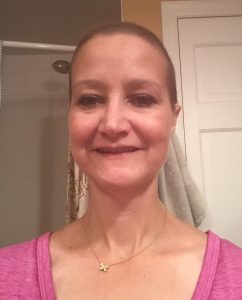 Unlike Schwartz, Arndt didn't have the support of family and friends. She'd always had a good job, with health insurance and savings, but when her money and insurance ran out, she found herself struggling and then homeless. That's when she went to Veterans Affairs (VA) and got a little help. They diagnosed her with PTSD three years ago, but she was recently told she also has a traumatic brain injury (possibly from the chemo) and still deals with other repercussions from the cancer because, she claims, many at the VA don't understand women's health.
"I've been complaining about this massive nerve pain I get down my underarm, they never took it seriously. I have an expander in, that is completely crushed and flat. I went to the emergency room 2 years ago when it imploded at the VA and they didn't know what to do with me."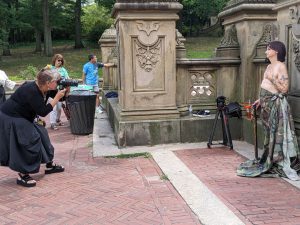 Despite the hardships Arndt had and is still going through, she has only recently been able to recognize the hero inside her, how strong she's had to be to get through it all. She's opted to try and pay that forward by posing for photographs that exemplify the beauty of a woman that has had her body changed due to breast cancer. Most recently, Arndt posed for The Athena Division of the Grace Project, a photographer's collection of images of breast cancer survivors focusing on veterans. An exhibition of the photos is taking place later this month at The Military Women's Memorial at Arlington National Cemetery. She'd previously posed for other similar opportunities, such as with the I'm Not Invisible Campaign for Women Veterans.
"When I finally got the picture, at first, I hated it. Then over a couple of months I was able to look at the picture and recognize it for a moment of strength and determination in an otherwise really crappy experience. Now it's sitting on my fridge door, I look at it and even though I don't feel like I can do something, I show up and do it," Arndt exclaims. "For the longest time I looked at being female as a deterrent to my life and I'm starting to realize now there's a lot of power in that. The (Grace Project) photo shoot is a place of showing I still have value, I'm still part of this world. My experience changed me, but it did not diminish me."
Like Schwartz, Arndt still has some surgeries left and she needs resources to continue to get through. She has now also been connected to the BCRC for programs and support. In fact, about 900 women (and some men) are currently leaning on BCRC whether it's for the Healing Arts course, financial help resources, transportation assistance, healthy eating programs and more.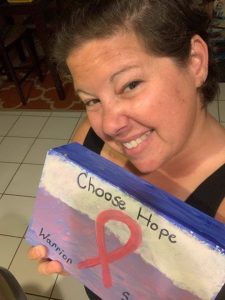 Schwartz found such an immense connection and help from the BCRC that, once healthy enough, she opted not to return to the elementary school classroom and is working with adults as the BCRC program and outreach coordinator doing breast education and helping people through diagnosis, treatment and beyond.
"I love that I get to help others. I have the support at my fingertips, and I work with staff who understand that I sometimes have impairments and have to make modifications," explains Schwartz, who has also become an outspoken advocate and ambassador for helping people become aware that remaining flat is an acceptable option. "I love that I can help others with everything and walk them through it if they need and provide everything I was given."
BCRC is a program of the YWCA Princeton. It has 2 fulltime and one part-time employee, all three of whom are cancer survivors (two from breast cancer, one from uterine cancer). Celebrating its 50th year, it began as Encore and has grown in programming and outreach, servicing the central New Jersey area, most often Mercer County residents.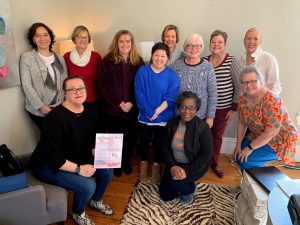 "What we've always offered is support for women and their families diagnosed with breast cancer, at time of diagnosis, going through treatment, then beyond. Once past treatment, we continue to provide resources and programs for them," White-McMahon shares, acknowledging that financial, emotional and other physical traumas can add to the situation. "We try to remove those barriers for these women going through a hard time."
Places like the Breast Cancer Resource Center do a great job of helping people to find the hero inside them, as it is not always easy. But, as Reeve once stated, finding "the strength to persevere and endure in spite of overwhelming obstacles," is truly heroic – and it is at the core of those who fight against and all who survive breast cancer.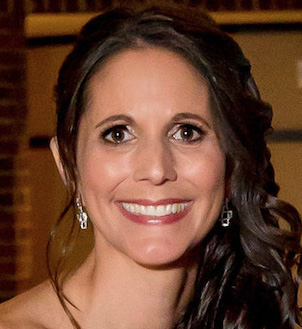 Lisa Jacknow spent years working in national and local news in and around New York City before moving to Princeton. Working as both a TV producer and news reporter, Lisa came to this area to focus on the local news of Mercer County at WZBN-TV. In recent years, she got immersed in the Princeton community by serving leadership roles at local schools in addition to volunteering for other local non-profits. In her free time, Lisa loves to spend time with her family, play tennis, sing and play the piano. A graduate of the S. I. Newhouse School of Public Communications at Syracuse University, Lisa was raised just north of Boston, Massachusetts but has lived in the tri-state area since college. She is excited to be Editor and head writer for Princeton Perspectives!