Hometown Heroes of Mercer County and Beyond
ISSUE #31 – September 15, 2022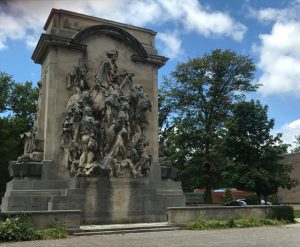 Every year, as September 11th approaches, I am reminded of living in New York City in 2001. I recall the horrors of concern, fear, grief and pain we all went through. I am also vibrantly reminded of the heroes that overcame the unthinkable, that put others before them, that dedicated all they had – some who survived and others who perished.
So, it seemed only fitting to focus our September issue on heroes, from centuries ago and now that have triumphed, excelled and put themselves out in ways that others maybe wouldn't or couldn't. In Hometown Heroes of Mercer County and Beyond, we are realizing the experiences of those from the greater Princeton area and recognizing their greatness in so many ways.
Perspectives Revisited
In this summer's July issue Nuisance or a Necessity? Physical Changes You May Encounter Around Princeton we explained the proposed Sewer Plan Investment that was presented to Council in June which cited a need to invest in maintenance and updates to the municipal sewer system. On Aug 22nd, specific sewer rate increases were presented to Council, ranging from $0.95-$1.10 per CCF (hundred cubic feet). In the request, it was noted that rates have not been changed since 2017, and if not amended, would create a revenue shortfall of around $590,000. On Sept. 2nd a special public hearing was held, in which no public concerns were raised about the pricing. All six members of Council voted to adopt the ordinance, therefore approving the increases. Princeton residents that use sewer can expect to see the new rates reflected in their latest tax bill.
In the January (2022) issue Princeton's Leaders: Are They Creating a Better Tomorrow we shared two perspectives from people working towards a change to the municipal parking situation in the article Princeton Permit Parking? Will Council Plan for Residents, Businesses or Both? As part of its efforts to find available downtown parking spots, it was explained that the Task Force identified availability in a Westminster College vacant lot. The town entered into an agreement that allowed Princeton to use 193 parking spaces in Lot A from Dec. 1, 2021 through Aug. 31, 2022. At the recent August Council meeting, a resolution was put forth and approved to extend that agreement for an additional year, so those spaces will remain available for employees that work in the central business district through Aug. 31, 2023.
The Pulse of Princeton: Who is your hero?