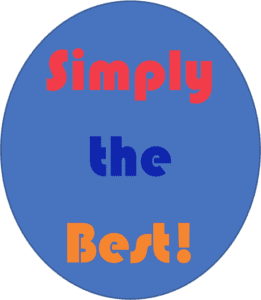 With Princeton University and other renowned institutions in town, world-leading scientific and pharmaceutical companies all around and a top-rated school system, it's no wonder the Princeton area has the best of the best. Some of the things that make it so great are best kept secrets…but others have been highlighted with awards and recognition that are worth noting. From books to food & beverages, outdoor experiences and more, there are a great deal of "best of" opportunities in our area.
WE ALL SCREAM FOR ICE CREAM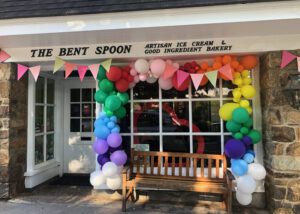 Last year, The Bent Spoon received national acclaim when Food & Wine magazine rated it the best ice cream in New Jersey. Lucky for us, it's right here in Princeton! The shop started in 2004 with Gab Carbone and Matt Errico's desire to own a local business and a love of ice cream, and quickly came to be trusted for its delicious taste and genuine ingredients.
"You can come and know you're really getting something pure and from scratch. And we always try to make it better, using better stuff and being even more sustainable than the year before," shares Carbone. "That trust people put in us to curate their experience is something, and we take that very seriously."
Through the years, The Bent Spoon has crafted more than 650 flavors, all based off what is grown and found in New Jersey from blackberry and chocolate orange to NJ honey, even Cicada flavor.
"Once you have that creative constraint (using what NJ grows first), to have that part of the inspiration be from the seasonality of what NJ grows, the rest falls into place," Carbone adds.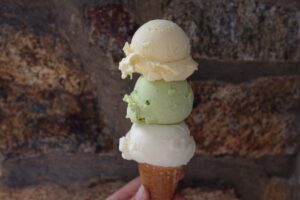 The unique flavors and quality products have been noted not just in the press but by locals and visitors alike. It's common to see a line from their storefront down the sidewalk in Palmer Square, with people vying for their ice cream. Amongst its accolades, The Bent Spoon has also been cited for 15 years as the best NJ ice cream in NJ Monthly. Travel & Leisure and AAA Magazine highlighted the spot in 2021.
At the opposite corner of Palmer square, one can find Halo Pub, another homemade ice cream shop, which uses no artificial ingredients or preservatives and fresh milk straight from its dairy farm, Halo Farm in Lawrence. Of the 48 flavors they create, most are made with fewer than five ingredients. If you like fresh, creamy ice cream you may have to take your place in line, as this shop, too, often has one forming down the sidewalk. Halo Pub has also been recognized by NJ Monthly in the past, as a Reader' and Critics' choice.
Across town, Thomas Sweet also often has a line out the door and down Nassau Street. Around since the early 80's, it was once considered the busiest ice cream shop in New Jersey. Thomas Sweet (which started as a chocolate shop) added ice cream when it opened this location and it is known most for its blend-ins, where the customer can choose their hard-packed ice cream or frozen yogurt base, which is then machine-blended with up to three toppings.
Each ice cream shop offering a slightly different twist on this favorite treat allows them all to coexist within Princeton's downtown.
KEEP READING
While Barnes and Noble and Amazon have taken over their share of the reading marketplace, there is still room for independently owned shops and Princeton has managed to maintain not one but two much-loved local bookstores.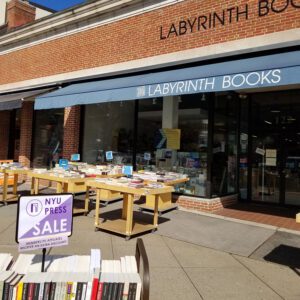 Labyrinth Books is widely known, due to its central location on Nassau Street in the downtown business district, where it has the unique opportunity to service both the general public and Princeton University.
"There is no other store we know of that at the same time has a charge to handle all the books for a major University while carrying approximately 100,000 titles for readers of all stripes," explains Dorothea von Moltke, co-owner of Labyrinth Books.
While scholarly books are Labyrinth's specialty, everything from poetry to cookbooks, children's books and more can be found there. And what most people don't know is that behind Labyrinth Books is Great Jones Books, a sister company that buys and sells remainder books (publisher overstock) at wholesale prices. Great Jones Books sells these offerings to other booksellers but keeps the best to sell in the Nassau St. store, online and through Labyrinth's print catalog.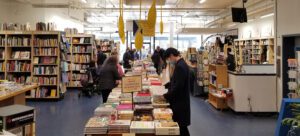 "Folks who get to know our store well know that it's a place where you can often find books that have disappeared from the shelves elsewhere and about 70% of our inventory is discounted 20-80%."
Beyond the pages, Labyrinth also collaborates with the town and gown communities to provide author events on a regular basis – sometimes as often as three times per week!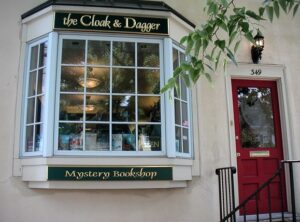 Less than one mile north, also on Nassau Street, sits Princeton's other local bookstore The Cloak & Dagger, specializing in mystery books and a personalized experience.
"We realized early on that we couldn't please everyone. So, we decided that we would offer a uniquely curated collection of mystery books that would appeal to the inquisitive and fertile mind of a mystery reader," shares Jerry Lenaz, owner of Cloak & Dagger. "By doing so we've attracted readers who know what mystery they wanted to read and those who didn't have a clue."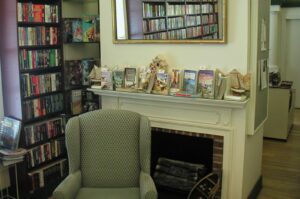 Founded by Aline Lenaz in 2001, the retail space resembles an English reading room, and the shelves are lined with books from authors worldwide including political thrillers from Princeton-based John Altman to British-style mysteries penned by Agatha Christie. And Cloak & Dagger also sells gifts, games and puzzles with a similar flair.
"Murder mystery dinner games and mind-bending puzzles are fun to do but beware, they are not for the faint of heart. Sherlockian figurines hand painted by local artists have special appeal for that hard-to-find gift person," says Lenaz.
ENJOY A GLASS OF WINE WITH YOUR BOOK
If you like turning the pages while enjoying some vino, you don't have to leave Mercer County to find a nice bottle of Chardonnay or Merlot. Finger Lakes International Wine & Spirits Competition recently awarded top honors to bottles from two local spots.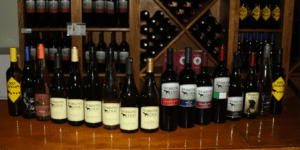 The first, sitting on the border of Robbinsville and East Windsor, is Working Dog Winery which opened its doors in late 2003. Cabernet Franc and Chardonnay were the grape varietals planted first but the vineyard has since grown to include Merlot, Syrah and Pinot Gris.
"Back in 2001, we were looking to see if central NJ would be a great place to grow grapes. We planted 3 acres to get started, but needed to see how grapes would do," details Mark Carduner, one of the five winery owners. "3 years later, the grape quality was much higher than anticipated, so we decided to take the step of becoming a winery."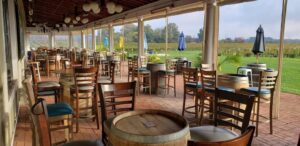 Now with a 100 acre-property (25 vine-planted) and a production of more than 4,000 cases a year, Working Dog Winery welcomes thousands of visitors annually. A typical, sunny day could see over 500 people enjoying tastings or sitting out amongst the 6-acres of maintained grass area, and there's live music every weekend.
"We have the most enthusiastic wine-nerdy tasting room staff. They visit wineries up and down the eastern seaboard and take wine appreciation classes," notes Carduner. "Every winery has its own signature, what makes it unique and special. We're known for dry reds. Our best selling and award-winning wines are Cabernet Franc, Merlot and Syrah."
New Jersey (aka the Garden State) offers varying opportunities for grape growing. For example, north along the Delaware River, cooler-climate grapes grow best, and warmer-climate types do well down near Cape May. The heavy soils of clay and shale, found at the base of the Sourland Mountains, are the foundation for 75 acres of vineyards home to another Finger Lakes competition winner that planted its first vines in 2001 as well.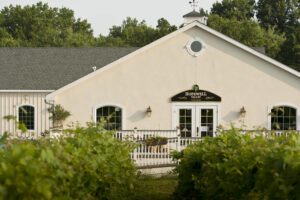 Hopewell Valley Vineyards, the creation of Sergio and Violetta Neri, opened its doors to the public in 2003, combining their family histories of vineyards and wine from Italy and Greece.
"Sergio, my husband, was representing his family's engineering business in the states and when the business was sold it was time for something new, exciting & obviously quite different," shares Violetta Neri. "Given the fact that Sergio's family has an extensive past in wine making and wine appreciation, it was natural & logical to go into farming. Sergio's mechanical & agricultural engineering degrees offered all the knowledge, expertise, skill and love for such a beautiful endeavor."
A destination for locals and traveling wine lovers alike, Hopewell Valley Vineyards makes 72,000 bottles of wine each year. It is often enjoyed at the vineyard, where an upper and lower tasting room let visitors get a sample but there are also opportunities to enjoy musical guests, the on-site pizza oven and more. In the vineyards, the Neri's grow 6 types of grapes: Pinot Grigio, Chardonnay, Vidal Blank, Traminette for minimal blending only, Chambourcin & Barbera.

"With these grapes we produce Pinot Grigio, Chardonnay, Vidal Blank, Dolce Vita, a late harvest Vidal Blank dessert wine, Stony Brook Blush, based mostly on Vidal & minimally on Chambourcin, Rosso Della Valle, our Chambourcin, Barbera and three Port dessert wines, Red, White & Chocolate. In addition, we buy grapes from CA for our Cabernet Sauvignon & White Merlot. We also offer Italian Wines, such as Sangiovese, which are cellared in our winery & a variety of sparkling wines," adds Neri.
In addition to purchasing bottles, all can be enjoyed by the glass or a wine flight for a leisurely outing or private event. Tastings must be booked in advance.
If you like to enjoy a wine trail through New Jersey, you can also make your way over to Terhune Orchards, first a farm and then with an award-winning winery. The 250-acre farm was just 55-acres when purchased as a seasonal opportunity by Gary and Pam Mount in 1975. It has since grown to be open year-round, home to 44 varieties of fruits and vegetables and a winery. The first vines were planted in 2005, first bottled in 2010 and are turned into red, white and fruit wines.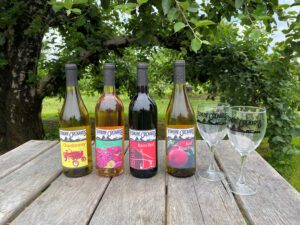 "Now we have 18 varieties we make. We grow all our own grapes and use our homemade apple cider to make our apple wine. It's been a great addition for us," notes Tannwen Mount, who developed the idea of adding a winery when she returned from California to work the farm with her parents.
The wines can be experienced on site in the wine barn or out in the wine orchard, often along with music and light fare on your own or as part of a wine tasting or wine event. Terhune Orchards vineyard and winery has been honored with several awards in the past including the Governor's Cup and multiple medals from the Garden State Wine Growers New Jersey Wine Competition, where Working Dog and Hopewell Valley Vineyards have also medaled. Standing out amongst the wine-producing crowd is extremely rewarding for Terhune Orchard's winery, since the real, working family farm was around for years before it added vineyards. It's also known for its pick-your-own produce, farm store (with homemade apple cider and cider doughnuts) and an array of farm-friendly activities to entice families to learn and play.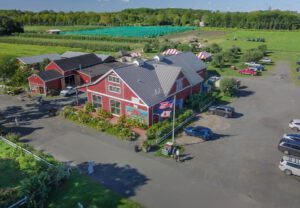 "We've seen the younger generation enjoying the farm and you can visit the winery then head over and pick your own," Mount explains. "Customers who might've just come to the farm with their kids are now returning. And families who are here to experience all the fun, have another reason to experience the farm."
Opportunities such as the Discovery Barn and pony rides allow visitors to experience farm life in a hands-on way.
TAKE ADVANTAGE OF THE GREAT OUTDOORS
If you want to be exposed to other farms or outdoor life, you can head over to Howell Living History Farm or take in other open space or vast landscapes operated by the Mercer County Park Commission, which was recently honored by the New Jersey Recreation & Park Association (NJRPA) with multiple top awards.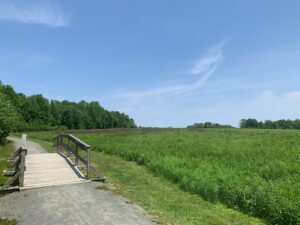 "It is an honor to be recognized by NJRPA and other park professionals throughout the state for our exemplary facilities and programs." says Aaron T. Watson, Executive Director of Mercer County Park Commission. "The Park Commission is proud to offer a variety of passive and active recreation opportunities to the people of Mercer County, and we're also responsible for the stewardship and restoration of the natural areas in our park system. With five golf courses, athletic fields, picnic areas, a nature center, an equestrian center, a historic farm, many miles of hiking trails, and even a wildlife rehabilitation center, there is something for everyone in our park system."
Did you know that Howell Living History Farm in Hopewell, which is traditionally a place for hands-on learning opportunities about what life was like on a turn-of-the-century farm, increased its production of eggs, produce, cornmeal and flour and provided it to Mercer County shelters to help feed the hungry during the pandemic? The "Share the Harvest" program, which won the NJRPA award for excellence, also benefitted from food grown at Capital City Farm in Trenton, the newest farm facility in the park commission.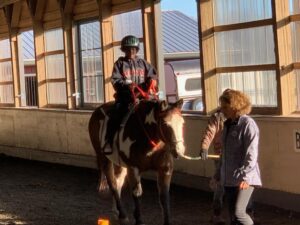 Awards were also granted to Mercer County Stables, for offering programs for youth from under-resourced areas, for a Juneteenth program on Black cowboys and for its redesign of the facility. The Pennington-based stables offer educational and recreational equine-based programming to people from all over Mercer County. Sometimes referred to as one of Mercer's best-kept secrets, hundreds of acres of trails and pastures are available for everyone.
If wildlife piques your interest, the Mercer County Wildlife Center also won an award for a new cage built to rehabilitate large raptors.
"No other County in New Jersey has a county-owned facility to care for injured wildlife, so our Wildlife Center plays a critical role in wildlife rehabilitation in the state. With a commitment to care for animals large and small, including mammals, reptiles, birds and raptors, this calls for a variety of buildings and structures," Watson explains.
Within the Mercer County Park system, there are also opportunities for sailing, rowing, hiking, fishing, biking, jogging and more. Alcohol is not permitted in the parks, so you'll have to enjoy your wine at home, at a restaurant or at the winery. But you can take your new book or a scoop of ice cream and get out and enjoy so much of what makes our area the best.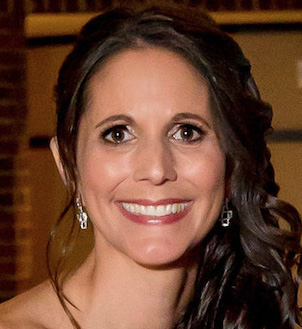 Lisa Jacknow spent years working in national and local news in and around New York City before moving to Princeton. Working as both a TV producer and news reporter, Lisa came to this area to focus on the local news of Mercer County at WZBN-TV. In recent years, she got immersed in the Princeton community by serving leadership roles at local schools in addition to volunteering for other local non-profits. In her free time, Lisa loves to spend time with her family, play tennis, sing and play the piano. A graduate of the S. I. Newhouse School of Public Communications at Syracuse University, Lisa was raised just north of Boston, Massachusetts but has lived in the tri-state area since college. She is excited to be Editor and head writer for Princeton Perspectives!