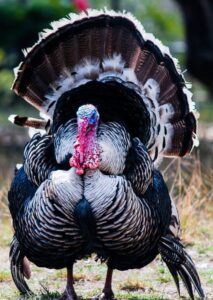 We live in the Garden State, which immediately brings to mind farming. But, did you realize that beyond the fruits and vegetables grown fresh around New Jersey, turkey farming is also here? Turkeys are raised and cultivated at four turkey farms in our area, bringing you fresh local meat you can enjoy for Thanksgiving and year-round.
The oldest, Lee Turkey Farm in East Windsor, raises 3,000 turkeys a year, selling them directly to consumers. While the family has been on the farm since 1868, turkeys are something they kind of fell into in the mid 1900s.
"Turkeys were started by my father when he was 11, it started as a 4-H project," explains Ronny Lee, who owns and runs the farm today with his wife, Janet. "He wanted to be part of 4-H and the only area that had an opening was the turkey club, so all by default he got turkeys!"
The farm started raising more and more turkeys through his father's high school years, home to a few hundred by the time he was called to serve in WWII.
"When he came back, my grandfather was tired, warn out and in debt. The Depression came and he wanted to sell the farm. Instead, my dad suggested they start raising turkeys by the 1000s, and the turkeys brought the farm out of the dire straits they were in."
Today, Lee Turkey Farm also has a robust fruit and vegetable crop including 700 apple and peach trees. As Thanksgiving arrives, Lee says he's definitely seeing a preference for smaller birds, likely due to smaller-sized gatherings this year. The farm started planning their Thanksgiving crop months ago. It takes approximately 11 weeks for a turkey to become a cleaned, read-to-eat 13-pound meal. While their orders for Thanksgiving turkeys began over a month ago, he notes they have never sent anyone home without a turkey – something he learned from his mother!
"Years ago, we were getting ready to have our turkey dinner. I was in high school at the time, all the relatives were over, and a young couple came to the door upset," recalls Lee. "They had bought a turkey from someplace else and when they opened it up, it didn't smell right. That's all I remember hearing but when it came time to eat, we had macaroni that day! My mom gave them the turkey right out of our oven."
Common traits of the fresh, local farm turkeys in Mercer County mean the birds receive no antibiotics, no hormones and are nourished by a combination of foraging and locally-sourced feed. They are also free range, meaning they are out in pasture, in open-faced barns or live between both. The pasture can be a great experience for the turkeys, as well as those living on the farm.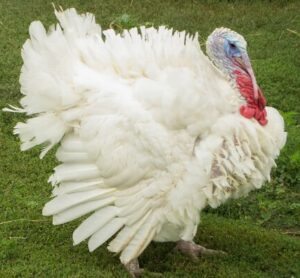 "At times turkeys escape – they're fast," says Kristin DiPaola, who helps run the DiPaola Turkey Farm which her grandfather started in 1948. "I have 4 children, and every now and then when they're out on the range a turkey will scoot through the fence, and it's exciting. The kids chase them down!"
Her family's farm in Hamilton employs a tradition of USDA quality meats as it breeds white domesticated Broad Breasted turkeys, which is one of the turkey breeds farmed in our area. They are sold at their farm store and at markets around New York City.
"Some people grow heritage turkeys, ours are white. The breast is larger and therefore juicier," adds DiPaola.
The white traditional turkey can also be found at Griggstown Farm, which raises and processes turkeys only for Thanksgiving. In addition, they offer the Bourbon Red Heritage breed, the closest breed to what Pilgrims ate which has a darker meat with broader legs and thighs. To get a 7 to 10-pound Hen or 14 to 18-pound Tom, the process begins in April.
"It's all weather based and everything. If it's hot out, they don't eat, if it's cold out they eat. So that's where the science gets a little tricky," clarifies Griggstown Farm General Manager George Rude, Jr. "A couple days before Thanksgiving, I can't go out there and tell the turkey to stop eating, so I tell people there's a 5-pound range. I think we've got it down to a science. Hopefully it'll work out like it has every year."
His father, George Rude, Sr., started by raising some quail in the historic village of Griggstown in Princeton in 1975. Today, they have more than 65 acres that are home to pheasants, quail, chickens and for Thanksgiving, turkeys. The farm processes about 500 Bourbon Reds and 2,500-3,000 white turkeys each season, and certain sizes are selling out at their farm store as well as at farm markets in Philadelphia, Bernardsville and Flemington.
"We have some bigger ones left, a decent amount of 18 to 22-pounders, but the 14 to 17-pounds are almost gone. We also have boneless turkey breast, capon and pheasants. But we've sold out of geese and ducks," notes Rude, Jr.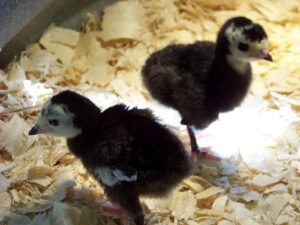 If you like heritage turkeys, two other varieties are sold at Hopewell's Brick Farm Market from their Double Brook Farm. Owners Robin and Jon McConaughy found the process of developing their Spanish Black and Bronze heritage turkeys this year to be a bit therapeutic in these complicated times. From collecting and incubating eggs to watching them hatch and grow, they've enjoyed being a part of cultivating food people will enjoy with loved ones.
"The interesting things about our birds is they all exhibit natural behaviors – they fly, roost in the trees, sometimes inside an enclosure which is about 10 acres, sometimes they're outside the enclosure," details Robin. "They exhibit natural tendencies, scratching of the ground, finding some food. They are fed a non-GMO grain mixture grown for us by local farmers, so a combination of being a heritage breed and also being the way we raise them in fresh air, out on pasture, eating bugs naturally (a portion of their diet) it creates a bird that is a healthier bird and they're slightly leaner and really hard to dry out. Extremely juicy and tender."
The farm the McConaughy's started in 2004 also raises pigs, ducks, chicken and sheep on acreage around the township. They also grow vegetables and use their crops and meat for foods sold at Brick Farm Tavern and Brick Farm Market. This year, the turkeys are selling fast. So, if you haven't decided yet, now is the time to consider a locally farmed turkey.
"Sometimes we do have turkeys available for walk up, this year is going to be  –  well, we've already outpaced our numbers for last year, so not likely a good risk. We get calls on Thanksgiving every year – 'My wife is going to divorce me! I was supposed to order the turkey can you save me?' We always have something we can do to help them, but I don't know about this year," Robin shares.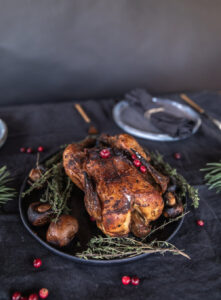 Of course, you can purchase a supermarket turkey (or get your free one from Shoprite!). But Ronny Lee boasts there is nothing like a freshly farmed turkey.
"We all like McDonalds, but when you eat filet mignon, you know there's a difference. There's definitely a difference in the quality of our meat and the flavor."
If you are interested in a local farm turkey, you're advised to plan for 1-pound per person. Here is how you can order:
Lee Turkey Farm: Reservations can be made by calling (609) 448-0629.
DiPaola Turkey Farm: Email dipaolaturkey@gmail.com with pick-up location, date, and size range.
Griggstown Farm: Click to go to their website to pre-order for curbside pick-up.
Double Brook Farm: Click to order online at Brick Farm Market by November 20th.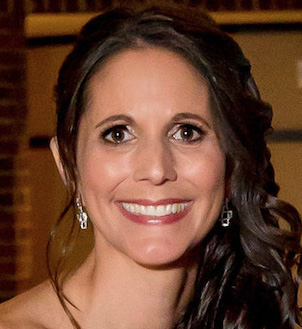 Lisa Jacknow spent years working in national and local news in and around New York City before moving to Princeton. Working as both a TV producer and news reporter, Lisa came to this area to focus on the local news of Mercer County at WZBN-TV. In recent years, she got immersed in the Princeton community by serving leadership roles at local schools in addition to volunteering for other local non-profits. In her free time, Lisa loves to spend time with her family, play tennis, sing and play the piano. A graduate of the S. I. Newhouse School of Public Communications at Syracuse University, Lisa was raised just north of Boston, Massachusetts but has lived in the tri-state area since college. She is excited to be Editor and head writer for Princeton Perspectives!