Princeton's Leaders: Are They Creating a Better Tomorrow?
ISSUE #23 – January 18, 2022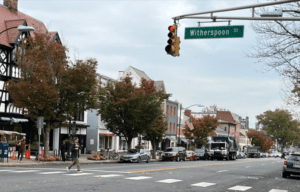 Mahatma Gandhi once said, "The future depends on what you do today." And with so many things going on in our lives and around Princeton, Princeton Perspectives sought to answer: Princeton's Leaders: Are They Creating a Better Tomorrow?
Maybe tomorrow COVID will be gone. Maybe it will be here to stay. Either way, experts are working daily to try and find a way for us to safely move forward. With an unprecedented number of cases in NJ, and soaring numbers right here in Princeton, how are you feeling? This month's Pulse of Princeton asks locals, now that it's 2022 – is COVID still halting your life or are you moving forward?
Moving forward, whether by foot, bicycle or in a vehicle comes with inherent risks. But what if you learned there may be an opportunity to virtually eliminate risk, reducing car accidents and preventing all serious injuries or deaths? Read more…
Pulse of Princeton: It's 2022 – Is COVID Halting Your Life or are You Moving Forward?
Perspectives Revisited
In Issue #15 Biases in Our Hometown (May 2021) we provided a personal perspective on the rise of anti-Asian hate crimes in the article The Invisible Asian Americans. In it, our guest writer detailed patterns of discrimination and exclusion towards the Asian American community that have long existed and were exacerbated by the pandemic. In an effort to curb anti-Asian sentiment and better educate New Jersey students, the state Assembly and Senate separately voted in December to require all public schools to teach Asian American History and culture in grades K-12. The bill is now on Governor Phil Murphy's desk and when signed will make New Jersey the 2nd state in the US to have such a mandate.
The local Asian American community got another boost last week when the NJ legislature was sworn in for 2022. In Issue #20 Voting 2021- A Comprehensive Local Guide (October 2021) we detailed all of the local candidates running for election in the article Who's Running? Get to Know Your General Election Candidates. Among them was Sadaf Jaffer, who won Princeton's District 16 Assembly seat. She joins two other Assemblywoman to double the representation of Asian Americans in the state legislature. Though it's baby steps, going from 3 elected officials to 6, it is a step towards representing the greater electorate. According to Pew Research Center, 83% of the total population growth in NJ from 2000-2019 was of the Asian population.
Next month we can include YOUR perspective! Submit a Letter to the Editor reflecting on anything we've covered in this issue or in previous issues. We'll share it here!