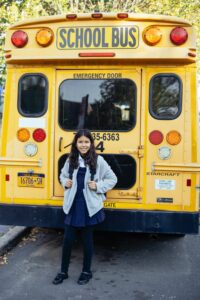 Studies have shown that bilingual education creates students with more empathy and cultural awareness, enhances one's ability to think and process concepts and provides a wider range of opportunities. So why is it that most Americans speak predominantly just one language when throughout most of the world it is quite common to speak two or more? While most Americans will learn concepts of a second language through school, the latest census data (2019) shows that only 35% of Princetonians speak a language other than English at home. There is, however, an increased desire for children to start learning a second language at a younger age and ultimately become bilingual.
Within Princeton, there are three language immersion schools – one each in Spanish, Chinese and French. All operate a little differently, but the goals are the same. To have their 8th grade graduating students fluent in 2 languages and cultures.
"Students are not only learning how to speak but also how to reflect, write, read. Those are the big differences between someone who can speak a language fluently, verbally but can't necessarily reflect on a high-end subject," states Dominique Velociter, Interim Head of School at the French American School of Princeton (FASP). "Students coming from French-American schools are often are more mature, have better time and work management skills and also tend to be more easily adaptable."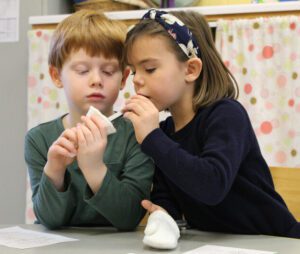 Corinne Gungor, a teacher from the French Ministry of Education, came to Princeton and started FASP in a church basement 20 years ago. She ran the school, growing it through the years to its current location on Mapleton Road and this year handed over the reins to Velociter. FASP is one of roughly 50 similar schools in the states, part of a larger network (of approximately 500 schools worldwide) that is accredited by the French government but also by the local department of education here.
"Our program is very serious, very thorough and the French government creates a national curriculum. So, we really have experts that design the French part of the curriculum and its years and years of research and improvements we're offering," shares Velociter.
Students as young as three can begin in the school's Maternelle program, a preschool program of the French government which aims to be more elaborate and sophisticated than traditional American preschool programs. FASP has chosen to combine this French curriculum with techniques and teachings of the Montessori method, creating a robust but individualized preschool experience taught in 90% French. As the children age up, the elementary school is taught in 60% French, 40% English and then becomes 50/50 in the middle school grades, so that all students are proficient in French but are also prepared to attend local American high schools.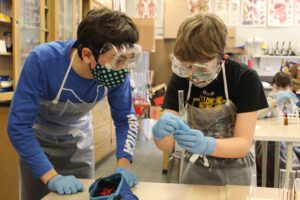 The 165+ students are a mix of expats who want the bilingual education and locals who believe in its benefits. 57% of the current student body are English-native speakers, 28% French-native speakers and 15% are speakers of another native tongue. They usually learn some classes in French, some in English and some a combination of both. Math and French are taught in both languages, Science and other STEM classes as well as music are taught in English and social studies, art and physical education often in French.
"The secret recipe for a successful program is to use native teachers. That's part of our relationship with the French government," Velociter explains. "Most of our teachers for this program are actually teachers from the French Ministry of Education who are coming here on an exchange visa program and who are authorized by the French government to come and teach in our schools. They exchange with us their culture and then they bring back some of the American culture they've developed in the states when they go back to France or other countries."
By the end a young child's first year, they are usually pretty comfortable with the French language and often by the time they leave the school after 8th grade they are completely bilingual. It is not uncommon for an FASP graduate to enter AP French as a high school freshman, a course commonly taken by upper classmen. Similarly, the Chinese-language immersion school, YingHua International School (YHIS), sends students into AP Mandarin classes in 9th grade.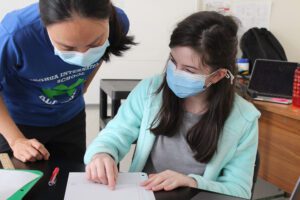 What started as a weekend school, YHIS was created out of a desire for families that wanted more. It was founded as a formal private school in 2007 and has existed in various locations (including a church basement) leading up to its current building on Laurel Avenue on the border of Kingston. With 108 students enrolled this year in The Early Learning Program through 8th grade, it is now exceeding capacity at this space and is hoping to move somewhere larger within the next five years.
Immersion in Mandarin, teaching of Chinese cultural lessons and an International Baccalaureate curriculum is what draws people to YHIS. There is a mix of local families that want the language proficiency for their child, families that move here from Chinese-speaking countries and want to continue with the language, as well as some families with one parent of Asian heritage that want to pass along a Chinese education. There are 23 nationalities represented in the school and 46% of the students at YHIS are from a non-Chinese heritage family. All go there for the benefit of a dual language education.
"A lot of families are drawn to us, they hold the assumption and it's been backed, that learning an additional language helps to expand your world view, helps to make you more empathetic," notes Kayla Sorin, a YHIS English teacher and Director of Community Relationships. "A lot of our families have expressed an interest in having their children immersed in another culture, because of the soft skills that can be made by that."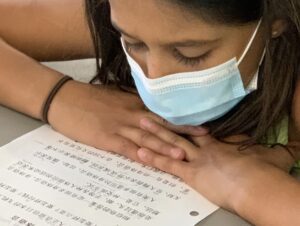 Like FASP, YHIS starts with intense immersion. 100% of instruction from preschool through Kindergarten is in Chinese. In first grade, lessons are 20% in English up to 25% in second grade, 35% in third grade and 45% in fourth. Middle school classes, grades 5-8, are taught in 50% Mandarin, 50% English. Classes are taught in one language or the other, not mixed, but the teachers collaborate on their lesson plans to create continuity between the classes.
"We want to work out listening and verbal skills. The younger age they pick up quickly, so when they enter first grade, they're very comfortable speaking in Chinese and they acquire knowledge," details Wen-Lin Su, YHIS Director of Academics. "Our students overall, their proficiency achievement is higher than the majority of the schools, even higher than other immersion schools."
As a private school, YHIS 8th grade students have an opportunity to earn a Global Seal of Biliteracy, indicating a high level of proficiency (normally achieved at the high school level) and a high percentage of them earn it. Last year they tested their 7th graders to see how they would fare, and two achieved it as well. To help them get to this level and enhance and test their verbal knowledge, YHIS has joined the Association of New Jersey Chinese Schools, a consortium of Chinese-language schools that competes with other students, who are most often from homes where both parents speak the language.
"Our students participate in a Chinese poetry recitation contest, Chinese karaoke singing contest and Chinese speech contest and we've won a lot of trophies," Sorin explains. "One of our recent graduates, whose parents don't speak Chinese at home, just graduated from our 8th grade class and she won the national contest."
Though students come from around New Jersey to attend YHIS, most are from the greater Princeton area and they have all become a very tight knit community.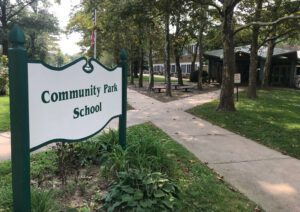 Across town, what was once a neighborhood Princeton Public School (PPS) is now the newest dual language program in Princeton. Seven years ago, Community Park Elementary School started one dual language cohort of students in kindergarten and another in first grade. Now there are nearly 400 students taking part in what has become the district's centralized dual language immersion school.
"When we started, we were only permitted to tap into the Community Park neighborhood for our students, and we kept saying we'd like to be able to invite all of Princeton to participate," recalls Priscilla Russel, PPS Supervisor for World Languages. "After about 3 years we got that permission, so now anyone who moves to Princeton may enter our program."
The program was actually 10 years in the making, and it landed at Community Park because the school Principal, Dineen Gruchacz, was the elementary Principal interested in taking it on.
"We wanted to offer the opportunity for our native Spanish speakers to hold onto their language (and culture!) while learning English," Gruchacz notes. She adds that the district also chose this language program because "Practically speaking, Spanish is widely spoken around the world and bilingualism is a global skill."
Community Park already had three strong native-Spanish speaking teachers on staff to initiate the instruction, so it was a natural transition into the 50/50 one-way immersion program model that is followed, which means half of the academic time is spent in English and the other half in Spanish. One English and one Spanish teacher partner together in each grade with science, math and Spanish language arts taught in Spanish where the teachers do not speak any English, from the very first day. English language arts and social studies are taught in English.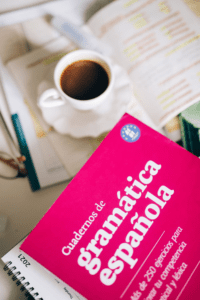 With the goal of developing communicative and cultural competence and confidence, the program expanded adding a grade each year as the students aged up. This year all Community Park students grade K-3 are in the immersion program, though there is still one 4th grade and two 5th grade traditional classes in the building. In two years, there will no longer be any cohorts but all grades at the school will be dual language.
"When children started in 6th gr last year at the middle school, they were able to hire a bi-lingual native speaker to teach social studies, so the children made the switch from math and science into social studies and Spanish," Russel shares. "Karen Encalada created a new (social studies) class in Spanish and she's doing the same thing for this year's 7th grade. We want to continue the program through 8th grade, so we have one more year to go to fulfill that dream."
The transformation of Community Park into an immersion school meant (for most grades) it's no longer a traditional community school for the neighborhood. Students from around Princeton are now able to choose it, starting in Kindergarten or first grade and likewise, neighborhood families that don't want to enroll in such a program can choose to send their children to one of the other three district elementary schools. Due to the pandemic, they haven't tested the kids in two years, but they are anxious to see if the dual language students surpass their monolingual peers on standardized tests, as has been the case elsewhere.
"They work very hard flipping back and forth when they need to. Of course, the amount of language, their proficiency level is so much higher than in a normal foreign language program. They just use it for everything," Russel explains.
And that is the goal of these bilingual programs. Though each school does things in their unique way, they all have the common desire to generate a new generation of empathetic, worldly, bilingual speakers and thinkers in the Princeton community.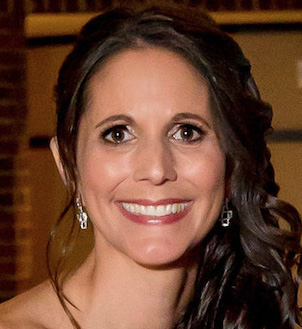 Lisa Jacknow spent years working in national and local news in and around New York City before moving to Princeton. Working as both a TV producer and news reporter, Lisa came to this area to focus on the local news of Mercer County at WZBN-TV. In recent years, she got immersed in the Princeton community by serving leadership roles at local schools in addition to volunteering for other local non-profits. In her free time, Lisa loves to spend time with her family, play tennis, sing and play the piano. A graduate of the S. I. Newhouse School of Public Communications at Syracuse University, Lisa was raised just north of Boston, Massachusetts but has lived in the tri-state area since college. She is excited to be Editor and head writer for Princeton Perspectives!