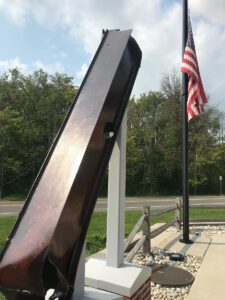 As we mark the 20th anniversary of the 9/11 attacks, we are reminded of what it means to live in America. Nearly 30 Mercer County residents were amongst the 2,977 who perished that day as terrorists sought to challenge the freedoms of American life. While they took mothers, fathers, brothers, sisters, daughters, sons and dear friends – they could not take away the American spirit or the desire from those abroad to live the American dream here.
In fact, in the weeks, and years since that fateful day, numerous families from war-torn countries have sought refuge in the United States, with Afghan and Iraqi refugees settling in places like Princeton, Lawrenceville, Hamilton and Montgomery. Today, 20 years after the attacks, our country is once again helping Afghan refugees. Interfaith-RISE (I-RISE), a Highland Park-based affiliate agency of USCRI (US Committee for Refugees and Immigrants) works with local assistance from the Princeton chapter of I-RISE and The Jewish Center's Interfaith Refugee Resettlement Committee (TJC/IRRC) to assist and relocate families. Earlier this year I-RISE brought 47 Afghans to central New Jersey with another 125 of them making this area home after the recent US withdrawal.
"USCRI has the direct lines to the State Department and UNHCR (United Nations High Commissioner for Refugees), and we provide on-the-ground support for these families when they first arrive," explains Louise Sandberg, Coordinator of TJC/IRRC. "Our Committee has worked with families and individuals from Afghanistan, Iraq, Burma, Pakistan, Eritrea, Cameroon, Saint John, Guatemala, El Salvador, Tibet, Syria and Turkey."
The refugees that have sought to resettle in Princeton came here because they have a friend or family that has offered support or because the committee was able to find affordable housing to assist them. Coming to the Princeton-area, they join a growing international population.
While there is no exact data available to detail how many nationalities are represented amongst the Princeton population, 2019 Census statistics indicate 28.5% of those living in Princeton, NJ are foreign-born – including 43% from Asia, 30% from Europe and 19% from Latin America. Some come here seeking refuge and assistance, and others come here to join family, follow opportunities in their profession or to advance their education.
Having internationally prestigious institutions like Princeton University (PU) and the Institute for Advanced Study (IAS) plays a large role in attracting an international population to town.
Of the 271 visiting scholars at IAS this year, 124 of them are international and hail from 37 foreign countries including Argentina, Australia, Austria, Bangladesh, Belgium, Brazil, Canada, China, Croatia, Czech Republic, Ecuador, France, Germany, Greece, Hungary, Iceland, India, Iran, Israel, Italy, Japan, Kazakhstan, Korea, Malaysia, the Netherlands, Nigeria, Poland, Portugal, Russia, Spain, Sweden, Switzerland, Taiwan, Turkey, United Arab Emirates, United Kingdom and Vietnam.
Students from 58 countries (representing 13% of the incoming class) came to Princeton when PU welcomed its newly enrolled freshman 2 weeks ago. The students are citizens of countries including Albania, China, Colombia, Egypt, Indonesia, the Netherlands and Rwanda. At the graduate level, the 713 incoming students hail from 54 different countries. Due to COVID hampering the arrival of many international students last year, the last compiled data of the entire PU population from its 2019-2020 school year shows 2,053 international students were enrolled. A combination of undergraduate and graduate students (at a 1:2 ratio), those students vastly increase the international population of Princeton. Most of the students that came from other countries to study at PU are from China, Canada, India, United Kingdom, S. Korea, Germany, Australia, Turkey, Brazil, France, Italy, Russia, Mexico, Spain and Romania but there was also at least one student from each of 95 additional foreign countries, all represented in the map below: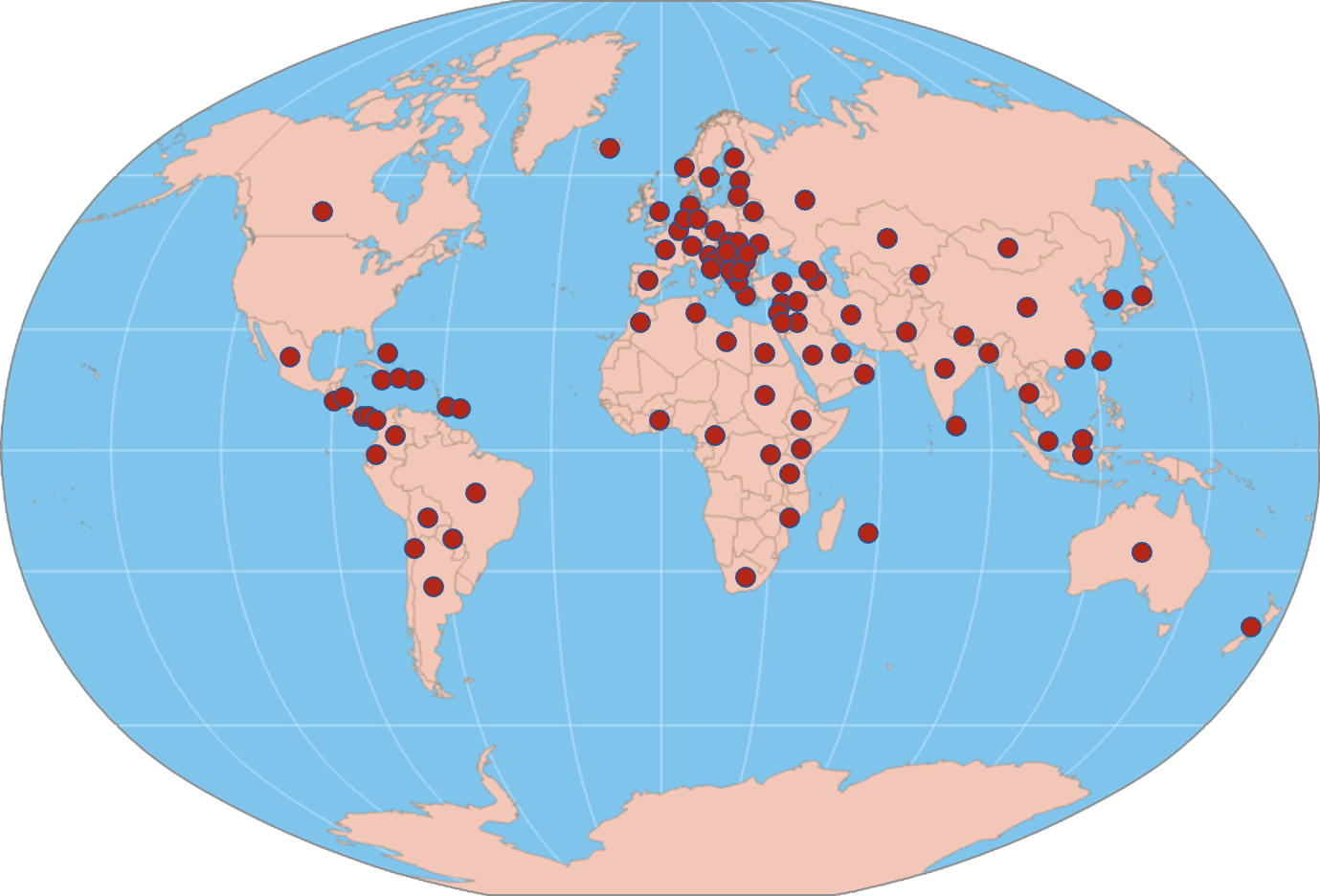 In addition to the international student body and faculty the local educational institutions entice to Princeton, pharmaceutical and other high-tech businesses also attract numerous professionals to Central Jersey from around the world.
"New Jersey is our corporate home, and we are proud to have more than 13,000 world-class employees in New Jersey working across our campuses," shares a Bristol Myers Squibb company spokesperson. "Bringing innovative medicines to patients depends on a workforce with diverse experiences, perspectives and personal backgrounds that reflect the patients and communities we serve around the world."
Of those coming either temporarily or permanently for education or job opportunities, some come alone to this area, but many bring along their families. The Princeton Public School (PPS) system has approximately 45 languages spoken amongst its student body today. Some of the students come with proficiency in English, but many others need support to learn in our English-based schools.
At each of the four elementary schools there is a fulltime English as a Second Language (ESL) teacher assisting 20-30 students who qualify for ESL services. Princeton Middle School has a specialist that co-teaches English with one of the English teachers, as well as separate ESL classes. There was also an aide hired last year to help the Spanish-speaking ESL students who need additional support for their science, math and social studies classes. In the past five years, Princeton High School has enhanced its program to meet the needs of its many Students with Limited or Interrupted Formal Education (SLIFE). The high school engages multiple ESL teachers and has several co-taught classes to help this largely Latino population.
"For the other half of our ESL kids who come from all over the world, we have support classes in English, language arts and writing workshop classes. We also give them support in math, science and social studies if they need it," explains Priscilla Russel, PPS Supervisor for World Languages.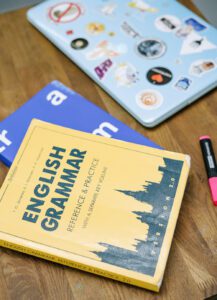 Many adults that come here also take ESL classes to learn or improve their English language skills. Princeton Adult School and YWCA Princeton offer several classes. PU also has a language program for its own students. To learn more about what ESL is and how people living here have benefitted from these programs you can read How Princeton Helps Adults Learn the English Language in this issue. To further practice the language, Princeton Public Library offers ESL conversation groups, currently online.
With a desire to improve their English, many of the people that come to Princeton from abroad are highly educated. More than 81% of the municipal population overall has a bachelor's degree or higher (56% have post-grad education), according to the 2019 Census. Additionally, less than 8% of the total Princeton population lives below the poverty line. Some of those people are here from other countries, in need of assistance.
Of those it helps, the Princeton Department of Human Services estimates 65% are Hispanic (mostly from Guatemala and Mexico), 20% are Black (many from Haiti and Ghana), 10% are Asian (from China and India) and 5% are Caucasian.
In addition to providing information and referrals to community partners that offer ESL, citizenship and driving classes, Health & Human Services assists people when applying for programs like General Assistance, SNAP (food stamps), Women, Infants and Children (WIC) and the Well Baby Health Clinics as well as refers them to partners who provide meals and affordable housing.
The department occasionally serves refugees coming to this area, but they are most often assisted by organizations like I-RISE and TJC/IRRC. The incoming refugees are often in need of housing they can afford or that can be covered through community programs. If you have or know of residential locations that could fit this need, you can click here to contact Louise Sandberg.
Part of what makes Princeton so enticing to people from around the world is the municipality celebrates its diversity and strives to bring everyone together. One of the ways this is done is through Welcoming Week, which this year is being held until September 19th.
Welcoming Week Flyer – ADA Checked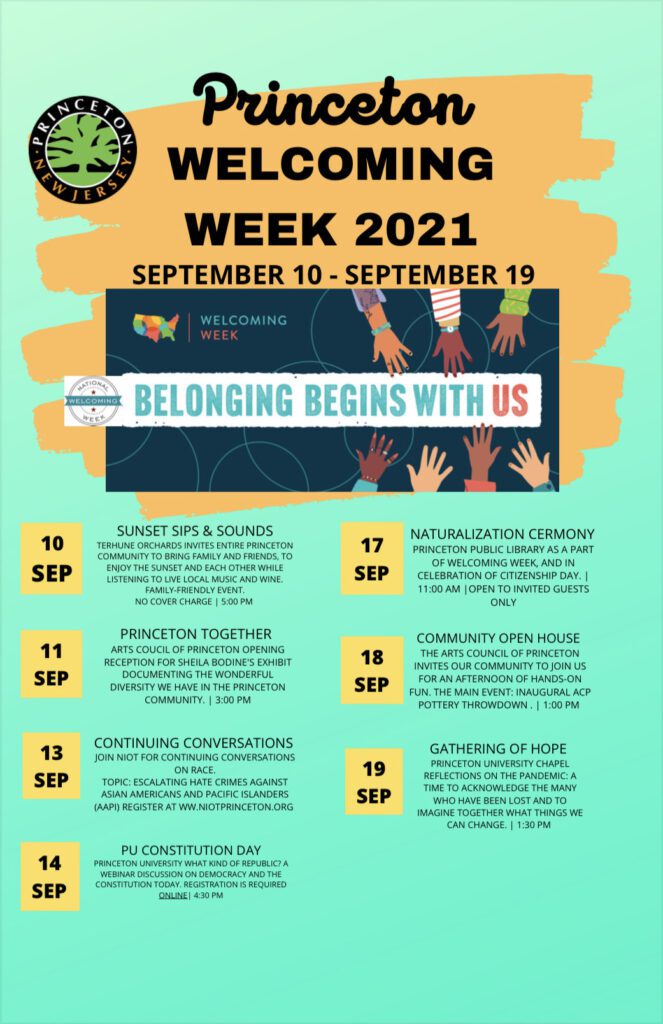 "During Welcoming Week, we join cities across the world to promote unity, diversity and inclusiveness to build strong connections and affirm the importance of community," explains Veronica Olivares-Weber, Princeton Human Services Commission Chair. "Welcoming Week is a wonderful opportunity for us to come together as a community to affirm that Princeton is a place where we want to weave together all residents to be a part of the fabric of our shared future."
The internationality of this suburb also creates great opportunities to learn about other places and get exposed to tastes and traditions from a variety of cultures. These are a benefit whether you are new here or have lived here all of your life.
Many foreigners and immigrants have opened restaurants and experiences that offer a taste of their home country to Princeton. The flavors of China, India, Japan, Italy, Greece, France, Syria and so many other countries can be found in eateries across town. You can learn dances, shop for cultural mementos, enjoy international artwork and more at numerous locations. In fact, a sampling from every continent worldwide is available around the Princeton area and you can read more specifics from our April issue in You Don't Have to Leave the Princeton Area to Experience the World.
Many come to the United States and retain their home citizenship, either as part of their identity, with a desire to return one day or because they are here only for a set amount of time. Others come and over time, decide this is where they want to stay and become a citizen. On Friday, September 17th, you can see the embodiment of what this means as the Princeton Public Library hosts a naturalization ceremony (closed to the public this year).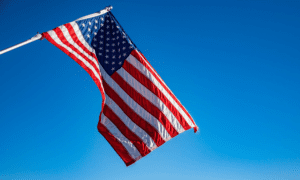 Though terrorists sought to destroy American freedoms on 9/11 twenty years ago, the way of life here is still something many seek out. As we honor the memories of those lost that fateful day, we can feel pride in the fact that the Princeton community has kept the American spirit going, inviting those from all over the world to make it their home.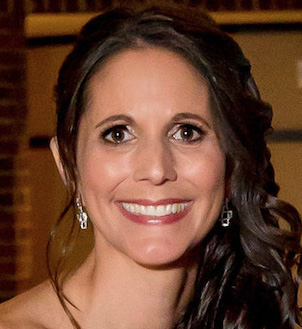 Lisa Jacknow spent years working in national and local news in and around New York City before moving to Princeton. Working as both a TV producer and news reporter, Lisa came to this area to focus on the local news of Mercer County at WZBN-TV. In recent years, she got immersed in the Princeton community by serving leadership roles at local schools in addition to volunteering for other local non-profits. In her free time, Lisa loves to spend time with her family, play tennis, sing and play the piano. A graduate of the S. I. Newhouse School of Public Communications at Syracuse University, Lisa was raised just north of Boston, Massachusetts but has lived in the tri-state area since college. She is excited to be Editor and head writer for Princeton Perspectives!