Where Does Princeton Stand? A Local Perspective on National Issues
ISSUE #21 – November 16, 2021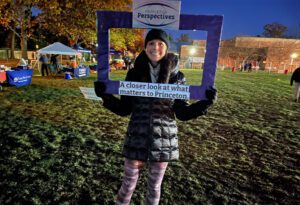 It's sometimes easy, especially during pandemic times, to live in a bubble – unaware of what is truly going on right around you. And while it's easy to turn on the news and get an overall understanding of things, it's sometimes harder to know what they are really like in your neck of the woods. That's the purpose of Princeton Perspectives, to localize stories and share information that matters to you.
So, it's only fitting that our November issue focuses on just that. In Where Does Princeton Stand? A Local Perspective on National Issues, we take a local look at some of the major stories covering the headlines and provide a deeper look at what they're like in and around Princeton.
For starters, community events are starting to pick up everywhere. Sick of cancellations and with evidence that outdoor events are safe, major running events are on thing making a big comeback. Though there were some COVID-safety changes, the Boston Marathon ran in October and the New York marathon ran earlier this month. Both built up great excitement for the HiTops Princeton Half Marathon that ran on Sunday. Read more…
Pulse of Princeton: Did you come out to visit us at the HiTops Princeton Half Marathon? We had fun with the runners and spectators!
Perspectives Revisited
In Issue #4 Get Outdoors – Experiencing and Appreciating Princeton's Natural Wonders, we shared with you about the many wonderful local hiking areas in the article Tracks and Trails – The Hidden Gems All Around Us. You can walk some of the trails we detailed while listening to enlightening audio tours and D&R Greenway has just launched a new one. There is currently a free trial of the program "Women & Conservation." If you listen as you walk along Cedar Ridge Preserve in Hopewell, highlights about local female conservationists and their impacts on several land areas with be prompted as you reach various points of the trail. Other audio tours can be heard while walking Princeton's Greenway Meadows and Hopewell's St. Michaels Farm Preserve, all by downloading the free app TravelStorysGPS.
In Issue #18 Local Changes on the Horizon in Princeton, the article Changing the Landscape Project Encourages Residents to Reimagine Their Lawns shared with you the project that was underway discussing gas-powered landscape equipment in Princeton – their environmental and health impacts and the future of their use. Well, it's time to get your battery-powered or corded devices ready! Late last month, Princeton Council unanimously approved an ordinance that restricts when gas-powered equipment can be used by contractors and property owners. All lawn mowers are still allowed, however beginning in 2022, gas-powered leaf blowers will be prohibited through winter and summer seasons, from December 16th-March 14th and again May 16th-September 30th. Effective immediately, you are no longer able to use gas-powered leaf blowers, chainsaws and trimmers on Sundays year-round or on the 6 named holidays. Exceptions will be made for emergencies.