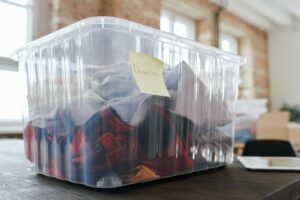 I've long had a problem with getting rid of things. I'm not a hoarder, but I like to know that when my family is done with something it goes to someone else that needs or wants it. I once spent hours finding all the parts to my son's old toy, putting it together so that another little child could enjoy it. Then I watched, as the donation truck driver picked up my donations, threw them into the back of his truck and the toy pieces scattered everywhere, rendering the toy useless. Ever since, I have chosen to donate locally, where I can hand-deliver my things to help ensure they have the chance to be reused by someone else.
Repurposing your goods rather than throwing them out not only helps our environment but helps our community. And, it is tax season. If you choose to donate, those write-offs could help you, too. If you're like me, you've spent the better part of the pandemic cleaning out rooms and closets, but you don't know who is accepting goods or what they need. Though some COVID restrictions have been put in place, there are still many local ways give your items a second life.
CONSIGNNMENT SHOPS
Consignment is a great option for people who either need to get a little something back for their purchases or who want to. Princeton proper happens to be home to at least three consignment shops. When you consign, you drop off your goods in hopes that they will be sold to someone else. Once sold, you collect a portion of that revenue. In addition, most consignment shops also donate to charity. So, there are two chances for your items to benefit someone else.
You can "give your fine clothing new life," as Princeton Consignment describes it, by making an appointment to drop off your goods. The Spring Street store was opened by Beth Censits in 2018.
"It's a really fun and rewarding business to be in in these days of fast fashion, because you know someone will give the garment extra life and hopefully find something that they love," says Censits. "Every garment is acceptable if it is clean and in good shape and it has a place in one's wardrobe. That covers a lot of bases from classic, elegant, biker, punk, hippy, designer…. anything that 'gives joy' to borrow of phrase."
The condition of your clothes, what season it's for and how it compares to what is already for sale in the store are considered when accepting items for consignment. At Princeton Consignment, women's and men's clothing, shoes and accessories are consigned for a 2-month period, after which they're donated to local charities, including Dress for Success.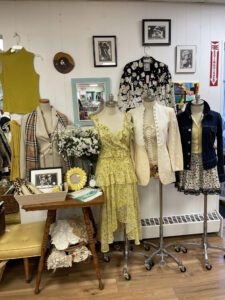 Nearly New Shop on Nassau Street has been in our community for 76 years. Once owned by Princeton Day School, it was taken over by Toni Maher in 2012 and she has seen a real shift in business recently.
"Middle School and High School students make up a huge part of our clientele now that thrifting is cool and sustainable and better for the environment. During the pandemic we have noticed that our regular elderly clients are still hesitant to come in. Our regular lunchtime clients have not been in due to them working from home," explains Maher. "With the nice weather approaching, people being vaccinated, students on campus, thrifting and sustainability, we are excited for the future of Nearly New Shop!"
You can drop off your donations during store hours and reap a 50/50 split once they are sold. Proceeds from Nearly New Shop are donated to the Princeton Day School Scholarship Fund and any unsold items are donated to charities including The Rescue Mission of Trenton and Vietnam Veterans of America.
You can also consign your clothes at Greene Street, which started as a single shop in Pennsylvania in 1997. Its Nassau Street location is now of seven shops located around New Jersey and greater Philadelphia. Here shoppers can find men's and women's clothing, shoes and accessories from mid to high-end designers at a portion of their initial cost. Greene Street historically partners with or donates to many charities located near its stores.
If you have items to pass along that could help others raising a family, Just Between Friends (JBF) pop-up consignment sale offers a chance for you to consign what you're done with and shop for what you still need. There are 150 of these franchise consignment sales around the country, and JBF Mercer County is happening April 23-25 at the Robbinsville Fieldhouse.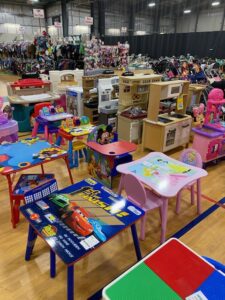 "Many of our toys, clothes, shoes, games, puzzles etc. are under $5. Books are usually $1 or $2," explains Jennifer Grant, Event Coordinator/Owner JBF Western Gloucester County and Mercer County. "I remember a woman who once thanked me because she bought Ugg boots and a Northface jacket for her daughter for $20. She said the kids were making fun of her at school and she was teary eyed because she was able to afford them at our sale."
The sale offers anything ranging from what a young baby would need to what a mother could benefit from. So if you're looking to pass along play tables, strollers, clothes & shoes (sized from infant to Juniors/Young Men and maternity) you can create an account and tag items for sale until the April 22nd drop off date and then get a free ticket to shop the sale, which is working hard to ensure safety for everyone this year.
"We have timed tickets all weekend to keep the capacity limited and spaced out. Everyone must wear a mask. Our aisles will be spaced out and we will use all 60,000 square feet of the fieldhouse (we usually only use half). We will have a sanitizing station and all bags and rolling carts will be sanitized between users," says Grant.
DONATE CLOTHING AND HOUSEHOLD ITEMS TO CHARITY
In addition to changing the way many used items are sold, the COVID pandemic has also affected collection. While some area charities have temporarily stopped accepting certain residential donations, there are still many local options.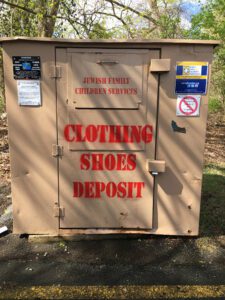 Gently used clothing can be donated to Rescue Mission of Trenton and four donation boxes are located around Princeton, at Tenacre Foundation on Great Road, Educational Testing Center (ETS) on Rosedale Road, D&R Greenway Land Trust on Preservation Place and in Princeton University Parking Lot 23, located off Faculty Road. A clothing donation dropbox for Jewish Family & Children's Services can be found in the parking lot of The Jewish Center on Nassau Street and The Salvation Army has one on Meadow Road. You can also bring your goods directly to their store and donation center on Route 33 in Mercerville. Donated goods are sold at the Salvation Army's thrift stores and the proceeds fund their Adult Rehabilitation Centers.
"Donations of clothing, shoes, furniture and other household items from generous donors benefit our community in many ways: by providing a low-cost option for families to clothe and furnish their homes with quality merchandise, by keeping these items out of our waste stream and giving textiles and other items a second life, and by providing the means to operate a no insurance needed rehabilitation center that offers men a second chance," explain Captains Chas and Debbie Engel, Salvation Army Administrators for Business and Program. "Of course, it's not just the individuals completing our program whose lives are changed; their families and the communities around them benefit, as well."
Goodwill, on Brunswick Pike in Lawrenceville, is also thankful for your donation of gently used clothing, accessories and furniture.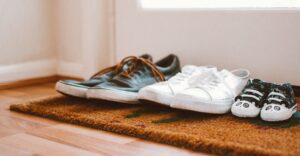 If you have shoes that your children have outgrown or that you no longer wear, they can find a second life when donated to Soles4Souls, which accepts gently worn shoes in all sizes and styles. After years of donating with his family, one local boy decided to help this organization collect shoes in a big way.
"One day, my mom showed me a video on the Soles4Souls website. In it were kids walking across dirt and debris with no socks or shoes," shares Robbinsville teenager, Zachary Miller, who made a goal in honor of his Bar Mitzvah of collecting 25,000 shoes for the organization. "This made me really sad and made a big impression on me because I wear different types of shoes in my life for school, sports and dressing up. It never occurred to me that some people don't even have one pair of shoes."
So far Soles4Souls as saved more than 56 million shoes from waste and provided them to nonprofits around the world. Miller has set up a collection bin at Princeton Playspace on Alexander Road. You can drop your donations during their open hours, weekdays until 3:30pm and on weekends until 11:30am.
"I am very close to my goal and currently have collected 22,000 pair of shoes. But I really enjoy working with Soles4Souls and know that I will continue to partner with them long after I have collected 25,000 pairs," he notes.
As the weather improves and we spend more time outside, you might notice your children have outgrown or no longer use certain toys. Gently used frisbees, hula hoops, jump ropes, playground balls, sidewalk chalk, sports cones, wiffle ball/bats and yoga mats are currently being collected by the Mobile Food Pantry to help encourage their recipients to stay active and get outdoors. You can donate any you have by contacting Liliana Morenilla through their website.
GIVE YOUR ITEMS TO A NEIGHBOR

To offer up used items to people in your local community, join a Buy Nothing Facebook group. In 2013, two friends in Washington created the first Buy Nothing and it has since expanded with at least 3 million participants through local groups in 44 nations, including here in Princeton.
"Currently, we have over 625 members each in the West and East groups. But we just sprouted into two groups two weeks ago and the numbers will grow exponentially in the next few weeks," notes Buy Nothing Princeton (West) Administrator, Minda Alena.
In addition to Princeton (West), and Princeton (East) other local Buy Nothing Facebook groups include Hopewell Valley, Lawrence Township, Montgomery Township/Rocky Hill, Plainsboro and West Windsor.
"Buy Nothing Project rules are simple: Post anything you'd like to give away, lend, or share amongst neighbors. Ask for anything you'd like to receive for free or borrow. Keep it legal. No hate speech. No buying or selling, no trades or bartering, we're strictly a gift economy," the website details.
Another way to give away items you no longer want to neighbors that do is through Freecycle. Here you can give/get anything from a dresser and loveseat, to plants and beach toys.
SHARE THE GIFT OF READING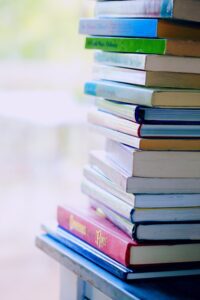 Have children's books your child will no longer read, a bunch of paperbacks you once read on vacation or an antique collection you obtained when your great aunt passed? There are local ways to pass all of them along!
Little Free Library allows you to give a book and take a book. And these small wooden book-sharing boxes have popped up in various spots around town. Local sites include at Princeton Shopping Center, 185 Dodds Lane, 256 Snowden Lane, 29 Leabrook Lane, 99 Dempsey Ave, 32 Edgehill Street and in Marquand Park on Lovers Lane.
In addition, The Friends Bookstore at The Princeton Public Library historically collects book donations from the community. However, there has been such an outpouring of donations this year, they are temporarily not making appointments to accept new ones. If you have items to give, you can email them here and they will contact you when you are able to book an appointment.
Gifts of rare books and manuscripts can be given to the Princeton University Library, if they meet the guidelines to support the University's collection. You can also seek to sell your antiquarian books and special edition items to Labyrinth Books.
"Given the community we serve, our emphasis tends to be on scholarly and academic works in the disciplines, although distinctive and first editions are also welcome," shares Stephen Walter, Labyrinth Floor Manager and Used/Rare Book Buyer. "What this means in practice is that we exclude many of the types of books a more general used bookstore might accept: mass market and genre fiction, dated hardbacks, 'coffee table books,' self-help, health and diet, old reference, popular biography, and political punditry, to list just some examples."
You must make an appointment via email, by sending a description of your collection detailing the subject area, condition and quantity. If you can include photos, that is appreciated.
HELP OTHERS WITH TRANSPORTATION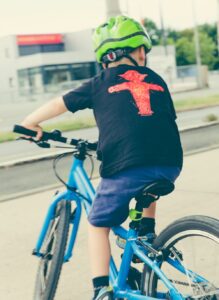 Outgrown bicycles, in any condition, can be given to the Boys & Girls Clubs Bike Exchange. You can drop it directly at their Ewing site in Capitol Plaza, or in Princeton, there is a collection site at Jay's Cycles on Nassau Street. The exchange repairs the bikes, if needed, then sells them at deeply discounted prices to members of the community. Sales benefit Boys & Girls Clubs of Mercer County and promote cycling. If you're planning to get yourself a new one, you might also be able to trade-in your bicycle towards an upgrade at Jay's.
There are also numerous local charities accepting car donations. Salvation Army, Goodwill and Jewish Family & Children's Service of Greater Mercer County will all take your car whether it is running or not. Homefront is accepting car donations, only if they are in working order.
STOCK UP
Lastly, since it is tax season, take a look at your investments. You may want to clear some unwanted stocks out of your portfolio. As Trenton Area Soup Kitchen says, you can "maximize tax savings and meet your charitable goals" by giving them stocks or mutual funds.
Junior League of Greater Princeton also appreciates your support with the gift of stocks.
Whatever it is you are done with, consider passing it along. Giving your items a second life not only helps our environment, but it can put a really big smile on someone else's face. We could all use a little more of that these days!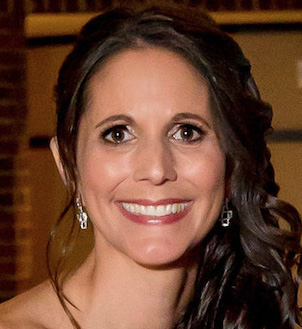 Lisa Jacknow spent years working in national and local news in and around New York City before moving to Princeton. Working as both a TV producer and news reporter, Lisa came to this area to focus on the local news of Mercer County at WZBN-TV. In recent years, she got immersed in the Princeton community by serving leadership roles at local schools in addition to volunteering for other local non-profits. In her free time, Lisa loves to spend time with her family, play tennis, sing and play the piano. A graduate of the S. I. Newhouse School of Public Communications at Syracuse University, Lisa was raised just north of Boston, Massachusetts but has lived in the tri-state area since college. She is excited to be Editor and head writer for Princeton Perspectives!