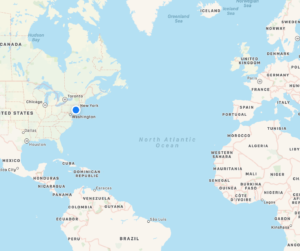 Do you remember when people used to jump on planes and explore other countries? The return to post-pandemic international travel is starting, but even for the willing, there are restrictions. Many international borders remain closed and if you can get there, many sites, stores and eateries are shut to tourists.
So, it's time to reinvent how we travel. If you just want to get away and relax, many beach sites are open down South, in Mexico and the Caribbean. But if you want to explore the many facets of foreign cultures – luckily you live in Princeton! The global make-up of our community provides us with opportunities to enjoy the many wonders of each continent beyond North America, from right here at home!
ASIA
There are many beautiful countries sitting above and alongside the Indian and Pacific Oceans. Immigrants and descendants from most of the 48 countries that make up the Asian continent reside in the greater-Princeton area and have brought with them a taste from home.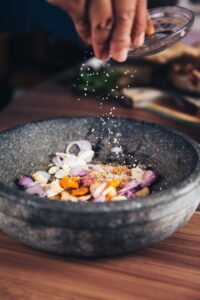 Literally, to taste the spices and flavors of India, you don't even need to leave Princeton. There are numerous establishments in town. Northern Indian cuisine, that of the original northwestern frontier including Pakistan, is served at places like Princeton Shopping Center's Cross Culture.
The restaurant, started by PJ Singh in 2010, offers the most common Indian favorites, including meats, marinated then barbecued and cooked in different kind of curries. Their most popular dish, chicken tikka masala, is a dish known throughout the world.
"People living in Princeton are world travelers, they have traveled a lot and they know their cuisine," states Singh. "Most people can name these dishes, even if you ask American people, they don't have to see the menu to know what chicken korma or tandoori chicken are. Most of our clientele know what to ask for, but if someone is new, to make them comfortable, I ask about their spice level."
Singh says many not familiar with Indian food think of it as extremely spicy, but he works hard to make fresh food to order, based on your specific spice tolerance. Today, COVID has the restaurant serving take-out only, but when it opens up inside, you can enjoy your meal with the ambience of Indian music as well.
For a more vegetarian focus, one can experience Southern Indian food at places like Chennai Chimney on Chambers Street. The restaurant describes its regional cuisine as "a blend of all six different tastes including sweet, salt, sour, bitter, pungent and astringent" and aims to take a contemporary approach to its authentic food.
All around Princeton it is easy to find Asian restaurants to enjoy some Pad Thai (Thailand), Fried Rice (China), Kimchi (Korea), Pho (Vietnam), Sushi (Japan) and other Asian specialties. If you prefer to make a meal yourself, all kinds of Asian flavors and foods can be found at Asian Food Markets, located nearby in Plainsboro. The market was started in 1992 with a desire to bring all varieties of Asian groceries together in one place.
"Our products come from Thailand or Philippines and China. Some come from Hong Kong, Korea as well. And I think most stable during COVID are the Korean and Japanese products," shares Irene Yan, Asia Food Markets' Training Manager.
Delays of shipments leaving Asia and arriving in America have affected the inventory and pricing this past year, but Asian Food Markets continues to offer fresh ingredients and even prepared hot foods with tastes from all over the continent. If you're new to this type of cooking, don't be shy. Their customer service desk can provide advice, or if you prefer, their hot food department will even cook up store-bought fresh ingredients for you!
Asian Food Markets can also help you enjoy many of the Asian festivals. Decorations, like for Dragon Boat Festival coming up in June, can be found there as well.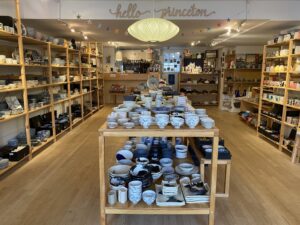 Beyond the food, one of the best parts of traveling abroad is the souvenirs, that allow us to bring a bit culture back home. To experience Japan, one need only travel as far as Princeton's Palmer Square and walk around stores like Miya Table and Home. The owners buy from small "mom and pop" businesses in Japan to offer everything from tableware and textile products to tea kettles and fortune cats.
"Our tagline is 'Bringing the best of Japan home' so we do take the idea of bringing great products from Japan home to the U.S. and into your homes very seriously," explains Heidi Moon, Co-Owner of Miya Inc. "Pre-COVID, my husband and I took turns going on buying trips to Japan a couple of times per year. We attend trade shows and meet with manufacturing partners to find the best selection that we can. We always look for things that definitely have a Japanese aesthetic but has a western sensibility."
Miya, Inc. is a 3rd generation Asian American business that started in New York City in the 1930s. It has evolved and grown over the years, but has stayed true to its roots, importing goods from Japan that can be enjoyed here in America.
"We hope our customers can feel how special each piece is in our shop. They can take home a bit of Japanese design, simplicity, and humor," adds Moon.
Surrounding yourself with foreign goods is one way to immerse yourself in a culture, being in the middle of live entertainment is another. Every year, the IndoAmerican Fair aims to make you feel like you are in India! Held at Mercer County Park, with performances, clothing and of course food, the fair was last held in 2019, due to COVID. There is still hope for it to return this August, but the fair attracts large crowds and event permission for this year has not yet been granted.
EUROPE
Like the IndoAmerican Fair, the Mercer County Italian American Festival brought cultural presentations, food and games to our area each year. Despite COVID putting a hold on such festivals, we are lucky the Princeton area has numerous other connections to the 44 countries that make up Asia's neighboring continent of Europe.
Simply walking around town can transport you to places like Greece, Great Britain and the Netherlands.
Have you ever heard the bells while playing a round of golf at Springdale? Those are sounds of the low countries of Europe, a Carillon made of bronze bells cast in England, France and The Netherlands. Installed as a gift in 1927 then renovated and rededicated in 1993, The Carillon or The Class of 1892 Bells ring from the Princeton University Graduate College's Cleveland Tower. They are quiet now for graduate exam period but beginning May 16th you can bring a lawn chair and sit nearby to hear them played on Sundays at 1pm by the University Carillonneur through June and by nationally known artists during the summer concert series July 4th through Labor Day.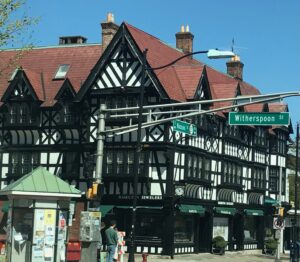 Further into town, you can feel like you're walking amongst buildings of Europe with the architectural influences of the Greek at Nassau Presbyterian Church or the transcendence of the English in the former Princeton University dormitory, Lower Pyne, now home to Hamilton Jewelers at Nassau and Witherspoon Streets. If you cross into the Princeton University campus, many of the buildings have a Gothic style similar to those you'd find on the campuses of Oxford or Cambridge Universities in England.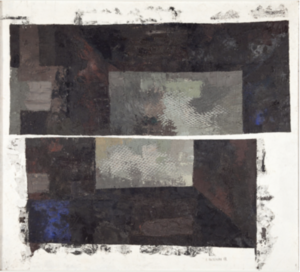 There are also local places to immerse yourself in European culture. Though currently closed to the public due to COVID, there is hope you can soon stroll through the Zimmerli Art Museum to appreciate over 22,000 objects that make up its Russian and Soviet nonconformist art collection including paintings, sculptures and other decorative works. Located nearby, at Rutgers University, there is also a strong presence of 19th century French, ancient Greek and Roman art at the museum. Until the doors open again, you can browse the collections online here.
If you're yearning for more from Italy, you can search for favorite delicacies at Gennaro's Italian Market in Kingston. Owner Gennaro Costabile opened it in 2014 to bring tastes of Italy to Central NJ.
"We have everything from specialty raviolis, homemade gelatos and sausage to prepared foods like lasagnas and chicken francaise. Every day we make Italian pastries like sfogliatella, a traditional dessert from Naples," details Costabile. "It's like a clamshell. A lot of people aren't familiar with it, so we tell people it's cannoli's sister. Once you taste it, you'll want another."
In addition to its homemade fare, Gennaro's imports Italian olive oils, plum tomatoes and cheeses to sell in the market, as well as Italian espresso machines and espresso coffees that serve to customers. And Italian favorites are cooked up, along with international staples from places like Spain, Mexico, Germany and France at Casa Gennaro, the neighboring house-turned restaurant he created to make you feel like you're a guest in his home.
"Casa means home in Italian, and that's a place you feel like you are home for dinner," Costabile shares. "It's not just about the food, which is fantastic, but it's about feeling at home. If you're comfortable, your dining experience is unique, and you can't wait to come back."
Local Greek, which describes itself as "your place to gather with family, friends and neighbors to share simple dishes, big flavors, and new-old tradition," aims to do something similar since it opened in 2017.
"Our philosophy is Greek hospitality. To make them feel welcome, like when they walk in the door that they aren't in Princeton anymore, they are in Greece," describes Marios Antoniou, Manager of Local Greek. "That's been our philosophy no matter what. With COVID shutting down things, I think it shows up even more."
So perhaps the pandemic hasn't put a damper on everything. In fact, it hasn't kept people from trying even more of Europe's cultural cuisine, stateside. You can have Escargots at French restaurant Kristine's on Witherspoon Street, Hungarian Goulash in Ewing at Barbara's Restaurant, The Landing offers up some German fare like schnitzel in Hillsborough and you can pick up your favorite desires from Eastern Europe at Super Delikatesy – Polish Groceries and Deli in Lawrenceville.
AFRICA
If you've been lucky enough to travel to Africa, you may have experienced falafel – a signature dish of the Middle East region. Though you can't easily go there today, you can enjoy some authentic cuisine right now on Witherspoon Street.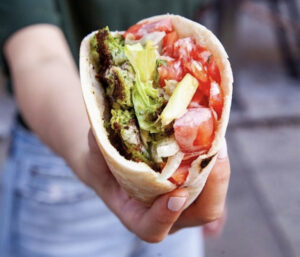 The original Mamoun's Falafel (which opened in New York City's Greenwich Village) was one of the first middle eastern eateries in the United States! Their chickpea-based falafel, offered in Princeton since 2015, was first sold by Mamoun Chater's grandfather.
"Falafel is a staple in the Middle East, so he knew his mother's recipe was really good and he fine-tweaked it," explains Chater, who oversees the Princeton operations today.
Falafel recipes vary, depending on what part of the Middle East you're from. For example, Syrians enjoy a base of chickpeas, in Egypt falafel is made of fava beans and some Lebanese recipes call for a mix of both fava beans and chickpeas. Mamoun's hopes to transport your taste buds to that region with its signature recipe, using imported spices and natural ingredients.
"We use a traditional falafel recipe of chickpeas, garlic, onions, a special spice blend," details Chater. "Our falafel is a vibrant green because we have a healthy ratio of parsley in there. That's how you can tell 9 times out of 10 someone is eating a falafel from Mamoun's."
If you were to travel to the landlocked country of Ethiopia, located near the eastern edge of Africa, you would find the original home of the coffee plant. Locally, places like Small World Coffee, provide an opportunity to sample their exports. There you can buy a bag of the floral scented Ethiopian Yirgacheffe Kochere beans and create a brew with a lemony flavor. The beans stem from the region of Yirgacheffe, one of three popular Ethiopian regions for growing coffee.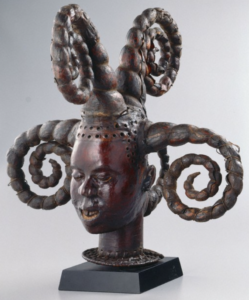 After you've had your food and drink, you can immerse yourself in some African culture while exploring the African art collection at the Princeton University Art Museum. The works of female African artists and their influences in the culture are celebrated there through pottery, textiles, baskets and beaded pieces. Until the new museum space opens in 2024, the University's galleries are closed to visitors, but for now you can explore this exhibit online.
AUSTRALIA
Australia is a continent not well-represented in nearby shops or restaurants, but you can still experience its culture from here. Do you happen to have a didgeridoo from a previous trip to Australia? If you want to learn how to play this Aboriginal wind instrument, you can do so online right from home! Free video tutorials are available from the Didge Project – you can even purchase a didgeridoo through their online store or pick-up at their Brooklyn brick-and-mortar location.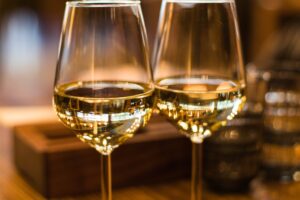 Chances are, you've enjoyed some beverages from the Australian continent, and didn't even know it! That famous blue can, Fosters Lager, stems from Australia and is sold locally at stores like Public Wine, Beer and Spirits on Witherspoon Street. If wine is more your style, New Zealand's largest family-owned wine producer, Delegat's Wine Estate, makes a line that is sold in Princeton at Bottle King. Oyster Bay wines come from the area of Marlborough Sounds, located on New Zealand's South Island. Bottle King sells their Sauvignon Blanc and Chardonnay.
One used to be able to purchase some products from New Zealand at Landau on Nassau Street, but the store unfortunately closed during the pandemic. However, if you want Australian souvenirs or you're craving some Vegemite, there is an American-run site that sells Australian goods called AussieFoodExpress.com. Other specialties like Tim Tams and even fresh meat pies and can be shipped to your home in less than a week!
SOUTH AMERICA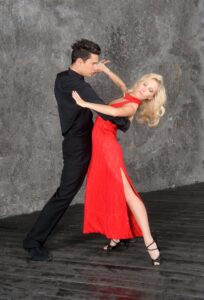 One of the sad realities of the pandemic is that is has caused many of us to become more sedate. Fortunately, you can get your body moving and experience some South American culture at Fred Astaire Dance Studios. The Argentine Tango, which originated out of Buenos Aires and Montevideo, is a partner dance with more of an improvisational style than ballroom tango. The Brazilian Samba, with its roots in West African and Brazilian traditions, stems from Rio de Janeiro. Both movements can be learned through Fred Astaire Dance Studios, either in-person at their Princeton Shopping Center location, online through free video lessons or with private streaming lessons.
Dancing can make you thirsty, so after your lesson why not stop by Sakrid Coffee and try one of its Colombian brews?
"Right now, we have coffees available from Burundi & Ethiopia (Africa), Mexico and Colombia (Central & South America). Some time ago we had a Papua New Guinea coffee (Indonesia)," offers Jonathan Haley, co-founder of Sakrid Coffee Roasters. "Those three areas represent the three primary growing regions for coffee in the world. We also combine these coffees and brew them as one coffee (known as a blend)."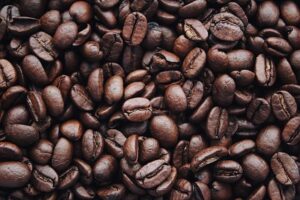 Most of these beans are purchased through cooperatives. However, not too long ago, Haley's business partner, Serge Picard, traveled with a team to Peru to sample some beans himself. This trip offered tastings straight from the Andes Mountains, including naturally farmed beans from El Cautivo.
"We named the company Sakrid because of that moment when you inhale the first aromas and taste the first hints of transcendent beans. All coffee lovers have had that Moment With a Great Cup, when the outside world slows down and the java experience takes control of your senses," Sakrid Coffee Roasters describes, as they tasted the El Cautivo on their trip. "Now imagine that 'Sakrid moment' in a mountain hut."
That experience can now be enjoyed here in Princeton, too. You can purchase a bag of these full-bodied beans, which bring about notes of plum and honeydew, directly at their Nassau Street store or online.
Down Nassau Street from Sakrid Coffee is Say Cheez – which will be home to the kitchen of the virtual restaurant, Empanada Station beginning May 1, 2021. While there is debate about the origin of Empanadas, there is no question that some delicious varieties come from Argentina and Chile. You can try a more traditional type, made with beef or chicken with an array of side sauce options or go for a modern version like the 'Buffalo Bill' with seasoned chicken, blue cheese, marinara and buffalo hot sauce. All Empanada Station orders will be taken exclusively online and delivered through services including UberEats, Grubhub, Snackpass and DoorDash. Until the ghost kitchen opens, a more limited selection of fresh empanadas is available at Say Cheez.
If you're craving other South American cuisine, Venezuelan options are available for takeout from Casdeluna on Chestnut Avenue in Trenton.
ANTARCTICA
Perhaps there is one continent with little to offer from within the confines of New Jersey, and that's Antarctica. But there is a piece of it here! A research team at Princeton University has been studying ice samples taken from the continent, believed to be 2 million years old!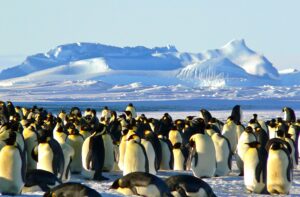 And, you can access an expedition – a virtual one – through Quark Expeditions 360° Virtual Reality Antarctic Experience with the Quark Antarctic VR app on your mobile device, tablet or computer. You'll be able to see penguins, seals and whales in their natural habitats amongst ice blue glaciers. If you prefer to wait and see these sites in person, there are cruises to Antarctica booking for January 2022.
Beyond Antarctica, many countries around the world now offer virtual experiences, some live. With groups like Beeyonder and Tours by Locals you can sign up for livestream tours where a guide walks you through the streets in realtime, introducing you to the sights and sounds of their hometown, while answering your questions.
If you prefer to speak with people, locally, who come from other countries, consider joining a group like the YWCA Newcomers & Friends. This community of 179 people has members from 14 from countries outside the US. Through social coffees, guest speakers and special interest groups, they gather and share. One such group, Global Insights, allows members to "travel" together. Their monthly Zoom presentations have taken members to Greenland, Russia, Faroe Islands, Portugal and more.
Until foreign countries open up for travel, we'll have to continue to reinvent how we visit them. Thankfully we have so many options to enjoy cultures and tastes from far away, right here at home.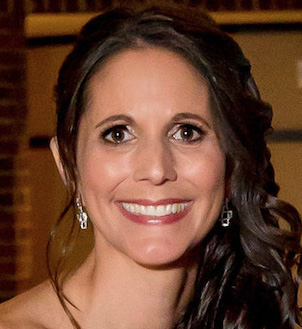 Lisa Jacknow spent years working in national and local news in and around New York City before moving to Princeton. Working as both a TV producer and news reporter, Lisa came to this area to focus on the local news of Mercer County at WZBN-TV. In recent years, she got immersed in the Princeton community by serving leadership roles at local schools in addition to volunteering for other local non-profits. In her free time, Lisa loves to spend time with her family, play tennis, sing and play the piano. A graduate of the S. I. Newhouse School of Public Communications at Syracuse University, Lisa was raised just north of Boston, Massachusetts but has lived in the tri-state area since college. She is excited to be Editor and head writer for Princeton Perspectives!