The best news so far this year is that the number of COVID-19 cases in Princeton have been consistently dropping since December 30, 2020, with a more than 88% decrease to date. Today, there are now 2.45 confirmed cases per 10,000 inhabitants.
To follow the trajectory of the virus in and around Princeton, there are a lot pieces to put together. Every few days, the Mayor of Princeton puts out an email informing us of the latest updates: how many cases we've had, what the new re-opening plans are and who is next in line to get a vaccine. Schools inform their communities via email when a new case of COVID is identified and reach out to anyone who may be affected. And extra-curricular activities have made all attempts to continue, some in person and others via Zoom. With few to no social gatherings, no large groups volunteering in-person and many working from home, there are limited opportunities for one community to share its stories with another. So today, one year later, we take a look back to really understand statistically what the overall picture has been in Princeton.
The pandemic did take 20 lives in our town from March-May of last year, and recently, one more person passed from the virus. These deaths largely stemmed from initial outbreaks at long-term care facilities.
"Over 25% of the total population tested positive for COVID-19,"shared Princeton Health Officer Jeff Grosser, referencing initial occurrences of COVID at Princeton Care Center and Brandywine Serenade (formerly Acorn Glen). "87% of the deaths from COVID-19 registered in Princeton were reported from residents of nursing homes."
At that point, the Princeton Health Department worked to improve communication between facilities and attributes the Governor's mandates restricting visitation, mandating mask wearing in the facilities and requiring regular COVID testing of patients and staff to further rectifying the situation. Monitoring, contact tracing, surveillance and other vigilance combined to help turn the tide in those communities.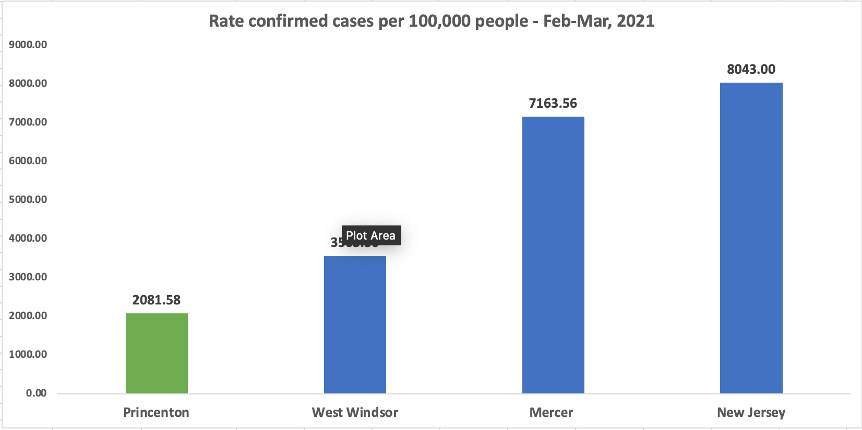 From March 10, 2020 through March 10, 2021, there were 625 confirmed cases of COVID in Princeton. The most recent 14-day total case count is at its lowest number since the 2-week period ending September 9th. As you can see in the graph above, Princeton has shown lower cumulative counts than our neighboring towns, county and the overall state. In general, it appears that our municipality's actions from the health department and other government entities to support from residents and local businesses made big an impact. Additionally, our highly educated population, living in better housing conditions and following PPE mandates has led to a better scenario throughout the pandemic. That being said, not all segments of our population have fared as well.
As the graph below indicates, White, Black and Asian segments of our local community have fared proportionate to their populations if not better, whereas the Hispanic or Latino population which makes up 7.7% of Princeton residents contracted 15.3% of all reported cases.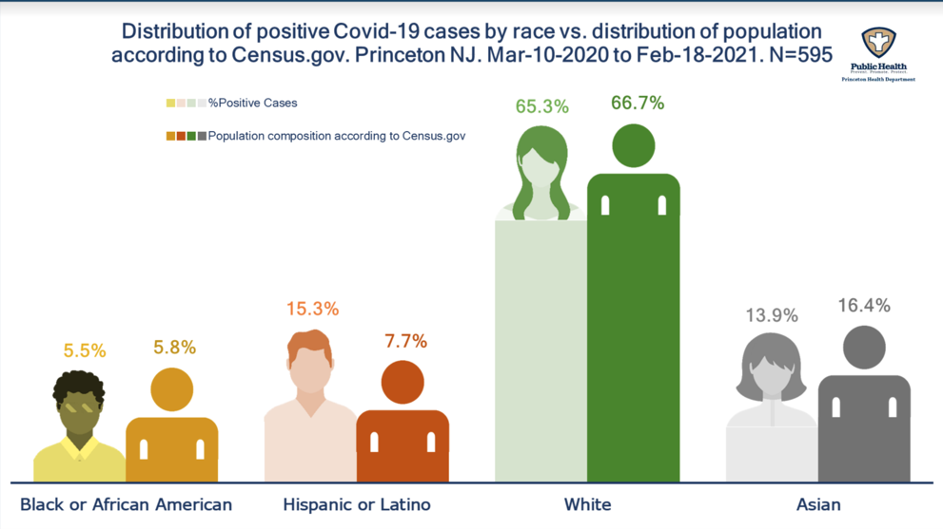 There is a lot of talk nationwide about which age populations are getting COVID-19 more than others. In Princeton, the most affected age group overall has been those residents between ages 18-59 (54%), with the current average age of confirmed cases being 42.9. That is proportionate, as approximately 50% of Princeton's population falls in that age group. Adults aged 60+ have made up 28% of Princeton's cases, followed by those under 12 (12%) with children aged 13-17 having the smallest rate of contraction (4%).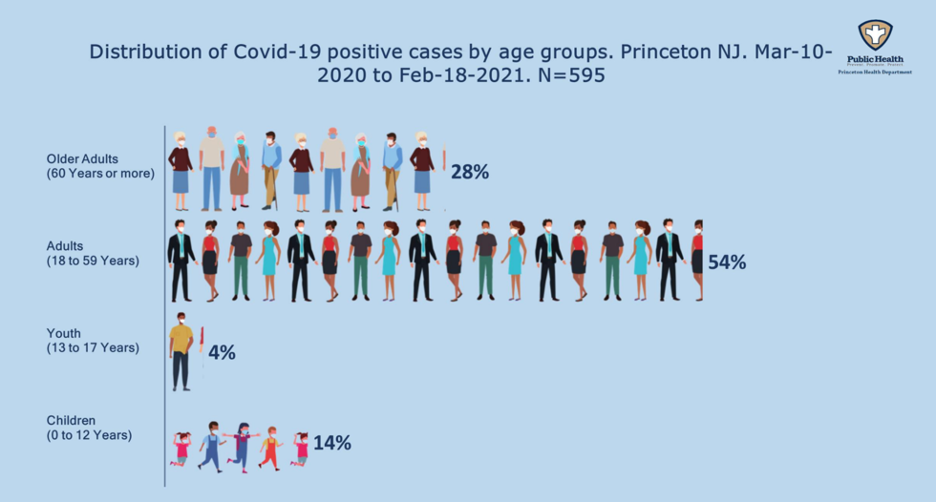 "It is important to point out that between the first case ever reported on March 6, 2020 and August 25, 2020 cases reported were among people aged 50-60sh," shares Grosser. "After August 2020, the mean age of people that contracted the disease dropped considerably."
Likely due to the return of in-person sports and school. As one of the biggest fears of COVID-19 transmission at that time was the return to school, we saw a changing landscape of schooling throughout our community. All schools adapted their use of classroom and non-classroom space to permit for greater social distancing, while some remained full-time in person, a few schools had extended periods of all-remote learning and others turned to hybrid education.
Princeton Perspectives reached out to 20 area schools and only one school reported on campus COVID transmission this school year (two cases).
"We haven't had any transmissions within the school building," shares Princeton Day School's Head of School, Paul Stellato. "Though there have been some cases, none have taken place in school."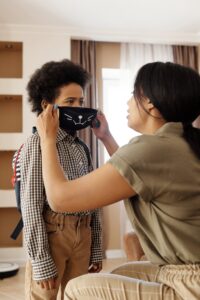 Mercer County as a whole has had only 4 confirmed outbreaks and 18 linked cases in schools. This victory is thanks in part to the partnership both public and independent schools have asked of their families including limiting travel, quarantining when needed, submitting to daily health screenings and following school safety protocols.
"We've been very fortunate, part is good luck and part is intentional safety practices," notes Melissa Carroll, Princeton Friends Head of School. "We've been teaching outside using outdoor spaces. Kids eat lunch and have recesses everyday outdoors. We had full outdoor classes until Thanksgiving, have had some indoor instruction since, and now we're reemerging. Indoors, we've had reduced class sizes, with all doors and windows open."
Extra tables and bookcases were removed from classrooms, public areas became learning spaces, desks were spaced out and some schools added plexiglass dividers. Referred to as pods, bubbles or cohorts, many schools have children divided into groups that operate separately, which also helps to keep transmission risks minimal.
"Each classroom has a door that opens to the outside, so even when kids arrive, they enter through their classroom door. It helps us keep kids with their pods," explains Princeton Junior School Director of Admissions and Enrollment, Katie Pottinger.
Independent schools do have some advantages over public schools. They don't have to follow all of the same state mandates, started with smaller class sizes and some have also been able to perform on-campus COVID testing for segments of their population, an option not generally available to publicly funded schools.
The Hun School of Princeton (Hun), for example, identified several of their positive cases through regular, pro-active COVID testing of student-athletes, boarders, and students in activities carrying heightened risk, such as outside club sports, and those in choral and wind instrument classes – and therefore were able to isolate any positive students to prevent transmission. They also tested all faculty and staff upon return from winter break.
All our area independent schools have been back offering some in-person learning, either fulltime in-person or hybrid, since the 2020-2021 school year began. Some have added in weeks of remote schooling when a student tests positive, due to multiple cases reported in a similar timeframe and/or post-vacation transmission concerns.
For example, Princeton Academy of the Sacred Heart (PASH), which chose not to provide COVID information to Princeton Perspectives, has offered in-person classes since the start of this school year. Multiple unnamed sources confirm that on more than one occasion the school transitioned one or more grades to all-virtual when a student tested positive. The sources also shared PASH opted to go fully remote from Thanksgiving through winter break, to protect against COVID.
Deciding remote vs. hybrid vs. fulltime in-person has not been an easy decision for any administrator. All schools that are primarily full-time or hybrid also offer families the option to be all-remote. Of our area schools, Princeton Charter School kept students completely virtual the longest. While Kindergarten, 1st and 2nd grades returned to hybrid learning in November, 3rd and 4th graders came back in January and 5-8th just returned last month.
"Data is great except it's limited in situations where we don't have it, and we don't have it on children in a lot of ways. That's what contributed to an unnerving time for teachers, administrators and a lot of parents," states Larry Patton, Charter School's Head of School. "What we know now and how we feel about it now, it's more comforting coming back to school now than it was then [September]."
With PreK-12 educators and staff now eligible for the vaccine in New Jersey, Princeton Public Schools feel more comfortable with the decision to expand their in-person hours. Phased in over the course of the next month, elementary grades are expected in school 4-days a week, every week. Middle and high school students will add one day, to come in-person 5-days a week, every other week.
Overall, the number of COVID cases reported at our area schools remains relatively low, as evidenced in the chart below (based on data provided to Princeton Perspectives from each school within the past two weeks).
NAME OF SCHOOL
GRADE LEVELS
# STUDENTS ENROLLED
REPORTED COVID CASES
SCHOOL STRUCTURE
Princeton High School
9-12
1,546
21 students/8 staff
Hybrid Learning
Princeton Unified Middle School
6-8
811
6 students/8 staff
Hybrid Learning
Riverside Elementary School
PreK-5
284
2 students/8 staff
Hybrid Learning
Littlebrook Elementary School
K-5
351
1 student/ 8 staff
Hybrid Learning
Johnson Park Elementary School
PreK-5
335
12 students/ 6 staff
Hybrid Learning
Community Park Elementary School
K-5
319
3 students/1 staff
Hybrid Learning
Stuart Country Day School of the Sacred Heart
PreK-12
384
2 students/3 staff
Fulltime
in-person
Princeton Academy of the Sacred Hearth
K-8
198
(according to Niche.com)
No Data Provided
Fulltime
in-person
The Hun School of Princeton
6-12
665
23 in-person students/faculty/staff
Hybrid Learning
Princeton Waldorf
Infant-8
126
(according to Niche.com)
No Data Provided
Fulltime in-person
Wilberforce
K-12
257
2 students
Fulltime
in-person
Princeton Montessori School
Infant-8
165
1 case
Fulltime
in-person
The Lawrenceville School
9-12
832
8 in-person students/19 employees
Partial in-person,partial all virtual
Princeton Day School
PreK-12
950
School says
"Several cases"
No Specific #s Provided
Fulltime in-person
French American School of Princeton
PreK-8
165+
School says
"A few cases total"
No Specific #s Provided
Fulltime
in-person
The Lewis School
PreK-12
unknown
No Data Provided
Chapin School
PreK-8
225
(according to Niche.com)
No Data Provided
Fulltime
in-person
Princeton Friends
Preschool-8
100
0 cases
Fulltime
in-person
Princeton Junior School
Preschool-5
100
1 false positive student
Fulltime
in-person
Princeton Charter School
K-8
424
2 faculty during Remote, 0 cases since back on campus
Hybrid Learning
Despite multiple attempts, we were unable to obtain information from Princeton Waldorf or The Lewis School. Chapin School was not willing to comment specifically or generally about COVID cases reported, but an unnamed source connected to the school told Princeton Perspectives they believe there have been at least four notifications of positive cases amongst students/staff.
The Lawrenceville School and Hun are the only schools within a 5-mile radius that offer boarding. To keep a handle on COVID, Lawrenceville boarding students just returned to campus this past weekend, having been all remote since the Thanksgiving break. Their in-person classes start up again March 30th. Hun boarding students were remote from Thanksgiving break until school resumed in January. Later that month, two boarders received positive test results. Immediately, the school turned to an all-virtual learning model for the next week to control spread of the virus.
Multiple case reports have prompted other schools to take immediate action as well. After learning of more than eight unrelated cases in a 24-hour period, Princeton Day School went all-remote for a week in late November. And a month earlier, Princeton High School had two straight weeks of virtual school when a student and two teachers tested positive (two of the cases originated at out of school sports programs).
Schools, primarily for older grades, have attempted to bring back some semblance of after school activities and sports. Athletic teams were feared to be major contributor to the transmission of COVID-19, causing Governor Murphy to enact some rules to try and mitigate the damage. Organized sports activities in general were banned from early-on in the pandemic, then allowed to reorganize outdoors at the end of June. Contact practices were allowed again in October, which the state claims then led to "11 confirmed outbreaks of youth and school-aged ice hockey teams." That caused Governor Murphy to sign a new executive order banning interstate youth sports competitions in mid-November. For most of December until early January, indoor sports were all shut down. They were allowed to resume January 2, 2021. The interstate sports ban has since been lifted for all sports, except hockey, which remains suspended until at least March 31st.
"In our organization, we did not experience any "mass" transmission amongst players and/or families. There were concerns that this was happening across the state, and there are examples of teams that had mass transmission amongst players and families," says Kevin Welsh, Princeton Youth Hockey Association (PYHA) Board Member and Assistant Coach.
To protect their players and coaches, PYHA instituted a stringent COVID protocol that included participants responding to a questionnaire, taking temperatures, requiring masks when helmets are off and closing down locker rooms. Welsh estimates 7-10 PYHA players have contracted the virus, but not from participating in one of their events.
"As part of our COVID Protocol, and in accordance with CDC guidelines, we have had several instances where a single team was shut down for a period of time due to a positive test by a player, or close contact with a family member who tested positive," notes Welsh. "In all of these instances, we have not had a single report of another transmission or infection due to contact, so we feel that these protocols have worked as designed to halt any possible subsequent infections. After adhering to CDC guidelines for quarantining, all of these teams returned to play."
Just last month, NJ lifted the ban on attendance at some sporting events, with parents being allowed indoors to watch their children play. On March 1st, large venues opened to fans at 10% capacity for indoor events, 15% capacity outdoors. This follows a trend of other expansions, largely linked to the decline in numbers and vaccine rollout.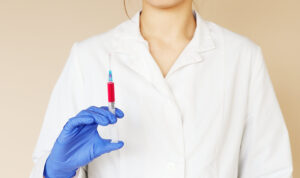 During the period when vaccine was provided by the state to the Princeton Health Department, 811 residents received their two doses. And in the first eight weeks of vaccine distribution, the department worked with the Mercer County Health Officer's Association to deliver over 4,000 doses.
"In just the last three weeks, the Princeton Health Department has noticed incredible increases in the number of residents who have been vaccinated," shares Grosser. "Nearly 1 in 3 individuals we contact to schedule for a vaccination has already been vaccinated elsewhere. If this continues, we are optimistic we will have a majority of the eligible population vaccinated in the next few months."
There is also hope, with the addition of the Johnson & Johnson vaccine, the State's vaccine supply will increase and allow for municipal distribution once again. This would allow the Princeton Health Department to vaccinate local residents who are physically restricted and can't travel for the immunization.
With the unknown protection against variants and until we reach a comfortable level of herd immunity, Grosser suggests we can continue to keep Princeton's COVID cases down by getting vaccinated as soon as you are eligible, socializing safely and continuing to wear a mask.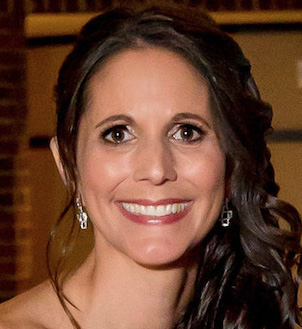 Lisa Jacknow spent years working in national and local news in and around New York City before moving to Princeton. Working as both a TV producer and news reporter, Lisa came to this area to focus on the local news of Mercer County at WZBN-TV. In recent years, she got immersed in the Princeton community by serving leadership roles at local schools in addition to volunteering for other local non-profits. In her free time, Lisa loves to spend time with her family, play tennis, sing and play the piano. A graduate of the S. I. Newhouse School of Public Communications at Syracuse University, Lisa was raised just north of Boston, Massachusetts but has lived in the tri-state area since college. She is excited to be Editor and head writer for Princeton Perspectives!