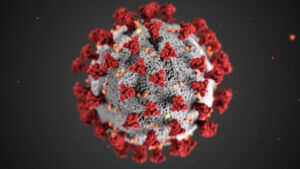 It has been a year of difficulties and loss, but it has also been a year of innovation. To get through the pandemic, the world has relied upon advances from biotechnology companies, pharmaceutical entities and other scientists. Due to Princeton's location in the center of so many of these establishments, many contributions to help, heal and prevent the virus have taken place in our own backyard.
HOMEGROWN VACCINE
The most notable is Johnson & Johnson's Janssen COVID-19 Vaccine that just received Emergency Use Authorization (EUA) from the US Food and Drug Administration (FDA) the last day of February. Johnson & Johnson's (J&J) headquarters are nearby in New Brunswick, with its Janssen offices also nearby in Titusville.
The vaccine's journey began in January 2020, when J&J started working towards developing a vaccine. In March, its Janssen Pharmaceutical Companies collaborated with Boston's Beth Israel Deaconess Medical Center to research vaccine candidates. Luckily, Janssen had already been working with an immune stimulating platform called AdVac. AdVac has been used in a vaccine for Ebola and in investigational vaccines for HIV and RSV. It uses a version of adenovirus 26 (Ad26) which normally causes a common cold but has been disabled, so it won't make you sick, and passes its genetic code into the body to get your immune system to react and fight the virus.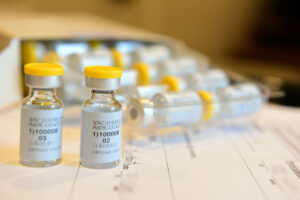 Working with several partners in the U.S., Europe, India and South Africa, multiple manufacturing sites were developed. In an effort to move things along quickly, the Phase 1 and 2 trials were combined, and in July testing began in 1,000 healthy patients. At its facility in the Netherlands, J&J prepared to produce a trial supply, which it launched in August. September saw the trial expand to tens of thousands of people and by November, the vaccine candidate was completely created, made and filled. In January 2021, the manufacturing process in the Netherlands proved it was reliable, and the EUA was sought in the U.S. as well as its European counterpart.
"Doing our part to combat the greatest public health crisis in living memory has been a huge undertaking for our company. I owe a deep debt of gratitude to the incredible teams that made this milestone a reality, and to each and every one of my 135,000 colleagues for living into Our Credo values with great resilience and agility to ensure we keep meeting the healthcare needs of all who rely on Johnson & Johnson," says J&J Chairman and CEO Alex Gorsky.
The benefits of this new vaccine are that it requires only one shot and it can be refrigerated for months compared to its predecessors from Pfizer and Moderna, which require two doses and ultra-low storage temperatures.
On March 3rd, J&J announced an unprecedented partnership with another NJ-based pharmaceutical company, Merck, to help provide more supply. Merck, headquartered in Kenilworth, NJ, will use two of its U.S. facilities to "produce drug substance as well as formulate and fill vials of the vaccine," according to J&J. That same week New Jersey received its first delivery of the vaccine.
LOCAL IMMUNIZATION EFFORT
Another nearby company is hoping that its vaccine innovations will also help in the fight against COVID-19. OncoSec, headquartered in Pennington, is a cancer immunotherapy company. Its advances in signaling a patient's immune response to fight has been used to create cancer-fighting solutions since its inception. When COVID hit, OncoSec realized it could translate its techniques to fight a virus like this just the same.
Simply put, healthy immune cells have something that signal your body to have a pro-inflammatory response. It's called IL-12. OncoSec has learned to code DNA with IL-12 (a creation they named TAVO), then, using a special energy field, get that TAVO inside of a cell that's lacking an immune response and force that cell to produce one.

"When you run energy in and around the membrane of the cell, it creates micro pores just big enough for the DNA to pass through the membrane of the cell," explains Dan O'Connor, CEO of OncoSec. "When that energy is put into that setting for about 2 seconds, the DNA moves inside and then when the energy stops, the membranes return to normal and the DNA is now trapped inside the cell, which tells the cell to make IL-12."
For the past 12 years, OncoSec has been working to inject tumors with Il-12 to get them to respond to and fight off cancers. When the pandemic hit, they realized the immune response triggered by a vaccine could be enhanced by TAVO. The National Institutes of Health (NIH) agreed and offered them the chance to license the spike glycoprotein. The difference is this glycoprotein is found in an RNA version in the Pfizer, Moderna and Johnson & Johnson vaccines, but OncoSec uses a DNA version.
In collaboration with Providence Cancer Center in Portland, OR, OncoSec is now in a Phase 1 clinical trial of its vaccine – CORVax12. The trials are taking a look at two things. First, using the spike protein and TAVO in up to 36 healthy patients, by administering it into the skin. Researchers are looking to see if it not only enhances a vaccine but creates a better one. Previous vaccine trials have only been done on healthy people, so the second thing this trial is looking at is to help cancer patients get vaccinated and fight cancer at the same time.
"When a cancer patient is getting treatment, it could interfere with a vaccine," notes O'Connor. "As an enhancement, if we use the tumor as a nexus to present the antigen, the immunologically more relevant place to go, could that be a way in which you could develop a prophylactic COVID vaccine for cancer patients and also be giving them something we've seen consistently that can shrink their tumors?"
OncoSec is hoping so. Unlike the large ones that have vaccines already in use, it's a small company, with the clinical team, regulatory team and back-office functions of its operations all housed in Pennington (its research lab and engineering are in California) and they are now supporting the study in Oregon, providing it with all of the essential elements to run it. Within a month or two, there is hope things will proceed onto Phase 2, analyzing and monitoring the data. Because it uses energy to direct the cell, a non-physical and non-toxic method, there tend to be few side effects as well. If this immunological advancement proves viable, it could open doors to enhance persistence in the vaccines already in use, be a new vaccine in its own right or for many other future opportunities.
NEIGHBORLY ASSESSMENTS
While OncoSec is working on vaccinations, down the road in Carnegie Center sits a small pharmaceutical company that has been helping in other ways to fight COVID. Fosun Pharma USA, which was formed four years ago and hopes to staff 25 people by the end of this year, is backed by a big public company, Fosun Pharma in China. When the virus hit the U.S., they started bringing in masks and sending ventilators around the country. It then developed a PCR test kit, and through its partners, antibody and antigen testing kits.
"We did the study here," shares Lily Zou, CEO of Fosun Pharma USA. "The manufacturing is done in China, but we have been working with local (US) labs to get testing and FDA authorization."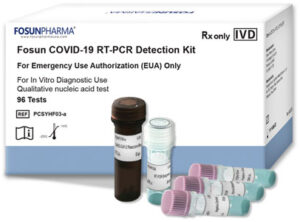 In April of last year, Fosun USA filed for and received EUA for the PCR test, known as Fosun COVID-19 RT-PCR Detection kit, that was developed by its parent company in China. To date, it has provided for approximately 400,000 U.S. laboratory tests. Its accuracy for positive samples is 99.51% and it has an accuracy rate of 96.44% with negative samples. Fosun USA also has a Quickkit COVID-19 Rapid Antibody Test and a Quickkit COVID-19 Rapid Antigen Test, created by Chinese partners.
"For the antibody kit, our partner has FDA authorization for certain usage in labs. We don't have FDA authorization yet for use at Point of Care as that authorization requires more data," states Zou. "The Antigen was submitted but not yet authorized at all. We are working on expansion for antibody and antigen authorization."
Fosun USA currently imports the test kits from China, then from their warehouse in Tennessee, ships across the country. So far, the most sales have been in Arizona and California, though Bergen New Bridge Medical Center in New Jersey is a big customer. Looking ahead, they are working on a neutralizing antibody test as well as other diagnostics and products related to COVID.
UNIVERSITY CONTRIBUTIONS
Princeton University has also put forth many efforts in the fight against COVID-19. These efforts have focused on the creation of Personal Protection Equipment and most notably on breathing assistants, such as ventilators and monitoring devices.
When the pandemic started making its way through Europe in March 2020, Cristiano Galbiati was on sabbatical and in lockdown in Milan, Italy when he had an idea for a new high quality, cost-effective ventilator.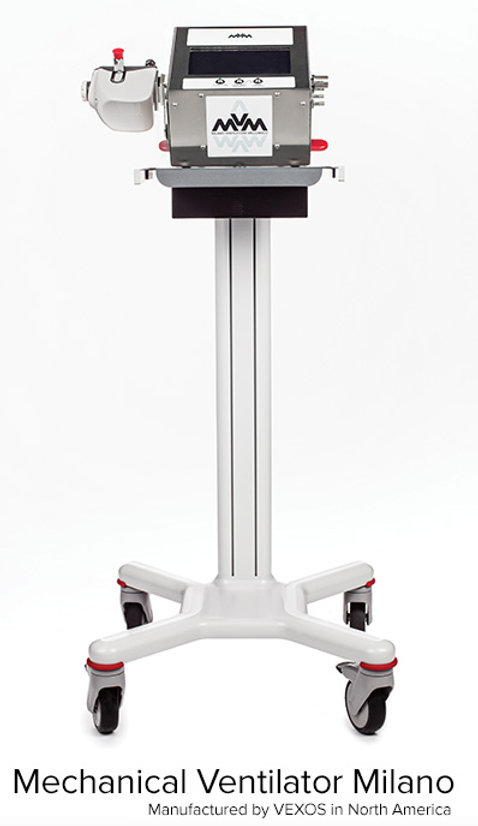 "The dire need of ventilators became immediately noticeable," recalls Galbiati, Princeton University Professor of Physics, who immediately reached out to many of his colleagues. "The project was buoyed by the enthusiasm of a few hundred colleagues in making available their expertise in handling gases for an applied project that could benefit the society at large, at a moment of dire need. Organizing a very strong collaboration around this goal was the easiest part of the job: people did not need to be motivated to take part in this enterprise."
Galbiati took his experience working with finding dark matter and applied it to the creation of a ventilator – pushing oxygen and nitrogen into a person's lungs. He led a team of more than 200 worldwide experts, mostly from Princeton University and Canada's Queen's University, including Nobel Prize-winning Physicist Dr. Art McDonald of Canada. They helped take this idea further and in just 42 days the Mechanical Ventilator Milano (MVM) received FDA approval.
The Canadian government, like other countries, wanted to make sure it was taking care of its needs. McDonald helped connect the team to Vexos electronic manufacturing in Toronto, Canada which was awarded a contract.
"So, we actually manufactured the ventilators here in Markham, Canada (a suburb north of Toronto), built and delivered 6,000 ventilators to the Canadian government to replenish their stockpile," describes Wayne Hawkins, Vexos Senior VP and General Manager. "We replenished them, candidly they haven't been deployed to hospitals yet, but they are ready to go."
Vexos' sister facility in Ohio was ready to fill a U.S. contract as well but as the curve lowered, the U.S. government cancelled a lot of ventilator contracts and did not end up securing any MVMs.
"The role of myself and many other US scientists was truly essential to secure the success of the project. While I led the prototyping effort in Italy, many US scientists played a key role in contributing to the design, reviewing the performance of prototypes, and preparing the documentation for certification," Galbiati adds.
Ventilators have been an essential tool in helping people recover from COVID-19, but another group of Princeton University Professors learned from Penn Medicine there were also other needs in breathing assistance. Particularly, when patients don't need full intubation but do need oxygen.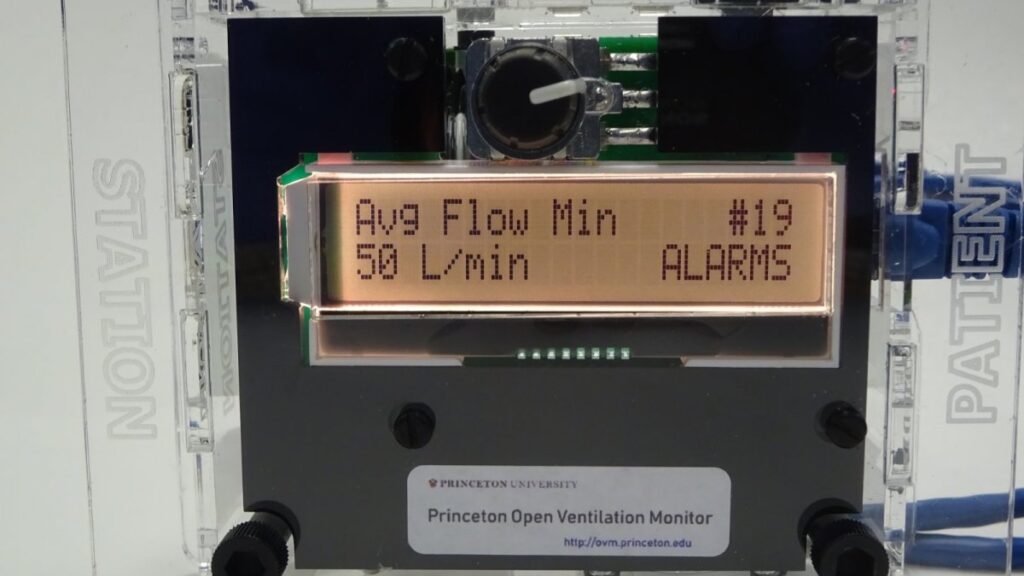 So last spring, Princeton Physics Professors Daniel Marlow, Chris Tully and Associate Professor of Physics and Neuroscience Andrew Leifer worked with a team across various Princeton departments to develop a flow meter– meant to work in conjunction with Helmet non-invasive ventilation (NIV). The helmet system has many advantages for treating COVID patients, but due to lack of proper monitoring equipment, has the risk of unexpected drop in air flow that could lead to recirculation of CO2 or even asphyxiation. The Princeton Open Ventilator Monitor (POVM), as it has been named, is meant to monitor the air flow and other important data regarding a patient's breathing and alarm clinicians through a remote monitoring station of any issues. Within six weeks, for less than $300 dollars each, the team produced and tested 50 devices. Then went in search of FDA authorization.
"As it happens, it is much harder to get FDA approval for a device than it is to design and build a device (at least for something of this nature)," explains Professor Daniel Marlow. "One thing that makes the EUA process difficult is that it involves not only the device itself, but also the organization that manufactures it. Our initial efforts at approval foundered when the company we had lined up to serve as manufacturer became non-responsive."
Today, the professors are hoping their article on the POVM is accepted to a peer reviewed journal. And, it may be seeing a future manufacturing road ahead.
"Recently we have lined up another company that seems to be motivated to make this work," adds Marlow.
Once production is secured, there is hope to acquire FDA approval and see their equipment used on patients.
Though cases of COVID-19 are declining and vaccination efforts seem to be demonstrating significant success, scientists, biotech firms and pharmaceutical companies in and around the Princeton area continue to work towards their goals of helping patients and eradicating the virus. NJ may be known for high taxes and old infrastructure, but Central NJ is certainly making an impact with its scientific advances.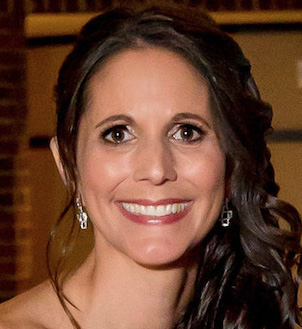 Lisa Jacknow spent years working in national and local news in and around New York City before moving to Princeton. Working as both a TV producer and news reporter, Lisa came to this area to focus on the local news of Mercer County at WZBN-TV. In recent years, she got immersed in the Princeton community by serving leadership roles at local schools in addition to volunteering for other local non-profits. In her free time, Lisa loves to spend time with her family, play tennis, sing and play the piano. A graduate of the S. I. Newhouse School of Public Communications at Syracuse University, Lisa was raised just north of Boston, Massachusetts but has lived in the tri-state area since college. She is excited to be Editor and head writer for Princeton Perspectives!