COVID – A Year In. The Local Realities.
ISSUE #13 – March 16, 2021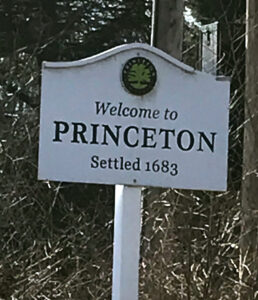 Princeton, NJ March 12, 2020 was a very different place than Princeton, NJ March 12, 2021. On that day one year ago, children attended a full day of school (albeit most cleaned out their lockers upon leaving), most grown-ups worked a full day at the office and hordes of people ran to the supermarket to stock up before we went into mandatory isolation. The governor had just signed an executive order, and many were filled with fear and concern. None of us could have predicted a year later we would still be avoiding crowds, wearing masks and waving hello to others from a distance.
That very same week, on March 17, 2020, Princeton Perspectives posted our first issue. Amidst the panic, we were able to share the current situation with one principal's reaction to COVID, and every month since, we've gone in-depth to cover what matters and provide you with an understanding and appreciation for the happenings, people and places around our town.
Read more…
The Pulse of Princeton:
How has this past year of the pandemic changed you?
We reached out to several Princeton residents to understand what it's been like for them.
We'd love to include YOUR perspective! If you or someone you know would like to contribute a video for next month's Pulse of Princeton, click here and provide your name and email address to be contacted.
Perspectives Revisited
In Issue #3, Connections – What's Gotten us Through and What Keeps us Going!, we heard from a variety of religious and spiritual leaders in Perspectives from the Pulpit about how their communities had adapted due to COVID. Pastor David Davis from Nassau Presbyterian Church shared that in March 2020 the church closed its doors to congregants and visitors and had turned to virtual worship with prerecorded services. A year later, the building remains closed to worshippers, but in September clergy began leading services with livestream equipment from the sanctuary and participants have streamed in since, from 20 states and 5 foreign countries. 2 baptisms, one outdoor wedding and several funerals have been held with immediate family only, but the community has stayed connected through things like their virtual Christmas pageant and Christmas eve selfies as well as outdoor gatherings. It's also rallied, with congregants increasing their giving to support those that are hungry and homeless.
In Issue #7, The Working World: Princeton's Business Climate Today we shared the news in the article COVID Effects: Princeton's Current Business Climate that 5 popular local eateries/stores had closed due to the pandemic. Since that September posting, Princeton has unfortunately seen several more shut down. To date more than 15 stores are gone, including Princeton favorites Landau and Bon Apetit. National retailers including Brooks Brothers and Ann Taylor also closed. On a positive note, during this time Madewell opened on Nassau Street and some "Pop-up" stores are temporarily using vacant spaces, such as MSealie's at Princeton Shopping Center.