If there is one thing the pandemic has taught us all, it is the importance of adaptation. Regardless of the line of work, people around the world have had to adapt to major changes in both their businesses and day-to-day lives. At Princeton Innovation Center BioLabs (PICB) in Plainsboro, the premiere co-working space for science startups in New Jersey, startups adapted and made many major leaps forward.
"March of 2020 was very hectic as we tried to figure out how to keep a lab running while complying with CDC guidance and requirements from the State of New Jersey," said Beth Rowley, director of operations at Princeton Innovation Center BioLabs.
As difficult as the pandemic was, PICB remained open for business over the last 15 months through reduced density, social distancing, mask-wearing, and increased hygiene measures, and its resident companies were able to continue working toward important innovations. PICB is currently home to 17 startups, aligned with its intent to support commercialization of transformative technology to create societal benefits.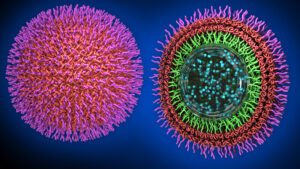 One of these resident companies is Optimeos Life Sciences, a biotech startup co-founded by Princeton University professor Robert Prud'homme. Optimeos is developing special nano-sized particles which maximize and target the delivery of drugs or biologic molecules such as mRNA into cells. This technology, called inverse flash nanoprecipitation, was developed from Prud'homme's academic research and encapsulates drugs and molecules into these nanoparticles. Although Pfizer and Moderna have utilized mRNA to combat COVID-19 in their vaccines, Optimeos believes they can deliver larger amounts of mRNA to cells using their nanoparticles, creating a more efficient treatment.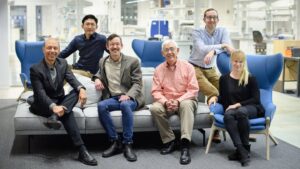 While Optimeos has more research to do to bring COVID-19 vaccines to market, they received a significant boost to work toward that goal at PICB. Last December, the National Science Foundation awarded Optimeos a one-year small business technology transfer grant to develop these vaccines. Optimeos is using this funding to refine their targeted delivery of mRNA into specific types of immune cells and to study this method's efficacy during the body's immune response.
The efficiency and its overall effectiveness of the Optimeos innovations could offer some promising results not just for COVID-19 but also for different cases where this technology was not available before. For example, the Optimeos technology is beneficial for therapies where an immune response should not be triggered, such as for conditions that require repeat injections such as some inflammatory diseases.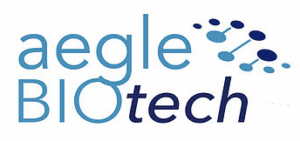 The ability of Princeton Innovation Center BioLabs to adapt during these difficult times has enabled its resident companies to thrive, including Aegle Biotechnology, a Florida company that joined PICB in December 2019.
"In the time between March of 2020 and early fall, we made twice the progress of what we made at our former site," said Chief Scientific Officer Sean O'Connell. Their research and development in treating cancer includes a variety of pre-clinical but potentially groundbreaking cancer vaccine and tumor treatments. Aegle's mission is to reproduce, optimize and automate cellular therapies licensed from Fudan University in Shanghai. The therapies for eradicating solid cancer tumors are aimed toward people "where survival is measured in weeks rather than years."

Another example of adapting and thriving at PICB despite the pandemic's challenges is PDS Biotechnology, a biopharmaceutical company. The PDS team develops cancer treatments and infectious disease vaccines using Versamune®, a technology that trains the immune system to fight disease. When the pandemic was in full effect in April of last year, PDS expanded their development program to use this technology to fight the SARS-CoV-2 virus. Their Versamune® Coronavirus vaccine is in pre-clinical trials but shows promise against different variants and strains in the future.
Dr. Greg Conn, Chief Scientific Officer at PDS, said about PICB: "Their staff clearly and consistently communicated their plans to keep our employees safe, this allowed our research and development teams to not only cope during the pandemic, but to meaningfully advance several projects, including the development of a COVID-19 vaccine that's preparing to enter clinical trials."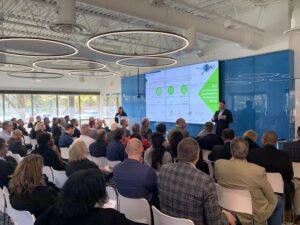 The mission of Princeton Innovation Center BioLabs is "to foster innovation, collaboration and entrepreneurship by supporting early-stage startups with high potential." The facility itself is a result of a collaboration between Princeton University and BioLabs, a membership-based network of shared lab and office facilities located in key biotech innovation clusters. Located three miles from the Princeton campus, PICB has specialized lab equipment and resources that would be cost-prohibitive for the majority of fledging startups to obtain on their own, enabling these startups to focus on developing their innovations and less on the day-to-day logistics of running a research laboratory. The startups at PICB can tap into shared resources throughout the Biolabs network, which includes locations in Boston, San Diego, New York and more throughout the country.
The opening of PICB is a key part of Princeton University's efforts to contribute to growing the innovation ecosystem in the Central New Jersey region. Startups both affiliated and not affiliated with the University are encouraged to apply for space, and even during the pandemic, PICB continued to bring on new resident companies. While the pandemic hampered the center's ability to host its popular in-person public educational and networking events, the staff adapted and hosted virtual events with dynamic speakers from various entrepreneurial industries from around the country.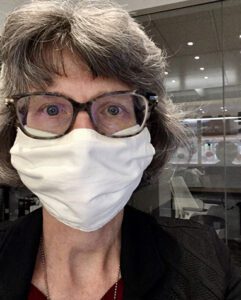 As the world locked down last year, startups continued to advance the world beyond the pandemic. PICB and its resident companies took this task head-on and were able to thrive. Beth Rowley, an experienced chemist who holds a Ph.D. from University of California-Davis, has been a member of the staff at Princeton Innovation Center BioLabs since its opening in early 2018.
"It would be nice to think that all you need is a good idea and some lab space to start a new life science company," Rowley said. "The reality is that it takes a lot of work to develop a business and find investors."
Through the hard work of these resident companies, their progress can give us a great amount of hope in the future as they were able to create new treatments and technology even under extremely difficult circumstances.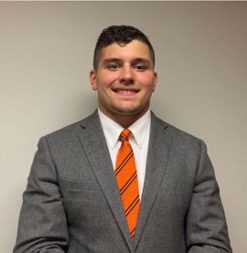 Liam is a rising sophomore at Princeton University from Moorestown, NJ. He intends to major at School of Public and International Affairs while also playing for the football team. Liam is working for the Princeton Entrepreneurship Council this summer.