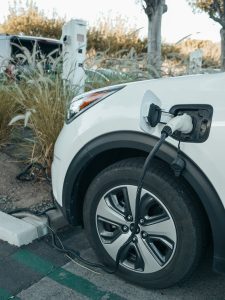 This year in New Jersey, there are nearly 10 electric vehicles per every 1,000 residents. The first mass-produced hybrid vehicle, the Toyota Prius, first sparked people's interest in a more environmentally friendly car when it came onto the U.S. market in 2001. Since then, peoples' desires, government regulations and manufacturing opportunities have enabled a growing market. In 2020, New Jersey Governor Phil Murphy signed legislation he hoped would help to reduce emissions in the Garden State, with a goal of having 330,000 electric vehicles (EVs) registered to New Jerseyans by 2025. We wrote about the state's new climate goals in the article The Likelihood Local Residents Can Help NJ Meet New Climate Change Goals back in March, but things have already advanced since then. Just last month, Murphy filed to propose a new state regulation called Advanced Clean Cars II (ACCII) which, by 2035, will require all new car sales in the state to be zero-emission vehicles.
ACCII does not require consumers to purchase new cars, but the state has put programs in place to encourage you to do so. Financial incentives for people, organizations, businesses, and other entities that purchase eligible electric vehicles, rebates for getting residential chargers, and funding to help other private and public places install chargers as well. All this on top of zero sales tax on EVs that has been in place for years.
ELECTRIC CHARGE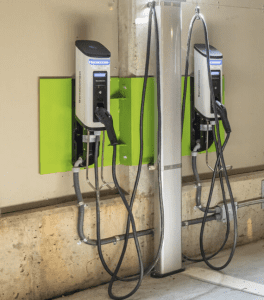 The Township of Robbinsville and The College of New Jersey both took advantage of incentives to transition part of their fleets to EV, and multi-family complexes in Princeton, Lawrence, East Windsor, West Windsor and Robbinsville have used state incentives to install Level-2 charging stations for residents and guests. But a true switch to all-electric vehicles requires everyone to want and be able to do so.
"I do not agree with Governor Murphy's plan to have all electric vehicles in this state. The electrical infrastructure cannot possibly take all the extra electricity without having major problems such as the grid overloading and then having to be repaired. This would cause no electricity anywhere. Every single citizen would have to install these chargers at their homes, costing thousands of dollars," says Deidre Rawson, a Mercerville resident. "Now when I travel, I can stop anywhere to get gas when needed. 10-15 minutes and we are done!"
Rawson is not alone. When we polled 50 Princeton-area locals a few months ago, 6% shared they have no plans to ever give up driving with gas. Yet, the state and industry hope more people are in favor of the switch, and things are looking optimistic. 52% of the respondents shared they already have or are planning to purchase a hybrid or EV car. From the first Toyota Prius to today, the offerings have expanded greatly. In the greater Mercer County area, there are multiple EV-only car dealers, and several other brands that include EV lines (some additional brands are available only online or in other parts of NJ).
"We bought our 1st EV, a Tesla, in 2021. We liked that it was a full EV, and our work had a free charging station that was also part of our motivation and incentive to get it," shares Jodi Mahoney, who resides with her family in Belle Mead. "It was less the environmental impact and more the need to not fill up the gas tank that pushed this purchase. When leasing another car in 2021, we chose to get a hybrid Rav 4 (not a plug-in). The idea of the combination without plugging in for good gas mileage was appealing to us and we do like that the car does get great gas mileage. In 2023 we got another car, a plug-in hybrid. We had looked at getting a full EV for that purchase, but style-wise and model-wise, we opted not to. This car, the Jeep Wrangler, doesn't get great EV mileage but it gets some and it helps reduce the need to fill up the gas tank so often."
THE CHANGING MARKET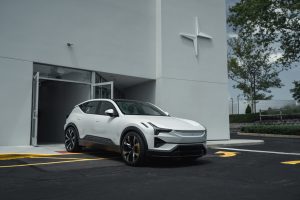 July data shows that Tesla sales make up approximately 60% of the U.S. market. The other 40% are comprised of 20+ car brands including Polestar, Mercedes Benz, Audi, and Genesis.
Polestar, with one exclusive and another mass-produced model currently available for sale, has a one percent share of the U.S. EV market (INSIDEEVs, May 2023), but that is already up nearly 40% from last year's sales and further increase is predicted as two more models become available next year. Located just off Route 1 in Lawrence, it is the third store to open of Polestar's 28 U.S. locations.
"We're seeing a huge increase in sales with no sales tax on EVs and incentives to help customers. Governor Murphy is really backing the EV way of life," says Nick Long, owner and operator of Polestar Princeton.
Polestar opened its local dealership just two years ago. A subsidiary of Volvo, they were initially a boutique showroom within the Route 1 Volvo dealership, where their service area is still located. Little more than a year ago, the Polestar showroom relocated to its own space about 2 miles north near the Porsche and Tesla dealerships.
"Polestar is driven on making sure the person that's not already EV, knows about it," Long explains. "After driving an EV for two years, I'll never go back. The home charger, acceleration, technology, ease of driving the car, it is all better. And it's better for the environment."
A SLOW STEP AWAY FROM GAS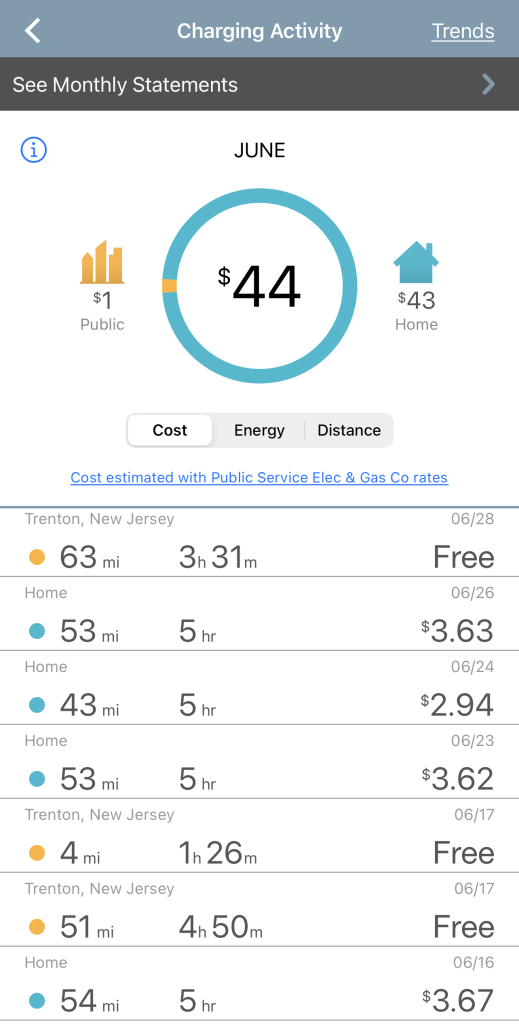 A quick look at his phone app shows the benefits Long is getting from his electric car, spending just $44 last month on electric energy rather than the hundreds many spend a month on gas. He says it takes just two days for someone to get comfortable and utilizing the interfaces electric cars have installed, such as the Google android system in the Polestar, which indicates arrival time and the charge you will need to get there. And there are a variety of charging options for these vehicles. Level 1, using a 120-volt household outlet, will likely take about 30 hours, while Level 2, alternating current (AC), decreases that to 4-6 hours and the improved direct current (DC) fast charging lowers that to around 30 minutes. The improved technology hopes to decrease or eliminate what's called range anxiety, the fear of getting to/from your destination with enough charge – and something that prevents many from making the change.
"Acceptance of battery electric vehicles in general has been tempered by range anxiety. The current status of charging infrastructure has been a concern for many potential buyers. Driving range is also reduced by certain ambient temperature variations," explains Robert Greces, owner and operator of Mercedes-Benz of Princeton. "The good news is that level two home chargers are available for convenience. These work especially well for owners who don't have a long daily commute. We have noticed that many customers are buying EQs as a second car, not quite ready to give up their internal combustion vehicles."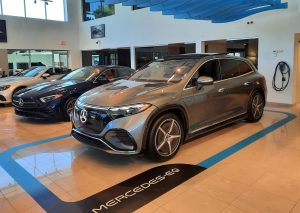 The EQ is one of five models currently offered by Mercedes-Benz USA. These have been available for sale for around two years and already comprise approximately 10% of new vehicle sales at Mercedes-Benz of Princeton, also along Route 1 in Lawrenceville. The trend Greces is seeing of locals not giving up their gasoline-powered cars is one we're hearing on the streets as well.
"We will always have a gas car. I don't feel at this point you can rely on only EV vehicles," states local Stacy Greenstein, whose family bought both a full EV and a hybrid last year. Watching gas prices skyrocket in 2022 led them to reconsider their driving options, but she doesn't think all members of her family will give up gas cars completely. "You do not get enough distance from a full charge. And looking for charging stations or to spend time pulled over to recharge is a pain. Charging takes time, it's not quick like filling up with gas."
This is something public and private companies are working on. To help local residents, Princeton installed eight new public EV charging stations in the lot of the municipal building earlier this year, and you'll find 10 other sites across the county that offer them to the public as well. There are also chargers located at a variety of private business sites. But are they enough to get more buyers to convert?
INFRASTRUCTURE NEEDED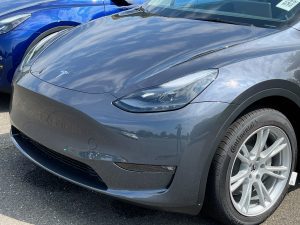 When it comes to public charging stations, Tesla has the most nationwide. However, all other EV brands are on a system that's different than Tesla. While some can utilize certain Tesla stations through an adapter, overall use will soon be even easier. In 2025, Volvo and Polestar will be switching to Tesla's charging infrastructure. As soon as next year, other brands, including Mercedes-Benz, are switching to Tesla charging, too, once connectors, plugs and payment systems are all adapted and integrated. The industry is hoping this will decrease the range anxiety and help people make the EV switch.
"We have taken our EV on a few long drives, but you do have to factor in charging as you go.  It's a little inconvenient but not that bad," says Debbie Lu, whose family purchased their first Tesla, the Model 3, in 2019 and proceeded to get a second, the Model S, in 2022. "I think what won us over is the convenience of never needing to go to get gas and almost no maintenance.  Didn't hurt that we liked the style and how it drives."
Lu shares that about 40% of her family's decision to go electric was to help the environment, which is something important to many people in the Princeton area. Looking statewide, more than 91,500 people had a registered electric vehicle by the end of 2022. That leaves 2 years and approximately 238,500 vehicle purchases needed to meet Gov. Murphy's goal.
"He's going to need a lot of help with manufacturers to have more options for consumers," Long notes. "If we have the infrastructure, we'll have sales."
Infrastructure is of prime importance. But there are additional factors as well.
"Other considerations are dependency on the electric grid and the upstream production and acquisition of lithium, cobalt, nickel and other components needed for battery production," adds Greces. "Meanwhile the worldwide race to produce improved battery technology will undoubtedly increase the desirability of battery electric vehicles, and perhaps make New Jersey's goal attainable."
If you are happy with your gas-powered vehicle, no one is coming to take it away. But if you are considering going hybrid or fully electric, you will be glad to know that the options are expanding, the infrastructure is growing and improving, and the state's incentives are here to help you.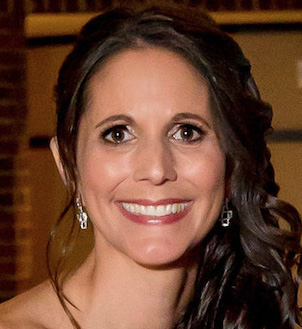 Lisa Jacknow spent years working in national and local news in and around New York City before moving to Princeton. Working as both a TV producer and news reporter, Lisa came to this area to focus on the local news of Mercer County at WZBN-TV. In recent years, she got immersed in the Princeton community by serving leadership roles at local schools in addition to volunteering for other local non-profits. In her free time, Lisa loves to spend time with her family, play tennis, sing and play the piano. A graduate of the S. I. Newhouse School of Public Communications at Syracuse University, Lisa was raised just north of Boston, Massachusetts but has lived in the tri-state area since college. She is excited to be Editor and head writer for Princeton Perspectives!