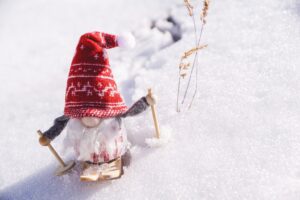 The colder temperatures are upon us, which means you can begin your hibernation at home, or you can get excited for the coming new year while taking part in fun activities. Princeton is a town with so many great things to do in winter, and if it isn't happening here, it's happening somewhere nearby.
HISTORY BUFFS, GET READY
Over the course of the next month, the greater-Princeton area is the best place to be if you have an interest in history. It was at this time of year that Washington and his troops passed through during the Revolutionary War, a momentous time that is reenacted year after year for all to see.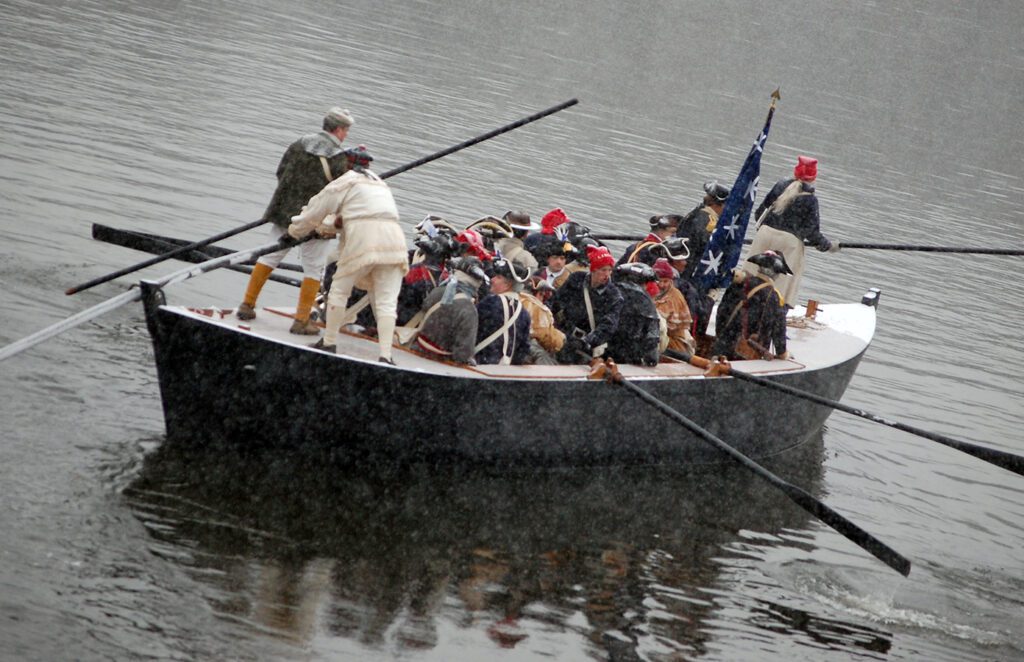 The 69th Annual Christmas Day Crossing Reenactment starts things off at Washington Crossing Historic Park (at the intersection of Routes 532 & 32 River Road) in Washington Crossing, PA. Join others along the banks of the Delaware River as a General Washington reenactor inspires hundreds of others dressed in military garb to cross the river, like was accomplished on Christmas night in 1776.
If the river conditions aren't safe, the replica Durham boats will not go into the water, but the ceremonial and commemorative events will still take place. The event is on December 25th from noon-3pm.
Throughout the following week, from December 26th-31st, Patriots Week will be celebrated in Trenton. Concerns over the current state of COVID will halt the Battle of Trenton reenactment for this year, but the city will still be home to many events and activities that celebrate its role in American history. The Old Barracks Museum will host tours and there will be musket demos, a puppet show, pub crawl, walking tours and more!
As the revolutionaries traveled from Trenton onto Princeton, so do the historic activities! On January 2nd, the Battle of Princeton will be reenacted. Head over to experience its 245th anniversary on Princeton Battlefield off Mercer Street. At 8:30am, historian Larry Kidder will describe the 10 Crucial Days that led up to this battle. He'll then narrate the reenactment between the British and American troops as that takes place on the field at 10am, followed by a wreath laying ceremony at 11:30am at the Colonnade & Gravesite. Tours of the Thomas Clarke House will begin at 12:30pm, and the reenactors will be around to talk with visitors and share stories of the battle, while you stay warm with coffee and hot chocolate.
Beyond the Revolutionary War, Princeton is home to other great moments and places of historical significance, and you can learn more about them through tours.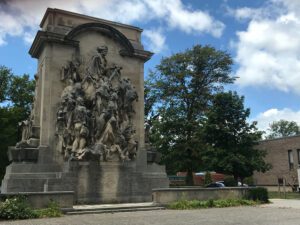 For a small fee, you can sign up to join Historical Society of Princeton on a Princeton History Walking Tour several Sundays (the next one is December 19th) to learn about sites including Bainbridge House, Nassau Hall, the University Chapel and Palmer Square. The 90-minute tour begins at 2pm.
Additionally, Princeton Tour Company offers a Self-Guided Einstein Walk with a map of 12 local stops to teach you all about Albert Einstein. For $3.14 (because Einstein was born on March 14th and, um, Pi!) you can get a map and check out the Einstein monument, his homes and even some of his favorite hangouts.
HEAD OUTDOORS WHERE THE EXCITEMENT WILL KEEP YOU WARM
There are also a variety of other excursions offered by Princeton Tour Company, including its annual Princeton Holiday Trolley Tours, running until December 26th. You'll actually travel inside a heated trolley to get into the holiday spirit as you ride through neighborhoods and past Palmer Square's decorated Christmas tree, while learning about Princetonians who have made an important mark on this town and country.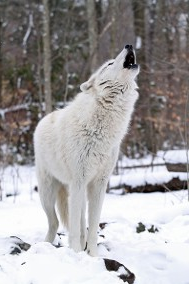 If you prefer heading out into the wild, you can see animals in nature up close at the Lakota Wolf Preserve, open year-round. You must book a reservation in advance online, then drive to near the Delaware River in northern NJ for the opportunity to observe four different packs of wolves. Two tours per day are offered by the owners of the preserve, and you may also see the foxes, bobcat and lynx that live there.
If you head due east from the preserve, you can enjoy a unique evening at the Bergen County Zoo in Paramus. Let it Glow, a Holiday Lantern Spectacular takes you into the zoo to see animals of a different kind. More than 30 scenes with larger-than-life animal lanterns are lit up for a show that takes place throughout. You can even ride the train, lighted by lanterns. Tickets can be purchased in advance at Eventbrite, and visits are offered every Thursday-Sunday from 4pm-9pm until January 30th.
Closer to home, Grounds for Sculpture is lighting things up with a new way to experience its sculpture park as part of Night Forms: dreamloop by Klip Collective. Enter between 5pm-9:30pm any Thursday through Sunday until February 27th to see and hear this multi-sensory blend of video production, light and sound creating an immersive event throughout the grounds.
FUN IN THE SNOW
If outdoor fun for you means something a little more athletic, you can travel just an hour or two for some winter sports.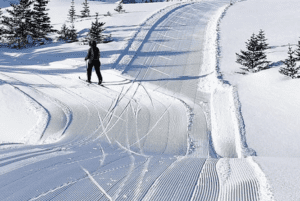 Two hours north takes you to one of the highest points in New Jersey and to the aptly named High Point Cross Country Ski Center. There you can rent cross country skis or snowshoes to enjoy on your own or in group or private lessons. They also have a monthly youth program called Youth Ski League, aimed at introducing cross country skiing through games, activities and outdoor adventures to those in 1st-8th grades.
If downhill skiing is more your speed, Campgaw Mountain or Mountain Creek Ski Resort offer opportunities on the slopes in-state. You can also head west to the Pocono Mountains in Pennsylvania for skiing at Camelback, Blue or Shawnee Mountains. And skiing isn't the only fun, these mountains are also home to snow tubing courses you can enjoy day and night. Here are the details so you can decide which best meet your needs:
Campgaw Mountain Tubing  is just 1.5 hours away and offers runs with a variety of levels of rollers and pitch. 6 days before you want to ride, reserve a spot online and then dress for some outdoor fun! Two-hour tubing sessions are available at night, with hours varying throughout the week and holidays.
Just 15 minutes further is Mountain Creek with a snow tubing park covering more than five acres. You can buy tickets online to race your friends during daytime hours weekdays or until close on holiday weeks and weekends.
Galactic Snow Tubing at Camelback, less than two hours from Princeton, has 40 lanes (lit up at night) to tube down and a magic carpet to bring you back up. Two-hour sessions are available from 9am until 10pm!
Blue Mountain Snow Tubing Park you can get to in under two hours, where you can have fun for even longer. They have 46 lanes measuring over 1,000 feet long, and each session there is good for three hours! Thursdays from 5pm-9pm and Fridays, Saturdays, Sundays and holidays the course is open from 9am-9pm.
Shawnee Mountain snow tubing offers an hour and a half of fun, in adult and child tandem tubes, just one hour and 45 minutes away. Two surface lifts bring you to the top for your next run. Hours vary by the day but start as early as 9:30am and can run as late as 5:30pm.
TAKING THE ACTION INDOORS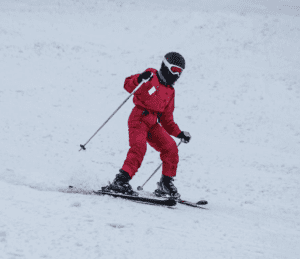 Since 2019, NJ has offered a way for you to enjoy winter skiing, indoors! Though the experience is currently closed due to fire damage sustained in September, there is hope Big SNOW will reopen at American Dream in 2022. There you can purchase tickets online and show up fully suited to ski or if it's your first time, you can rent everything from outerwear to boots, skis and more. If you have a younger child that has the skills and equipment, kids 6 and under ski free with an adult (their rental options are best for kids over 7).
Off the slopes, you can also spend your days at The Rink, Nickelodeon Universe, Dreamworks Waterpark or playing mini golf at American Dream.
You can get more indoor action without any of the chill at Jumpin' Gellyball, an indoor arena at the Oxford Valley Mall across the river in Pennsylvania. Anyone ages 5 and up can take part in this low impact fun. Gellyball Blasters use a soft gel ball which is painless when struck, as they bounce right off. And the blasters can shoot off 750 shots without reloading. Private and non-private play is available Thursdays – Sundays.
TRY A LITTLE BIT OF EVERYTHING, ALL AT ONCE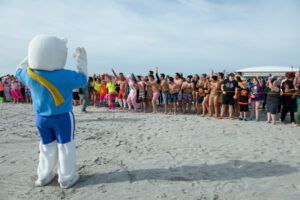 If you want to do something historic and think warm thoughts while engaging in a cold-weather outdoor activity, take part in the 2022 Polar Bear Plunge! At beaches along the Jersey Shore brave jumpers will dive into the freezing cold Atlantic Ocean. It's not all crazy, though, as every jumper is raising money for a good cause. Atlantic City Polar Bear Plungers will be diving in on New Year's Day for the 30th year to benefit Cancer Support Community New Jersey at Gilda's Club. That same day Brigantine's 20th annual plunge will take place, benefitting Fisher House, which helps wounded veterans and their families with housing and transportation. You can choose to bare the cold or plunge virtually from home as part of Wildwood (January 15th) and Seaside Heights (February 26th) Polar Bear Plunges, both of which benefit Special Olympic athletes through programming and events. All of the above ocean experiences are open to the public. Though plungers of all ages are welcome, anyone under 18 requires parental consent.
Whether or not you choose to take part in all of the fun activities happening this winter or you prefer to stand back and watch the experiences of others, there's definitely plenty to keep you busy as you finish up 2021 and enter into the new year. We hope it's a great one!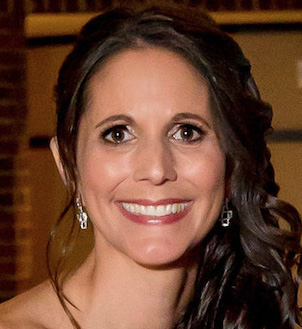 Lisa Jacknow spent years working in national and local news in and around New York City before moving to Princeton. Working as both a TV producer and news reporter, Lisa came to this area to focus on the local news of Mercer County at WZBN-TV. In recent years, she got immersed in the Princeton community by serving leadership roles at local schools in addition to volunteering for other local non-profits. In her free time, Lisa loves to spend time with her family, play tennis, sing and play the piano. A graduate of the S. I. Newhouse School of Public Communications at Syracuse University, Lisa was raised just north of Boston, Massachusetts but has lived in the tri-state area since college. She is excited to be Editor and head writer for Princeton Perspectives!