When we talk about national issues, there are some that highlight concerns for our adolescent population, ages 10-19, as well as young adults. As 2022 was coming to an end, the Centers for Disease Control and Prevention (CDC) issued a report warning of the dangers of fentanyl on teens. Additionally, aiming to protect older teens and young adults, we saw action in Congress last fall to try and curb rampant sexual attacks on college campuses. With these issues becoming of increased concern, Princeton Perspectives sought to find out what the trends are locally.
FENTANYL DRUG OVERDOSES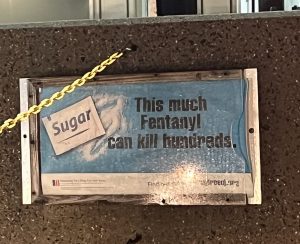 The sobering truth is that nationally, overdose deaths of teens caused by opioids have doubled in recent years, while the use of opioids by teens has dropped drastically. Why? Illicit fentanyl. This synthetically manufactured form differs from and is more potent than pharmaceutically manufactured prescription fentanyl. Sadly, when adolescents think they're buying prescription pills off the street, they're often buying something counterfeit – and they do not know what is in it. Think cannabis is a better option? Such fentanyl is also now often used to lace unregulated marijuana as well as cocaine. As the Partnership for a Drug Free New Jersey publicizes on a NJ Turnpike toll booth (see photo), just a tiny amount can be deadly. The amount equal to one sugar packet is enough to kill hundreds of people.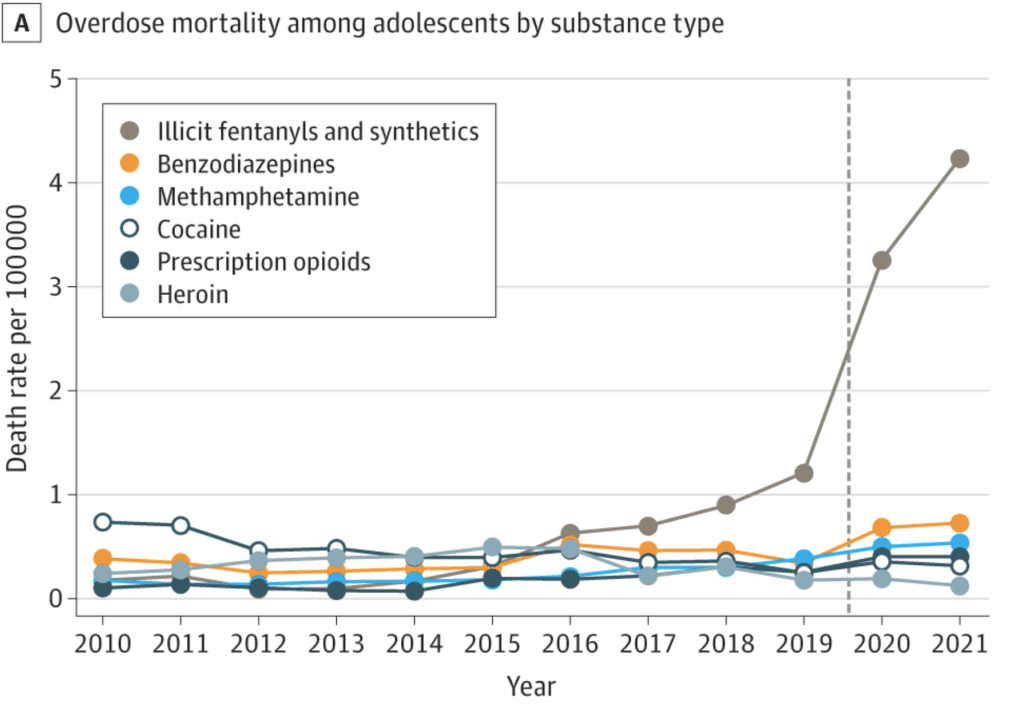 It is believed this deadly fentanyl, created in Mexican factories, using chemicals from China, has surged in the U.S. as it flows across the southern border. Earlier this week, President Biden met with Mexican officials to discuss how to stop fentanyl from crossing in, a drug which the CDC says was responsible for more than 71,000 drug overdose deaths in the U.S. in 2021 (that's two-thirds of reported overdose deaths). The new report issued by the CDC in December shows that from 2019-2021, 84% of 10 to 19-year-olds overdose deaths involved manufactured synthetic fentanyl. This represents a 182% increase. Additionally, a study by Joseph Friedman, et al published in JAMA last April looked back to 2010. It found that adolescent overdose deaths from illicit fentanyl went up 250% from 2010 to 2021 with fentanyl responsible for more than 77% of adolescent drug overdose deaths in 2021.
This year has just begun, but during the first nine days of 2023, two people died in Mercer County from suspected drug overdose deaths. There were 64 deaths statewide. Three of them, or 5% of those that died, were under age 14.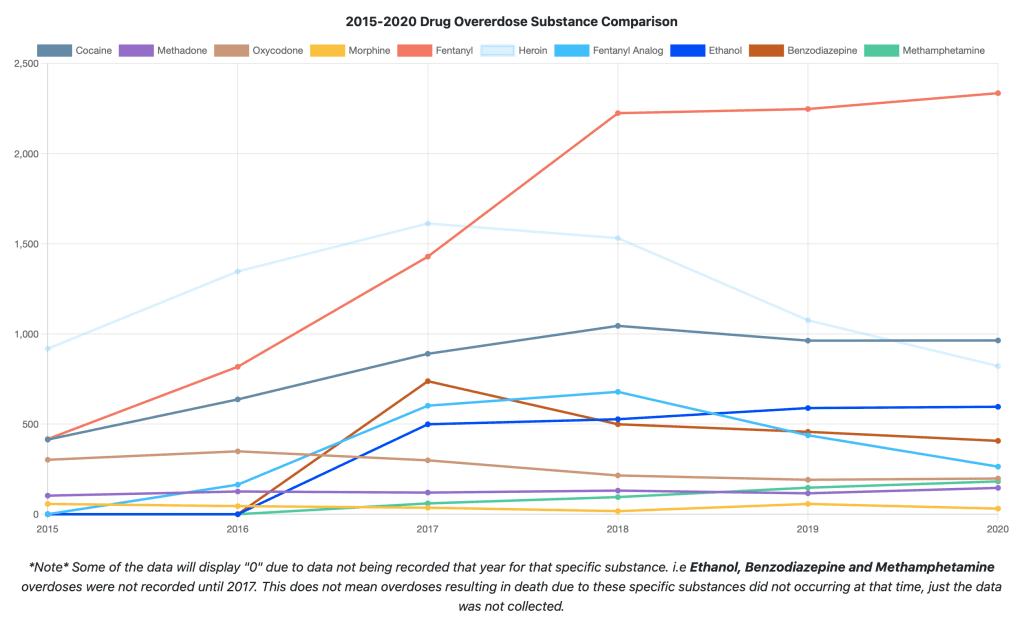 This graph demonstrates how fentanyl overdose deaths have increased dramatically in New Jersey compared with those from other drugs (fentanyl is in red). Of 117 overdose deaths in Mercer County between 2015-2020, 97 were from fentanyl. Reports from last year indicate that 99 drug-related overdose deaths were reported in Mercer County from January through November. The National Center for Drug Abuse Statistics shares that the drug overdose death rate in NJ is 53.14% higher than the national average (keeping in mind 25 to 44-year-olds contribute most to this statistic).
Throughout New Jersey, 588 visits to hospitals for non-deadly overdoses, or 53.3 per 100,000 residents, were by people aged 15-24. Like mentioned above, 25 to 34-year-olds comprised the greatest number of visits in NJ that year, 169.9 per 100,000 residents. There were 406 drug-related non-fatal overdose visits just at Mercer County hospitals caused by opioids in 2021, of all ages.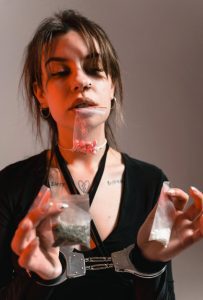 Synthetic fentanyl is the drug to be aware of today. The available data for those up to age 21 in New Jersey shows that drug-related deaths overall have stayed relatively low, but national data indicates this drug is to blame for an increasing number of those deaths. From 2015 to 2022 drug-related deaths have hovered between 1-3% for New Jerseyans ages 18-21. For those under 18, the number is lower, hovering between 0.1%-.4% in that time frame. There does not appear to be data that directly shows the amount of local adolescent overdose deaths caused by illicit fentanyl, but it is probable that since the data for NJ, and more specifically Mercer County, show a leap of fentanyl-related deaths overall, and national data clearly indicates a jump in fentanyl overdoses in the adolescent group, local teens are suffering from the same tragedy.
Besides abstaining, there are some things available to help protect against fentanyl. Fentanyl test strips are available, so people can check how much fentanyl is in the product they are about to use. They are considered illegal drug paraphernalia in most states, but in January 2022, Gov. Murphy signed a law decriminalizing them in NJ. Additionally, having Naloxone (more commonly known as NARCAN) on hand, a medication that blocks the effects of opioids during an overdose, can save a life. Between 2017-2022, 2,865 people in Mercer County were administered Naloxone. 70% occurred in Trenton, with Hamilton and Ewing providing a combined 16%. In Princeton, 66 people were treated, accounting for the 4th largest number of incidents in Mercer. 54 of the people that received Naloxone in Mercer County during this time fell between the ages of 16-19.
The Opioid Overdose Prevention Network (OOPN), a partnership between the NJ Division of Mental Health and Addiction Services and the Division of Addiction Psychiatry at Rutgers Robert Wood Johnson Medical School works to counter this by handing Naloxone out to the public.
"We are all somehow impacted by opioids, whether we know it or not. We cannot pretend that it is happening somewhere else and not in our families or neighborhood. We have to do our part to change that narrative," reminds Queenie Reda, Health Educator at Rutgers RWJ. "Our Naloxone trainings help spread awareness and provides education on opioid overdoses and the importance of using Narcan. Naloxone and Narcan are the same (naloxone is the generic and Narcan is the brand name). Naloxone can save lives and it is our goal to empower community members to recognize an opioid overdose and utilize Narcan."
Since 2017, OOPN has provided approximately 78 trainings and kit refills to Mercer County agencies such as municipal alliances, libraries, YMCAs, physician offices, as well as treatment and social service agencies. Additionally, through these trainings, they have given nearly 800 kits to individuals. Local individual residents can also register for a public Naloxone training date, but to just get Naloxone, you can stop into any pharmacy. In late December, New Jersey became the first state in the nation to allow anonymous and free access to the life-saving drug without a prescription.
SEXUAL ASSAULTS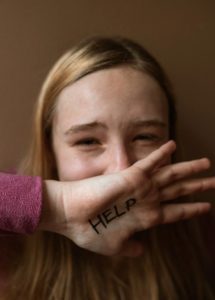 Another threat to older teens and young adults is that of sexual assault on the college campus, believed to affect far more students than reports indicate. In September, the U.S. Justice Department awarded more than $10 million to target this issue, offering 36 grants through the Grants to Reduce Sexual Assault. In October, the Campus Accountability and Safety Act was introduced in Congress, aiming to combat sexual assaults on campus through better transparency, as well as improved protection and support for victims. According to the Rape, Abuse & Incest National Network (RAINN), 13% of all college students experience some form of rape or sexual assault. College-aged women (18-24) are at 3x more risk of experiencing sexual assault than the average woman while 26.4% of undergraduate females and 23.1% of LGBTQ students are said to have been raped or sexually assaulted on campus. The primary source of data for these statistics comes from the US Department of Justice, which gathers not just reported data but includes that collected from surveys and interviews as well. It is common for victims to not report such crimes, as RAINN statistics show only 20% of female victims on campus report such assaults.
Princeton is home to the world-renowned Princeton University (PU) and nearby institutions including Rider University (Rider) and The College of New Jersey (TCNJ). Are our local campuses undergraduates experiencing this? It's a little hard to tell, as analysis by the American Association of University Women (AAUW) found that most institutions are still not disclosing reported incidents.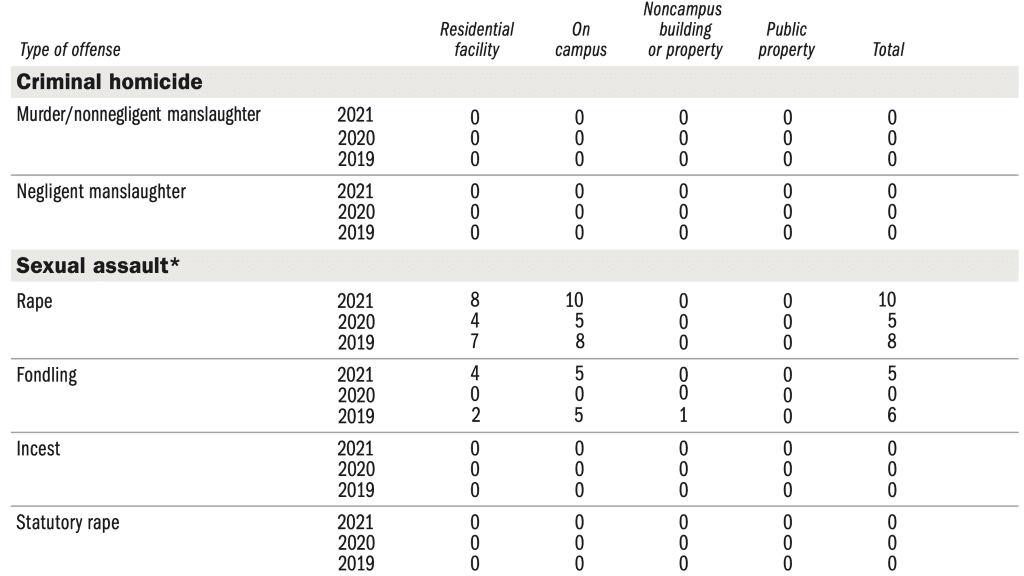 The Jeanne Clery Disclosure of Campus Security Policy and Campus Crime Statistics Act (Clery Act) is a federal statute requiring colleges to publish a report annually of campus crime statistics. The PU Annual Security and Fire Safety Report 2022 (detailing data through 2021) shows that incidents of rape and fondling have increased slightly on campus over the past three years (keeping in mind that 2020 data is from a year with significant COVID off-campus learning). There were 10 reported rapes in 2021 compared to 8 in 2019, 8 of which occurred in a residential facility. 9 fondling incidents were reported in 2021 compared to 7 in 2019. No rapes have been reported on campus for this fall.
In 2015, 2016 and 2017, PU put a survey out to students, called We Speak, to collect information about inappropriate sexual behavior taking place on campus. The last published results are from the 2017 report, which indicated that 1 in 5 students experienced some form of unwanted sexual contact on campus during the 2016-2017 school year, 13% of undergraduates. That is very much in line with the national data, and up from 1 in 6 the previous year. 61% of students on the 2017 survey said the assailants of their sexual attacks were other PU undergraduate students. Sexual misconduct was more commonly found to occur between 1st and 2nd year students.
Following the 2017 administration of the We Speak survey, PU decided to shift to an every-four-year survey model. The results of the 2022 We Speak survey are not due out until springtime.
"Analysis of the data collected was underway in the fall and in the spring, the CPUC Ad Hoc Committee on Sexual Climate, Culture, and Conduct will review findings, discuss recommendations and share that information with the community. Then work will begin to implement the recommendations," explains Michael Hotchkiss, Princeton University Director of Media Relations. "In addition, work has been underway to implement recommendations of the 2019 report from the joint committees on sexual misconduct and campus climate. To date, 15 of the 17 recommendations in the report have been implemented. Changes include providing certain financial support for parties to engage an attorney as their adviser in the Title IX Sexual Harassment process and the University Sexual Misconduct process, as well as additional staffing in the SHARE office."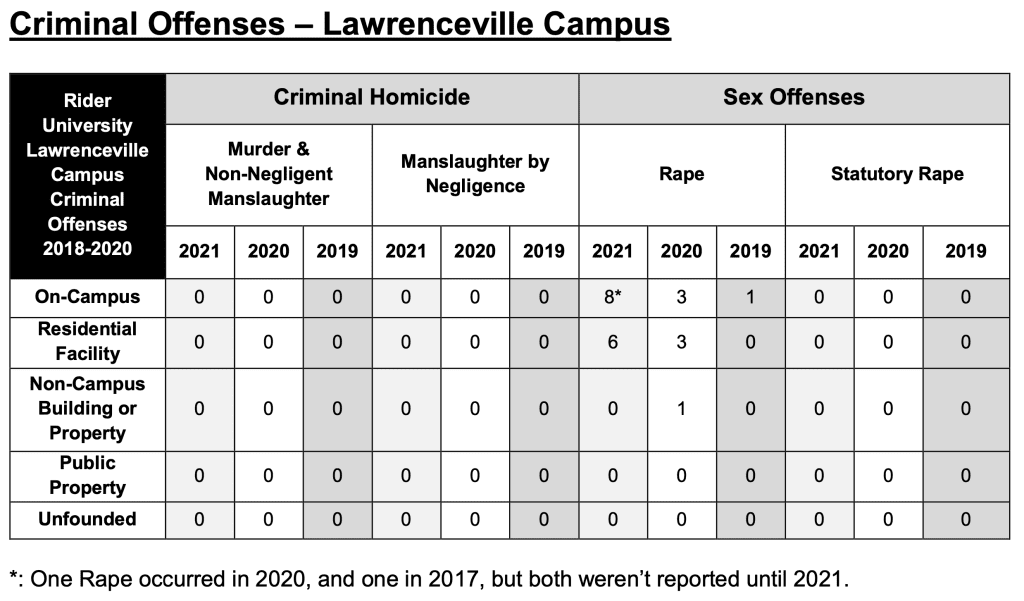 At Rider, the 2021 Annual Security and Fire Safety Report shares data as recently as 2021 which shows 8 incidents of rape and two incidents of fondling were reported in that year (though two are noted to have taken place prior to 2021). Of reported rapes, 6 are noted as having occurred in a residential facility. Comparatively, one rape and 8 fondling incidents were recorded for 2019. Rider is hoping its efforts will soon reduce these number.
"Annually, Rider provides prevention programs regarding sexual assault, domestic violence, dating violence and stalking for all new students, faculty, staff and administrators. The University also conducts ongoing prevention and awareness campaigns for all students, faculty, staff and administrators, through campus-wide events; annual notification of the University's Anti-Harassment and Non-Discrimination Policy and available resources; and training for Public Safety, Student Affairs, Residential Programs and Athletic staff, resident students, freshman seminar coordinators, all new and returning student-athletes, sororities and fraternities, and students clubs and organizations," says Rachel Stengel, Rider University Director of Communications. "The University also implemented a Report and Support campaign to encourage students to report incidents of sexual violence, bias, discrimination and harassment, with the goal of connecting them to support services as quickly as possible. "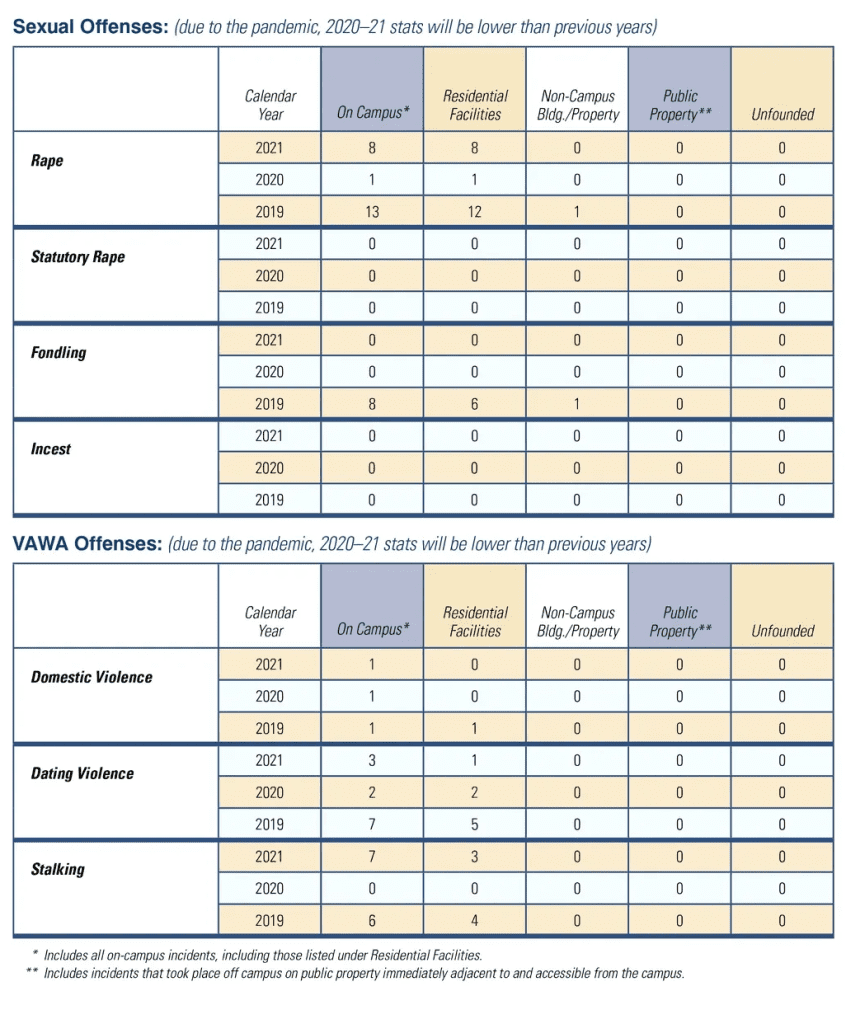 TCNJ's Office of Title IX and Sexual Misconduct End of Year Report for 2021-2022 shares instances of prohibited conduct that'd been reported to them. 122 student reports were received during the 2021-2022 school year about conducts including rape, fondling, sexual harassment, stalking, dating violence and more. 13 rapes were reported, 10 incidents of fondling. TCNJ's Annual Security and Fire Safety Report 2022 shares 8 on campus rapes in 2021 (all in residential facilities) with no reports of fondling down from 2019, when 13 rapes were reported (12 in residential facilities) with 8 incidents of fondling. (Due to mostly off-campus learning, there is just one campus rape reported for 2020.)
Keep in mind, the local college statistics do not account for gender, they are overall numbers, and they are only those that have been reported. But in 2021, with just over 5,300 undergraduate students enrolled at PU, little more than 3,200 at Rider and almost 7,000 at TCNJ, there are far fewer documented rapes on our local college campuses than the national statistics show. It is said that four out of five female college students do not report sexual assaults. Student surveys compared to published reports are demonstrating this to be true.
While there are students who make it through their teenage and young adult years without taking drugs or being victim of a sexual assault, the odds are becoming increasingly larger that many will. Reports show that having healthy dialogues your children about the potential of such harms means they'll be more alert and likely more open with you should they encounter any. If you or someone you know is experiencing a problem with fentanyl or other drugs, you can contact Corner House or Princeton House Behavioral Health for local assistance. For victims of sexual assault, there is also help nearby. NJ Coalition Against Sexual Assault offers a 24-hour Statewide Hotline at 1-800-601-7200.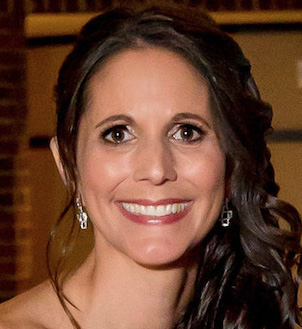 Lisa Jacknow spent years working in national and local news in and around New York City before moving to Princeton. Working as both a TV producer and news reporter, Lisa came to this area to focus on the local news of Mercer County at WZBN-TV. In recent years, she got immersed in the Princeton community by serving leadership roles at local schools in addition to volunteering for other local non-profits. In her free time, Lisa loves to spend time with her family, play tennis, sing and play the piano. A graduate of the S. I. Newhouse School of Public Communications at Syracuse University, Lisa was raised just north of Boston, Massachusetts but has lived in the tri-state area since college. She is excited to be Editor and head writer for Princeton Perspectives!