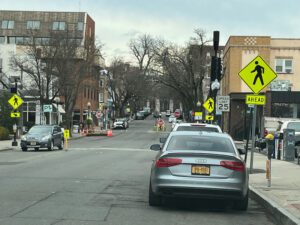 This street is closed…can't turn there…traffic, traffic, everywhere! No matter where you try to go in Princeton these days, it seems more cars are on the road and road closures don't make things any easier. Multiple construction projects are underway in and around downtown, with long term goals of creating better environments and infrastructures for enjoying town. Unfortunately, the projects, road closures and reduced parking, in the short term, can make life stressful and complicated. To provide you with a full understanding of what to expect, how you will be affected and what you can look forward to, Princeton Perspectives has the 4-1-1 on all of the changes.
WITHERSPOON STREET REDESIGN
The on and off closures along Witherspoon Street from Nassau down to Spring Street have been the most noticeable and frequent lately, with more changes coming.
Princeton's planning and engineering departments launched a master planning process to improve Witherspoon from Nassau to Valley Road back in October 2019, before COVID was on the radar. But the pandemic's temporary changes to the area, to allow for more pedestrians, outdoor dining and retail spaces, had an impact on the desires and outcome for the final project.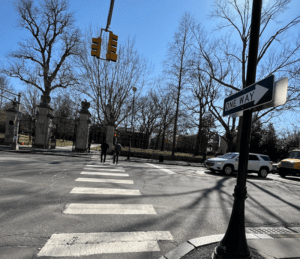 For pedestrians, the biggest change to come will be at the Nassau/Witherspoon traffic light. A project of the NJ DOT, the light will become fully actuated, which means a pedestrian must approach and push the signal for the light to change. Traffic along Nassau Street will flow uninterrupted unless and until someone pushes the button to cross. The standing areas on both sides of Nassau St. will also be bumped out, widening the sidewalk to shorten the pedestrian crossing area.
Since January, physical construction has been taking place on Witherspoon nearest Nassau St. with utility companies including Verizon Communications, NJ American Water, PSE&G and Crown Castle installing and connecting new and old systems. When the roadway project is complete, there will be a 5-year moratorium on digging up the road, so some of this work is in preparation for future expectations while some is to meet current needs.
Later this month, we'll start to see physical construction of the sidewalks and roadway. Washington from Nassau to Spring Street is expected to be worked on first. The plan is to have one lane of traffic open throughout the construction, except for some short durations (hourslong, not days) where it is necessary to block vehicle passage. Pedestrian passageways will remain at all times.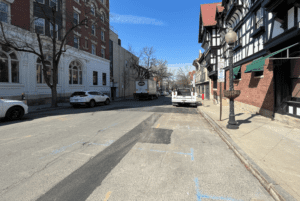 The goal here? To create a more walkable and comfortable outdoor/dining space by widening sidewalks to 18 feet, permanently changing Witherspoon to one-way vehicle traffic from Nassau to Spring Street, with one 12 ft. travel lane and a 10 ft. service lane on the western side of Witherspoon. Several, if not all, of the metered parking spots are likely to be removed.
"There is adequate parking within the garages in town – Spring, Hulfish and Chambers," explains Jim Purcell, Princeton Assistant Municipal Engineer. "Over the course of the last year we were able to open up some additional spaces knowing this project was coming. The garage typically had the top level closed and now it's open to add capacity."
Once this portion of Witherspoon is completed, construction will move to the area between Spring and Green Street, and when complete, two-way traffic will continue along that section of roadway. From Nassau to Green, Witherspoon Street will have urban trees planted, replacing the dying Bradford Pear trees that exist today.
Then, Phase 2 is expected to start. Not yet fully developed, the concept has been presented to the public and is on the municipal website alongside all of the improvement plans. Municipal leaders are still accepting community input on this phase until the presentation to Council on March 28th. This phase, from Green St. to just north of Franklin Road (at the bus stop in front of the Avalon Bay apartments) aims to better incorporate sidewalk and pedestrian considerations, on-street parking, bike lanes and more. There is hope the construction contract will be awarded for Phase 2 by the end of November and will begin work as Phase 1 is finishing up. Plans for Phase 3, Witherspoon from Franklin to Valley Road are still very fluid.
The tricky part of getting this work done is to continue to welcome residents and visitors to downtown Princeton, by keeping walkable and bikeable passageways open. As they try to make Princeton a more usable town, the center of town may best be avoided by vehicles in the meantime.
"If you're coming to downtown to come to a restaurant, don't try to drive down Witherspoon or Chambers. Go down Wiggins to the Spring St. garage – that's our ideal," explains Purcell. "If everyone stays away from the central business district in cars and works around to the garages, they can still enjoy Princeton."
NEW HOTEL ON CHAMBERS ST.
If you plan to drive around to a garage, keep in mind Chambers Street (along the first block adjacent to Nassau) is also soon home to a new construction project. Though work on the Graduate Hotel has been taking place on the inside for a while, the outside work, and its effects on the public are about to be felt.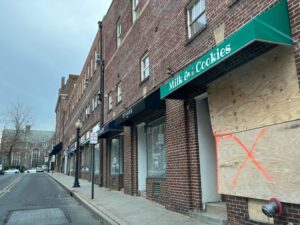 Chambers Street will soon be the crew's work zone, with traffic shifting, sometimes going down to one lane and possibly times of full closure. The sidewalk at 2-4 Chambers St. and half of the roadway there will be primarily affected. Stores along Nassau St, including Sakrid, Milk & Cookies, Small Bites and Jammin' Crepes, will remain in place and open to the public and the historic exterior of the building that rises above them will be preserved. But be prepared for scaffolding and a canopy to go up over the sidewalk as they do renovations on windows above.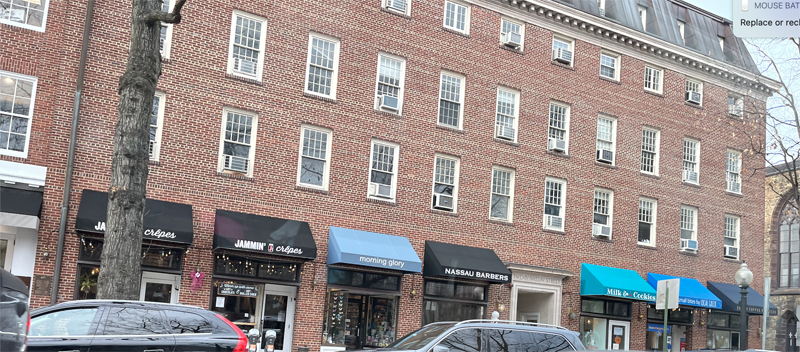 While 20 Nassau stays, the building portion at 2-4 Chambers St. is being torn down. The two will become one and turned into an approximately 180-room hotel with a lobby, grab-and-go café, eatery as well as an 80-space underground parking area for hotel use. The hotel is environmentally designed to a LEED Silver standard. Free bicycle rental is also expected for guests, as many are expected to be in town for the university.
Keep in mind, COVID delayed this project and the physical exterior construction is just set to begin. It could potentially impact traffic until its projected opening date before graduation of 2024.
GRIGGS CORNER LOT GETS BUILT UP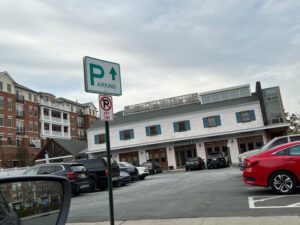 The downtown area is expected to get even busier this year with construction at the lot next to Mistral. Approvals have been granted, but unexpected delays are pushing back the May start date for construction of the metered parking lot at Hulfish and Witherspoon, which is to be renovated into a 3-story building. Known as Griggs Corner lot, (in recognition of the former Griggs Imperial Restaurant that once stood there) it will become home to 8 residential units with retail underneath.
Five 1-bedroom and three 2-bedroom units are expected, with courtyard space and a common roof with private open space. This design is also expected to include vegetative roof areas, using native plants.
For its tenants, 32 parking spaces will be provided at the Hulfish and Chambers St. garages, but it is important to note the building site will additionally eliminate 24 metered spots from the public use.
EXPANSION OF CELLULAR SERVICE
While you're driving around trying to get to your parking destination or walking to enjoy downtown, it may be helpful to know that Verizon is upgrading its wireless network in and around Princeton. And, if you've ever said, "Sorry, I lost you!" while passing through some of Princeton's notorious dead zones, you are likely to appreciate the upgrade.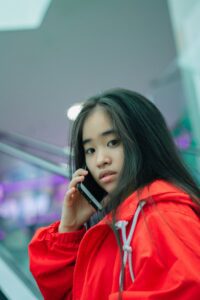 With the expansion of 5G, to accommodate increased usage by customers and a desire to enable download of larger files, its estimated 10 small cell sites will be added in Princeton by Verizon that, in conjunction with its other technologies, intend to improve experiences for everyone.
"If you're using a highway as an analogy, the small cells are expanding the number of lanes," explains Andy Choi, Communications Manager for Verizon. "If you're stuck in traffic, it's a lot of cars trying to get to one place with a limited # of lanes. If you expand 1 or 2 more lanes, more traffic will get through at a faster rate. Here we're providing more lanes for data to transfer back and forth between what you're downloading, sending, consuming."
You likely won't notice the small cell nodes, as Verizon attempts to blend them into our existing infrastructure by matching the color of nearby poles or camouflaging them into their environment. Overall, small cell additions to Princeton should provide a stronger connection.
"Princeton is one of many communities we're looking to help upgrade and connect. As we become more and more dependent on our mobile networks, whether at home, on the go, on laptops or mobile devices, we know how important it is to stay connected," adds Choi.
While underway, each of the above projects may be a hindrance or inconvenience to your enjoyability of downtown Princeton. Despite the removal of several parking spots, Princeton's engineering department reviewed parking analysis for each project and anticipates there will be enough parking to accommodate all who need it. Once complete, it is expected these projects will help build a more vibrant, walkable and connected town. During construction, all are likely to vary regularly with regards to their impact on traffic and the community. To know the latest, you can sign up to receive email or text alerts by going to the municipality's Notify Me page and choosing the alerts you want to receive.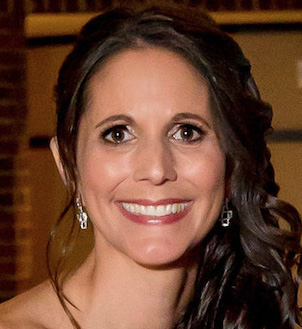 Lisa Jacknow spent years working in national and local news in and around New York City before moving to Princeton. Working as both a TV producer and news reporter, Lisa came to this area to focus on the local news of Mercer County at WZBN-TV. In recent years, she got immersed in the Princeton community by serving leadership roles at local schools in addition to volunteering for other local non-profits. In her free time, Lisa loves to spend time with her family, play tennis, sing and play the piano. A graduate of the S. I. Newhouse School of Public Communications at Syracuse University, Lisa was raised just north of Boston, Massachusetts but has lived in the tri-state area since college. She is excited to be Editor and head writer for Princeton Perspectives!