Inflation's Effects on the Princeton Area and How to Counter Them
ISSUE #30 – August 12, 2022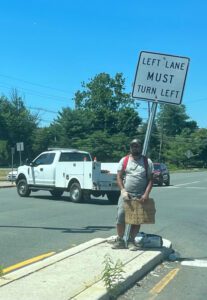 The sight of men and women begging for spare change at the border of Lawrence and West Windsor is a sign of today's times. Inflation slowed in July, showing it's now only up 8.5% for the year, versus the 9.1% peak we saw in June. That's supposedly good news, but we're still hovering at a 4-decade high inflation. Though gas prices have slightly decreased, high prices on consumer goods and services are having an impact on everyone's lives. And it's keeping money on everyone's minds.
So, that's what we're talking about in the latest issue of Princeton Perspectives, Inflation's Effects on the Princeton Area and How to Counter Them. Some locals luckily don't have to change their ways, while others are unfortunately having to decide what they can live without.
The Pulse of Princeton: How is inflation affecting you?
Perspectives Revisited
Last year, (July 2021) in the issue Princeton – The History All Around Us, we shared, in the article Does Technology Shape of Share History, how technology is a tool that opens up opportunities of who you can reach, how you can reach them and what you can share. For both business and personal reasons, people often need to find historical information about a property they own or are seeking to purchase. The Mercer County Clerk's office is now making that easier. By September of this year, deed, mortgage release and chancery notice books dating back to the County's establishment in 1838 will have been scanned and preserved into the land records management computer system. Title searches will now be available at the click of a button!
In How Has 2020 Shaped Princeton (December 2020) we wrote in the article In the Face of 2020, Princeton Stands Tall about Princeton's decision to turn Witherspoon Street into a "strEATery" and other outdoor dining that was created in response to the pandemic. Businesses and customers alike were welcoming the idea of outside dining, and they still do. Some still remain and are thriving, though most of the Witherspoon Street outdoor dining has been temporarily removed due to the road reconstruction. For those that really appreciate the outside option, Gov. Phil Murphy has just made it a more long-term option. Last week he signed legislation (good through Nov. 2024) that will enable municipal zoning officers to permit restaurants bars, distilleries and breweries to continue serving outdoors, as long as they are following required safety and health protocols.