Reaching Higher – Princeton Neighbors Making an Impact Locally and Beyond
ISSUE #27 – May 17, 2022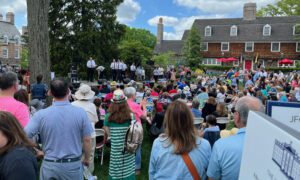 It is not uncommon, especially in Princeton, to see and hear people speaking up for what they believe in, educating others to make a change or simply providing a service themselves – and by doing so, making a difference.
On Saturday, Princeton's Hinds Plaza was filled with locals speaking up for what they believe as pro-choice advocacy was echoing through downtown. Sunday, Jewish leaders held the first-ever local Jewish Heritage Festival in Palmer Square, in an effort to celebrate Jewish roots and help others understand Judaism to bring the community together and work to eliminate antisemitism.
In Reaching Higher – Princeton Neighbors Making an Impact Locally and Beyond, this month's issue of Princeton Perspectives aims to take a look at some of the individuals, groups and talents that have helped to make a difference, sometimes just here in Princeton and other times nationwide. Read more…
The Pulse of Princeton: How have you made a difference?
Perspectives Revisited
In the issue Princeton Happenings – What's Going on Now That May Impact You? (March 2022) we shared details about some of the upcoming construction projects around town in the article Enjoying Princeton in the Midst of Local Improvements. One of the projects we highlighted was the building of the Graduate Hotel at Nassau and Chambers Streets. As construction is underway, Chambers Street is now one-way northbound (heading down Chambers from Nassau) until the garage, where it begins two-way traffic again. It will likely remain so for the remainder of the project. Additionally, you can prepare for more construction in another part of town as the Princeton Planning Board recently approved a 125-unit apartment development earlier this month, at Terhune Road and Harrison Street. The complex, set to open late 2023 or early 2024, will include 25 affordable housing units and the area adjacent to Princeton Shopping Center and Grover Park will also be home to a new bike/walk path, young children's playground and Princeton's first dog park.
In the issue Local Changes on the Horizon in Princeton (August 2021) we detailed the conversations that were taking place surrounding gas-powered lawn equipment in the article Changing the Landscape Project Encourages Residents to Reimagine Their Lawns. By October, Princeton had approved an ordinance aimed at reducing noise and air pollution and encouraging more sustainable landscaping practices around town. While you've been hearing them the past two months, it's important to know that the ordinance dictates from now until September 30th, use of gas-powered leaf blowers is again restricted. At that time, their use will be permitted through December 15th.