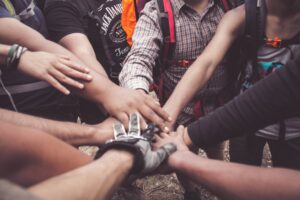 "There are no strangers here; Only friends you haven't yet met." – William Butler Yeats
No matter what one is going through, friendship and connections help you through it. For some, meeting people is easy – talking to the person that sits near you at the office, striking up a conversation at a social gathering or meeting other parents at school pick-up. If that is not a natural comfort zone for you, or if you delight in being exposed to and meeting lots of new people, Princeton is the type of community that offers many ways to feel connected. There are public opportunities and private clubs, to meet the varying needs and desires of all. Learning something new, taking part in an activity you already love or exposing yourself to things you'd never considered can create connections to help you enjoy each day and give you something to look forward to. And, when you choose to become part of a community, you have taken a step to move forward in a new way.
SOCIAL AND INTEREST CLUBS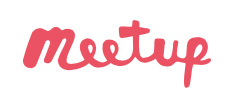 If you are good with technology, Meetup, a social networking group, is an easy way to connect with others in the area. Whether you're looking to make new friends or simply find some people to hang with and discover new interest together, there are a variety of opportunities.
Just entering "08540" in the search brought up a community dragon boat paddle, a pickup soccer game, a get-together for wine and music at a local winery and a potluck dinner gathering with a plant-based eating group. There are groups for singles 50+, board game lovers, outdoor bootcamps and more. And there's no membership fee to use Meetup, just a desire to connect. If you don't see something appealing, you can even start your own meetup event for others to join you at a place or activity.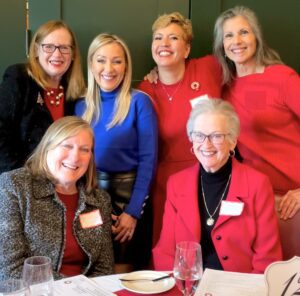 If you're comfortable with joining a club to open some new doors, there are many connections that can be made. Back in 1898, a group of Princeton-area women that wanted to come together to engage in cultural and intellectual activities with like-minded people founded The Present Day Club. Membership is open to all women, but those who retire or are new to the area are the most common new members and weekly lectures/luncheons are the most popular gatherings, hosted from September through June.
"We have had talks ranging from how climate change is affecting the ocean currents to a virtual tour via Zoom of the French architectural masterpiece Vaux-le-Vicomte. Many of our members come every week because they don't want to miss a topic and have noted that they are particularly appreciative of the exposure to subjects that are foreign to their own expertise," notes Cecilia Tazelaar, President of the Present Day Club. "The emphasis on the members' enjoyment has created a unique social space where women can take a break from their many roles and responsibilities and do something just for themselves."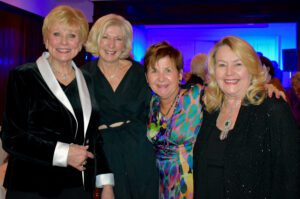 Beyond the lectures, the club has expanded to form interest groups like bridge, current events, photography and more. Day trips to the theater or guided tours at museums are also a regular occurrence. And of course, there are celebratory parties at their clubhouse. You may have driven by it often and not realized, but the home at 72 Stockton Street was purchased in 1930 and has since been The Present Day Club's permanent space.
"When I moved to my new house nearby, I stumbled on the club and was flabbergasted at the fact there were over 100 women meeting for lunch every Wednesday and I had no idea it was happening," new member Jessica Vieira excitedly shares. "The quality of the speakers and the dynamic of super, intelligent, amazing women getting together who are an incredibly welcoming group – it's really special."
The YWCA felt there was a further need to help women new to Princeton and in 1959 created YWCA Newcomers Club to introduce them to each other and inform them about the area. There were no barriers of age, race, economic status or education, and it welcomed people that had come from as far as Australia and India. There was one hard rule, one had to live in the area for less than two years to attend. In 2012 the name changed to Princeton Area Newcomers & Friends (NC&F) and now, more than 60 years later, the group is made up of almost 200 women who are interested in meeting new people and exploring their interests.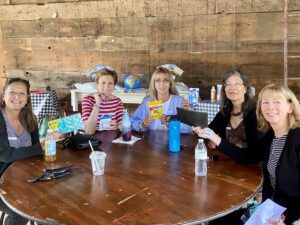 "The main change to the founding 'rules' is that there is no longer a two-year maximum time of joining. In fact, we have members who have belonged for over a decade and some who left the area only to come back at a future date and join again," explains Cathylee Healy, NC&F Marketing VP. "We invite women to 'check us out' prior to joining. They are welcome to come to a Social Coffee event, a Friday with Friend event and to try one Interest group gathering."
NC &F organizes dozens of activities ranging from purely social, to experiential, learning, volunteering and assisting each other – all in the name of making new relationships. Many members have shared that through joining, they have met amazing women, learned and laughed, became engaged and felt less alone.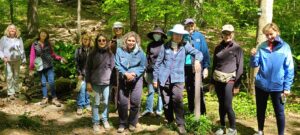 "During the year of the pandemic, 1/3 of the membership volunteered to lead others in the organization's and the YWCA's endeavors. We shared programs on Historic Princeton, The Female Supreme Court Justices, and the differences between stereotypes and useful generalizations. We led hikes, walks, bike rides and virtual explorations of towns and cities. We played bridge, mahjong, pickleball, golf and solved mind benders and puzzles. We read a wide variety of authors, watched and discussed films of cultural diversity and studied some the most challenging of current affairs," shares member Donna W. "I am grateful for the growth this organization has generated in me and the beloved and trusted lifelong friends I have found here."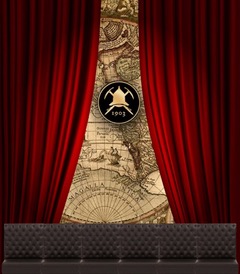 For men and women looking for community, both can find it in a downtown location that just opened last month. Inside Nelson Glass House on Spring Street, At Earth's End has Caffe by illy coffee bar and The Parlour, a curated cigar tasting room, open to the public, and The House, a private club reserved for members. Neighbors looking for a local spot to experience silky Italian coffee can stop into Caffe by illy, and those wanting to relax in the cigar lounge can do that too, but it is in The House that locals plan to nurture their spirit and meet with others in a place hoping to feel like a second home.
"When we move to the suburbs, our friends become our immediate work environment, our immediate neighbors and the parents of our kid's friends. Yet, there's a much bigger world out there within that suburb of interesting people we just don't have the opportunity to meet," details Sid Yu, Co-Managing Partner of At Earth's End. "You can go to a country club to play golf or other clubs for food, but sometimes you just want to go to an intimate, private place like you'd build in your house. This is where you can go from morning until night, and the functionality changes. You can go at 7:30am for coffee, read the paper, have a conversation with a friend. Have a meeting mid-morning and do some work. Then late afternoon, pre- and post-dinner and in late evening, it becomes more social."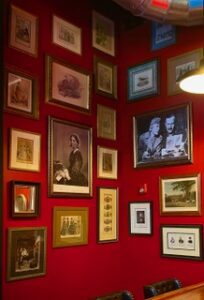 Members can take advantage of the coffee and enjoy the cigars from a private humidor inside the club, but it also has a bar for camaraderie, a den and library for like-minded people to find each other and relax, think and enjoy civility. Lastly, The House is a place for adventurers, where guests can plan for a motorcycle ride, Iron Chef dinners or a master class.
"We have a full bar with everything but the alcohol, members store their own alcohol in their private lockers. But they treat it like their place, where they host themselves and their guests. It's like an extended social room, extended bar, extended office," Yu shares. "You have an electronic pass key and open the membership house on your own. Sometimes it might be you and a couple of other people, other times there's 20 others."
People that likely wouldn't meet otherwise end up with chance encounters which can lead to many things. For example, the managing partner of a consulting firm sits at the bar next to the President of a large company. They may first talk about work and hobbies, but soon the conversation leads to family and friendships form.
SPORTS CLUBS
Sports can also be a great way to have camaraderie and become a part of something. Basketball meet-ups on the neighborhood court, running through town with your bestie and taking long walks through Mountain Lakes with your dog are all great ways to interact with others while being physically active. But sometimes you don't have someone to run with or you want to try your hand at something new, and local sports clubs offer a great opportunity to gain the drive to get active, push you to achieve your best and do it all while meeting new people.
In 2015, David Wu had been living in Princeton for nearly 13 years and he decided to challenge himself by running the Princeton Half Marathon. A Chinese immigrant, he was wowed by the inspirational messages in his WeChat group as they all cheered him on. Little did he know, his encouragement for them to meet him out on a Saturday and try running along the canal would turn into the Princeton Running Team with 80 regulars participating.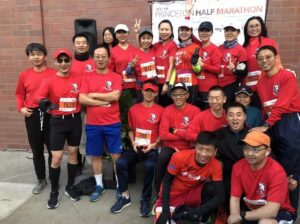 "I was the first person in the Chinese community to run the half marathon. Then in 2016 there were a few people that finished. Now, from that group, there are already 3 Ironman completers," says Wu. "It's a little to my surprise, I didn't expect a lot of people to be persistent with it. This is now the 7th year. We started with around 10 people, then the word spread attracting runners and walkers who usually go out on Saturday and Sunday morning to run or walk along the canal."
Princeton Running Team is not a formal organization, yet it has connected people through running, walking, talking, joking and having fun. Wu noted culture and language barriers often unintentionally make members of the local Chinese community feel like outsiders, so Princeton Running Team has become a safe space.
"In general, whether you're born here or come here, you need a sense of belonging. You can't have the feeling of belonging if you're just sitting at your home alone. You have to make a connection with people," Wu acknowledges. "There are a lot of running teams in Princeton, so you find your common interest or common passion to connect with others. Then you start to have the sense of belonging to a group or community. This group, because all of us come from China or Chinese-speaking countries, for us there is a second perspective. We're all first-generation immigrants trying to find our role, our existence in this big community."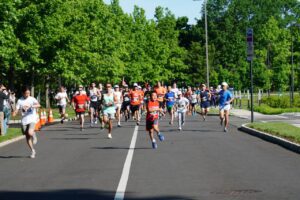 From arranging regular meetups through WeChat, the group easily began sharing pictures of their runs and lives. They began talking about their families and gathering for parties throughout the years as well. And, as members of the local Chinese community, started discussing ways to better integrate with the rest of Princeton. This past Memorial Day weekend, Princeton Running Team held its first formal event, the AAPI 5k. Through the marvels of their social media group the race came together in just weeks, with one person handling permits, another doing fundraising, a website designer and more. It went far beyond running and the power of community was felt.
"There's one person on this running team, she never in her wildest dream thought about finishing a half marathon. She started to walk with us, and slowly to run. And now she has completed 3 or 4 half marathons. She started her 1st half marathon because of me, but she finished it on her 40th birthday! Because of those things, she's now a very active team member and she helped do fundraising for the 5k," recalls Wu.
Beyond Princeton Running Team, there are many other local group opportunities for all sorts of runners including but not limited to Princeton Running Club, Princeton Athletic Club and Mercer Bucks Running Club.
If running doesn't suit you, the fastest growing sport for the past two years, according to the USA Pickleball and the Sports & Fitness Industry Association is pickleball. It's been in existence since the 60's but its ease of play helped it to gain in popularity during the pandemic. It is now often played in our area by locals wishing to get physical and get together with others.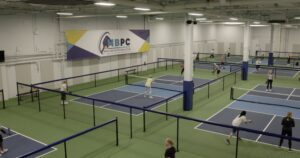 "Pickleball is the only sport we know that does not discriminate against gender, body size/type or age. It is a cross between tennis, badminton and ping pong," details Sharon Voelzke, co-owner of Mercer Bucks Pickleball Club, which came to be thanks to its attraction during the pandemic. "Everyone we spoke to was playing Pickleball in their communities on makeshift converted tennis courts or in their driveways with taped courts or at other coveted locations. We also joined the craze and striped a court in our cul-de-sac to enjoy the game as much as possible. We found it a great way to get to know each other and our neighbors and enjoy a safe social way to exercise in restricted times."
Sharon, her husband, Bob, and friends Becky and Frank Gabriele grew passionate about playing, but couldn't find an indoor court once the weather turned. They surveyed their networks of friends and acquaintances and discovered there was a huge interest in indoor play. This past February, they opened Mercer Bucks Pickleball Club, a social and fitness community for the area and already have more than 900 members.
"People who previously lacked confidence in their athletic abilities blossom while playing pickleball with every clinic they take, social event they partake in, and point they earn or defend," Voelzke notes. And even without joining a club, she adds there are multiple opportunities to get in the game. "Meet-up groups for Pickleball playing in our area have multiplied in the past couple of years. Technology like Team Reach and Meetup apps, enable players to sign-up to play alone and rotate into games with three others they do not know for games to 11. Facebook pages for specific towns, communities and courts are used to inform people about upcoming gatherings and tournaments."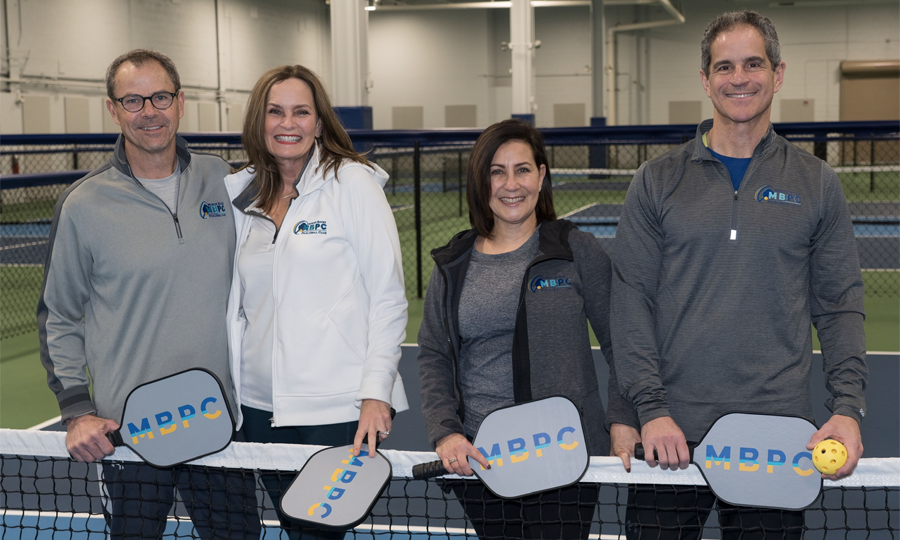 When people connect to play pickleball, Voelzke says they may arrive as strangers but often leave exchanging numbers to plan their next game. Whether you are new to the area, visiting temporarily or completely new to the sport, one can learn the basic skills of the game within 15 minutes, and leave the court with hours of fun ahead of them. And you never know how rosy that future could be.
"A member asked us to make sure she played at least one game in her Social Play with the "cute guy in blue." Low and behold, we have spotted them renting a private court together several times since they were "randomly" paired together with our assistance," Voelzke shares.
If you haven't found a match through one of the social or sports clubs, keep optimistic. If art is your thing, check out local places like The Arts Council or Color Me Mine and make a plan to attend one of their adult education or open classes. Or volunteer. With hundreds of local organizations looking for help, finding something that connects with you personally or which could benefit from a skill you have could be everlasting. That connection to a new community could keep you going for years to come.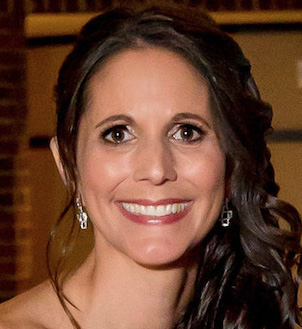 Lisa Jacknow spent years working in national and local news in and around New York City before moving to Princeton. Working as both a TV producer and news reporter, Lisa came to this area to focus on the local news of Mercer County at WZBN-TV. In recent years, she got immersed in the Princeton community by serving leadership roles at local schools in addition to volunteering for other local non-profits. In her free time, Lisa loves to spend time with her family, play tennis, sing and play the piano. A graduate of the S. I. Newhouse School of Public Communications at Syracuse University, Lisa was raised just north of Boston, Massachusetts but has lived in the tri-state area since college. She is excited to be Editor and head writer for Princeton Perspectives!