Finding Comfort and Healing in the Things You Can Control
ISSUE #28 – June 15, 2022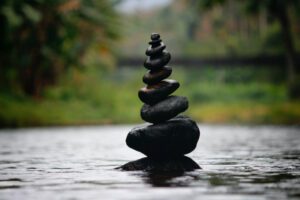 Has it been a bit challenging lately to find your calm? Chances are high you could name five people you know who have had COVID in the past month. It sometimes feels like it's spreading like wildfire. Despite the most careful following of safety protocols by some, they are getting it, too. Similarly, if you have money invested in the stock market, it can be harrowing to watch it hit new lows day after day, even if you take great care to invest responsibly.
These and many other things in life we simply can't control, no matter how careful we are. Yet, if you can't simply throw up your hands and throw caution to the wind, there are some things you can manage more than others. That's what this month's Princeton Perspectives is all about. In Finding Comfort and Healing in the Things You Can Control, we share multiple ways to find happiness, calm, better health and positive summer days with local perspectives on how to achieve them all! Read more…
The Pulse of Princeton:
What brings you calm? What can you control?
Perspectives Revisited
Last summer in the issue, Princeton – The History All Around Us (July 2021), we shared in the article Does Technology Share or Shape History?, the many amazing ways that technology is now used to share information. We also highlighted also how one must be careful to get the full story and not have impressions shaped by things like misinformed social media posts. This is something that's recently been considered in the NJ Senate, with a new information literacy bill that unanimously passed earlier this month. A companion bill still needs to be approved in the Assembly, but the purpose is to create a skill set for all K-12 students to better find, analyze and evaluate information in both print and digital spheres to be best informed in a world with increasing global misinformation.
We dedicated an entire issue to sustainability in One Person, One Family, One Town – Our Roles in Sustainability (April 2020) and shared details in the article Bending the Climate Curve about the commitments of each individual, municipality and more to address future challenges. To help ensure citizens are aware of environmental justice concerns, a new mapping tool (now in beta form) was introduced last week by the NJ Department of Environmental Protection to help visualize communities that are overburdened with pollution. For example, one tab demonstrates Lawrence, Ewing, Trenton and parts of Robbinsville, as having met some criteria. Another map available details different local types and sources of pollution. The hope is the tools can be used alert more residents to public health risks in their surrounding communities and to aid the DEP in developmental expansion.