Vote Informed – Your Complete Local Guide to the General Election 2022
ISSUE #32 – October 13, 2022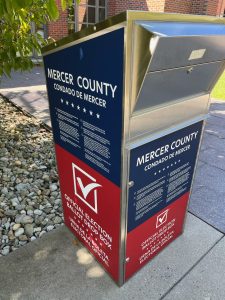 I got back into local journalism a few years ago, frustrated by the fact that there was nowhere to learn about the many local candidates that would appear on my ballot. Sure, I might have seen an ad or an editorial, but I wasn't finding any information about a candidate's experience, plans for office, and no unsolicited information to help sway my vote. So, I wrote an article about some. Now, I dedicate every October issue to informing you as a voter. This issue of Princeton Perspectives marks the 3rd annual elections issue.
As a journalist, I work hard to provide unbiased information, which can be hard when talking politics. If I feel one side needs a chance to speak out, I also provide that opportunity to the other. This month's issue will not only shed light on where and how to vote and who you can vote for, but it will also provide you with an opportunity to better understand those in your party and that align with the opposite party from you – also those that don't align at all. Read more…
Perspectives Revisited
In the May 2022 issue, Reaching Higher – Princeton Neighbors Making an Impact Locally and Beyond, Perspectives Revisited shared the news that the newly approved apartment complex at Terhune and Harrison (adjacent to Princeton Shopping Center and Grover Park) would also become home to the town's first-ever dog park. Well, it turns out it won't be the first! At Monday night's Town Council meeting, a resolution was unanimously adopted for the creation of a temporary dog park in Princeton. To gage location, interest and usage, the town will fence off an area of Community Park South, enabling a dog park to operate for a 90-day trial. Additionally, an Off-Leash Pilot will begin on November 1st at Quarry Park. This Pilot will allow owners with a current NJ dog license to unleash their dogs from 7am-9am during a 90-day trial period. Upon completion, the governing body will evaluate the success and viability of both possibilities. Princeton Dog Park Alliance and other individuals have been urging the town to create options for socialization and an off-leash experience for their pets.
In the same May issue mentioned above, the article Long-Sustained Efforts Bring About Needed Solutions on Rosedale Road explained the efforts that went into creating safer passageway for pedestrians crossing at the intersection of Rosedale Road, Johnson Park School and Greenway Meadows. The new traffic circle was completed this summer, but it has now been recognized that better lighting is needed to properly illuminate the crosswalks and intersection. Princeton has just approved the cost of $28,964.29 for PSE&G to install the seven new streetlights and poles in the area.
The Pulse of Princeton: What's swaying your vote?