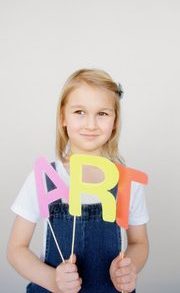 Princeton, located approximately an hour from either New York City or Philadelphia, makes access to art pretty amazing. You can travel to places including the Met, MOMA or Whitney in NYC or Philadelphia Museum of Art or the Barnes Foundation in Philly. But sometimes, just traveling to a big city can make it prohibitive. You have to pay tolls, deal with traffic and of course, there's parking. That's why, whether you're an artist or a connoisseur, it's fortunate there are many artistic opportunities available that provide big-city offerings, an easy outing away. To view gallery exhibitions, get hands on with some paints and colors or to purchase a new special piece, you don't have to travel too far.
SMALL CITY CREATIVITY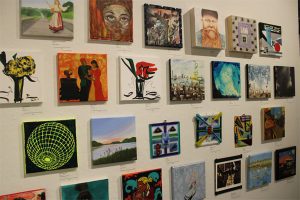 Just jump on Route 1 and in no time, you'll find yourself exiting at Market Street towards the Mill Hill Historic District of Trenton. With accessible off-street parking nearby, you can easily visit ArtWorks visual art center.
"Artworks promotes artistic diversity and ignites creative passion for artists and art appreciators alike. Our exhibitions, workshops, events, and public projects make art an accessible experience for all," shares Kara Jonsson, Marketing and Media Consultant for Artworks. "We foster creativity and connection within the Trenton community and greater Mercer County."
Whether you're a professional artist or just like to dabble, if you want to simply stroll and look at art or want a chance to purchase some local art for your home, there are opportunities at ArtWorks. You can take a class, participate in a public art project, have your own work included in a planned exhibition or even have your own personal show hosted in their space. Building and developing community through the arts is the goal of this nonprofit, through exposure of artists' works as well as exposure to non-artists of the creativity and art itself.
Currently on exhibit at ArtWorks is the 12th Annual 10×10 Red Dot Fundraising Exhibition, until January 7th. Artistic pieces from novice to experienced artists are on display for purchase, benefitting Community Arts in Trenton.
"The 10×10 is an example of Artworks overall mission of making art accessible to everyone. Anyone can participate in the exhibition, from refrigerator artists, budding artists testing the waters and showing their work for the first time, right up to the seasoned veteran, we accept all works created for the event, provided they fit the 10"x10" criteria," explains Artworks Managing Director, Craig Shofed.
Throughout the month of November, anyone interested had the opportunity to pick up a blank canvas and create their work of art, so you truly will be seeing a diversity of 100+ creations.
BIG TIME ART IN THE SUBURBS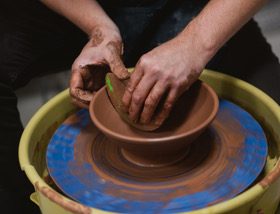 Another 100 artists now have their work on display at Arts Council of Princeton. The Annual Member Show is one that includes drawings, paintings, photographs, sculptures, ceramics and more in the Taplin Gallery at the Witherspoon Street building in Princeton through December 22nd.
Like Artworks, Arts Council of Princeton offers classes, public displays of art, workshops and more to invite the community to experience art.
"Our downtown Princeton location is a growing source of inspiration. We're right in the heart of the action and continue to expand our programs both within our home base at 102 Witherspoon Street, and out into our bustling downtown," details Programming/Marketing Manager, Melissa Kuscin. "Just last month, we held an art market with 60 fantastic vendors on Robeson Place and welcomed back our Artist Chalet Winter Village on Hinds Plaza, offering visitors the opportunity to shop directly from local artisans. Providing means for creatives to show and sell their work and for folks to be exposed to new creative options has been a fulfilling piece of our mission of building community through the arts."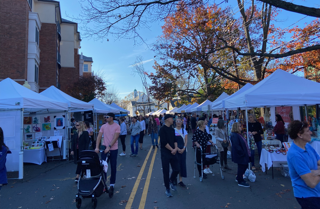 Since its founding in 1967, Arts Council of Princeton has aimed to fulfill its belief that the arts play an integral role in a healthy society and strong quality of life. Like Artworks, the Arts Council has created public displays of art around the community, such as the LOVE mural at Princeton Shopping Center and the Parklet built outside of Chez Alice Patisserie.
Also in Princeton, the Princeton University Art Museum has long played a role in offering top quality art in an accessible space. The free museum on the university campus closed at the start of COVID isolation in March 2020 and has remained closed as a new museum is being built in its space. Though its main home is shut, the art museum has found ways to continue to provide art and artistic experiences for the community. Art on Hulfish and Art @ Bainbridge offer two different gallery experiences in downtown Princeton.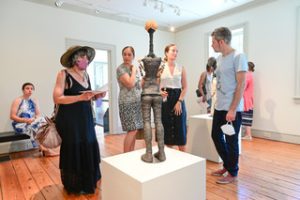 "Our two temporary gallery spaces are designed to balance each other in presenting a range of exhibitions exploring some of the most dynamic aspects of contemporary artistic practice. The scale of Art on Hulfish allows us to be present both thematic and single-artist exhibitions, at the level of either group exhibitions or single artist surveys," says James Steward, Nancy A. Nasher-David J. Haemisegger, Class of 1976, Director of Princeton University Art Museum. "By contrast, the intimate nature of the gallery spaces in historic Bainbridge House is better suited to single-artist projects; during these years of construction, we feel it's most impactful to focus these primarily on early-career artists, some of them receiving their first museum exhibitions."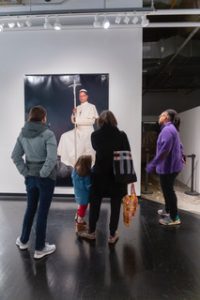 The Samuel Fosso: Affirmative Acts exhibition can currently be seen at Art on Hulfish until January 29th. The photographic works of self-portrait aim to display figures and moments throughout Africa.
If you like photography-based multimedia works, Art @ Bainbridge is hosting an exhibit by Dor Guez until February 12th entitled Colony. These works attempt to tell stories based on historical photographs.
If you want to create some art of your own, virtual classes in drawing and painting are also offered weekly, or you could go online and take advantage of recorded lessons of a previous class you missed.
In late 2024 the new Princeton University Art Museum intends to open, hoping to be an area where people will gather and experience more than 5,000 years of art.
"The new Museum will, when complete, be the largest and most globe-spanning art museum between New York and Philadelphia and one of the most important academically-based art museums anywhere," Steward explains.
RURAL APPEALS FOR ART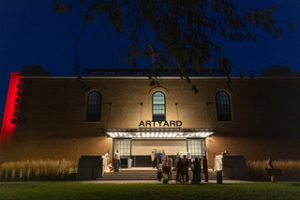 West of Princeton, along the shores of the Delaware River, ArtYard has been bringing artists and the community together in Frenchtown since 2015. It emerged from informal gatherings over the previous ten years, with artistic presentations in a backyard barn at the home of one of its founders.
"ArtYard was founded with the belief that everyone should have access to art and places to create and experience art, forge relationships, and find joy even in heartbreaking times," said Meghan Van Dyk, ArtYard Communications Manager. "We offer opportunities for people to experience visual arts in our exhibition space and live performance, including music, dance, film, and theatre, in our state-of-the-art McDonnell Theater. We also help incubate new work through our residency program and offer workshops to the community. There's always something new to discover at ArtYard."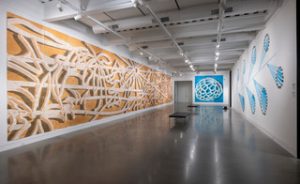 Right now, an exhibition of watercolors, sculptures and multimedia installations is on display through January 22nd. The juxtaposition of items seen in Alexandre Arrechea's Landscape and Hierarchies, was pulled from and created in the ArtYard space along the river. The largest piece is a 71-foot watercolor titled River and Ripples employing water collected from the river. The exhibit's creation was two years in the making and originated from a conversation the artist had with Elsa Mora, who later curated this exhibit.
"In Landscape and Hierarchies, sports is a reflection of humanity," Mora says. "Arrechea interrupts the dynamics those at the top of social hierarchies have enacted over generations — competition over cooperation, winners and losers, rules and penalties, the separation of humans from nature. Through his work and creative process, the artist invites us into a collaborative space to co-create a future where people and the planet thrive."
Beyond this physical art, ArtYard has some other things in store from a Big Screen Wonders Film Festival in January to performances by Isabella Rosellini in March.
MORE ART IF YOU WANT IT
Of course, we've only had a chance to touch on a few of the artistic experiences the greater Princeton community has to offer. All around us are great opportunities, like the cultural diversity offered in visual and performing arts and classes at West Windsor Arts Center.
Traveling into New York or Philadelphia are fun experiences, and the art you will find at the Metropolitan Museum of Art or Philadelphia Museum of Art will be sure to please. But don't think you're compromising by stopping into the more local jaunts, to create, see or purchase art for yourself. Sometimes these experiences will exceed your greatest expectations.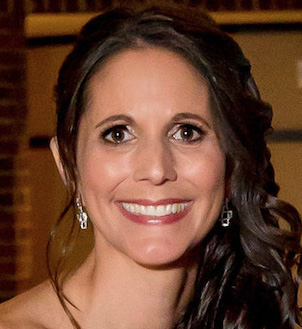 Lisa Jacknow spent years working in national and local news in and around New York City before moving to Princeton. Working as both a TV producer and news reporter, Lisa came to this area to focus on the local news of Mercer County at WZBN-TV. In recent years, she got immersed in the Princeton community by serving leadership roles at local schools in addition to volunteering for other local non-profits. In her free time, Lisa loves to spend time with her family, play tennis, sing and play the piano. A graduate of the S. I. Newhouse School of Public Communications at Syracuse University, Lisa was raised just north of Boston, Massachusetts but has lived in the tri-state area since college. She is excited to be Editor and head writer for Princeton Perspectives!