A Caring Community Divided – What is Happening at Princeton's Schools?
ISSUE #38 – April 13, 2023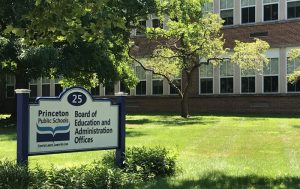 Around Princeton these days, many people are talking about Principal Frank Chmiel's departure from Princeton High School. If it matters to Princeton, we cover it at Princeton Perspectives, and this issue has his exclusive interview.
But it's not just the high school that is getting attention these days. Elementary school families are in turmoil about what their future holds, too. That is also covered in this April issue of Princeton Perspectives, A Caring Community Divided – What is Happening at Princeton's Schools?
Everyone that lives in Princeton seeks to be affected by what is happening at our schools. The most information we can provide to date is straight from the source, and The Community Wants to Know: A Conversation with Frank Chmiel is his first interview since being put on administrative leave from Princeton High School in March. We reached out to the Board of Education and Dr. Carol Kelley as well, to provide the latest information available. Read more…
The Pulse of Princeton: How does the community move forward from this divide?
Perspectives Revisited
In August 2021 (Issue #18 – Local Changes on the Horizon in Princeton), Princeton Perspectives first shared news that Princeton was considering opening retail cannabis shops in the article Should Princeton Welcome Cannabis Businesses to Town Now That It's Legal? Though Princeton decided not to move forward, it is legal for locals over 21 to obtain cannabis elsewhere. The question now is whether recreational cannabis contributes to car crashes. It's been difficult to monitor as there has been no data to confirm whether it is a real concern. Just weeks ago, a bill was introduced in the NJ State Assembly that would require cannabis-related fatal motor vehicle crash statistics to be published by the State Police, as they do with all alcohol-related crashes. With no test, cannabis use is much harder to detect, but the bill's sponsor says this information will help everyone understand if there are automotive dangers from cannabis that need to be addressed.
Beyond cannabis, there are other types of plants to discuss such as the many varieties that are native and flourish in the Princeton area. We first discussed them in Reinventions – Local Realities of Turning Lemons into Lemonade (Issue #14– April 2021). The article Participating in the Evolutions of Nature Helps Us Evolve, Too explained that native plants provide more nutrition and proper nectar for the areas native bees, butterflies and hummingbirds. To help you find the right options, the D&R Greenway Land Trust is about to embark on its Native Plant Sale, taking place April 20th-22nd at their site off Rosedale Road in Princeton. The sale will be offering over 50 species of such plants, with proceeds benefitting D&R Greenway's preservation and stewardship mission. You can click here to see the catalog, to help choose the right species for your home based on sunlight, soil and other conditions.