Elementary school parents at Princeton Public Schools (PPS) are on edge, wondering what the landscape will be for their children in the future. On March 21st, after the Princeton Board of Education (BOE) long-term plans were presented, many of Princeton's elementary school parents spoke up. They showed up the next week to the BOE's March 28th meeting to voice their thoughts as well. Concerned, confused and scared, parents raised objections to the proposed plans to shift certain neighborhoods to different elementary schools and possibly open an English-only learning track alongside Community Park's (CP) Dual Language Immersion program (DLI). While parents have compassion for those from other schools, the proposed ideas of what could be are creating a large rift amongst the school communities.
Historically, all four Princeton elementary schools were English-only learning, with Spanish class offered to some grades. All homes were geographically districted to one of the four schools: CP, Littlebrook (LB), Johnson Park (JP) or Riverside (RS) Elementary Schools. When a dual-language immersion program was introduced at CP in 2015, it was first offered just to certain grades and to only students districted for that school. Over time, the program has grown to encompass all grades and welcomes almost any student in the district. However, all non-native Spanish speaking students moving into the area that are past 1st grade or CP-area families who choose not to be part of the of the program have had to choose a different elementary school to attend (Note: PPS has just expanded the entry options to include children entering 2nd grade). This has led to overcrowding at JP and LB, while CP now has some empty rooms. In addition, 1,100 new apartment units are planned, with more anticipated, which are expected to add hundreds more students to the mix. With an English-only track remaining for just the current 5th grade, CP was expected to become DLI-only this fall. But will it?
PPS administrators shared plans at the March 21st meeting to use the empty CP rooms to house an English-only track for all grades, redistrict some students from JP and LB to fill those seats, or possibly down the road shift all elementary students to a new "sister school" model with K-2 and 3-5 schools for all (including DLI).
Hearing clear disappointment from the community, PPS administrators quickly announced they will not move ahead with changes this fall but will instead begin to hold community meetings to learn what the stakeholders consider to be better options. As the meetings are expected to begin sometime this month, Princeton Perspectives caught up with some parents to find out what they think the long-term solution should be for the community. The ideas seem to vary based on the perspective they come from. Since CP was central to the proposed plan, we'll start there.
Community Park Parents Fight for DLI-only School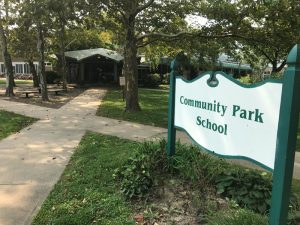 "To add back an English-only track [at CP] would immediately limit any future growth and limit strengthening the program in the future," shared Nicole Pezold Hancock, who has lived in Princeton for 12 years and has seen one child complete the elementary DLI program with another currently enrolled. She adds that the DLI program just had two reviews conducted that provided qualitative feedback to help them grow and hopes there's an opportunity to realize them. "We were able to see structural weaknesses and history, but [the Tristate Consortium report] also said it's an unpolished gem of a program and laid out some next steps the district could take to make it work better within the fabric of all district schools."
Changing CP to include a full English-only track would hinder those plans, she notes, as a group of 40+ CP parents are working hard to work with PPS for better outreach, marketing and to enhance understanding amongst the rest of the community. Pezold Hancock also recalls the early days of DLI and English-tracks running side-by-side at CP.
"It was very stifling socially for some kids and created rifts between kids and some parents. There was self-segregating on the playground, at recess the kids wouldn't play together," she recalls.
Instead, Pezold Hancock agrees starting a Pre-K at CP could entice families to begin their school journey there and stay. She also thinks the district could entice immigrant families with children who don't speak English to come, adding it will help them feel a more valued member of the classroom and if Spanish-speaking, even be a leader during the Spanish portions of the day. She and other parents of DLI students feel there is more opportunity to be had by better utilizing those empty classrooms for this program that's already there.
"Our children are wonderful ambassadors for it—most will happily tell you how proud they are to be able to meaningfully play with a classmate who doesn't yet speak English, write essays and explain complicated science concepts in Spanish, or feel pride in speaking their relatives' native language at school," notes Christine Minerva, who has lived in Princeton since 2014 and is parent to 3rd and 5th graders at CP.
It may take time to better market and grow DLI at CP, so if that time is provided, how should PPS address the overcrowding at JP and LB in the meantime? Minerva agrees there is no perfect solution but thinks one proposed by PPS leadership could work.
"Although I see several downsides to transitioning from preK-5 schools to a 'sister schools' model where students zoned for JP and CP (or LB and RS) would attend JP (or LB) for preK-2 and CP (or RS) for 3-5, perhaps doing so in the coming years would be a more equitable solution, since all students would be involved in the shift, and most would have an opportunity to attend a school close to their neighborhood for part of their education," Minerva explains. "If PPS does move to that model, I hope that our administrators would build in time to study best practices for this type of transition, gain buy-in from leadership of the new DLI school and the community, and formulate a plan to integrate new staff members, students, and their families."
Littlebrook Parents Have Other Ideas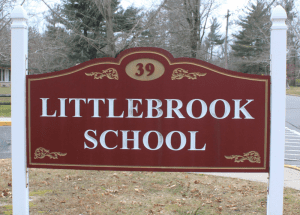 In the Littlebrook section of town, parents at Littlebrook Elementary aren't seeing things the same way. They feel the overcrowding is detrimental to their student's education and experience.
"While I can appreciate the passion of the parents at CP – we all want what is best for our kids! – not accepting students when our other schools are overcrowded is not sustainable, or, quite honestly, fair to the remaining 80% of our elementary student population," states Corinne Ryan, a seven-year Princeton resident with four children attending LB. "Each of my children sits in a classroom either at or 1 or 2 seats away from capacity. My 5th grade son has 23 students in his class, while CP has 5th grade class sizes of 15 students. Every inch of our school is utilized, and we are bursting at the seams."
Kristi Cole agrees. She has lived in Princeton for seven years and has two children attending LB along with the 400 other students. Cole says her elementary community has maxed out the physical space citing there is no longer any flex space in the LB building, the stage is full of storage, and there is an annual battle over which grade will gain the one additional classroom.
"Fewer than half of the students zoned for CP attend CP. That's not a marketing issue, those people had to make a decision or were forced to move out," Cole says. "Last summer's review of the DLI program also showed CP is 58% white vs. the district which is 49% white. It also said JP is the preferred school of Hispanic families. CP is additionally not being chosen by families with IEPs. I don't think that's a marketing issue, I think people are making informed decisions. We need to open the school to serve everybody. It's a public school, we have to serve the whole public."
Referring to the idea of adding in an English-only track to CP, Ryan additionally points out that other DLI programs, such as those in West Windsor, coexist successfully with English-only tracks, a program that could help guide the situation here in Princeton. She appreciates the complexity of redistricting students and thinks one-off situations could enable students to stay where they're accustomed. In the long run, she feels it could be a better solution.
"While the plan would cause a population of JP students to move back to their neighborhood school of CP, and a beloved group of students to leave LB, overall, the plan evened out the elementary schools. It seemed to be a fair and equitable approach to the issue," Ryan adds. "There would be growing pains for all, but the long-term goal is sensible leveling of enrollment, especially in light of the growth and development that Princeton is experiencing."
It is important to note that the recommendation from PPS was to redistrict those students from Institute for Advanced Study that currently attend LB and send them to JP. Apart from three students, all of the Institute children are expected to turn over for next year, so most families would not be affected (those three would likely be grandfathered in).
Johnson Park Parents Want Equitable Options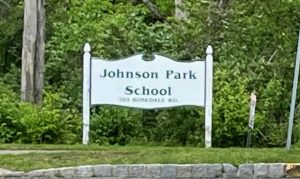 That is not the case at JP, where children who have attended for years were told they might have to leave to go to CP, where they were originally districted. Many parents are saying that is not a fair option.
"We came at this problem over a long period of time, we can't fix the problem overnight. You can't just transfer the kids. They're kids, not cattle," contends Elme Schmid, 6-year resident of Princeton who has two children at JP. "It's children we're dealing with, many of whom are English language learners and depend heavily on their ESL teacher."
Schmid says the most important thing is to consult with and get buy-in from the community for smoother transitions into whatever option the district ultimately chooses. In doing so, she recommends PPS considers their long-term goals first then work backwards to get to the interim plan to create the least disruption to everyone involved. One possibility Schmid suggests to help pull populations from the crowded schools into the CP DLI, is to have a plan and work harder to integrate any new children at CP with those already there and to help more students get up to speed in language to participate.
"I think they should offer children now in grade 2, not fluent in Spanish, an opportunity over the summer to prepare for immersion. We've given ESL education over summers for many years, why can't we expand it to include that that. That would fulfill concerns for many JP and CP parents," she notes.
Without integrating new children more smoothly into the CP community, there is fear of divide. And there already appears to be very different schools of thought from parents of children at the varying schools.
"This whole discussion is dividing the community instead of uniting us. It's a shame, especially at the elementary school level," noted Lindsay Weiss, a resident of Princeton for nearly five years, with 2 children at JP and a rising kindergartener. "The plan put forth by PPS was very shortsighted. It was a Band-Aid fix instead of a long-term solution or what makes the most sense."
When asked what does, Weiss said that she feels it's still unknown, citing not all the facts are fully realized. Maybe there's space in other buildings that can be converted, perhaps there might be enough families that would elect to return or go to CP, families moving in downtown that might want to attend their neighborhood school.
"If you pull a random 57 kids from JP, that won't necessarily be the right mix to fill enough classes per grade. I think for now they need to involve the community, which is their plan, and I think that was a really good decision. They need to take a slow and steady approach to how this should all pan out," Weiss suggests. "They might need to survey every family to see who would want to move and at what grades."
Riverside Parents Weigh in Too

RS sends approximately the same number of students to the DLI program as it receives from those opting out of it, so there isn't a reason to consider shifting any of its students. That helps RS parents breathe a little easier knowing there will not be a large influx or send off of a group of students. There is an expectation that new neighborhoods being built will be districted for RS to help balance the school populations. Should a future plan involve creating sister schools, however, RS students will be subject to that change.
Jyoti Narasimhan has one child that went through RS and another currently attending. After living in Princeton for five years, she and other Riverside parents are eager to see what the future holds but she trusts in the process and is grateful changes are temporarily on hold.
"Drastic change is going to be controversial but at the same time I do understand there might need to be changes," Narasimhan shares. "I think, as always more info and transparency and communication to Riverside parents would be great. I do feel the district has made a good faith effort to say information will be forthcoming and I know they'll work with BOE in trying to move ahead with plans."
Conclusion
The district meetings with parents have not yet started, but many know there is a lot to think about. While there are great differences in how people are looking to solve the enrollment problems, there is consensus some change is needed to ensure all elementary children's needs are met.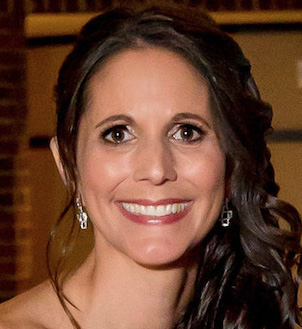 Lisa Jacknow spent years working in national and local news in and around New York City before moving to Princeton. Working as both a TV producer and news reporter, Lisa came to this area to focus on the local news of Mercer County at WZBN-TV. In recent years, she got immersed in the Princeton community by serving leadership roles at local schools in addition to volunteering for other local non-profits. In her free time, Lisa loves to spend time with her family, play tennis, sing and play the piano. A graduate of the S. I. Newhouse School of Public Communications at Syracuse University, Lisa was raised just north of Boston, Massachusetts but has lived in the tri-state area since college. She is excited to be Editor and head writer for Princeton Perspectives!