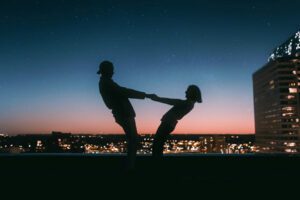 The pandemic has certainly affected every facet of our lives…and there's no doubt that it has taken a toll on romanticism. Whether it's the fact that many couples are spending so much time together at home (working from home, etc.) or masking/unmasking has kept you from enjoying some of your traditionally favorite activities together, it's time to get back in the game! Valentine's Day may have passed, but there are 364 other days in the year to get out and enjoy time together. Despite all the ups and downs of the past two years, I'm happy to report there are a variety of things you can safely do around Princeton to reignite that spark, keep things burning or simply get out of your house with someone you care about.
BREAKING (AND MAKING) 'BREAD' TOGETHER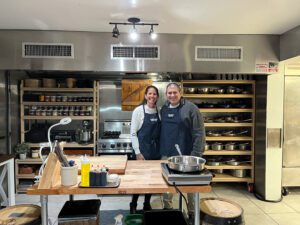 My son recently said to me, "Oh, you and dad are actually going out tonight?" Ouch! The comment was referring to our spending many a weekend night on our couch recently rather than at a restaurant or out with friends, because the frigid temperatures and Omicron surge were keeping us home. But a last-minute invitation to try out a new cooking school got us off the couch and provided a much-needed date night!
Roll the knife, tuck your fingers, blanch the vegetables before you cook them in flavorings. These don't sound romantic in their own right, but just wait. These tips were among the many we picked up at our private lesson with Alex Van Dyke, who recently started Van Dyke Hospitality and Brick Farm Cooking School. The Bucks County native and Johnson & Wales University graduate has been working in restaurants since he was 15. Through the years, he has worked at Daniel in New York City, Husk Restaurant in Nashville, cooked for 3 U.S Presidents (Clinton, Obama, Biden) and was most recently executive chef at The Perch at The Peacock Inn. His past created who he is, but his present desire is to share his love of cooking with the community through the school he opened in December.
And we felt the love. First, there's the passion Alex has about everything cooking-related, and you can feel it when he shows you things as simple (or so you thought) as how to properly chop a vegetable. Then, there's the relationship he has with farm, fresh and local ingredients which you see as he demonstrates how to use not just the florets, but the leaves and stems of a cauliflower. We opted for a vegetarian menu, but varieties of classes are offered including for meat-eaters, those desiring knife skills, for picky eaters, with exotic menus or meant for everyday cooking.
"To make an impact in the community and environment through my partnership with Brick Farm and local farmers," Van Dyke says is his focus today. "Our classes showcase a variety of topics to appeal to any interests, where community feedback inspires the creation of current and future classes."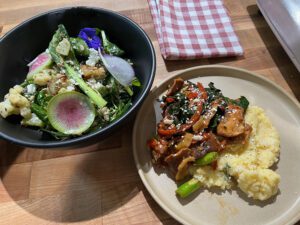 The cooking school is currently housed in the Red Barn Milk Company up Route 31, just north of Hopewell. COVID precautions are taken, and each class has a max of 12 students. If you prefer a more personal opportunity, you can opt for a private lesson like we had. The class is really hands on, and the food combinations you create are delicious. Cooking together is something most couples rarely do, and it really makes for a fun time. And I'll add, yesterday, when I walked into the house to the smell of butter and thyme (my husband was trying to recreate the croutons we made in class) it triggered great emotions! If you simply can't envision cooking with your spouse – go with a friend!
LOVE IS ALL AROUND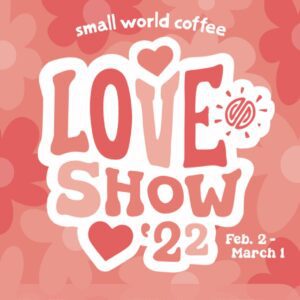 Another place you could go together to feel the love is Small World Coffee. In fact, with Love Show on display at the Witherspoon location, love is literally all around!
Last fall, the café requested artistic entries and now the walls are covered with 35 displays of artwork from local artists, through March 1st.
"We asked people to respond to the word 'love' in any way that resonates with them. It doesn't have to be romantic love, just love," explains Jessica Durrie, co-owner of Small World. "It's an opportunity for all different kinds of people, whether they've been in an art show or not. We want it to feel very open."
The art on display was chosen from amongst 120 entries, with artists ranging in age from high schoolers on up. If you and your significant other want to really take in the love while viewing the show, you can also try Small World's Love Blend, a combination of Papua New Guinea, Sumatran and Guatemalan coffees, which is on tap every day in February as the coffee of the month.
IT'S ALWAYS WARMER WHEN YOU'RE WITH SOMEONE YOU LOVE
If you can soak up the sunshine and don't mind the colder temperatures, there are several local areas you can explore outdoors together, too. We shared with you in our December issue that Grounds for Sculpture has a creative multi-sensory experience going on until the end of February. Night Forms: dreamloop by Klip Collective is a great way to take in the grounds together with the sculptures lit up at night. But, as Grounds for Sculpture was named as a top romantic outing by several Princeton Perspectives' readers, we want to share that the 42 acres of land, home to an arboretum, sculpture garden and museum can also be very romantic by day. Simply walking the grounds, seeing the reproduced Monet statues and more can be enough. Or you can make a day of it with brunch, lunch or dinner at Rat's (voted Philadelphia Magazine's "Most Romantic Restaurant") and then stroll amongst the artistic creations.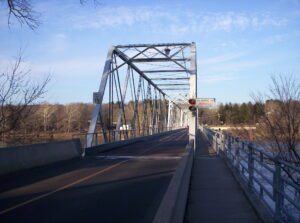 If you don't have a fear of heights, you can strengthen your commitment to your partner by walking together over a bridge! The Washington Crossing Bridge, to be more specific. Don't look down (it's scary!) as you hold hands and walk across from Titusville, NJ to Washington Crossing, PA, but be sure to look to the side and take in the view of the Lower Trenton Bridge (a.k.a. the Trenton Makes Bridge). That view is especially romantic when all lit up. There is a walking area on the bridge, so you won't be too close to cars. Once across, you can enjoy Washington Crossing Historic Park. Especially in the cold, you can stand on the banks of the Delaware and imagine feeling what Washington and his troops may have felt before they crossed in 1776. If you go on a Friday morning, you can join a group hike through the park at 10am.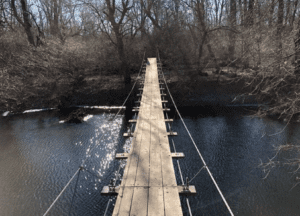 A second bridge you could romantically enjoy together is the Swinging Bridge over the Stony Brook in Institute Woods. Use this map as a guide, and you will find this rickety, old bridge where Founders' Walk meets the River's Edge Trail. Whether on Valentine's Day or any day, being out in nature with the one you love can be very enticing. Especially if you don't get a lot of alone time together, being out in nature with an opportunity to share conversation, is great for relationships.
In fact, the National Park Service says, "Because hiking ranges in difficulty from an extremely challenging climb to a casual way of spending time outside, it's a great way to strengthen the friendships or bonds you have with your companions."
It's three miles round-trip to get through the woods to the bridge, but it's a walk well worth it.  One reader shared, "You have to really explore those woods to find it, but once you do, it's a magical little spot!"
For more hiking experiences, Sourland Mountain Preserve is another location that our readers said they enjoy outdoors together.
There are many great winter hikes, and the trails are less crowded in the cold. Sourland also has trails to suit the beginner to experienced hiker. If hiking in the cold doesn't sound appealing, as the weather warms up, you can take a look at our recommendations here for tracks and trails to enjoy together all around the greater Princeton area.
SAY 'I LOVE YOU' WITH FLOWERS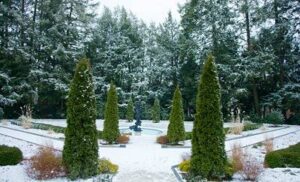 If you love natural beauty, but prefer a less woodsy setting, head over to Princeton University (PU). You can simply walk the grounds, taking in the scenery, or there's one spot on campus that screams romance – the five-acre fenced in Prospect Garden. The garden lays behind Prospect House, which was once the University President's home and later a dining facility. To verify its romantic appeal, it's a common site for weddings! Some specific plantings were added immediately after it was built and beautiful trees and various changes have been put in through the years. Mrs. Woodrow Wilson was responsible for arranging the flower garden, and it was even her design to lay out the walking paths in the shape of the University seal. She was also responsible for planting the first evergreens. Since they hold their own, even through the harsh winter months, why wait until spring to check this favorite hometown romantic spot of several Princeton Perspectives' readers? Walking paths and benches allow you to take in the calm and beauty offered right now. And as spring arrives and turns into summer, when the flowers are all in bloom, it is one of the most beautiful spots on campus. One reader shared that she still finds it as beautiful and romantic as it was 25 years ago, when her husband proposed by the fountain! If you're thinking of taking the plunge – there's an idea for you!
Maybe proposing isn't in the cards for you right now, but I offer you a challenge. Pick one of the above experiences and do it with someone you love. Then, write to me and share the details of your outing. I promise, you will thank me for getting you off the couch!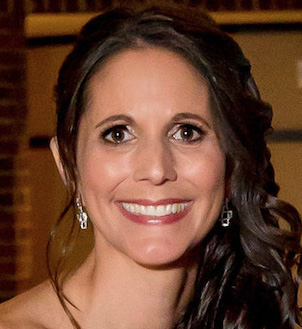 Lisa Jacknow spent years working in national and local news in and around New York City before moving to Princeton. Working as both a TV producer and news reporter, Lisa came to this area to focus on the local news of Mercer County at WZBN-TV. In recent years, she got immersed in the Princeton community by serving leadership roles at local schools in addition to volunteering for other local non-profits. In her free time, Lisa loves to spend time with her family, play tennis, sing and play the piano. A graduate of the S. I. Newhouse School of Public Communications at Syracuse University, Lisa was raised just north of Boston, Massachusetts but has lived in the tri-state area since college. She is excited to be Editor and head writer for Princeton Perspectives!