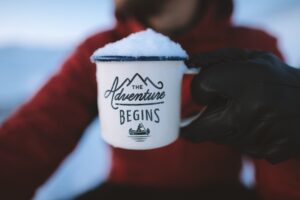 There's no question, COVID has taken away or altered many of the outings and recreational activities we've previously enjoyed. Add the colder weather, and some of the outdoor options we'd turned to are severely limited. But that doesn't mean you need to be stuck inside all winter. There are many things to do in the Princeton area that can kick-start fun and exploration in the new year!
HOMEGROWN PRINCETON FOOD TOUR
Princeton is a unique suburb with its robust collection of restaurants and eateries. Just because COVID-life has limited indoor and outdoor seating doesn't mean one can't eat out and indulge! Now is your chance to safely explore the options and find your favorites, with a food tour taste test.
First, pick the food you want to sample (my family tried it with grilled cheese). Then determine the locations where it is offered, but remember you will be buying and tasting each so you may not want too many (we narrowed down 6 locales, as some places were not open the day we toured). Define the parameters for which you will judge a winner (ranking on looks and taste, we voted on a scale of 1 to 10 for each). Lastly, drive into town and either park and walk from site to site (preferred, since it's a lot of eating) or if your locations are spread out, drive from one to another.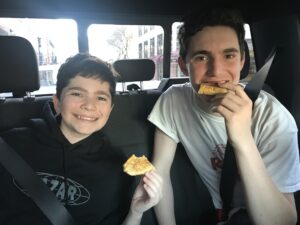 One advantage of COVID is the ease of ordering ahead (whether by phone or online) and curbside pick-up (if you go by car!). This limits your wait times upon arrival! At each stop, we divided our sandwich into four parts (for our family of four) and we sampled, voted and recorded our opinions. Then we moved onto the next. To keep things comparable, try your best to order the same item at every site. We chose the basic grilled cheese sandwich from Princeton Soup & Sandwich, Say Cheez Cafe, PJs Pancake House, Chuck's Spring Street Cafe, D'Angelo Italian Market and Hoagie Haven. There were some disappointments but also delicious surprises, and it certainly was a boisterous and filling afternoon! I won't tell you who we picked as the winner, but one eatery did score 9s for both looks and taste! I would love to hear from you when you give it a try!
If grilled cheese is not your thing, there are plenty of other options. You can certainly enjoy a Princeton hot chocolate crawl (we did this tour a few days later)! Princeton Online's Social Media Editor has crafted a list you can find here!
TAKE ADVANTAGE OF PICTURESQUE SNOW
Beyond food, this season can be full of snowfall and winter vegetation, which can create a beautiful backdrop for photoshoots! Typically planned in warmer weather, wintertime can create picture-perfect ambiance with bright sunny days and light reflecting off the snow! And right now, after the holidays, is the perfect time.
"Take advantage of this downtime to plan a photoshoot with a fun wardrobe and accessories!" suggests Jen Davis of Photography by Jen Davis. "Cuddle with blankets, make s'mores near your outdoor fire pit, sip hot chocolate and have fun together! Popular locations are emptier, and the winter light is beautiful and soft."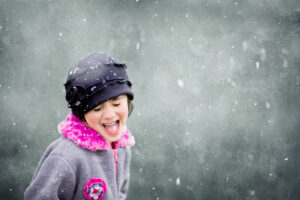 This can be a great socially distant activity for kids with their friends with poses, varied accessories and pure silliness. For your family, it's a good excuse to get everyone out of the house! Hire a professional to capture the moments or simply head out with a pair of fingerless gloves, your iPhone and a tripod. It will be fun to get creative and change out of your loungewear, too!
Beyond your own backyard, there are many sites in our area that help make great photographs. Davis says the grounds of Princeton University provide a perfect backdrop, with the beautiful architecture and ivy that sticks around all winter. The tree-lined drive and historical features at Princeton Battlefield as well as the pond and walking trails at Hamilton's Sayen Gardens can also add warmth to your winter-time photos. Visiting sites at non-traditional times can also be appealing.
"Local Christmas tree farms are always a fun location, especially after the holidays in their off-season," adds Davis.
And what speaks winter more than Christmas trees?
EXPLORE THE TREES
Beyond decorating, trees offer another activity that can be fun for all ages. Did you know that Marquand Park is home to over 108 species of trees? In addition to the walking paths, playground/sand area and ball field, the 17-acre historic preserve contains an arboretum and woodlands.
"The grounds of Marquand Park had been under the ownership of several horticulturists before it was given to the town in 1953," explains Rebecca Flemer, Board Member of the Marquand Park Foundation. "First was Judge Richard S. Field who built the house and spent at least ten years planning and executing his garden. The next owner, Susan Brown, collected roses, Japanese maples, and other varietals. Finally, Eleanor Marquand, wife of Princeton professor Allan Marquand, carried on with planting trees and established elaborate flower beds (no longer in existence). The board of trustees for the park has continued planting trees and the park is now recognized as a Grade 1 Accredited Arboretum by the American Public Garden Association."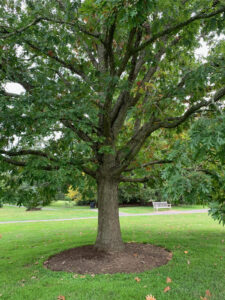 In addition to listings of every species on the park's website, each tree is uniquely identified. There are a few digital options to guide you through. You can walk around with your phone and pull up the Marquand Park inventory map, then click on each pin to learn information about that specific tree. There are Google Earth tours of the historic and unique trees within the park and also an OAKtober tour (created last October), detailing the park's Oak trees. If you prefer to be guided by an expert, Princeton Adult School's "Name that Tree" course will offer a Zoom and socially distant on-site class later this spring.
For another timber-filled location, head over to the Grounds for Sculpture, home not only to a vast variety of outdoor art and sculptures but also to more than 70 species of trees! Winter is a wonderful time to explore all of the horticulture and an interactive map is available to provide information as you wander the property.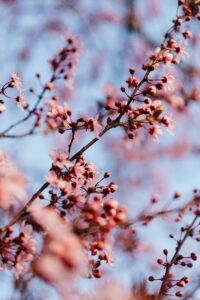 "In January, the trailing, viny shrub of the Winter Jasmine (jasminum nudiflorum) springs to life with bright yellow flowers; and in late February, the Flowering Plum Tree (prunus mume) reveals white and light pink spring blossoms signaling the advent of spring," explains George Chevalier, Grounds for Sculpture's Manager of Marketing.
Grounds for Sculpture traditionally closes down in the winter months but found it offers a unique outdoor opportunity for many during this pandemic. In addition to in-person and virtual class offerings, they've extended their season so you can explore the trees and artwork on site. Through March 31st advance timed tickets will be reduced to $10/person, remember to plan ahead.
GET ACTIVE OUTDOORS
There are also things one can do outdoors to keep your heart pumping! Many people began or rekindled their relationships with nature when COVID forced more outdoor activity and that doesn't need to end just because the weather is colder.
After writing the article Tracks and Trails – the Hidden Gems all Around Us for Princeton Perspectives' June issue, my family spent many weekends picking out hikes to try. One of our favorites was the Rockhopper Trail, which traverses back and forth over the creek and has beautiful wooded scenery. Portions of this area were once used by the Continental Army during the Battle of Monmouth. Though that took place in the warm air of June (in 1778), you can try to imagine their journey as you walk through now.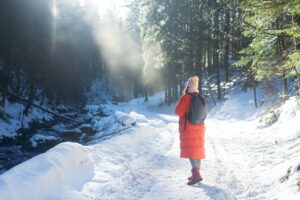 With fallen leaves and other natural shifts, even a hike you took this summer or fall may feel completely different this season. Just beware of any ice and be sure to wear sturdy shoes.
If hiking with friends or your family, you might want to go to Herrontown Woods and explore the Princeton Botanical Art Garden. You may also enjoy the wide trails around Greenway Meadows, at the Pennington Loop and at St. Michael's Farm Preserve.
"St. Michaels Farm Preserve is my favorite hike in winter because it offers a variety of habitat to enjoy," shares Tina Notas, D&R Greenway's Director of Land Stewardship. "I enjoy taking my family on trails through the farm fields and woods where you can see and hear various winter birds including American kestrels, Northern harriers, Eastern bluebirds, different species of sparrows, and woodpeckers."
Your family might also be entertained by the trail and tributary crossings found in the new preserve in the Sourlands, The Woosamosa Ridge Trail. Another advantage to winter hiking is thinner crowds. On wider trails it is less of an issue, but if you prefer terrains with a narrow path, this may be the time to try them. Dry Run Creek, Sourlands Ecosystem Preserve and Omick Woods all offer great winter hikes via a narrower walking path.
While many are loving the family time the pandemic has forced on us, you may also be looking for an opportunity to be alone. Pryde's Point Preserve can be a great option for solitude.
"I like to park at the Rocktown Lambertville Rd parking lot and head down the yellow trail to the cottage. Upon arriving at the cottage, I love to check out the spring house and then wander down the red trail," explains Carolyn Klaube, Sourland Conservancy Stewardship Coordinator. "The sound of the Alexauken creek running over all those boulders is like stress cleanse to a busy mind. I sometimes just stop and stare into the deep pools and daydream of warmer days and dipping my toes into the cold, clean water."
Mountain Lakes Preserve offers some easy terrain that can be enjoyed when snow-covered. Cedar Ridge Preserve, also relatively flat, can be fun in winter as you observe birds and the trees and shrubs around. If you prefer more varied surface options, head to Sourland Mountain Preserve in Montgomery and Hillsborough with opportunities from beginner to more experienced. And if you have the gear and enjoy the adventure, Baldpate Mountain offers wonderful winter hikes and also some back-country skiing (though it is closed Wed-Sat until Feb 13th for Deer Management)!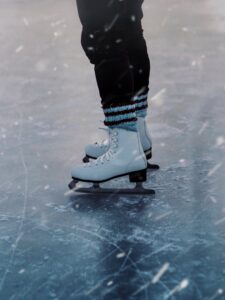 Perhaps you prefer to enjoy the outdoors in a more manicured environment? The synthetic ice skating rink at Palmer Square has once again been set up and will remain behind the Nassau Inn through the winter season. Masks are required and all skates are disinfected between use.
The Ice Skating Center at Mercer County Park is also open for the season. A bit protected from the elements with a rooftop, the facility is open-sided. Due to COVID-19, the rink is operating with a limited capacity of 25 people, no skate rentals and masks must be worn at all times. It also closes between sessions for cleaning. You can find the January public skating schedule here.
Finally, playing around in the snow is the easiest way to be active outdoors! You can go sledding at some of Princeton's favorite hills including at Smoyer Park, Springdale Country Club, Greenway Meadows and off the parking lot of the Westminster Choir College.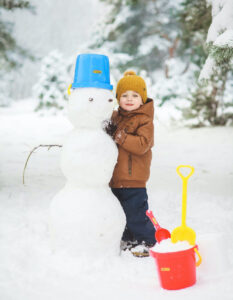 Or, you can play in your own yard! I challenge you to organize a neighborhood snowman contest after the next major snowfall! It's the perfect socially distant yet socially engaging event! To be completely COVID-safe, you can plan it all online by creating a sign-up genius for neighbors to participate, emailing out the rules and timeframe and asking all to vote via an online Google Doc Voting Form.
So pray for some snow, get out, enjoy and live up the winter! However you choose to kick-start your escapades, I hope you enjoy the fresh air while you create some wonderful memories!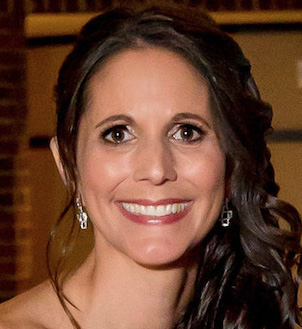 Lisa Jacknow spent years working in national and local news in and around New York City before moving to Princeton. Working as both a TV producer and news reporter, Lisa came to this area to focus on the local news of Mercer County at WZBN-TV. In recent years, she got immersed in the Princeton community by serving leadership roles at local schools in addition to volunteering for other local non-profits. In her free time, Lisa loves to spend time with her family, play tennis, sing and play the piano. A graduate of the S. I. Newhouse School of Public Communications at Syracuse University, Lisa was raised just north of Boston, Massachusetts but has lived in the tri-state area since college. She is excited to be Editor and head writer for Princeton Perspectives!