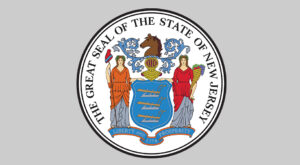 We are a month into 2021. The elections are over, new politicians have been seated and along with the incumbents remain ready to take on the tasks at hand. According to the New Jersey State Department of Elections, in Mercer County 44.6% of residents are registered Democrat, 15.3% as Republicans and 40.1% are unaffiliated or other. Wherever you fall, the Princeton area has several levels of government looking after our needs. Princeton has a Council that works with our Mayor, the Mercer County Executive runs our County alongside our County Commissioners and at the state level, beyond the Governor we have two State Assemblymen and a State Senator representing Princeton's District. Much of what happens (or doesn't happen) in our area falls under their leadership.
COVID
Nearly one year into the pandemic, COVID has shaped much of what the government is focusing on. At the state level, indoor dining has increased to 35% of capacity, but outdoor dining now has additional state support by streamlining the approval process for restaurants to utilize their nearby outdoor spaces. The NJ State Senate brought this bill to Governor Murphy who signed it into law this month, and in the Assembly, it was sponsored by one of our two District 16 Assemblymen, Roy Freiman. District 16's State Senator, Christopher "Kip" Bateman, who is also Senate Deputy Whip, is currently recovering from heart surgery but continues his work in the Senate. Senators recently passed a bill to provide a county-based re-opening plan for businesses (like the color-scale New York uses) rather than having everything planned as a whole statewide. Additionally, legislation was advanced to provide an income tax credit to businesses that made structural improvements to reduce the spread of COVID-19. Due to the essential need for internet access with remote schooling and work-from-home requirements, Senators also introduced a bill last month to prevent internet service providers from increasing rates during a public health or state emergency.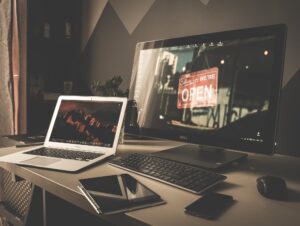 A bill sponsored late last year by our other District 16 Assemblyman, Andrew Zwicker, also responds to internet needs by providing for broadband internet access to remote areas across New Jersey. Other COVID-related causes and the many systemic inadequacies the pandemic has highlighted remain at the top of the Assembly's agenda this year. One recent bill signed into law provides that landlords must accept credit cards as payment for rent.
"Between helping small businesses start to rebuild, getting our students back on track with their education, and helping the unemployed get back to work, it is clear that COVID must remain our main focus in the legislature," states Assemblyman Freiman.
Though the legislature does not play a role in the COVID vaccine rollout, the offices of both Freiman and Zwicker, have been advocating for constituents and working to help them get appointments.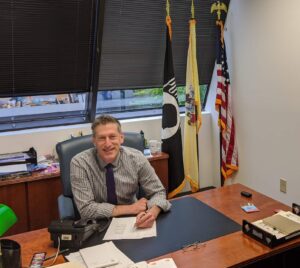 "I represent frontline workers, healthcare workers, seniors, vulnerable people who are trying to work their way through the complex system to get appointments for the vaccine," shares Zwicker.
As local businesses have really suffered this past year, Zwicker was co-sponsor of the Economic Recovery Act, signed by the Governor this month. It allows for the state to partner with business owners and entrepreneurs trying to start a new business, to help them grow and keep jobs in NJ.
At the County level, the COVID vaccine rollout has been something new for them, as they work as the go-between for state and local communities.
"It has basically had to shift its business model and learn how to do something that it has never done, such as testing and vaccination distribution," shares County Commissioner Chair Samuel Frisby Sr. "The County Health Department is not a full-service Health Center, which means that it does not have access to nurses and doctors and must rely on partnerships to do the type of work that is necessary during the pandemic."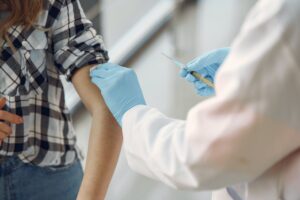 Mercer County has partnered with Capital Health to administer vaccines at CURE Arena in Trenton and has a vaccination site in West Windsor at Mercer County Community College. Due to limited vaccine availability, the state declared that effective February 13th vaccine distribution to municipally-run clinics is on hold.
"A lot of people ask why there's a shortage of vaccine and we are making sure the public understands it's not because we're not prepared or able to administer it and have clinics, it's because we just don't have the vaccines," notes Princeton Council President Leticia Fraga.
Princeton wants to help ensure all residents, including those that may not read local papers or aren't computer savvy, know where to get vaccinated, COVID testing and other essential information. To do so it's just hired two outreach coordinators in both the Human Services and Health departments that will help push the messages out to the community.
DIVERSITY
State Senator Shirley Turner, who represents six municipalities in Mercer County, sponsored a bill that Governor Murphy signed into law this month that hopes to increase diversity in police departments. Passing the Civil Service exam, which was a requirement, has been a barrier for some people of color. Now completion of the full Basic Course for Police Officers can allow them to be eligible to enter the force, without the exam.
The Senate is also hoping the Governor will approve their "Minority Business Development Program" which aims to provide grant funding and technical assistance for the state's minority-owned businesses.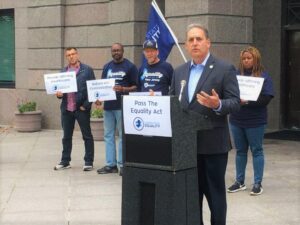 The Assembly has passed several bills on equality, equity and social justice reform. Most recently, agreement on details surrounding decriminalization of marijuana has kept the Governor from signing the legalization bill into law, a move voters approved in November. The decriminalization is part of the legislators' efforts to reduce the criminal impact seen in black and brown communities and there is hope it may become law before the end of the month.
2021 has brought in historic change at the county level, with the county representatives no longer being called Freeholders, named Commissioners instead.
"It is important to recognize that words have meaning and if what we want is to be a more inclusive society, then we must eliminate titles of exclusivity from our political and social lexicon," explains Commissioner Frisby.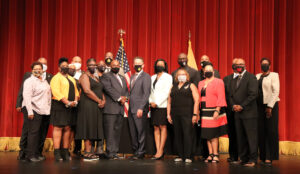 Frisby was part of the group NJ19 that worked to eliminate the terminology – which referenced the era when only white, male, landowners who were free of debt could hold public office. As the new year began, he not only became one of the first County Commissioners but is the first African American Mercer County Board of Commissioner's Chair.
"As incredible as this is and as proud of this accomplishment as I am, being the first in this role is nowhere near as important as ensuring that I am not the last in this position," adds Frisby. "This opportunity reminds me that we have many more doors to open and walls to knock down."
To help open more doors, the County recently contracted with The College of New Jersey's Small Business Development Center to offer support to Latino business owners in our area. This builds on an ordinance they passed in 2018 to develop a more inclusive environment across the county for minority business owners.
In Princeton, Council is ironing out details and working to roll out a pilot program using the Racial Equity Tool Kit the Civil Rights Commission presented to them at the end of 2020.
"It is basically a one-sheet form with a checklist," says Councilwoman Fraga, who is the first LatinX ever elected to Princeton's Municipal government. "When considering a policy, considering hiring or with contracts, to ensure that diversity is being considered and equality."
Local groups have been advocating for a ban on gas-powered leaf blowers, but this could harm local landscapers who can't afford new equipment. Council aims to utilize this Equity Tool Kit to ensure that as policies like these are developed, minority owners are not put out of business.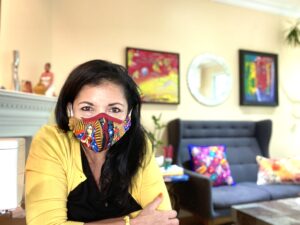 Fraga also hopes to help lower-income University students take advantage of all Princeton has to offer. To help Town & Gown relations and balance each other's needs, Princeton Council meets annually with the Princeton University President. At this year's meeting (currently being scheduled), she is hoping to get the ear President Eisgruber to discuss a trend in other college towns of allowing meal card access to in-town eating establishments.
"For them it's very expensive to eat in town, so they didn't have that luxury to go to Hoagie Haven or other popular eating establishments like some of their peers," she explains. "The way other communities do it, they use their meal card and it works like a debit card…if there were participating establishments that would allow it."
SUSTAINABILITY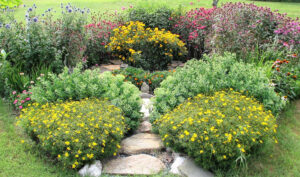 Senator Bateman sponsored a bill to establish a "Jersey Native Plants Program," to inform the public and encourage and promote the sale of New Jersey's 2,100 native plants which play a vital role in our natural ecosystem. Linda Greenstein, who represents four municipalities in Mercer County, co-sponsored. Both are part of the Environment and Energy Committee for the NJ Senate that voted in January to advance the bill.
In the Assembly, a controversial bill was approved a few weeks ago that requires the government or a non-profit to provide a stewardship plan whenever new forest land is acquired. Opponents of the bill believe it will cause more environmental harm than good.
In another move that could affect our environment, at the end of 2020 Governor Murphy signed legislation to reform NJ Transit by overhauling its management and creating more oversight. The bill, for which Senator Greenstein was a primary sponsor, aims to better the train system which in turn could encourage more people to ride and get off the roads. Assemblyman Zwicker has also been involved in trying to enhance mass transit to benefit our residents and our environment.
"Whether it's the Dinky in Princeton to NJ Transit or up in Somerville with access to NJ transit there, access to mass transportation is critical as well – that ties into climate change and the ability to live where you want and get to work easily," says Zwicker.
Changing the way we power our cars, trucks and buses can also have a lasting impact on our environment. Senator Bateman's bill to advance electric charging infrastructure was approved in the Senate last month, and it's is also being worked on in the Assembly.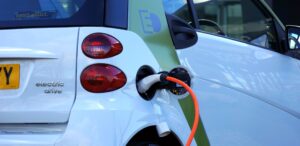 "We are working on several electric vehicle bills, including ensuring that enough parking spots have charging stations at retail establishments, residential buildings, etc. in order to prepare for the amount of energy-efficient cars we expect and hope to be on the roads in New Jersey by 2025," adds Freiman.
Assemblyman Freiman is also working to push forward his bill requiring the state Treasurer to review energy usage at all state facilities, which could help lead to better energy efficiency for the state.
In Mercer County, environmentalism remains at the forefront of plans to overhaul the Trenton-Mercer Airport. The project has advanced slower than planned, due to diversions caused by the pandemic, but once the Federal government provides all necessary authorization, the County administration can move forward.
"The Commissioners are responsible for authorizing funding and expenditures for the project," explains Commissioner Frisby. "The Commissioners will continue to balance the need of the new terminal with environmental safety and oversite. We are looking forward to having a state-of-the-art terminal allowing for greater comfort and access, befitting the level of business that the Mercer Airport generates daily."
In Princeton, it is time for the municipality to replace some of its vehicles. Council is planning to discuss the possibility of leasing vehicles that are hybrids or electric. Also, as previously mentioned, there has been a great deal of local advocacy to ban gas leaf blowers. Sustainable Princeton is working to obtain a grant that could help local landscapers comply if any changes are made.
Permanent bike lanes are also being requested along the Hamilton-Wiggins corridor by the Pedestrian and Bike Advisory Committee. In late January many members of the public also came out in support of it. This will be balanced with the needs of residents in that area, as Council weighs a decision.
ADDITIONAL MATTERS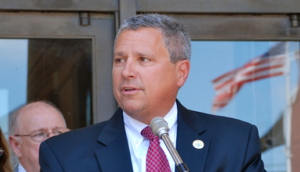 Just a few weeks ago, in late January, Senator Bateman announced he will retire and not be seeking re-election when his term ends in 2022. He will complete his current term, and in January introduced a new bill in the Senate requiring the Department of Health to license additional angioplasty facilities, with at least one in each New Jersey county. This bill was sponsored in the Assembly by our Assemblymen, Freiman and Zwicker. Years in the making, this would afford convenient options for those that choose to have this quality-of-life procedure.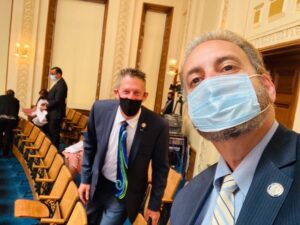 Freiman and Zwicker are also co-sponsors of another bill to raise the age for purchasing firearms from 18 to 21. Immediate COVID needs have sidelined this bill a bit, but the Assemblymen hope to advance it soon.
"We know that brain development continues to occur through adolescents up through their mid-twenties," shares Freiman. "When we raised the legal drinking age to 21 in the 1980s, we did not eliminate all incidents of drunk driving – but it certainly made them less common. Increasing the gun purchasing age will not eliminate shootings but may decrease the frequency at which they occur."
Zwicker is also hoping to have a bill on the Governor's desk by the end of this month that will make the upcoming November elections more accessible.
"For about 10 days before Tuesday, November 2nd – 7 days a week, 10 hours a day – we're going to open up polling places in every county where there will be machines like we always have on election day," explains Zwicker. "Not everyone was comfortable with an all vote-by-mail election. We're not taking that away, we're simply adding 2 weekends and 5 workdays to, if you would prefer to, vote by machine."
Assemblyman Freiman also sponsored a bill last year to benefit safer elections, urging the Federal government to provide funding for elections security and voting equipment.
At the County level of government, do you know what other matters they handle? The concern is that many people do not, so Commissioner Frisby is working to utilize technology to help inform and educate Mercer County residents through monthly Zoom meetings and an online newsletter.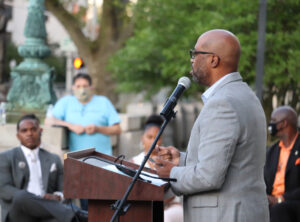 "I believe it is important to understand what this legislative branch of government is responsible for managing and how that differs from the executive branch of government's responsibilities. Most people don't realize that County Commissioners are part-time legislators," states Frisby. "Residents need to understand what the Constitutional Officers are responsible for and what their offices do."
The municipality of Princeton has a similar goal as it continues the Mayor's newsletter and utilizes its newly updated website, allowing for online permit applications and more. Council is also working towards better transparency.
"We hit the reset button this year with a new Mayor, and new way of doing our meetings that are more inclusive – open meetings just started in 2021," details Councilwoman Fraga. "Council this year is really driving a lot of the decision-making on how we conduct our meetings and what committees each of us are going to be working on."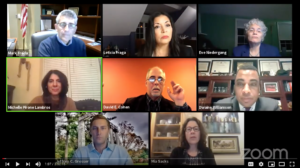 In January Council began holding open public meetings to set its agenda, so people can gain a better understanding of why it is taking up certain matters.
It is also in the midst of hiring a new Municipal Administrator. Amongst its responsibilities, the Administrator will be tasked with helping to consolidate the municipal staff (currently half are housed at the Monument Hall Building while half are at the Municipal Building on Witherspoon Street.) To increase capacity at the Witherspoon site, options include adding a deck over the parking lot with parking beneath it or adding another floor to the existing building.
Additionally, Princeton is looking to continue the work of the permit parking task force to identify the parking needs of visitors, students, residents and in-town employees.
Most municipal government matters start within our Boards, Commissions and Committees made up of Princeton residents. They flush out issues and make recommendations to Council. Anyone interested in getting involved can apply on the municipal website to be considered for an appointment (appointments are made regardless of political affiliation).
Our representatives at all levels of government in New Jersey aim to be available to constituents, open to conversations and ideas throughout the year. They are hard at work with short-term and long-term goals, working together and in their separate capacities, hoping to accomplish a lot in 2021.
WHO IS GOVERNING FOR PRINCETONIANS
New Jersey Governor –
Phil Murphy
NJ District 16 (Includes Princeton and towns in Hunterdon, Middlesex and Somerset Counties):
State Senator –
Christopher "Kip" Bateman
State Assemblymen –
Roy Freiman and Andrew Zwicker
Mercer County Executive –
Brian Hughes
Mercer County Commissioners –
Samuel Frisby Sr., Chair
Nina Melker, Vice Chair
Ann Cannon
John Cimino
Pasquale "Pat" Colavita, Jr.
Andrew Koontz
Lucylle R.S. Walter
Princeton Mayor –
Mark Freda
Princeton Council –
Leticia Fraga, President
David Cohen
Eve Niedergang
Dwaine Williamson
Mia Sacks
Michelle Pirone Lambros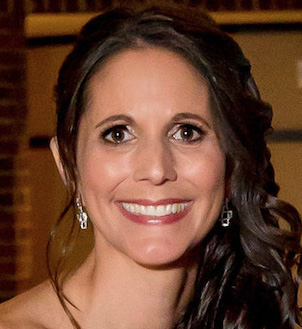 Lisa Jacknow spent years working in national and local news in and around New York City before moving to Princeton. Working as both a TV producer and news reporter, Lisa came to this area to focus on the local news of Mercer County at WZBN-TV. In recent years, she got immersed in the Princeton community by serving leadership roles at local schools in addition to volunteering for other local non-profits. In her free time, Lisa loves to spend time with her family, play tennis, sing and play the piano. A graduate of the S. I. Newhouse School of Public Communications at Syracuse University, Lisa was raised just north of Boston, Massachusetts but has lived in the tri-state area since college. She is excited to be Editor and head writer for Princeton Perspectives!