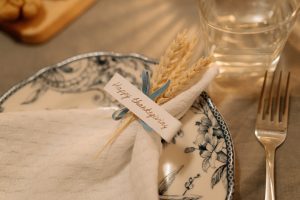 When you look forward to your Thanksgiving feast, are you dreaming of the turkey or the sides? Do you get through the meal for the dessert or are you savoring every bite you eat? When planning a Turkey-Day menu, there are a lot of things to consider, ensuring your guests leave full and satisfied. What is the right balance? While most would agree on some basic needs, there are some nuances.
It's About the Sides
Princeton Perspectives got feedback from more than 60 locals, all of whom care deeply for their Thanksgiving meal. While a turkey on the table has become synonymous with Thanksgiving, it turns out 81% of those we heard from favor their sides over the bird. "Probably 20% meat, 30% veggies, 50% starch," one respondent put it.
If you are planning a full vegan or vegetarian meal, the sides become even more important. Sweet potato souffle, mashed potatoes, gravy, stuffing (cornbread or sausage were stated favorites), brussel sprouts, green bean casserole and cranberry sauce topped people's preferences. Some eat their foods separately, and for others it's the "smoosh" of eating it all together that makes it great! What makes these sides even more special? Several that took our survey said they are once-a-year treats.
"Sweet potato casserole with marshmallows on top is my favorite! I never make it outside of Thanksgiving and it sits right next to me at the table," admits Nessa Tallo. And Pam Adler confesses, "I like to keep it traditional and always look forward to mashed potatoes. I don't eat them any other time."
While most prefer starches to vegetables, some believe you can't have one without the other.
"Stuffing, turkey and gravy are number one, but there also needs to be vegetables. String beans, roasted root veggies, and salad. Something green on the plate is a must. And of course, cranberry sauce," Dane Dickler explains.
Family heritages play a big role, too.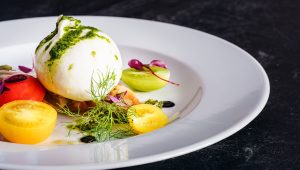 "Offering both Italian and American sides, starters… antipasti, zuppa, salads, cheese, salumi," Raoul Momo says of his family's meal. As co-owner of Terra Momo Restaurant Group, he puts many family favorites, some served at Teresa Cafe and Mediterra, onto the table. "Lots of Italian dishes like lasagna, tortellini in brodo, involtini di melanzane (a/k/a eggplant rollatini) along with the traditional Thanksgiving dinner turkey, stuffing with sausage, mashed sweet potatoes baked with pineapple."
Danielle Mack told Princeton Perspectives, there's a similar trend at her family's table. "My Italian mom will always have antipasta, burrata and some kind of pasta as earlier courses before turkey. So definitely everything that isn't turkey is a highlight for me."
Sweet vs. Savory?
When planning your side dishes, what should the balance be between sweet and savory? Nearly 60% of respondents desire a balance of both…but if you had to pick one, savory wins out, 24 to 1 (many recommend saving the sweets for dessert, which we'll get to later!).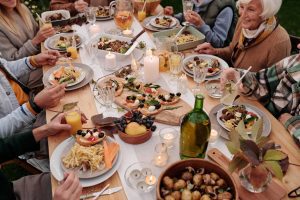 Personal preference of the chef and family traditions tend to dictate what will be served, but there are some general guidelines, shares Shelley Wiseman, chef, author and owner of Shelley's Table, which offers international cooking classes & culinary adventures.
"Whether you are a turkey person or not, there should always be enough sides to satisfy vegetarians, vegans and other diets, which are so prevalent these days—a son's new girlfriend might be joining the table! While sweet potatoes or yams are a must, you might change up the marshmallows-on-top with a savory version (*see recipe below)," Wiseman details. "If not everyone is in love with brussels sprouts, but they are still a must have, try shredding them ahead on a manual slicer and lightly sautéing them for a lighter, crowd-pleasing flavor. Add a drizzle of apple vinegar at the end and some toasted nuts to liven them up."
Even with all of these amazing side dishes, it does appear that most homes wouldn't consider it Thanksgiving without serving a turkey as well.
Turkey on the Table
"People get either whole turkeys, or we also do a boneless turkey breast that's easier to deal with, easier to cut, but a lot of people do like the traditional whole turkey. We cook them fresh that morning so all you have to do is heat them up," shares Adam Angelakis, co-owner of Olives, where his staff arrives early on Thanksgiving Day to prepare fresh meals for local pick-up. "We're here from 3am cooking fresh turkeys and making the stuffing."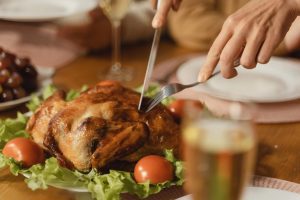 Whether you buy it cooked or make it yourself, be sure to serve both white and dark meat, to suit everyone's needs. And don't forget to save the carcass (some guests find that to be their favorite part!). Guidelines suggest 1-2 pounds of turkey per guest (don't worry about cooking one too large, as the leftovers are even better). Wiseman offers some guidance on how to cook your turkey to perfection:
Roasting time…
For a 10 to 16-pound bird:
At 450°F: about 10 minutes per pound (a 12-pound bird will take about 2 hours)
At 350°F: about 18 to 20 minutes per pound
For an 18 to 25-pound bird:
At 450°F: about 7 minutes per pound
At 350°F: about 13 to 15 minutes per pound
Internal temperature when removing from oven: at least 165°F in thigh (check in several places: the temperature will rise 5 to 10 degrees while resting, then fall again as it starts to cool). And always let meat rest before carving so the juices redistribute into the fibers of the meat.
Resting time: 20 to 30 minutes loosely covered with foil
"Looking for balance in the menu means balance of color and texture, as well as taste, and consider a balance of cooking methods so you don't find yourself with everything needing to be in the oven or on the stove, or too many things being last minute. My best tip though, is to get family to bring some of the dishes, so you don't have to do it all yourself!" Wiseman provides.
Don't Forget Dessert
Many love to bring along a favorite dessert and once the main course is complete, that's what everyone is looking forward to. No matter how full, there always seems to be room.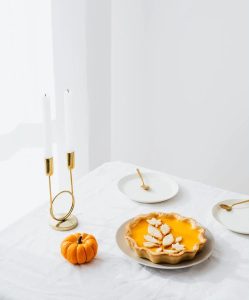 "All diets are off that day," Angelakis states, as Olive's prepares many sweets for Thanksgiving. "No one forgets about dessert. We do a lot of dessert. We sell traditional pies and also do lemon merengue, chocolate mousse pie, other specialty desserts. By far the most popular is pumpkin, it's the favorite."
Princeton locals agree, with 36% sharing a preference for pumpkin pie. Apple and pecan came in second with some suggesting cookies or something chocolate instead.
"A plate full of stuffing and pumpkin pie is the most perfect plate there ever was or ever could be, in my opinion!" someone shared anonymously on the survey.
So, it seems there's a majority consensus that you should balance your sweets vs. savory side dishes, serve them along with some turkey and be sure to include pumpkin pie on your dessert tray. But who will you be sharing it with and when is the best time to eat?
Who is at Your Table?
Nearly 60% of those on our survey said they enjoy Thanksgiving meal with family, though almost 20% incorporate family and friends at the same table. For timing, our restaurant and cooking experts recommend an afternoon feast, providing for enough appetizers to get one started for a later afternoon sit down meal.
However you choose to put it all together, there is no right or wrong way to prepare or plan your day. Just be sure that you balance all of your efforts with some relaxation and enjoyment with your loved ones.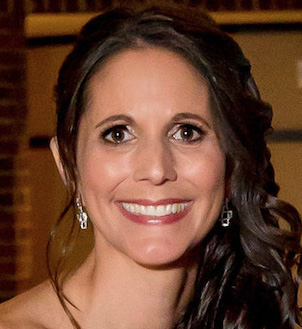 Lisa Jacknow spent years working in national and local news in and around New York City before moving to Princeton. Working as both a TV producer and news reporter, Lisa came to this area to focus on the local news of Mercer County at WZBN-TV. In recent years, she got immersed in the Princeton community by serving leadership roles at local schools in addition to volunteering for other local non-profits. In her free time, Lisa loves to spend time with her family, play tennis, sing and play the piano. A graduate of the S. I. Newhouse School of Public Communications at Syracuse University, Lisa was raised just north of Boston, Massachusetts but has lived in the tri-state area since college. She is excited to be Editor and head writer for Princeton Perspectives!